Friday the VANCOUVER GIANTS could well launch themselves into the WHL finals. The Giants now lead the best of seven 3-1.
Next Film showing is Haiti Betrayed. Friday April 26 - doors at 6.30pm Film at 7.00pm. Admission by donation .
White Rock Community Centre, 15154 Russell Ave. White Rock.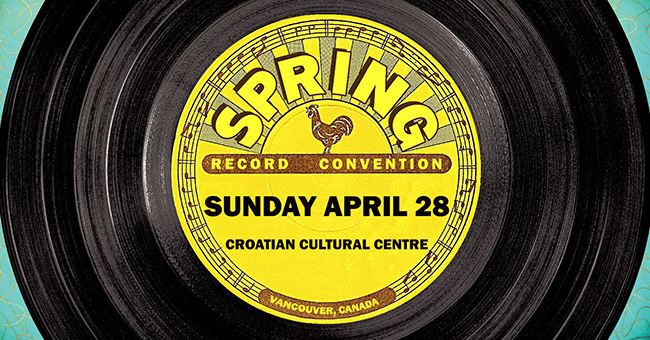 Sunday, April 28, 2019 at 11 AM – 5 PM
Come on out to our semi-annual Record Convention at The Croatian Cultural Centre - Sunday April 28th!

Tons of tables of Records, CDs, and Music Memorabilia

Admission is $3
Doors 11-5

For more information, give us a call at 604-324-1229

There are still tables available:
Full tables are $70
Half Tables are $40
Thursday April 25 - Thursday May 2 Please note: Carload pricing will not be in effect on Thursday April 25.
(Open every night from Thursday April 25)
AVENGERS 8:30
Second show
CAPTAIN MARVEL 11:30
A popular spring attraction in the Fraser Valley is now open for business.
The Abbotsford Tulip Festival opened for the 2019 season over the weekend, an early opening thanks to the recent good weather. As the four to five week festival progresses, the tulips will get into high bloom, which means more colour, bigger crowds and more expensive tickets.
(click here for more details and directions)
La Connor Tulip Festival
Welcome to La Conner and the 2019 Skagit Valley Tulip Festival!  Surrounded by the Salish Sea and farmland filled with tulip and daffodil bulbs, our waterfront town is ready for your visit.  La Conner's boardwalk, waterfront hotels, farm-to-table restaurants, boutiques, and museums make it the perfect Tulip Festival vacation home base!
The Tulip Festival Stars: RoozenGaarde and Tulip Town
A six-mile drive through farmland and fields of blooms, you will find the two growers of bulbs in the Skagit Valley… RoozenGaarde and Tulip Town.  RoozenGaarde has a five-acre Display Garden planted with over 1/2 million bulbs and features an authentic Dutch windmill.  Every year blooms a newly designed garden with 150 flower varieties on display. 
Tulip Town features an indoor show with large Tulip Bouquets along with Trolley Rides through their tulip fields.  Tulip Town boasts three display gardens: Veterans Memorial Garden, World Tulip Summit Society Garden, and the Windmill Garden.