| | | | | | | | | |
| --- | --- | --- | --- | --- | --- | --- | --- | --- |
| | May 18, 2022, 7:12 pm | | | | | | Advertisments | |

Canada's FIRST Internet Newspaper

Where You Can Vacation and Be Home The Same Day
NIGHT OWL
Your weekly guide to where the music is this weekend
Local News
May 18, 2022
Whale of a Time
Kathy Paterson photo
Have you seen the grey whale that has turned up in Semiahmoo Bay this week?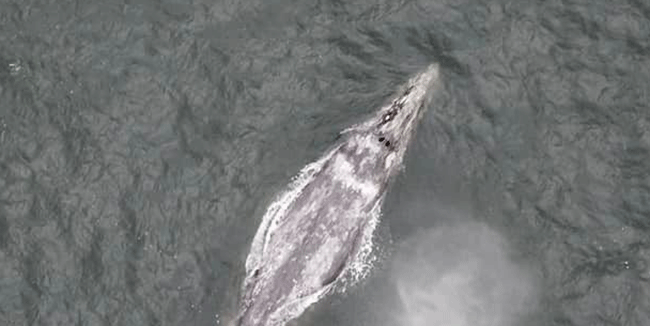 Drone photo courtesy Dave Firby
Migrating whales often find solace in Semiahmoo Bay on their way up or down the coast. If you are heading down to the bay to catch a glimpse take your binoculars, as our visitor does not come in too close to the shore due to the shallow water.
Second Omicron wave has peaked in B.C.: Experts


The sixth wave of COVID-19 that has spread through the province has peaked and started its decline, according to a member of the B.C. COVID-19 modeling group.
Sally Otto, a COVID-19 modeling expert, doesn't use the description "sixth wave," used throughout Canada to describe the current number of cases arising from the Omicron BA.2 sub-variant and instead refers to this period as a second Omicron wave.
"What we are seeing — which is great news — is signs that the BA.2 wave is declining," said Otto, an evolutionary biologist and mathematical modeler at the University of British Columbia.
"We're seeing (the decline) in the wastewater, we're also seeing it in the number of cases over age 70," said Otto. "We'll have a report out on Wednesday."
MAY 16, 2022
Closing
How many times have you driven by this beautiful little church in the Hazelmere district of South Surrey?
The United Church has sold the lovely little church in the wild wood. The church has been purchased by another church. Seventh Day Adventists. Can't be torn down as it's a heritage building
May 15, 2022
New Grizzlee On East Beach
Members of the SLAVIN family, friends and neighbours came together yesterday afternoon for a dedication ceremony of the new "Grizzlee" sculpture the SLAVINS have donated to the City of White Rock. The original sculpture had deteriorated over the past 2 decades the sculpture has graced our waterfront.
White Rock Councillor CHRISTOPHER TREVEYLAN officiated the ceremony and told of the history of the sculpture. Originally donated by the SAVINS in 1999, the sculpture is in memory of a young LEE SLAVIN (son) who lost his life on Marine Drive directly across from where the sculpture is located on the promenade on the waterfront.
Amtrak train from Seattle to Vancouver postponed
Amtrak will postpone restoring its Cascades passenger-train service between Seattle and Vancouver, B.C., until possibly December due to a lack of personnel. and bookings since the beginning of the COVID pandemic. Service has been suspended since March 2020
Approximately 159,000 people per year rode between Seattle and Vancouver, B.C., before the pandemic, or 290,000 when including stations between the big cities, Matkin said.
May 14, 2022
Winter Street Fire
White Rock Fire & Rescue were quick on the scene to a fire on the second floor of a Winter street apartment bldg. yesterday morning @ 5:30.
The fire was quickly extinguished containing the damage to just the one suite. The resident of the suite was transported to hospital with smoke inhalation but is expected to make a full recovery.
May 13, 2022
Thanks For The Tip


White Rock RCMP had a man from Vancouver come to White Rock on Monday and go from business to business stealing tip jars. The sad thing is that we charged this man two years ago for just helping himself in a store and he has over 100 court convictions, a similar number of charges stayed or withdrawn (usually for plea deals in court)....it is a reflection a justice system where prolific property offenders get processed by police with, in his case, NO correction by the system. In my view, there is a major system/law problem when a person accumulates over 100 convictions over the years and continues to commit crime. Keeping in mind that convictions are only the offences that were detected and evidence existed to convict...there are likely 100's and 100's more that are not reflected on his record. In any event, we will be charging him again.
Kale Pauls / NCO White Rock RCMP
May 12, 2022
Healing The Hurt
(Scott Kristjanson photos)
Family members, friends, band members and Semiahmoo council members were all on hand for the official celebration of GRAND CHIEF BERNARD CHARLES PLAZA and PARK RENAMING ceremony yesterday morning.
Chief HARLEY CHAPPEL officiated at the ceremony providing a brief history on his uncle BERNARD CHARLES who was the Chief of the Semiahmoo First Nations for 33 years. CHAPPELL also spoke of how for many years band members felt slighted every time the drove by the park which for years bore the name TOTEM PARK. The Semiahmoo Band was never consulted on the naming of the plaza which was gifted to the Semiahmoo people to reconcile injustices on the first nations people by the RCMP.
It is interesting to note the plaza does not contain any "totems" as the carved structures on the plaza are in fact "house poles."
l-r Harley Chappell & Council members Jennine Nicole Cook/Joanne Charles - White Rock councillors Chesney and Kristjanson flank Mayor Darryl Walker
Semiahoo band council and White Rock council members.
Earlier this month our members were on patrol in S. Surrey, when they observed two dirt bikes with no licence plates, turn east on 32 Ave.
Officers attempted to pull over the lead bike, but the driver accelerated away. Air 1 was overhead, and followed the bike, which ran stop signs, turned down many streets and went into greenspaces in an attempt to evade capture. Eventually the driver was apprehended.
Since the driver is a youth and has no prior negative police history, Restorative Justice or Youth Intervention program are being considered at this time.
Surrey Outdoor Pools Begin Opening May 16
 
City of Surrey outdoor pools are set to welcome back patrons over the next two months, which will see all pools open by June 25. Most pools are opening between one week and one month earlier this year, to align with the school schedule and to provide additional swim opportunities for the community.
"Surrey's outdoor pools play a valuable role in our communities during the summer months, not only providing residents exercise and recreation opportunities, but as a place to escape the heat", said Mayor Doug McCallum. "With pandemic restrictions lifted, I am especially pleased that we are able to open all the outdoor pools earlier this summer for our residents to enjoy."
Pool Opening Schedule:
May 16:

Bear Creek (13820 - 88 Avenue)

Greenaway (17901 - 60 Avenue)

Sunnyside (15455 - 26 Avenue)
Admission for public swimming is free on a first come, first serve basis with regular capacities. Lane swimming is again available this year and certified, instructor-led Red Cross swimming lessons will be available for a fee.
Staff will continue to prioritize the health and safety of the public with regular cleaning procedures. Visitors are reminded to stay home if sick, respect others' personal space and to adhere to all pool safety protocols.
TNT The Naked Truth
Don Pitcairn
A family member of ours left home at 6 a.m. on Sunday morning to drive from Surrey to Winnipeg to visit their aged and ailing parents.
They would have taken an Air Canada flight from YVR late last month and been there in only a few short hours instead of being forced to drive to the heart of the continent.
Video of the Day
"Icarus" is a short drone video from filmmaker Vadim Sherbakov that shows us the beauty of our world as seen from the air. I loved seeing the castles towards the end of the video as you can truly see how magnificent they are when viewed from above. The soundtrack for this short film is "All Is Not Lost" by Tony Anderson.
Chesney's Chestnut
I've just invented a telepathically controlled air freshener.
Makes scents when you think about it.
Thought for the Day
Bird's Eye View
White Rock Eagle Cam Is Live
On a private portion of the White Rock bluff overlooking Boundary Bay is a small grove of evergreens. One tree, only about 100 feet from the back porch of the home, had an eagle nest in it. The owner donated the installation of three pan-tilt-zoom (PTZ) cameras for us to watch this active eagle nest – a close-up cam looking down into the nest, a wide-angle cam in a neighbouring tree that provides a spectacular view of Boundary Bay (and of young eagles learning to branch), and a territory cam that shows more of the area around the nest  The eagles raised two chicks in 2010, and the first cams were installed for the 2011 nesting season  The eagles built a new nest in a nearby tree in 2016, and the close-up camera was moved and a fourth camera added for 2017.  As of fall 2021, we have watched as 14 young eagles fledged successfully and seen a number of spectacular sunsets over Boundary Bay.
Updates
Mom was back in the area on September 29; Dad's return was confirmed October 14, though he may have been back earlier. They did some work on the nest they had been using, but by November 20 it was obvious that they were working on a new nest fortunately within sight of all three cams. Eagles sometimes build new nests, then return to the original one to lay their eggs, so we'll have to wait to see what happens here.
March 23, 2022, 1:40 pm first egg!  The pair are using their new nest so all we have are views from the side at a distance" but there's definitely an egg from the way they are acting, and we think that's when it was laid.
April 29, 2022 the adults were sitting higher in the nest this morning, suggesting that they may have a chick.  And there was a feeding at 4:16 pm and it looked as if there may be two chicks!  There's a video of the feeding on the forum if you'd like a peek  https://forum.hancockwildlife.org/viewtopic.php?f=14&t=589&start=2850#p572033.
Tomorrow In THE SUN
Yell It Like It Is
Vancouver, Delta and now Langley are about to feel the pain of "densification"
Vancouver council today will host an Open House for feedback from residents on how they feel about the massive Broadway corridor " tower town."
At press time over 200 speakers are already registered to speak to the plan today.
You can bet they won't be there in support.
It's Only News If You Read It Today