Canada's FIRST Internet Newspaper
Where You Can Vacation & Be Home The Same Day
Weekend Update
The annual Home & Garden Show is now on.
Recipe of the Week
Pushing the pot pie boundaries. Chili Pot Pie
Local News
February 22, 20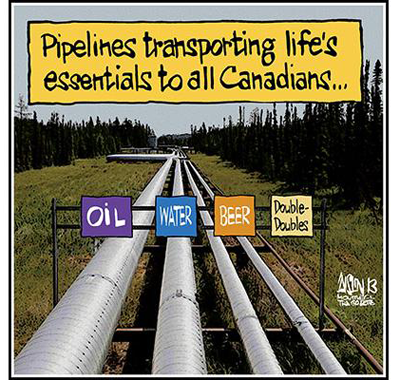 NEB green lights Trans Mountain project
The National Energy Board has given its approval to the controversial pipeline expansion project. The board was required to better consult with Indigenous communities and do more analysis on how the project would impact endangered southern resident killer whales. The future of the pipeline is now back in the hands of the federal government.
White Rock Council - Monday Agenda
4 p.m. Governance & Legislation (read agenda)
7 p.m. Regular Council Meeting (click here for agenda)
Public Hearing - 7:10 p.m.
Public Hearings with respect to proposed Bylaws 2289 and 2290 (1300 Block and 1310 Johnston Road).

Peace Arch Hospice Society
Wednesday evening th South Surrey White Rock Chamber of Commerce  presented us with the Non-Profit Organization of the Year Award. We are so honoured to be recognized among all the other amazing recipients and nominees from our community.
This achievement would not have been possible without the help of our incredible supporters and team of compassionate volunteers. We cannot thank everyone enough for their support!
...also
White Rock Beach Beer Company - Business of the Year (Small 1-10 employees) (pictured above)
Ocean Park Pizza & Village Pub - Business of the Year (Medium 11-40 employees)
Joseph Richard Group - Business of the Year (Large 41+ employees)
Looby Doo - New Business of the Year
The Drama Class - Supporter of the Arts Business of the Year
Hazelmere Golf & Tennis Club - Community Builder Business of the Year
Peace Arch Hospice Society - Non-Profit Organization of the Year
Mostafa Sabeti (Golden Glory Martial Arts) - Business Person of the Year (Self-Owned)
Ryan Moreno (JRG) - Business Person of the Year (Corporate)
An environmentally friendly hydrogen powered passenger train connecting the Pattullo Bridge in Surrey to Chilliwack
Instead of dreaming about high speed rail from Seattle to Surrey and or moving the BNSF tracks off the Semiahmoo waterfront, let's consider a transportation option that is sitting right in front of us.
Hydrogen Powered Passenger Train
The South Fraser Community Rail Task Force is a group dedicated to providing information to the public and political leaders in each community along the inter-urban rail route from Surrey to Chilliwack. We propose a state of the art, emission-free passenger train using hydrogen fuel cell technology to produce electrical power to connect these communities.
Existing Track with Passenger Use Rights
The 99km passenger rail service will use existing track already servicing the communities from Surrey to Chilliwack. This existing rail line is available for passenger use at no cost due to a right-of-way owned by the people of BC
(click here to read the extensive full report)
February 21, 2019
You've Got Mail!
Most residences in White Rock & South Surrey received this postcard in the mail this week.
Not what anyone wants to see as homeowners rush to try to catch a diminishing high point on a sinking real estate market.
He's Back!
Brooke Colby
Tireless promoter BROOKE COLBY appears not ready to take no for an answer. COLBY you may remember back in December when our pier was destroyed in a winter storm, came up with the idea of having an Evil Knievel motorcyclist jump the gap in the pier.
The city of White Rock to say the least was not impressed, mainly in that they heard about COLBY'S idea only after it hit the media. Since then COLBY has met with White Rock mayor DARRYL WALKER and has appeared before council to explain is his vision.
IN case you missed it, last month the CBC television show THIS HOUR HAS 22 MINUTES had a little fun with the idea.
(watch the video - click here)
COLBY plans on taking another run at White Rock council in the coming weeks.
Download the New Spring Guide
Registration Begins at 9pm on March 3, 2019
Whether you're interested in arts and general interest programs, heritage activities, adapted programs, personal development opportunities, dance, crafts, 55+ bus trips, sports or fitness classes, our new Recreation Guide is sure to put a spring in your step. Registration begins March 3 but you can start planning your spring activities today.
What Are They Smoking In South Langley?
Just got word AL NEMETH former owner and operator of Holy Smoke Coffee tee pee on the King George Highway, is just back from Mexico and he is in need of some coffee so he is roasting up a batch this weekend.
Hi Everybody
I'm Roasting up some very special coffee this weekend if you need any please text me @ 604-780-4659 or call me to order..
Regards Al
February 20, 2019
South Surrey Crime Map - January 2019
Blue Dots - Auto Theft
Mustard Triangles - Theft from autos
Blue - Business Break & Enter
Red - Residence Break & Enter
Smarten Up Dog Owners
photo courtesy Garry Wolgemouth
White Rock council recently unanimously approved a "trial period" of 6 months to allow dogs on leash on the promenade. The trial period BEGINS October 01, 2019.
It has been reported on social media all weekend by the anti dog brigade that the promenade is now very busy with people walking their dogs. Keep it up folks and that trial period could disappear as quickly as it was invoked. If you see ANYONE walking their dogs on the promenade please inform them of the official start date and reinforce they are in danger of losing the trial period by ignoring the current by law of NO DOGS on the promenade!!!!
Night Owl
We've got the WINTER "BLUES
(check out all the great live entertainment this week - click here)
Yell It Like It Is
DONALD TRUMP is dead wrong if he thinks he is going to scare a nation of "wall builders."
Video of the Day
Asses making asses of themselves.
Chesney's Chestnut
What flavors of ice cream do you have?" inquired the customer.
"Vanilla, strawberry, and chocolate," answered the new waitress in a hoarse whisper.
Trying to be sympathetic, the customer asked, "Do you have laryngitis?"
"No...." replied the new waitress with some effort, "just...erm.... vanilla, strawberry, and chocolate."
Thought For The Day
Community Calendar
Tomorrow (Sunday) Night - New Location

(click here for more community events events
Tomorrow In THE SUN
Sunday Funnies
It's Only News If You Read It Today