If you love music -spread the news - If no one knows - no one goes!
Westbeach This Week
Live classic rock n roll for your dancing pleasure - every Saturday night on stage @ Sawbucks Pub
We are looking forward to returning to Club 240 in the Crescent Beach Royal Canadian Legion branch 240 on Friday, May 27th at 8pm,
We hope to see you there!
Enjoy fun-filled concert 'Best of Friends' with Charlotte Diamond, Fred Penner and Rick Scott. Delight in an energetic show sure to bring back memories and create new ones! Guaranteed to fill your happy cup! The price of your show ticket also includes a whole bunch of value-added extras including workshops and roving performers. Come for the show…stay for the magic! Get tickets today. Surrey SPARK Stages. May 28 & 29 | Main Stage at Surrey Arts Centre.
Weekly Open Mic at The Pelican Rouge
Duration: 3 hr

/ 6 PM - 9 PM
PublicAnyone on or off Facebook
So glad to be back with the Weekly Open Mic at The Pelican Rouge.
Come out to play or sit and listen. Wine, beer and liqueurs will be available for the evening. Check out our delicious homemade sandwiches and soup (Wraps are made in our own kitchen), as well as baking and other menu items Good times with good company. Sign-up at 5:30. Come early for a good spot. Plenty of parking right out front.
Mark it down in your calendars!
June 10 is the premiere of the new and improved CrackerJacks at Club 240. With the dynamic lead vocals of David Wills (Stonebolt) and Vicky Patullo Alb, an outstanding three piece horn section featuring Elliot Clarkson, Greg Farrugia and Garth Balint and a powerhouse rhythm section of John McCreath on drums, Ross Langbell on bass, "Tambelena" Butler on percussion and Jim Widdifield on keys, the CrackerJacks will bring you hard-driving R&B, Soul and Funk. Don't miss it!!
When: June 10-12 2022
Where: Locations around White Rock 
White Rock will be the swinging-est place around from June 10th to 12th! Introducing the new White Rock Jazz and Blues Festival. 

During the daytime, enjoy free public outdoor performances at locations throughout White Rock – and in the evening, ticketed performances including this year's headliner: Tom Lavin and the Legendary Powder Blues Band!

Cowichan Lake/Vancouver Island ROCK FESTIVAL
Friday, June 24
the Hub International Theatre at the Chilliwack Cultural Centre.
Tickets are $95.50 (plus Facility Fee & Service Charges) at the Centre Box Office.
Charge by phone at 604-391-7469 or online at www.chilliwackculturalcentre.ca.
Rolling Stone Magazine:
"Did everyone buy a guitar in quarantine or what?"
Announcing the Fourth Vancouver International Guitar FestivalSee, hear, play and purchase 
directly from the creators in beautiful Vancouver!
DARIUS RUCKER
DALLAS SMITH | BILLY CURRINGTON
HARDY | RANDY HOUSER | KIP MOORE | ORVILLE PECK
RODNEY ATKINS | MACKENZIE PORTER | MADELINE MERLO
SHRED KELLY | BEN KLICK | CROSS PARALLEL
HILLSIDE OUTLAWS | DAVE HARTNEY | RYAN MCMAHON
HIGH QUADRA RAMBLERS | THE PROMISED | TUMBLIN DICE
MELISSA LIVINGSTONE | MICHAEL DANIELS | BORN RECKLESS
TAYLOR-RAE POZNIKOFF | MBIRA SPIRIT | CHRIS ANDRES
PONY GOLD | DOUBLE THE TROUBLE
SPECIAL AFTER PARTY PERFORMANCES BY
JAMES BARKER BAND | HUNTER BROTHERS | AARON PRITCHETT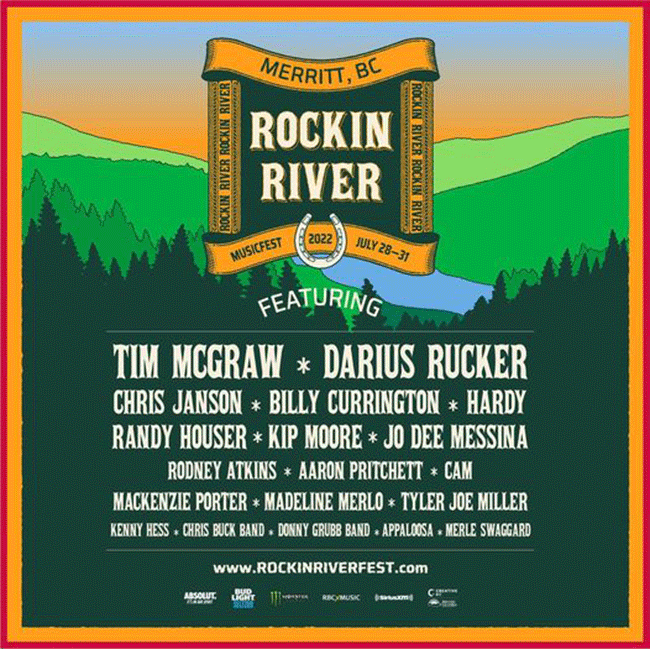 Thank you for making THE NIGHT OWL
- the #1 entertainment listings guide in the Fraser Valley