Weekly music listings updated Thursdays
Week of October 2, 2023
I am honored to once again be invited to sing some of my favorite tunes at Mic'd Up Murraville at Porters in Langley this Thursday night.
Everyone is welcome to sing along, jam or just enjoy the fantastic music, vibe and atmosphere. Hope to see you there.
Weekly Live Music
Three Dogs Brewing / Johnston Road @ The Whale Wall
Live Music Thursday/Friday & Saturday NO COVER
Sawbucks Pub Johnston and North Bluff South Surrey
Live Music Saturdays
West Beach Bar & Grill West beach Marine Drive White Rock
Live Music Thursday/Friday/Saturday/Sunday
Ocean Beach Hotel on the White Rock Waterfront / MARINE DRIVE
Live Music Friday Nights
Tuesday will be Tunes-day - Aug 1/23
Tuesday - Aug 1/23 - from 6-9 pm - hosted by Dennis Pook.
We will have a nice little Bose PA system set up and we invite local acoustic performers to join us for another Open Mic Night!
Spread the word- (Every second) Tuesday will be Tunes-day at White Rock Beach Beer Co. 15181 Russell Ave, White Rock, B.C. See You There! Signup list at 5:30pm
Just Announced

The Fraser Valley Blues Society monthly Blues Jam at the Eagles Hall, 33868 Essendene, Abbotsford. Our host this month is Jon Gale and Gale Force Blues Band, from White Rock. 
Musicians bring your instrument of choice (except drums and keys) & vox. Sign up when you arrive, usually at the front table. If you don't know the host please introduce yourself once the host band finishes their first set (or before we begin). 
Audience bring your great spirit, friends, family and cheer the musicians on, dance and have a great time! 
$10 Cover per audience member (jammers providing entertainment no cover). Doors open @ 7 pm, jam starts at 7:30.
Cash only venue, beautiful wooden dance floor for your dancing pleasure. 
Join us for "Carnival of Chaos" at the Mainland. Halloween Celebration.
With Special Guests: Dj Reginald von Morningstar

Tickets include:
Your first drink, mid-evening walking taco, entrance into the Mainland Freak Show exhibit, super fun contests & challenges, Music and prizes!
Event Schedule:
Mainland Freakshow Exhibit: 7pm-8pm
Minute to Win it Challenges: 8pm-10pm
Walking Taco Cart: 9pm
Costume Contest: 10pm
Tickets are very limited.
Purchase all tickets in your party in one transaction please - or email melanie@mainlandwhisky.com to let us know who is at your table.
No holds.
Name that Tune: Cover Song Edition

Join us for another edition of Name That Tune with your host, Donny M Whisky! 
We will be playing 2 rounds of Name That Tune, enjoying inspired cocktails and (most likely) laughing our butts off. 
Winner will receive a Mainland Whisky Giftcard. 
Tickets include your first cocktail. $10.00
White Rock! I am bring the Brewery Tour back to The Beer Shack Oct 14 Saturday night.
MOUNT BAKER THEATRE - Get ready for a rockin' good time with The Reverend Peyton's Big Damn Band!
WEDNESDAY OCTOBER 11 7 p.m.
While they're only a trio, The Reverend Peyton's Big Damn Band deliver a sound that lives up to their name. With thick, bass-heavy blues and growling vocals accompanied by muscular but minimal drumming and the metallic percussive scratch of a washboard (making them one of the first rock bands to regularly feature the instrument since Black Oak Arkansas), their style is informed by rural blues, honky-tonk country, and the rebellious spirit of rock & roll. Reverend Peyton's raw and wiry guitar figures add texture to straightforward melodies.

The group was formed by guitarist and singer Reverend Peyton, who was born and raised in Indiana, and was first exposed to music through his father's record collection. When Peyton was 12 years old, his dad gave him a Kay guitar, and once he learned his way around the instrument, he got an amp to go along with it. With his brother Jayme Peyton on drums and a mutual friend on bass, he formed his first band, Drive-Thru, and began playing parties and dances.

This show is crazy amazing....they even sound like a band, using their vocal prowess to sound like guitars or drums etc.
With the perfect sound in the studio it is something to behold. Can't wait for this
Get ready for an unforgettable blues experience with JW-Jones and his incredible band!

He's a Billboard Top-10 chart-topper and a beloved figure on roots radio. JW-Jones has shared the stage with legends like Buddy Guy and George Thorogood, and he's rocked audiences in 23 countries across four continents.

Don't miss this electrifying show with Joel Oppong-Boateng on drums and vocals, and Jacob Clarke on bass.
We're thrilled to announce that in celebration of the Little Big Band's 30th Anniversary, Colin James is bringing the Little Big Band back to the Commodore Ballroom in Vancouver on Saturday February 3, 2024! The show will feature a few original LBB members, including Greg Piccolo formerly of the Room Full of Blues. Join us for what will "Surely" be an unforgettable night!
Tickets ON SALE NOW @ TICKETMASTER
Upcoming Fall Concert Schedule @ BC Place & Rogers Arena
P!nk @ Rogers Arena – Oct. 20 & 21
The colourful pop star (born Alecia Beth Moore) comes to town in support of her ninth studio album on the Trustfall Tour. Her mononymous stage name comes from a variety of influences, including the character Mr. Pink, made famous by Steve Buscemi in the 1992 crime film Reservoir Dogs.
The 73-year-old New Jersey rock legend makes stops in eight Canadian cities on his international tour. The Boss is known for originating the "heartland" genre of rock and roll that highlights the working-class roots of his upbringing through socially conscious lyrics.
Kiss @ Rogers Arena – Nov. 8
Join the shock rockers on the final leg of their farewell End of the Road World Tour. Although there have been many rumours surrounding the significance of the band's name, the most popular theory that it stands for "Knights in Satan's Service" has been repeatedly refuted by frontman Gene Simmons.

Shania Twain @ Rogers Arena – Nov. 14
Feel like a woman when the Timmins native makes another concert appearance in Vancouver on the second leg of her Queen of Me Tour after playing two shows here in May. She famously got her start singing at bars late at night when she was only eight years old and wrote her first song at age ten.
Next Up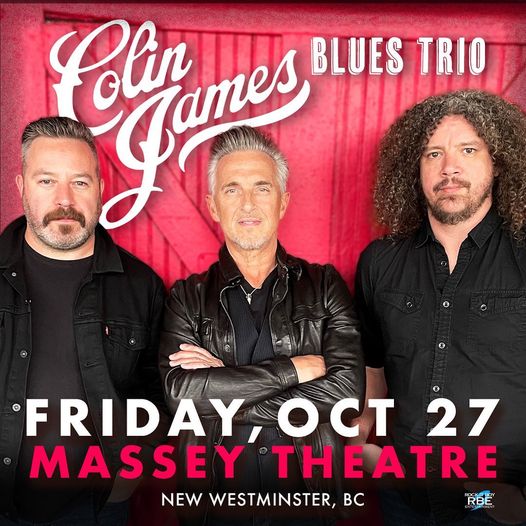 Rock.It Boy Entertainment presents COLIN JAMES BLUES TRIO Friday, October 27 at the Massey Theatre, 735 8th Avenue in New Westminster. Tickets are $54.50 (plus Facility Fee and Service Charges) at the Massey Theatre. Charge by phone at 604-521-5050 or online at www.masseytheatre.com.
WEEKLY JAMS & OPEN MICS
Tuesdays from 6-9 pm - hosted by Dennis Pook.
We will have a nice little Bose PA system set up and we invite local acoustic performers to join us for our inaugural Open Mic Night!
Spread the word- Tuesday will be Tunes-day at White Rock Beach Beer Co. 15181 Russell Ave, White Rock, B.C. Ph: 604-319-4378
Open Mic signup list- 5:30 pm See you there
Regular Weekly Events
Line, Wine and Dine tuesdays at Legion 8
6 optional meetup for Taco tuesdays Chicken Salad and more
7 - 830 ish Linedancing lessons $10 cash
Fun fitness friendships Drop in Beginner level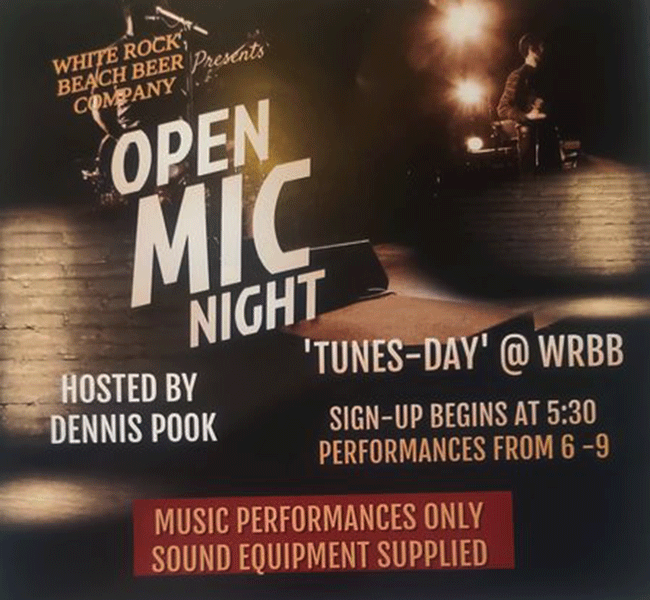 Live music is back at the WAG!
Every Wednesday evening from 6:30pm to 9:30pm featuring the wonderful Jani Jankovic
Thank you for making THE NIGHT OWL the top online listings of entertainment in the Fraser Valley
- the #1 entertainment listings guide in the Fraser Valley