January 31, 2018
Roy Orbison - Candyman
Roy Kelton Orbison was born in Vernon, Texas in 1936. When he turned six his dad gave him a guitar. Both his dad, Orbie Lee, and uncle Charlie Orbison, taught him how to play. Though his family moved to Forth Worth for work at a munitions factory, Roy was sent to live with his grandmother due to a polio outbreak in 1944. That year he wrote his first song "A Vow of Love." The next year he won a contest on Vernon radio station KVWC and was offered his own radio show on Saturdays. After the war his family reunited and moved to Wink, Texas, where Roy formed his first band, in 1949, called The Wink Westerners.

From 1951 into the mid-50s The Wink Westerners appeared with Roy Orbison on KERB in Kermit, Texas. The band performed at school assemblies and country jamborees sponsored by KERB. In 1953 they played at an International Lions Club Convention in Chicago. After high school, Roy Orbison met two friends in college named Wade Lee Moore and Dick Penner. They'd written a song called "The Ooby Dooby." The Wink Westerners began to include the song in their performances, including on a TV show on KMID in Midland, which won them a half hour Friday night slot on KMID.
With the advent of Rock and Roll, the Wink Westerners renamed themselves The Teen Kings. In addition to the TV show on KMID, TV station KOSA in Odessa, Texas, gave them a half hour slot on Saturday afternoons. The CBS affiliate also had Johnny Cash and Elvis Presley guest star on Roy Orbison's KOSA TV show. Johnny Cash got Orbison in touch with Sam Phillips of Sun Records in Memphis. Orbison called Phillips who hung up the phone saying, "Johnny Cash doesn't run my record company."
Orbison had been approached by owners of Je-Wel Records who wanted The Teen Kings to make a record. The session took place in early March, 1956. This time, Roy and The Teen Kings, recorded The Clover's "Trying to Get to You" and "Ooby Dooby." The single was released March 19, 1956. That same day, Orbison took a copy to Cecil "Poppa" Hollifield in Odessa. He was a well-know record dealer in West Texas. "Poppa" Hollifield liked the record and played it on the phone to one of his connections in Memphis. The guy on the other side of the line asked him to send him a copy. His name was Sam Phillips, owner of Sun Records. A few days later "Poppa" telephoned Roy to say that Phillips wanted the Teen Kings in Memphis in three days to record for Sun Records. Roy Orbison and the Teen Kings arrived in Memphis on Monday, March 26, 1956. The next day they re-recorded "Ooby Dooby." Bob Neal, owner of Starts Inc., signed the group to a booking and management contract. They kicked off with an experimental tour of Southern drive-in movies theaters, performing on the projection house roofs between film showings. Most of the time touring with Carl Perkins, Johnny Cash, Warren Smith, Sonny Burgess, Faron Young, Johnny Horton and then Jerry Lee Lewis and other Country and Rockabilly stars. "Ooby Dooby" peaked at #59 on the Billboard Hot 100 and #2 in Vancouver. However, follow-up singles failed to chart. The Teen Kings split up in December 1956 and Orbison stayed at Sun until 1958.
In March 1958, Roy Orbison was offered a spot on an Everly Brothers show in Hammond, Indiana. The Everlys needed a song for their new single and they asked Roy if he had anything. He sang his new composition "Claudette" and they asked him to write the words down. So he did, on the top of a shoebox. Soon Orbison was signed to Acuff-Rose Music Publishing in Nashville, and he also got a contract with RCA Victor where he briefly worked with Chet Atkins. The Everly's "Claudette" was the B-side of "All I Have To Do Is Dream." The A side went to #1 while "Claudette" climbed to #30 on the Billboard Hot 100 and to #1 in Vancouver. Orbison had more of his songs recorded by Buddy Holly, Jerry Lee Lewis, Johnny Cash, Ricky Nelson and Cliff Richard.
By the fall of 1959 Orbison got a new record contract with Monument Records. They released "Uptown" which had strings as opposed to fiddles, which were not very common in Nashville. It was Orbison's biggest hit since "Ooby Dooby." But his next release was a smash hit. "Only the Lonely" Climbed to #2 on the Billboard Hot 100, #2 in Vancouver and #1 in the UK. His follow-up single, "Blue Angel," gave Orbison his first #1 hit in Vancouver, while peaking at #9 in the USA and #11 in the UK.
Orbison had another #1 hit in April 1961 here in Vancouver and in the USA with "Running Scared." The song debuted at #11 on CKWX and #9 on CFUN. It climbed to #1 on April 15, 1961, on CKWX topping the charts for three weeks. The songs' production and the performance were unusual for the time, as Monument Records was willing to spend more money on production than many other record labels.
The hits kept on coming for Roy Orbison with "Crying," "Dream Baby," "In Dreams," and many other Top 40 singles. The B-side to "Crying" was "Candy Man."
Come on baby, let me take you by the hand.
Come on sugar, let me take you by the hand.
Go for me, let me be,
all your own candy, your candy, candy man.
Come on baby, I love your honey lovin ways.
Baby sweet thing, I love your honey lovin, your honey lovin ways.
Come to me, let me be,
all your own candy, your candy, candy man.
Come on woman, gonna treat you right,
give you candy kisses every single night.
Candy man, candy man, candy man, candy man,
Go for me, let me be,
all your own candy, your candy, candy man.
For the first three weeks of its run on the CFUN charts in Vancouver, "Candy Man" charted separately from the A-side, "Crying." But during the remaining five weeks on the chart "Candy Man" and "Crying" shared the same position on the CFUN chart. The song was co-written by Beverly Ross and Fred Neil. Born in Brooklyn, New York, Beverly Ross was one of a few female songwriters in the Brill Building in the late 50's into the early 60's. At the time she was the highest paid female songwriter working in the building. She wrote "Dim, Dim The Lights" for Bill Haley and His Comets in 1954, which peaked at #11 on the Billboard pop charts. Her other notable successes include "Lollipop" for The Chordettes in 1958, "The Girl of My Best Friend," a Top 20 hit in 1960 for Ral Donner and a #5 hit for Leslie Gore in 1963 titled "Judy's Turn To Cry." Ross also had some heartaches in the music business when fellow songwriter, Phil Spector, stole a musical theme she had shared with him that she was excited about that soon became a song Spector penned for Ben E. King titled "Spanish Harlem." That story and others are told in her 2013 autobiography, I Was the First Woman Phil Spector Killed.
The other co-writer of "Candy Man," Fred Neil, met Beverly Ross at Cafe Wha? in Greenwich Village in 1960. Neil had been writing rockabilly tunes that ended up as B-sides for artist like Buddy Holly. After their success with Roy Orbison, Fred Neil released his own folk album in 1965. He is most well known for penning "Everybody's Talkin'," a Top Ten hit for Harry Nilsson in 1969 from the film Midnight Cowboy. Jefferson Airplane released a single in 1967 dedicated to Fred Neil titled "Ballad of You and Me and Pooneil."
Building on a candy theme from her hit song with the Chordettes, "Lollipop," Beverly Ross used another simile in co-writing "Candy Man." While the term later became slang for a drug dealer by the late Sixties, in 1961 the song could be an innocent play on words. A Candy Man was more properly a male person working at a candy making factory. Boys and men and boys were hired as cooks and machine operators. Females were hired to wrap candies and put them in tins or boxes, and sometimes given jobs to hand-dip candies in chocolate. If a woman was lucky she got to be a chocolate dipper and was paid the best wage a woman could obtain in the factory. But all the male positions in a candy making factory got better pay. Women made a lot of candy at home as fudge making parties and taffy pulls were a form of entertainment in the late 19th C.
In America, in the 17th and 18th centuries sugar was very expensive and sugar plantations were a source of immense wealth. Sugar was a symbol or economic and political power. Many people in the 17th century in North America never had any candy. The Dutch bakers of New Amsterdam made macaroons, marzipan, sugar plums, ice cream and other confections for weddings and holidays. But getting candy at a grocery store was not the custom. While chocolate was available it was very bitter and mostly used in baking. Molasses was one item that was affordable and used to boil and make confections in the American kitchen. But with the introduction of mechanization and candy making factories the price of sugar declined. During the 19th century sugar became readily available and was much more affordable. Sugar became associated with femininity. Women and children were presumed to have a "sweet tooth," while real men eschewed candy. If a man was very fond of candy his masculinity was called into question.
Candy is a 13th C English word derived from the Arabic qandi that means "made of sugar." In the 1890's pushcart vendors sold candy in New York City and across cities in America. Often candy was sold in unsanitary conditions to children. In her book, How the Other Half Ate: A History of Working-Class Meals at the Turn of the Century, Katherine Leonard Turner writes about a candy man named Hessel Broidy. In 1902 the 72-year-old candy man was "brought before the New York Board of Health and charged with selling dirty candy to children." He sold sweets that were peppered with the dust and dirt from the streets and sidewalks. For a promise to stop selling candy, Broidy's sentence was suspended.

In the song by Roy Orbison the candy man is much more appealing than that of unscrupulous vendors selling dirty candy to children at the dawn of the 20th century. Using a candy man vendor as a simile for making romance and love-making, he offers his "baby," his "sugar," his "candy kisses." He loves her "honey lovin' ways." Sweet!
"Candy Man" was a #1 hit in Australia and in Winnipeg, Manitoba. In the USA the song peaked at #1 in Atlanta, Houston, Boston, Knoxville (TN), Dallas, Newport News (VA), and San Antonio. However, it was not play listed in half the states in America, contributing to its lower national peak on the Billboard Hot 100 at #25.
Roy Orbison was one of the few hit-makers to hold his ground, increasing his popularity despite the British Invasion. "It's Over" went #1 in the UK and Ireland in the spring of 1964. His next single that year, "Oh Pretty Woman," was his biggest all-time hit. Orbison toured Australia with the Beach Boys in 1964 and internationally with the Rolling Stones '65. While he toured with the Rolling Stones, Roy Orbison had several single releases and continued to chart into the Top Ten in Vancouver.
In 1966, Orbison's wife, Claudette, was killed in a motorcycle accident. In 1968, tragedy struck again when two of his three children died in a fire that burned down his house in Hendersonville, Tennessee. In the 1980's Roy Orbison enjoyed a resurgence of interest. A duet of "Crying" with k.d. Lang climbed to #2 nationally on the RPM Canadian singles chart, though only to #35 on CKLG in February 1988. Orbison won a Grammy Award for the duet. Next Orbison sang with George Harrison, Jeff Lynne, Tom Petty and Bob Dylan, in a group called the Traveling Wilburys. Their single, "Handle with Care," climbed to #9 in Vancouver and #45 on the Billboard Hot 100. Roy Orbison died dead at 52 from a heart attack on December 6, 1988. In April, 1989, his posthumous single, "You Got It," climbed to #6 on CKLG in Vancouver.
Want to read more cool stories about Vancouver's rock n' roll history?
Ray McGinnis
More Vancouver Rock N' Roll History
Streetheart, Vancouver BC, Pacific Coliseum 1982.


Streetheart had just released the "Streetheart" album and were doing the great Canadian hockey arena tour with Aldo Nova. The guys from Loverboy, on a break from touring in the USA, showed up en masse to say hi, watch the show and hang out. It was a great night...
We were lucky enough to capture this amazing photo after the show.
A mob of good Canadian R&R boys, three of them sadly, gone far too soon...

L/R back row, George Martin, (the fellow next to George in the shades, his name, with all due respect, we can't remember), Paul Dean, Ted Ewasiuk, Daryl Gutheil, Jeff Neill and Scott Smith (RIP).
In the centre, Ken "Spider" Sinnaeve, Rob Morrow (RIP), Bob Ego and Matthew Frenette. In the front, Kenny Shields (RIP) and Mike Reno mugging it up!
Great memories, from a grand time...
Bless you Kenny, Scott and Rob.

October 18, 2017
Excuse me, what was that you said?
LINDA MCRAE singer songwriter formerly with the SPIRIT OF THE WEST makes her home in Nashville, Tennessee these days. Her busy touring schedule takes her from coast to coast in America as well as her home and native land, Canada.
Recently in an off the cuff posting on FACEBOOK Linda started a tsunami wave of responses.
The question whe posted was "How do you handle hecklers?

Here's what happened:
i knew a pro wrestler who wore a mask. He was called The Destroyer. His best comeback ............. if i had your face i`d wear a mask.
Middle finger usually works lol.
Tell them, "I'm sorry but I don't do mental combat with the unarmed".
"People like you are why the gene pool should have lifeguards".
"Ss an outsider, what do you think about the human race?"
Im sorry...Am I interrupting?
If you only knew how important I am, you'd have more respect!
Hey! I don't come to where you work and tell you how many pickles to put on the big macs do I?
I usually say "Dad, I asked you wait in the car!"
Play a song by who??, he doesn't do any of mine !
It is recommended not to drink while on your meds
We take requests we just don't take them seriously.
Last time I saw a mouth that big it had a hook in it.
I Don't Come to Your place of Business and Ask if You can Supper Size those Fires for me,.. Do I?
Say to your audience 'I remember my first beer too!' Or 'the mushrooms must be kicking in' or 'every village has one'
Do I look like a goddamned jukebox?
We weren't planning an open mic tonight, sorry
I always tell them that I get paid to be on stage and you paid to see me, and I also say when you get your record deal I'll return the favor.
August 16, 2017
The Washboard Union - Rockin "The Rock"
L-R Chris Duncombe, Aaron Grain and David Roberts were the founding members and principles of The Washboardf Union
Tomorrow evening (Wednesday) THE WASHBOARD UNION bring their travelling country music show to the sandy shores of White Rock for a giant Canada 150 Party.
We were fortunate enough to catch up with CHRIS DUNCOMBE co founder, vocalist and banjo player for the group during a rare break from touring and a pit stop at his East Vancouver home.

Chris The Washboard Union is currently on a hectic tour schedule across Canada in support of your new single "Shine" from your sophomore CD. Tell me about some of your summer highlights.
We have had a very busy summer on the road, I think we are in the middle of around 26 summer shows right now which has seen us share the stage with Jason Aldean, Toby Keith, Keith Urban, Brad Paisley, Chris Young, Old Dominion and more.
You and your bandmates literally exploded on the country music scene with your debut CD which interestingly was produced by Canadian Music Hall of Famer GGGGarth Richardson. RICHARDSON up to that point was known internationally for his work with some of the world's top hard rock acts. How did you come to work with RICHARDSON and where did you record your debut?
Garth literally saw us play one night and said to us point blank " Your music makes me smile and you're one of a kind". We were so honoured to be able to work with Ggarth and that he would produce our first record. He is truly one of Canada's greatest talents in the music business.

In short order you began to collect hardware at British Columbia and Canadian Country Music awards shows. How many awards have you garnered and is there a particular award that has special meaning to you and the boys in the band?
6 awards so far: 4 BC Country Music Awards and 2 Canadian Country Music Awards last year for Rising star and Roots Artist of the year. We are up for 2 more CCMA's this year. We are so honoured to have been welcomed in by the Canadian Country Music community and supported so strongly from the BCCMA. These are people who care for, and foster talent to help them grow their careers and for that we are very grateful. I think that winning Rising Star was a huge moment for us as we were together with our wives on national TV for that win and could not believe that it was actually happening. It was an incredible moment for us and our families.

Though the band has five members you and AARON GRAIN and DAVID ROBERTS are the focal points of the group. How did THE WASHBOARD UNION begin?
6 actually and sometimes more.
The 3 of us were songwriters first and that remains the core of everything we do. David, Aaron and I have a love of songwriting in addition to country music, Bluegrass, and more. We began by learning and playing early bluegrass and trucker tunes together long before we were the Washboard Union. Like nearly every band it all began in a basement. For us and old mansion in point grey that we and a bunch of other musicians lived in and wrote in. We have shared the stage with some great musicians along the way in both RUN GMC and The Washboard Union. We still feel every day like we're just getting started.

In the short period you have been on the music scene you have had the pleasure of performing with a long list of country superstars. Tell us a bit about some of the acts you have had the pleasure of sharing a stage with?

We have been fortunate enough to play with alot of great country acts but a few favorites would definitely be : Zac Brown Band, Keith Urban, Old Dominion, Jason Aldean, and more

Did you pick up any pointers from doing shows with these veterans?
Every single time. We actually very early on got to spend some time with Zac Brown and ask him a ton of questions we had about being in a band. You can learn things from guys at that level that no one else can teach you about becoming a successful band and running your business as a band. We have played with them a few times now and they have been great mentors for us. Our manager Ron Sakamoto is also a big mentor for us in addition to being in the Country Music hall of fame so we learn from him pretty much every day .

Your tour schedule has been incredible since you arrived on the music scene. Though making records and touring are two very different facets of your career what are some of the aspects of both lives that you enjoy?
Bands get to go through so many different cycles in the course of making and promoting a record that we love diving into each one whole heartedly. When we're writing its all we think about, when recording the same, When its time to promote the records, shoot videos and tour we can't wait for that part too. What we find now is that all of those various stages just come at you much faster than ever before.
The culmination hearing a crowd sing back the lyrics your wrote in some little kitchen or studio in Tennessee is the greatest gift a musician can ever receive so when we get to perform our songs live as we are right now....That just might be the best part of all

The band has become known through extensive radio play and cool videos. Tell us a bit about the making of "Maybe It's The Moonshine" and "Shot of Glory"
(click here to order your copy of IN MY BONES)
Both of those songs were actually 2 of the last 2 written for the In My Bones EP.
Maybe its the Moonshine we wrote with some pals of ours from One Arm Train in the kitchen of a tiny house on the outskirts of Nashville. That tune for us was always about getting back to what really matters and finding your way back to it as often as possible . To get back to what's truly important beyond the lights of the city that surrounds you.
Shot of Glory is an interesting one. Some songs are like a wrestling match to write and some come very easy. Shot of Glory we wrote in about 2 hours with our friend "Boots" and seem to just show up for us and make sense. Not only that but when we went to record that song at RCA studio A in Nashville we did it with the band in 1 take. That certainly has never happened for us before. The music you hear on that track is literally that 3 min and 30 seconds live.
I have to also ask about the cover of The Eagles song "Seven Bridges" with special guest Meghan Patrick.
That is a song that meant alot to Meghan and the 3 of us. With Steve Young, who wrote the song and Glen Frey who made it famous with the eagles both passing away in the same year we wanted to pay tribute to the song and to what they both brought to music. Meghan is not only a label mate of ours on Warner Music but is a very close friend of the band. We somehow managed to rent a church on a Sunday in Kerrisdale and record it. We try to perform it live whenever we are lucky enough to share the stage with Meghan on the road. People really seemed to enjoy our version of it
A lot of industry experts deem the popularity of today's country music has moved into popularity to a new generation that normally would tell you they don't like country music. When you look out at the audience at your shows what do you see?
We just see people who are fans of music and just came to have the time of their life. Ask anyone with a phone to show your what they have on their Spotify or Apple music account people listen to more kinds of music than ever before. We have so many people now come up to us and say " I'm not a fan of country music but I love you guys". I think we were such fans of such varied music that it found its way into our sound. The great thing about country is there are more sides to it than ever before so there's room for all kinds of sound and fans.

Your current CD "In My Bones" is now a couple of years old. One would have to think the band is working on new material. Do you have any plans for future recording?
Yes in fact "SHINE: our new single is the first single from a brand new Washboard Union record that we're in the middle of writing and recording that will come out in 2018. Warner Music heard that song shortly after we wrote it and was so excited they wanted to put it out right away. We have so much new music for this record that we are excited to show the world. This new record picks up perfectly where In My Bones left off.

"In My Bones" was recorded in Nashville. What was your impression of Music City USA.?
We spend alot more time these days in Nashville and surrounding area lately and we absolutely love that city. I remember thinking that Nashville must be a gigantic place for all the music that comes out of it, but Music Row is literally 2 streets of small houses filled with songwriters and artists working day and night writing songs. As fans of old country music it is a special place to get connected with Country music's past too. We stayed in a house in Berry Hill owned by Jason McCoy while we were recording In My Bones which bordered Woodlawn Cemetery where both George Jones and Marty Robbins were buried which was a place David and I stopped by a few times to say thanks.
You have been chosen to appear on the nationally televised Canadian Country Music Awards show live from Saskatoon in September. The love you feel nightly from the big festival shows you have been doing this summer along with this industry certification, does this all mean THE WASHBOARD UNION HAS ARRIVED?
Live on CBC TV September 10
We are just so grateful to everyone who comes out to see us play or watches our videos or listens to our music. Every day brings a new set of adventures for us and we are having the time of our lives. We can't wait for CCMA's and for all of the shows we have coming up.
CHRIS thanks for taking the time to preview tonight's show. Do you have any closing thoughts for the readers of The White Rock Sun?
We rarely get to play at home these days so being invited to come home and play in Whiterock is really exciting for us as a band. We're BC boys and are very proud of where we come from. We want to thank the City of White Rock for hosting us as you celebrate Canada 150 this year.
Chris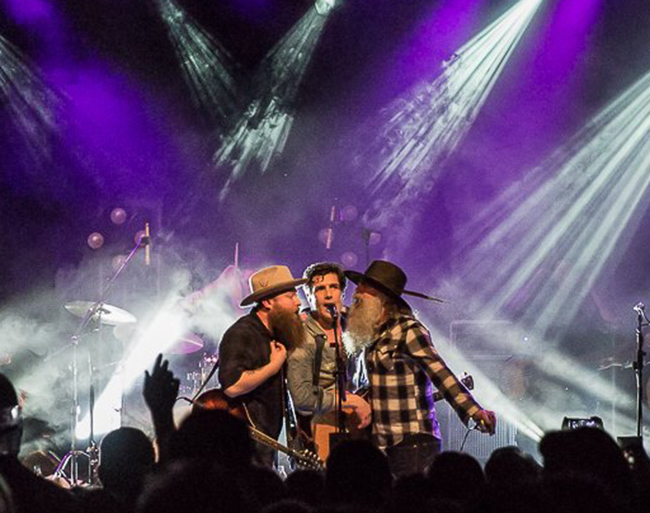 See THE WASHBOARD UNION live tomorrow (Wednesday evening @ 8 p.m. next to the museum on Marine Drive on the White Rock waterfront.)
Visit THE WASHBOARD UNION online
Editor/David Chesney
David Chesney - Editor/Publlisher