June 21, 2018
Jay you great up in White Rock and had the opportunity of meeting ROB AHLGREN at an early stage of your musical career. Where did it all begin?
Robbie and I met at Charlie Don't Surf, we were waiters way back in Summer Sandcastle mayhem days, with lines ups out the door and no parking fee's. The strip was like family and Charlie don't Surf was the hub of it all. Rob and I became good friends right away.
Your debut album was released on WARNER MUSIC Canada. When it came time for your second album ROB AHLGREN and DOUG E LACHANCE made you an offer you couldn't refuse?
My first album, Little Coma" had run it's course, sort of speak. I was writing songs and playing but nothing close to what I was doing with Warner Canada. Rob and Doug said I had to do another album, that I couldn't give up. I was settling into a complacency with my music that seemed to befit someone who had lost their dream, so having their encouragement was powerful.
They went one step further and financed Little Coma. No strings attached, just amazing people believing in my music and willing to put themselves on the line for it. I was of course grateful but at the time so wrapped up in the process of making the album that it wasn't until very recently how much their generosity has really sunk in and made an everlasting impression.
Where did you record your sophomore album Little Coma?
Little Coma was recorded in Turtle Studios down on White Rock Beach
Who played on that album with you and who produced the record?
Jordan Carrier, Ed Johnson, Brad Graham, Heidi McCurdy sang some back up vocals as well.
Will any of the musicians be on hand Saturday evening at the Crescent Beach Legion?
The original band members will be playing
How long has it been since you guys were performing publicly?
We were all talking about it and we figured our last show was 2008.

In addition to the door charge tell us a bit about other fundraising options we will have Saturday evening?
We have a silent auction, with some fantastic items to bid on, as well as a 50/50 draw.

The poster says the party starts @ 7 p.m. What time does the music kick in?
Music is going to be starting as soon as you walk in with James Devon leading us into this fantastic night of music and supporting Rob.
In addition to your band there will be a number of performers. Who else will we see on stage Saturday?
James Devon, Heidi McCurdy, Jordan Carrier has chosen three songs from his new album to play. Randy Schultz and I are going to play a couple and The Sound Shifters are closing it down with some groovy covers so that we can watch Doug Lachance cut a rug.

In closing JAY, I witnessed personally how wonderful those musical nights at the Beccher street Cafe were. Do you have a special memory of a certain night?
I can't really put my finger on one particular night. It was more the captivating spell of music that the band and I somehow generated that struck me. The sense of joy that seemed to stretch out into the crowd. There were moments when the music and the audience seemed to blend into one. It's hard to convey, but I believe we had some pretty special nights that felt like we were a part of something greater then ourselves.
David Chesney
June 13, 2018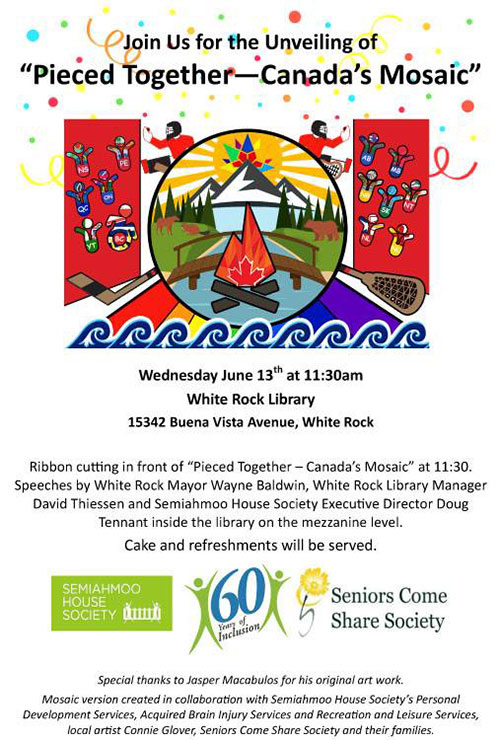 In 2017 Semiahmoo House (located on 24th avenues/South Surrey) applied for and received a grant from the federal government for a CANADA 150 project. Through discussions with the city of White Rock's Public Art committee, arrangements were made to have the mural installed on the entrance wall at the White Rock library. This morning there will be a public unveiling and dedication of the beautiful wall mural. Please join us.
CONNIE GLOVER a driving force and organizer of the project provides some background on the latest public art to come to White Rock.
How many people would have worked on the mural?

About 60 in total. Most of the work was done by members of Semiahmoo House Society and some staff.
There were also people involved from Seniors Come Share, Acquired Brain Injury Services, Recreation and Leisure Services, and students from WR Elementary.
This was my first experience working with people with disabilities on a public art project. I was inspired by their focus, attention to detail, and commitment to the project. They demonstrated that in the making of community public art, people from all walks of life come together – sharing experiences and bridging gaps.
This project gave the participants an opportunity to learn skills while engaging in meaningful arts practice for their community. Whenever I stopped in to see the progress from time to time, I was always impressed with the quality and quantity of the work accomplished and everyone who worked on it is to be sincerely congratulated.

Who will be on hand for the dedication today?

Members of the Semiahmoo House Society and staff, probably members of the other participating groups.
Connie & brother Reg Glover
We completed the art piece/mosaic at the end of January but it was necessary to wait for warm dry weather for the installation.
Finally in early May we were fortunate to have a long enough stretch of good weather and with the assistance of my brother Reg Glover, a stroke survivor himself, we began the installation which took about 6 days.