October 18, 2017
Excuse me, what was that you said?
LINDA MCRAE singer songwriter formerly with the SPIRIT OF THE WEST makes her home in Nashville, Tennessee these days. Her busy touring schedule takes her from coast to coast in America as well as her home and native land, Canada.
Recently in an off the cuff posting on FACEBOOK Linda started a tsunami wave of responses.
The question whe posted was "How do you handle hecklers?

Here's what happened:
i knew a pro wrestler who wore a mask. He was called The Destroyer. His best comeback ............. if i had your face i`d wear a mask.
Middle finger usually works lol.
Tell them, "I'm sorry but I don't do mental combat with the unarmed".
"People like you are why the gene pool should have lifeguards".
"Ss an outsider, what do you think about the human race?"
Im sorry...Am I interrupting?
If you only knew how important I am, you'd have more respect!
Hey! I don't come to where you work and tell you how many pickles to put on the big macs do I?
I usually say "Dad, I asked you wait in the car!"
Play a song by who??, he doesn't do any of mine !
It is recommended not to drink while on your meds
We take requests we just don't take them seriously.
Last time I saw a mouth that big it had a hook in it.
I Don't Come to Your place of Business and Ask if You can Supper Size those Fires for me,.. Do I?
Say to your audience 'I remember my first beer too!' Or 'the mushrooms must be kicking in' or 'every village has one'
Do I look like a goddamned jukebox?
We weren't planning an open mic tonight, sorry
I always tell them that I get paid to be on stage and you paid to see me, and I also say when you get your record deal I'll return the favor.
August 16, 2017
The Washboard Union - Rockin "The Rock"
L-R Chris Duncombe, Aaron Grain and David Roberts were the founding members and principles of The Washboardf Union
Tomorrow evening (Wednesday) THE WASHBOARD UNION bring their travelling country music show to the sandy shores of White Rock for a giant Canada 150 Party.
We were fortunate enough to catch up with CHRIS DUNCOMBE co founder, vocalist and banjo player for the group during a rare break from touring and a pit stop at his East Vancouver home.

Chris The Washboard Union is currently on a hectic tour schedule across Canada in support of your new single "Shine" from your sophomore CD. Tell me about some of your summer highlights.
We have had a very busy summer on the road, I think we are in the middle of around 26 summer shows right now which has seen us share the stage with Jason Aldean, Toby Keith, Keith Urban, Brad Paisley, Chris Young, Old Dominion and more.
You and your bandmates literally exploded on the country music scene with your debut CD which interestingly was produced by Canadian Music Hall of Famer GGGGarth Richardson. RICHARDSON up to that point was known internationally for his work with some of the world's top hard rock acts. How did you come to work with RICHARDSON and where did you record your debut?
Garth literally saw us play one night and said to us point blank " Your music makes me smile and you're one of a kind". We were so honoured to be able to work with Ggarth and that he would produce our first record. He is truly one of Canada's greatest talents in the music business.

In short order you began to collect hardware at British Columbia and Canadian Country Music awards shows. How many awards have you garnered and is there a particular award that has special meaning to you and the boys in the band?
6 awards so far: 4 BC Country Music Awards and 2 Canadian Country Music Awards last year for Rising star and Roots Artist of the year. We are up for 2 more CCMA's this year. We are so honoured to have been welcomed in by the Canadian Country Music community and supported so strongly from the BCCMA. These are people who care for, and foster talent to help them grow their careers and for that we are very grateful. I think that winning Rising Star was a huge moment for us as we were together with our wives on national TV for that win and could not believe that it was actually happening. It was an incredible moment for us and our families.

Though the band has five members you and AARON GRAIN and DAVID ROBERTS are the focal points of the group. How did THE WASHBOARD UNION begin?
6 actually and sometimes more.
The 3 of us were songwriters first and that remains the core of everything we do. David, Aaron and I have a love of songwriting in addition to country music, Bluegrass, and more. We began by learning and playing early bluegrass and trucker tunes together long before we were the Washboard Union. Like nearly every band it all began in a basement. For us and old mansion in point grey that we and a bunch of other musicians lived in and wrote in. We have shared the stage with some great musicians along the way in both RUN GMC and The Washboard Union. We still feel every day like we're just getting started.

In the short period you have been on the music scene you have had the pleasure of performing with a long list of country superstars. Tell us a bit about some of the acts you have had the pleasure of sharing a stage with?

We have been fortunate enough to play with alot of great country acts but a few favorites would definitely be : Zac Brown Band, Keith Urban, Old Dominion, Jason Aldean, and more

Did you pick up any pointers from doing shows with these veterans?
Every single time. We actually very early on got to spend some time with Zac Brown and ask him a ton of questions we had about being in a band. You can learn things from guys at that level that no one else can teach you about becoming a successful band and running your business as a band. We have played with them a few times now and they have been great mentors for us. Our manager Ron Sakamoto is also a big mentor for us in addition to being in the Country Music hall of fame so we learn from him pretty much every day .

Your tour schedule has been incredible since you arrived on the music scene. Though making records and touring are two very different facets of your career what are some of the aspects of both lives that you enjoy?
Bands get to go through so many different cycles in the course of making and promoting a record that we love diving into each one whole heartedly. When we're writing its all we think about, when recording the same, When its time to promote the records, shoot videos and tour we can't wait for that part too. What we find now is that all of those various stages just come at you much faster than ever before.
The culmination hearing a crowd sing back the lyrics your wrote in some little kitchen or studio in Tennessee is the greatest gift a musician can ever receive so when we get to perform our songs live as we are right now....That just might be the best part of all

The band has become known through extensive radio play and cool videos. Tell us a bit about the making of "Maybe It's The Moonshine" and "Shot of Glory"
(click here to order your copy of IN MY BONES)
Both of those songs were actually 2 of the last 2 written for the In My Bones EP.
Maybe its the Moonshine we wrote with some pals of ours from One Arm Train in the kitchen of a tiny house on the outskirts of Nashville. That tune for us was always about getting back to what really matters and finding your way back to it as often as possible . To get back to what's truly important beyond the lights of the city that surrounds you.
Shot of Glory is an interesting one. Some songs are like a wrestling match to write and some come very easy. Shot of Glory we wrote in about 2 hours with our friend "Boots" and seem to just show up for us and make sense. Not only that but when we went to record that song at RCA studio A in Nashville we did it with the band in 1 take. That certainly has never happened for us before. The music you hear on that track is literally that 3 min and 30 seconds live.
I have to also ask about the cover of The Eagles song "Seven Bridges" with special guest Meghan Patrick.
That is a song that meant alot to Meghan and the 3 of us. With Steve Young, who wrote the song and Glen Frey who made it famous with the eagles both passing away in the same year we wanted to pay tribute to the song and to what they both brought to music. Meghan is not only a label mate of ours on Warner Music but is a very close friend of the band. We somehow managed to rent a church on a Sunday in Kerrisdale and record it. We try to perform it live whenever we are lucky enough to share the stage with Meghan on the road. People really seemed to enjoy our version of it
A lot of industry experts deem the popularity of today's country music has moved into popularity to a new generation that normally would tell you they don't like country music. When you look out at the audience at your shows what do you see?
We just see people who are fans of music and just came to have the time of their life. Ask anyone with a phone to show your what they have on their Spotify or Apple music account people listen to more kinds of music than ever before. We have so many people now come up to us and say " I'm not a fan of country music but I love you guys". I think we were such fans of such varied music that it found its way into our sound. The great thing about country is there are more sides to it than ever before so there's room for all kinds of sound and fans.

Your current CD "In My Bones" is now a couple of years old. One would have to think the band is working on new material. Do you have any plans for future recording?
Yes in fact "SHINE: our new single is the first single from a brand new Washboard Union record that we're in the middle of writing and recording that will come out in 2018. Warner Music heard that song shortly after we wrote it and was so excited they wanted to put it out right away. We have so much new music for this record that we are excited to show the world. This new record picks up perfectly where In My Bones left off.

"In My Bones" was recorded in Nashville. What was your impression of Music City USA.?
We spend alot more time these days in Nashville and surrounding area lately and we absolutely love that city. I remember thinking that Nashville must be a gigantic place for all the music that comes out of it, but Music Row is literally 2 streets of small houses filled with songwriters and artists working day and night writing songs. As fans of old country music it is a special place to get connected with Country music's past too. We stayed in a house in Berry Hill owned by Jason McCoy while we were recording In My Bones which bordered Woodlawn Cemetery where both George Jones and Marty Robbins were buried which was a place David and I stopped by a few times to say thanks.
You have been chosen to appear on the nationally televised Canadian Country Music Awards show live from Saskatoon in September. The love you feel nightly from the big festival shows you have been doing this summer along with this industry certification, does this all mean THE WASHBOARD UNION HAS ARRIVED?
Live on CBC TV September 10
We are just so grateful to everyone who comes out to see us play or watches our videos or listens to our music. Every day brings a new set of adventures for us and we are having the time of our lives. We can't wait for CCMA's and for all of the shows we have coming up.
CHRIS thanks for taking the time to preview tonight's show. Do you have any closing thoughts for the readers of The White Rock Sun?
We rarely get to play at home these days so being invited to come home and play in Whiterock is really exciting for us as a band. We're BC boys and are very proud of where we come from. We want to thank the City of White Rock for hosting us as you celebrate Canada 150 this year.
Chris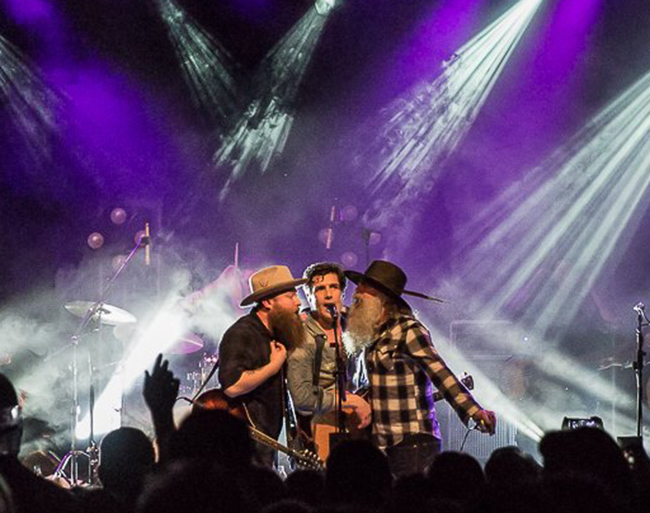 See THE WASHBOARD UNION live tomorrow (Wednesday evening @ 8 p.m. next to the museum on Marine Drive on the White Rock waterfront.)
Visit THE WASHBOARD UNION online
Editor/David Chesney
May 17, 2017

ALEX BROWNE is an entertainment fixture on the Semiahmoo Peninsula. From his ongoing entertainment editor position with the Peace Arch News, his performances at the White Rock Playhouse and his all too infrequent musical performances Alex truly is an arts man around town. Next Thursday (25) Alex will perform with his orchestra The Boulevardiers at the Crescent Beach Legion.
When did you love for music begin Alex?
I was surrounded by music as a youngster, growing up in Sussex in southern England. My Dad (a former big band guitarist/vocalist) was a columnist and feature writer for The Melody Maker and Picturegoer (he interviewed everybody from Frankie Laine and Johnny Ray to Frank Sinatra and Marilyn Monroe), and later started his own musicians' magazine, Crescendo, which became a favorite of top U.S. players like Buddy Rich. My brother was a jazz/show drummer who played several seasons with a band in Paris. They used to bring home sample review records, and I was allowed to keep any that appealed to me. I loved classical music and some pop, but the first band that really clicked with me was The Temperance Seven. They were produced by George Martin (pre-Beatles) and played music of the 1920s that was surprisingly authentic in sound and arranging style – not like the glitzy inauthentic Roaring `20s recreations that had a vogue in the U.S. in the late `50s and early `60s. Temperance was (and still is) a really oddball group, very iconoclastic in the context of early `60s pop like Elvis, Fabian, Frankie Avalon, and they also had a satirical edge to them (not unlike Beyond The Fringe and early Monty Python) that also gently ridiculed the British Establishment. I didn't understand any of this as a six or seven year old – I just loved the tricky arrangements, which later prompted me to seek out genuine `20s and `30s artists.
You have been performing with your "big band/orchestra" for a number of years now. When did this chapter of your performing life begin?
It really goes back about 30 years to when I first moved to White Rock, and did gigs at Charlie Don't Surf and Dean Gibson's Piccadilly Station restaurant on the waterfront fronting my own small group. I'd been immersing myself in 1920s and 30s music for years, singing, playing cornet and stand-up bass, and jamming with my Dad and other musicians, but I was never very happy as a sideman. It all came down to the arrangements – wanting to have the interesting effects I'd heard on `78s and re-issues but which always get lost in more informal playing situations. I'd been collecting old band stock arrangements since I was in my early teens (you could still find them in thrift stores at that point), but, as a self-taught musician, it took me a long time to really understand how they were put together to the level that I could make a stab at restoring missing parts or use them the way old-time band-leaders did. I started with a pre-Swing group, which grew into a small big band by the time of the big commercial Swing revival of the 1990s. With an extended book, thanks to the generosity of veteran musicians I'd met, I ended up playing everything from the 1920s to the mid `50s when I created the Swing Sunday event at Washington Avenue Grill. I was also doing corporate and Hot Jazz Club gigs at the time.
How large is your musical ensemble? All all the members from the surrounding area?
We're an eight-piece group, including me, or nine if you count Ed Johnson (a Semi grad) who's a fabulous musician in his own right and who I've been lucky enough to have as a sound-engineer for years. Most of the musicians are people I've worked with for years and they're all top freelance talents in the Vancouver market. Surrey's Henry Christian, on trumpet, is a first-call man for the orchestra of touring Broadway shows in Vancouver and he's played every kind of gig, up to appearing on Aerosmith albums! I have to negotiate for the services of South Surrey drum star and music collector John Cody (he plays his own authentic 1927 kit) with the legendary Lee Aaron – he's her drummer of choice. David Sabourin on tuba has had a highly distinguished career as a concert musician and created White Rock's Tapestry Music, which is hugely influential in keeping music alive through the younger generations. Tony Sheppard (alto sax/clarinet) from Richmond and Vancouver's Graham Howell (tenor sax/clarinet) are both fabulous reed men who are also fine teachers and mentors. Jeremy Berkman (trombone) is a highly-respected Vancouver musician and one of the founding members of the Juno-nominated Turning Point classical ensemble and also plays in the Vancouver Opera orchestra, like Angus Kellett (on piano, also from Vancouver) who plays a lot of opera and show gigs and excels at just about every music style known to man.
I had the pleasure of seeing one of your recent performances at the Crescent Beach Legion. There was a very interesting aspect to that performance in that the music in large part you and your orchestra performed was donated to you by a lady in the audience. Tell us about the back story on how that occurred.
I've known Cindy Sleeman for years through White Rock Players Club shows we both worked on – including Scott Wheeler's The Wild Party – and also on movie gigs for which she was a scenic artist. Her late mother, distinguished Canadian composer Anita Sleeman, was director for years of the Ambleside Community Orchestra, and at one point somebody donated a bunch of scores to her. Some she was able to use, but there were several boxes of 1920s and early `30s dance band arrangements that sat in boxes for years. When Cindy was going through her mom's things recently, she found the charts and got in touch with me, asking whether I might be able to use them. She sent me a cell phone shot of the first page of one the charts and I almost had a seizure. There were things there I'd been wanting to find for decades. She very generously donated the boxes to me with the proviso that I play the pieces and introduce them to new generations. It was a very serendipitous, particularly since I'd already decided to shift my musical focus back to the pre-Swing era!
In watching you perform this music from another era, it almost seems like you transcend the moment and virtually channel the music of the era. Who are some of your favourite composers and performers from those days gone by?
I love the well-known jazz musicians of the 1920s such as Louis Armstrong and Bix Beiderbecke, and bands such as Duke Ellington, Fletcher Henderson, King Oliver and Cab Calloway. But I also love more commercial groups like Paul Whiteman's Band, The Virginians, the Jack Hylton Orchestra (I play some of their original charts, cut down for our instrumentation), Jack Payne's Band, Ambrose, Roy Fox and Bert Firman's Rhythmic Eight from England, early Guy Lombardo and the Royal Canadians, , Ben Selvin, Johnny Hamp's Kentucky Serenaders and Nat Shilkret and his Victor Orchestra. I use a megaphone for my vocals as a tip of the hat to the original crooner idol, Rudy Vallee, who did much to reshape dance music in the late 1920s and early `30s. I actually had a chance to meet and hang out with him during one of his visits to Vancouver (although I soon discovered he was more interested in talking about past romantic conquests than discussing musical concepts!). I like composers such as Gershwin, Cole Porter and Rodgers and Hart, but I enjoy reviving some of the great tunes by people like Harry Akst, Walter Donaldson and DeSylva, Brown and Henderson.

Will we see a new show next week when you make your return to the Crescent Beach Legion/Club 240?
It's an evolving book and playlist, which will introduce some new/old material in my never-ending search for a balanced program. I have to be careful how much I push this – we have several hundred charts we could be playing but it takes time for the band to decipher and assimilate all their quirks and peculiarities. Most of the book is new to us this year and I'd like the guys to get comfortable with it, rather than steaming up their spectacles with too much furious sight-reading.
You have a young daughter so I am assuming you are exposed to the music of today. What artists have grabbed your attention over the past decade.
I hear a lot of everything. I can admire just about anything in any idiom that's authentic and passionate, but not a lot of Top 40 (or is it the Top 7 nowadays?) with its go-nowhere hooks, endless repetitions or lyric-driven duh-duh-duh-duh-duh one-note melodies (our daughter, Savannah, shuns them too). I respect some contemporary performers like Adele and Bruno Mars, but whenever I hear any oldies from the `70s or `80s I realize again just how much our popular music has been diluted and denatured over the last couple of decades. At our house, the playlist is very eclectic, ranging from Katherine's Beats Antique tribal fusion dance music, to artists that Savannah has discovered like the British avant garde folk band Moulettes (who we saw in White Rock as part of the TD Concerts series last year), to family favourites like Tom Waits, Melody Gardot, Jill Barber's French album and Django Reinhardt's gypsy jazz. I also very much like Tuba Skinny, a young group from New Orleans who bring an infectious energy to traditional jazz.
If you were being sent to a Desert Island and you could only take 5 albums with you, what would they be?
I have the LPs in our living room ready to go! – Young Bing Crosby, Bing Crosby in Hollywood Vol. I, Jack Hylton, Original Sounds of the 30's, Ambrose and his Orchestra.

What song is the soundtrack to your life?
I guess I would have to say the song I have chosen as the opening theme of The Boulevardiers – Beyond The Blue Horizon. It's a song from 1930 that has always appealed to me – full of hope for travel and blue skies and new adventures (and a suitable antidote to my gloomier side!)
Thank you for sharing your history with us Alex, in addition to you concert next week you are involved in an event at White Rock's Uptown Pop Up Gallery beginning Thursday (18) Tell us a bit about your involvement in 5 Nuts & A Squirrel.
My wife, artist/designer/tribal fusion dancer Katherine (Kat) Siemens is one of the three highlighted multidisciplinary artists – along with our friends, painter, sculptor and jewelry-maker Alicia Ballard (of Outside The Box fame) and Bryce Willushaw, a talented painter, graphic artist and video consultant – so I'm pretty closely involved in supporting the venture, entitled Life As Art: Fashion, Function and Fusion. Over the course of the month it will feature an intriguing variety of painting, jewellery, fabric arts, dance and literature, demonstrations and live events. My actual role is as a special guest, along with Jill Tunbridge of Flamenco del Mar, who will be conducting some flamenco dance workshops and who has also written a poetic fantasy Fairy of the Night and Still from which I will be reading excerpts during the show. I will also be reading excerpts from my own soon-to-be published book Rough Shadow and Other Stories, a series of linked noir mysteries set in the dark milieu of Vancouver in 1950. But that's a whole other story!
David Chesney - Editor/Publlisher