August 08, 2018

Everyone Loves a Parade
Pre-parade gathering with MP Gordie Hogg & friends and neighbours (photo courtesy Debbie Lawrence)
Sea Festival parade 1967 photo courtesy White Rock Museum Archives
This past year the city of White Rock hosted its 69th annual Spirit of the Sea Festival.  The fsummer sea estival actually pre-dates White Rock becoming a city in 1957  when we broke away from the mi=uniciplaity of Surrey.
The weekend began Friday evening with an outdoor cinema in Semiahmoo Park.  The fun continued Saturday morning as Captain Korki the Clown led the children's parade along East Beach right into Semiahmoo Park.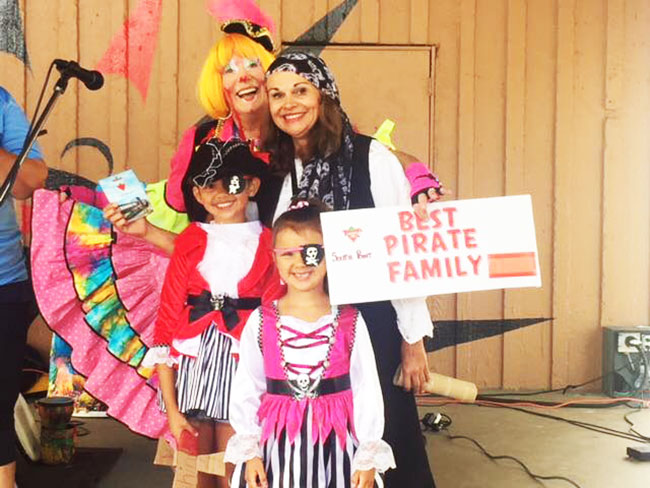 Her highness Captain Korki with Pirate Family winners for 2018 - The Strauss family
This year marked  a coming together of the Sea Festival and the Semiahmiahmoo Days which for the past couple of years was separate from the Se Festival itself.  The hatchets have been buried between the sea fest organizers, Semiahmoo First Nations and Korki the Clown which made for a wonderful day for moms/dads and boys and girls  Saturday and Sunday.
Saturday evening Semiahmoo Bay shone brightly under the aerial display of fireworks off of our famed white rock on the shoreline near the pier.  Thousands gathered along the waterfront for the annual night of pyrtoechnics.
Saturday evening the torchlight parade got underway at approximately 8:45 p.m. from its starting point on Marine Drive @ Oxford Street.   Councillor Helen Fathers rode together for the third year in the annual parade.  We did not dwell on it, but I am sure both Helen and I steeled our resolve and prepared for negative backlash against the current council.
Nothing could be further from the truth.  Friends and neighbours all along the route cheered, clapped, gave us the tumbs up and vocally identified they are appreciative for the work Helen and I have done at city hall.
Three years ago only Councillor Fathers, myself and Mayor Wayne Baldwin participated in the parade.  Last year just Bill Lawrence partook in the parade along with Helen and I.  This year the entire COALITION of Councillors Meyer, Knight, Sinclair and Lawrence took to one vehicle.  I don't know and don't care what the reaction to their presence was from members of the largest crowd ever for the torchlight parade.
Stylish ride with Idamay
Helen and I were fortunate enough to be chauffered by Scott Booth in his beautiful 1947 Plymouth convertible.  The car has an interesting history.  Scotrt and his father rebuilt the car back in the 9i0's as an after school father/son project.  Cool cars, hot rods and custom cars play a large part in Scott's life away from the White Rock firehall.   Wicked Customs in Surrey is the end result of Scott's love for old cars.  As a matter of fact Scott leaves this week for a week long trip to and from Reno for the custom car "Hot August Nights get together.
Something I noticed as we cruised along the parade route was the high percentage of Chinese fammilies along the parade route.    From 8 to 80 famileis were out in full force waving and cheering as the parade entries edged by.  Of course the children were excited by the thought of collecting penny candy some parade vehicles distributed.
This years Sea Festival was co-ordinated by a new group of volounteers in our community.  These individuals, their sponsors, the volounteers, the city of White Rock and the Semiahmoo First Nations are all deserving of a big thank you from each and everyone of us.
Saturday night was far more than just a parade.  IT was OUR community coming together and showing our pride for OUR  city by the sea.
Let's take it back at the polls on October 20.  With YOUR help, it can be done.
David Chesney
Publisher
Councillor
P.S.
OF special note was this year's parade marshal our very own MARK DONNELLy.
Once the parade made itself to the bar/restauarant section of West Beach large numbers of revellers inspired by Mark's presence broke into O Canada. The scene was repeated from many balconies along the hump and on East Beach.
We could not have asked for a better parade marshal
July 17, 2018
Rock N Roll Never Forgets
SRV/CFOX's Liz McKinnery/Yours Truly
David Chesney
JJ's 365
Jim Johnston
President, CEO, JJ Media/Management, Media Talent/Content Coaching, Executive Coach
Company NameJJIMS Inc. JJ international Media and Management Solutions
Dates EmployedJul 2013 – Present Employment Duration5 yrs 1 mo
JJIMS was launched July 1st of 2013 and has several high profile customers at home and abroad.
Jim JJ Johnston, The President, CEO and head Talent Coach, is a deeply experienced and successful Media/Management leader. JJ has coached/mentored many of Canada's Top Broadcasters and Executives and now coaches in many different fields.
Welcome to JJ-365 Salutes. Over 2018, we pay tribute daily to one of "The Good Ones".
Today we are shining the light on "The Ches", Dave Chesney.
This fellow is a master story teller. I remember him elucidating me with the legend of Jerry Lee Lewis playing at 86 Street and how Jerry was docile for most of the show but then out of nowhere got up, kicked the stool away, pounded the piano for hours and brought the house down. The way Ches says it really makes you want to have been there.
Dave was one of the first guys I met when I arrived at Richards and Nelson at the helm of CFOX. Dave will always have an affinity for the FOX and was of the fabric of the station. He continues today to be a part of the glue that keeps the west coast music and radio scene together. He welcomed me with open arms with his genuine and friendly smile and I still count on him as one of the most positive dudes I know.

He says it all began at a young age for him. He comes by his love of the media and music industry honestly. His father, "Uncle Joe" Chesney held down a number of positions at The Top Dog CKNW radio, that was until the station got wind he was looking to apply for a radio station license in Surrey. After being shown the door "Uncle Joe" ended up pioneering country music on the west coast with an afternoon drive show on talk show giant CJOR. Along with Vic Waters his father played both kinds of music, country & western. In around 1961 Joe successfully landed a license to operate a radio station in Langley British Columbia. CJJC The Voice of the Valley became British Columbia's first 24-hour country music radio station.

Dave was afforded the golden opportunity growing up to be around radio stations and broadcasters: "CJJC was a real life WKRP. Being the boss's kid and working in a creative environment, I had two choices. 1. Just be the boss's kid or …2. Ploughing my row deeper and truer than everyone else. I chose #2 and as result earned the respect of my fellow workers and later my staff."

But alas as much as he loved the gig, he loved rock n roll more. One of the promotion men who used to make the long journey out to the Valley to service CJJC with country product was Frank Gigliotti. Frank inadvertently informed Dave that CKLG-FM was about to go through a metamorphosis under the leadership of The Real Roy Hennessy, former morning boss jock on CKLG. Dave jumped ship and became the music and promotion director for FM/99. Dave says his stay at CFOX was short and sweet: "One of my main duties as a music director was to deal with record company reps vying to get their music on the radio. CBS Records in the late 70's was looking to expand their market share by adding additional reps in the major markets across Canada. I applied for a position of the Epic/Portrait/Associated labels position in the Vancouver branch and was successful in attaining the position."

The next 14 years was a blur he says: "The 60's certainly was a heady time in the music business, but let me tell you this, the 80's was the period of excess. With the introduction of MTV and MUCHMUSIC the sales of pre-recorded music exploded. The CBS Records wrecking crew in my humble opinion owned the streets. First under the leadership of Brad Weir and then 365'er Kim Zayac. I attained 'record heights.' I cannot thank or say enough about those two gentlemen. I proudly still call them friends. I went on to win the Top Promotion Man award 6 consecutive years. Then it all came to a screeching halt."

SONY MUSIC bought CBS records and everything changed. Dave distinctly remembers sitting in his office one day and realized they had 6 or 7 of the Top 10 records and he didn't want to listen to any of them. He thought to himself, well I have a pretty extensive radio background and now I fully understand how a major label works. He left CBS records and threw in with Larry Wanagas who at the time had rung the proverbial brass bell with K.D. Lang from a little office on the edge of Vancouver's Granville island. Ches joined BUMSTEAD PRODUCTIONS as the national marketing director and eventually that job morphed into a co-management with Wanagas for The Blue Shadows (Billy Cowsill). By this time Larry relocated to New York but Dave stayed on the westcoast to be there for his aging mom, a decision he will never regret. She was always there for him especially at a lot of crucial times in his life.

When The Blue Shadows disbanded Dave ended up producing music videos, did contract work for a number of artists and quite synchronistically ended up as an instructor at a private music college called the Pacific Audio Visual Institute. He enjoyed his years working with young students who were looking for a career in the music and radio industry and called that time very rewarding.

Around this time Dave and his late and great wife Laurie (total sweetie) moved back to his roots, White Rock BC. Upon his return he quickly realized: "My White Rock was going through some major changes, many of which I did not agree with. My father at a young age pounded into my head 'Dave put up or shut up! If you aren't prepared to roll up your sleeves and attack a problem we really don't want to hear what you have to say."
Well when it came to White Rock he couldn't shut up (Interesting the way he says "White Rock". He makes sure that the "T" is pronounced and he makes sure it is said as two distinct words).

He says two things happened: "I knew from my media experience that technology had an immensely negative impact on the music industry and I knew what was happening with newspapers. They were next. Yet I also knew people had a voracious appetite for LOCAL news. Now as everyone reading this knows in order to start a radio or television station you need millions of dollars and government approval. Yet on-line newspapers did not need any government approval. Before I knew it I had started Canada's First independent online newspaper, The White Rock Sun www.whiterocksun.com. That was thirteen years ago this past June.

The second thing that I did was roll up my sleeves and run for White Rock city council. It took a couple shots but four years ago I secured a seat on White Rock council. We are coming to the end of our mandate and I have every intention of seeking another term. In addition to holding a seat on council and publishing the White Rock Sun I handle media for local independent promoter Rob Warwick/Rockitboy Entertainment."

As he looks back he describes it as one hell of a ride: "I enjoy reading your posts Jim. Many I know, some I don't know personally but usually know by name. I don't know if lasting friendships are as prevelant as the radio and music industry have afforded so many of us. I can go years between seeing or talking to so many colleagues and when we do meet, it seems like yesterday. I sometimes think people who went to war together probably have the same kind of a bond.

Highlights of my career could fill a book, which no one wants to read (wrong Ches, we all want to know). Well at least not anyone that would be willing to pay for it (wrong again). With that said though, milestones include presenting Stevie Ray Vaughn with his first gold record, working with country greats like George Jones (the first time I was a stammering fool), being instrumental in CBS RECORDS signing Barney Bentall & The Legendary Hearts and working with THE CLASH on their first North American show at the Commodore Ballroom. Damn I thought I saw the future of rock n roll that night."
I just love this guy and have been wanting to write about him for some time. He was one of the first guys on my 365 list. During the tumultuous rock and roll times, Dave was always a gent. He handled any situation being, well, "The Ches." He is a humble and graceful cat who has had a big stake in the shaping of the west coast media and music scene. Not sure you will find a much better person and pal than Dave. Salt of the earth. Please do write that book Ches, you have so many stories to tell and I know hundreds who will line up to buy it and read it. Atta be brother!

Thank you, Dave Chesney, for being on of the "The Good Ones". Feel free to like and share Dave's positive story. Who is the subject of tomorrow's JJ-365 Salutes? As they say, stay tuned.

Jim JJ Johnston is the CEO, President and Chief Talent Coach for JJIMS INC. and works with talent in many different industries worldwide.
July 11, 2018
Nothing makes me prouder than to see the way our community comes together and rallies around a great cause. Two weeks ago our musical commuikty was called upon for a benefit for our hospitality industry veteran ROB AHLGREN (former owner of Beecher street cafe) in Crescent Beach. AHLGREN for years supported live music with weekly concerts in his seaside dining establishment.
This past Sunday once again musicians and volounteers alike put their efforts forth for a great afternoon/evening of music at the Pink Palace/Rhumba Room. RICK DALGARNO the co founder and singer for BLUE VOODOO is recovering from heart surgery which has forced him to take unscheduled time off of work. Interestingly enough, DALGARNO first thought he was having some health issues as he was driving to the JASON BUIE BENEFIT a couple months back at the same room in the Pacific Inn.
The afternoon opened with a surprise guest appearance by DALGARNO as he strolled on stage with his bandmates for a song to get the afternoon going. The smiles around the room would have lit up a darkened night. RICK "Poppa Dawg" HALLISHEFF from Kelowna and LAURA BACON joined in as special guests and the afternoon was off and running.
Next up performing an accoustic set on a satellite stage at the opposite end of the venue JACK & DEV (who just happened to be DALGARNO's nephew and daughter) fought a little bit of sound problem to start their set but quicly recovered and set the crowd back in their chairs.
CONNIE ANDERSON blowing up a storm with ROGERS/PEARSON
Back to the main stage a pair of guitar slingers GLEN PEARSON with special guest JAMES "Buddy" ROGERS dished up a twin attack of rockin' blues. CONNIE ANDERSON unpacked her harmonica case and blew some great blues with the boys.
Next up on the accoustic stage was long time local music legend JORDAN CARRIER. From his incredible musical beginnings with COZY BONES through his solo career which has had many highlights, CARRIER debuted material from his new musical project FEAR OF HOUSES.
Next up for the main stage was THE GALE FORCE BLUES BAND with special guests. JIM WIDDIFIELD and JOHN GALE from the band were the driving forces behind organizing and running one of the smoothest shows I have ever been a part of.
BOXCAR GATES
The musical action returned to the accoustic stage with our buddy and favourite blues performer DAVID "Boxcar" GATES. He isn't famous but he loves you! Always an increcible time when BOXCAR rolls into town.
MOJOMAN RANDY & RANDY OXFORD
The pride of New Westminster THE MOJO STARS tore the roof off the joint with their special brand of rockin' blues. Special muscial guest RANDY OXFORD who had just played with THE GALE FORCE BLUES BAND climbed back on stage and played like he had been part of the band his whole life. When in fact he had never seen or heard the band before. Now that is the magic of being an incredible musician. OXFORD and HIS full band return to our parts in October for a show in October @ Blue Frog. Based on what we saw and heard Sunday it's a show you don't want to miss.
STEVE SAINAS who is no stranger to our parts was next up on the accoustic stage. SAINAS was one part of MUD DOG who was one of the first acts the White Rock BLues Society sent to Memhis, Tennessee to compete in the INternational Blues Challenge.
Lonewolf
LONEWOLF a fiery country bluesy rockin outfit might have been one of the afternoon's sleeper bands. The group hosts the weekly Sunday jam session at the White Rock Legion on Johnston Road. I heard a number of musicians walking by the backstage area saying "Wow, who are these guys." A band that no doubt is now on a lot of people's radar.
Layla & Donna BARRACUDA
BARRACUDA The Ultimate Tribute to Heart closed out the afternoon/evening of music. The band left the next morning for a U.S. tour and to say the least went out with a bang. Catch them if they ever perform in your town.
A huge thank you to Dave Ciavarro, Jon Gale, Ted Tosoff, Jody Gilbert, Rob Nelson, Rod and Marg Dranfield and all the volunteers that helped to make the Rick Dalgarno fundraiser a huge success. It's amazing what people can do when they come together with the help of music.
As wonderful as the day was, let's not be getting together for awhile to help a muscial brother or sister who is undergoing some tought times.
Take a bow everyone that performed and or came out to enjoy the great day of music.
Dance local!
David Chesney
DC the MC
June 21, 2018
Jay you great up in White Rock and had the opportunity of meeting ROB AHLGREN at an early stage of your musical career. Where did it all begin?
Robbie and I met at Charlie Don't Surf, we were waiters way back in Summer Sandcastle mayhem days, with lines ups out the door and no parking fee's. The strip was like family and Charlie don't Surf was the hub of it all. Rob and I became good friends right away.
Your debut album was released on WARNER MUSIC Canada. When it came time for your second album ROB AHLGREN and DOUG E LACHANCE made you an offer you couldn't refuse?
My first album, Little Coma" had run it's course, sort of speak. I was writing songs and playing but nothing close to what I was doing with Warner Canada. Rob and Doug said I had to do another album, that I couldn't give up. I was settling into a complacency with my music that seemed to befit someone who had lost their dream, so having their encouragement was powerful.
They went one step further and financed Little Coma. No strings attached, just amazing people believing in my music and willing to put themselves on the line for it. I was of course grateful but at the time so wrapped up in the process of making the album that it wasn't until very recently how much their generosity has really sunk in and made an everlasting impression.
Where did you record your sophomore album Little Coma?
Little Coma was recorded in Turtle Studios down on White Rock Beach
Who played on that album with you and who produced the record?
Jordan Carrier, Ed Johnson, Brad Graham, Heidi McCurdy sang some back up vocals as well.
Will any of the musicians be on hand Saturday evening at the Crescent Beach Legion?
The original band members will be playing
How long has it been since you guys were performing publicly?
We were all talking about it and we figured our last show was 2008.

In addition to the door charge tell us a bit about other fundraising options we will have Saturday evening?
We have a silent auction, with some fantastic items to bid on, as well as a 50/50 draw.

The poster says the party starts @ 7 p.m. What time does the music kick in?
Music is going to be starting as soon as you walk in with James Devon leading us into this fantastic night of music and supporting Rob.
In addition to your band there will be a number of performers. Who else will we see on stage Saturday?
James Devon, Heidi McCurdy, Jordan Carrier has chosen three songs from his new album to play. Randy Schultz and I are going to play a couple and The Sound Shifters are closing it down with some groovy covers so that we can watch Doug Lachance cut a rug.

In closing JAY, I witnessed personally how wonderful those musical nights at the Beccher street Cafe were. Do you have a special memory of a certain night?
I can't really put my finger on one particular night. It was more the captivating spell of music that the band and I somehow generated that struck me. The sense of joy that seemed to stretch out into the crowd. There were moments when the music and the audience seemed to blend into one. It's hard to convey, but I believe we had some pretty special nights that felt like we were a part of something greater then ourselves.
David Chesney
June 13, 2018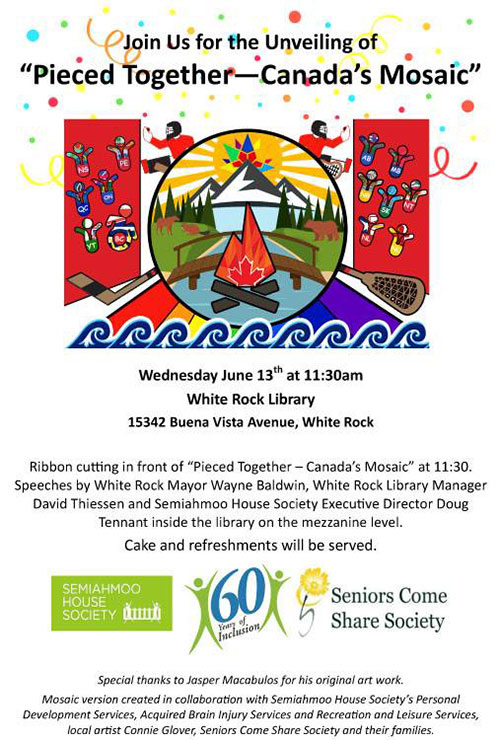 In 2017 Semiahmoo House (located on 24th avenues/South Surrey) applied for and received a grant from the federal government for a CANADA 150 project. Through discussions with the city of White Rock's Public Art committee, arrangements were made to have the mural installed on the entrance wall at the White Rock library. This morning there will be a public unveiling and dedication of the beautiful wall mural. Please join us.
CONNIE GLOVER a driving force and organizer of the project provides some background on the latest public art to come to White Rock.
How many people would have worked on the mural?

About 60 in total. Most of the work was done by members of Semiahmoo House Society and some staff.
There were also people involved from Seniors Come Share, Acquired Brain Injury Services, Recreation and Leisure Services, and students from WR Elementary.
This was my first experience working with people with disabilities on a public art project. I was inspired by their focus, attention to detail, and commitment to the project. They demonstrated that in the making of community public art, people from all walks of life come together – sharing experiences and bridging gaps.
This project gave the participants an opportunity to learn skills while engaging in meaningful arts practice for their community. Whenever I stopped in to see the progress from time to time, I was always impressed with the quality and quantity of the work accomplished and everyone who worked on it is to be sincerely congratulated.

Who will be on hand for the dedication today?

Members of the Semiahmoo House Society and staff, probably members of the other participating groups.
Connie & brother Reg Glover
We completed the art piece/mosaic at the end of January but it was necessary to wait for warm dry weather for the installation.
Finally in early May we were fortunate to have a long enough stretch of good weather and with the assistance of my brother Reg Glover, a stroke survivor himself, we began the installation which took about 6 days.