Recipe(s) Of The Week
Grilled Vegetable Quesadillas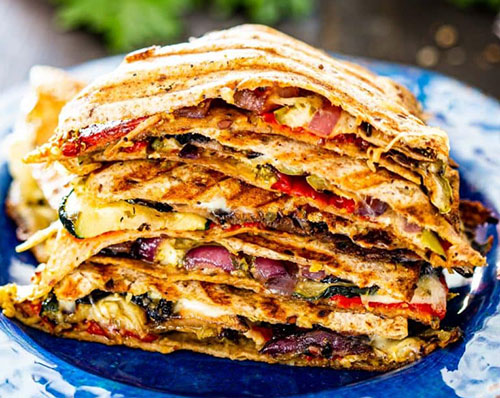 Ingredients
4 large tortillas I used ancient grains
2 large zucchini sliced into 1/4 inch slices
2 large squash I used a cousa squash, but yellow zucchini is fine too, sliced into 1/4 inch slices
4 large portobello mushrooms sliced
4 red bell peppers or sweet pointed red peppers
1 large red onion sliced
2 cups mozzarella cheese shredded
8 tbsp pesto store bought
1/4 tsp salt or to taste
1/2 tsp salt or to taste
Instructions
Turn your grill on and let it heat up to about 300 to 350 F degrees.

Season the zucchini, squash and mushrooms with salt and pepper.

Grill the vegetables, including the peppers on both sides until grill marks form. Remove from grill and set aside. Make sure you grill the peppers until they're charred.

Let the peppers cool then careful remove the skin and seeds from the peppers then wash them out.

Take a large tortilla and spread 2 tbsp of pesto over the top of the tortilla. Arrange grilled vegetables on half of the tortillas, some zucchini, squash, red onion, mushrooms and peppers. Top with about 1/2 cup of mozzarella cheese, use less if preferred. Flip over the other half of the tortilla to form half a circle and press down. You can use a panini press to grill the quesadilla or use a skillet. If you're using a skillet, spray the bottom of the skillet with cooking spray. Place the quesadilla and grill it on both sides until golden brown, about 3 minutes per side.

Repeat with remaining tortillas and grilled vegetables.

Cut each quesadilla in 4 and serve.
May 16, 2020
AMERICAN Ghoulash
American Goulash - One of the original classic one-pot meals! Loaded with beef and macaroni noodles, cooked to tender perfection in a rich tomatoey sauce. With a simple list of ingredients and fool-proof instructions, this comforting recipe is a favorite for busy families. Even picky eaters will lick their bowl clean!
Ingredients
1 tbsp olive oil
1 1/2 lbs ground beef lean or extra lean
1/2 tsp salt or to taste
1/2 tsp pepper or to taste
1 tbsp Italian seasoning
1 medium yellow onion chopped
3 cloves garlic minced
28 oz diced tomatoes 1 can
2 cups passata or tomato sauce
2 tbsp soy sauce
2 cups beef broth low sodium
2 bay leaves
2 cups elbow macaroni dry, uncooked
1 1/2 cups cheddar cheese
1 tbsp parsley freshly chopped, for garnish
Instructions
Cook the beef: Add the olive oil to a large dutch oven over medium-high heat. Add the ground beef, salt and pepper, and cook for 3-4 minutes, breaking it up as it cooks. If needed, discard excess grease from the pan, leaving behind 1-2 tbsp.

Cook the onion: Stir in the Italian seasoning, and onion. Cook for another 3-4 minutes, or until the onion softens and becomes translucent. Add the garlic and cook for 1 minute, or until aromatic.

Simmer the sauce: Stir in the diced tomatoes, passata, soy sauce, beef broth, and bay leaves. Bring the mixture to a boil, then reduce the heat to a simmer. Cover and simmer the sauce for 20 minutes, stirring occasionally.

Cook the noodles: Add the macaroni and cook, covered, stirring occasionally, for 12-15 minutes or until the noodles are tender. Stir in the cheese, garnish with parsley, and serve.
JAMIE OLIVER'S wonderful recipe for upside down puff pastry pizza.
May 09, 2020
OXTAIL Stew
Ingredients
2 tbsp olive oil
3-4 lbs oxtails
1/2 tsp salt or to taste
1/2 tsp pepper or to taste
1 large onion chopped
6 cloves garlic minced
2 tsp fresh ginger grated
1 habanero diced
1/4 tsp allspice ground
1/2 tsp smoked paprika
1/4 cup tomato paste
2 tbsp soy sauce low sodium
4-6 cups beef broth low sodium
4 sprigs fresh thyme
2 bay leaves freshly chopped
15 oz lima beans rinsed and drained, or butter beans or white/navy beans
1 tbsp cornstarch
3 green onions chopped
Instructions
Sear the oxtails: Heat the olive oil in a large braiser or dutch oven over medium-high heat. Season the oxtails with salt and pepper, and sear them on all sides until browned. You may need to do this in batches. Transfer the oxtails to a plate and set the oxtails aside.

Sauté: Add the onion to the pot and cook until translucent and softened, 3-5 minutes. Add the garlic, ginger and habanero, then stir and cook for 1 minute. Stir in the allspice, smoked paprika, soy sauce, tomato paste, and cook for 2-3 minutes until the paste browns slightly.

Braise: Add the oxtails back to the pot. Stir in the beef broth, thyme, bay leaves and bring the pot to a boil. You want to have enough broth to cover most of the oxtails, so start with 4 cups and add more as necessary. Turn the heat to low and cover with a lid slightly cracked. Simmer for 2 hours, remove the lid and stir in the butter beans, then simmer for another 30-45 minutes uncovered.

Finish: Remove the bay leaves and thyme sprigs. Whisk the cornstarch with 1 tbsp water to create a slurry. Stir the slurry into the pot and increase the heat to medium, stirring until the mixture thickens. Garnish with freshly chopped green onion.
Spicy Sweet Potato Tacos
Ingredients
1. Using a box grater, grate the sweet potatoes (no need to peel them). You can also use a food processor fitted with a grater attachment.
2. Meanwhile, heat the olive oil in a medium skillet over medium heat. Add the onion and garlic, and cook until fragrant and starting to soften, about 3 minutes. Season to taste with salt and pepper. Add the grated sweet potato, chili powder, cumin and red pepper flakes, then cover and cook until soft, 5 to 7 minutes.
3. Serve the filling inside warm corn tortillas with a squeeze of fresh lime juice, fresh cilantro, avocado and feta cheese.
Instructions
1. Using a box grater, grate the sweet potatoes (no need to peel them). You can also use a food processor fitted with a grater attachment.
2. Meanwhile, heat the olive oil in a medium skillet over medium heat. Add the onion and garlic, and cook until fragrant and starting to soften, about 3 minutes. Season to taste with salt and pepper. Add the grated sweet potato, chili powder, cumin and red pepper flakes, then cover and cook until soft, 5 to 7 minutes.
3. Serve the filling inside warm corn tortillas with a squeeze of fresh lime juice, fresh cilantro, avocado and feta cheese.
HALL OF FAME RECIPES
Jalapeno Mac & Cheese Bites
Ingredients
1 cup sharp cheddar cheese shredded
2 eggs
1/2 cup jalapenos drained and chopped
1 package Bob Evans Mac and Cheese
1 cup Panko bread crumbs divided
1/4 cup flour
3 tablespoons butter melted
2 tablespoons bacon bits optional
Instructions
Preheat oven to 375°F.

Combine cheddar, flour, and 1/2 cup bread crumbs in a medium bowl.

Gently stir in macaroni and jalapenos. Add eggs and fold until combined.

Spoon into greased mini muffin tins.

In a small bowl, combine remaining bread crumbs, melted butter, and bacon bits. Sprinkle over bites.

Bake 18-20 minutes or until heated through. Serve warm.
Red Velvet Cinnamon Rolls
Instructions
Combine cake mix, 1 cup of the flour and yeast. Add water; beat on medium speed 2 minutes. Change to dough hook attachment and stir in enough remaining flour to form a soft dough (dough will be sticky). Place in a greased bowl, turning once to grease the top. Cover and let rise in a warm place until doubled, about 1 1/2 hours. 

Combine the brown sugar and cinnamon in a bowl.

Grease a 9x13 inch baking dish with cooking spray or butter.

Roll the dough out on a lightly floured surface, until it is approximately 16 inches long by 12 inches wide. It should be approximately 1/4 inch in thickness.

Spread the 1/3 cup of butter evenly over the dough, then sprinkle with the sugar evenly over the surface of the dough.

Working carefully, from the long edge, roll the dough down to the bottom edge.

Cut the dough into 1 1/2 inch slices, and place in a lightly greased baking pan. You can also use floss to cut into slices, as seen in the video. Place the cut rolls in the prepared pan. Cover with a clean kitchen towel or plastic wrap and let them rise for another 30 minutes, or until doubled in size.

Preheat oven to 350 degrees. 

Place the baking pan in the oven and bake for 20 minutes or until golden brown. Cooking time can vary greatly!

While the rolls are baking make the icing by mixing all the icing ingredients and beat well with an electric mixer until fluffy and smooth.

When the rolls are done, spread generously with icing.
Notes
Cream cheese icing is okay to sit at room temperature up to 8 hours. Beyond that, it'll have to be refrigerated and will last in the fridge for 3 days. Your rolls will last 2 days at room temperature or a week in the fridge. Make sure to store the rolls in an airtight container so they don't dry out.
Reheat by giving the roll a quick zap in the microwave. I like to do 15 second intervals- they heat up really quick! One second you have a cold cinnamon roll, the next second it's bubbling volcano with molten cream cheese icing.
Coconut Shrimp with Spicy Mango Dipping Sauce
ngredients
1 lb jumbo shrimp tails on
1 cup breadcrumbs
2 eggs
2 cups sweetened coconut shredded
salt and pepper to taste
vegetable oil for frying
For Spicy Mango Dipping Sauce
1/2 cup mayonnaise
1/2 mango cubed, about 1/2 cup to 3/4 cup
1 tbsp honey
1 tbsp sriracha
1/4 tsp curry powder
1/4 tsp salt
1 tbsp lemon juice
1/4 cup cilantro
Instructions
Make the dipping sauce first by adding all the ingredients to a blender and blend for 1 minute or 2 until the sauce is smooth. Refrigerate the sauce until shrimp is ready for serving.

Fill a Dutch oven or a deep frying pan with vegetable oil, about 1 1/2 inches deep and heat.

While the oil is hot, prepare 3 shallow plates. Add the breadcrumbs to one plate, beat the eggs with salt and pepper in another plate and place the shredded coconut in the 3rd plate.

Dredge the shrimp through the breadcrumbs first, then dip them in the egg mixture, then finally dredge them through the coconut, making sure enough coconut sticks to them. Fry a few at a time about 2 minutes, depends on how hot your oil is, so they don't stick to one another, I did about 4 or 5 at a time, depending on the size of your shrimp. Repeat with remaining shrimp.

Serve the shrimp along with the spicy mango sauce together.
Notes
To bake them preheat your oven to 400 F degrees. Line a baking sheet with parchment paper. Place the breaded shrimp on the prepared baking sheet and bake for about 10 minutes, then flip the shrimp over and bake for another 5 minutes or until the breadcrumbs turn golden.
In the fridge the coconut shrimp will keep for 3 – 4 days in an airtight container, so feel free to make ahead of time but just reheat it in the oven to prevent it from getting soggy. You can freeze the shrimp from this recipe for up to 3 months in an airtight container. Just allow the dish to thaw overnight in the fridge before cooking.
Store the sauce in an airtight container in the fridge for up to 5 days or in the freezer for up to 3 months.
Please keep in mind that nutritional information is a rough estimate and can vary greatly based on products used.
The Greatst Ginger Snaps - EVER!!
Ingredients
3/4 cup shortening
1 cup sugar
1/4 cup molasses
1 beaten egg
2 cups sifted flour
2 tsp soda
1/4 tsp salt
1 tsp cinnamon
1 tsp ginger
1 tsp cloves
additional sugar in small bowl
Directions
Cream shortening and sugar with mixer.
Add molasses & egg, beat well.
Add sifted dry ingredients.
Mix well.
Roll into small balls a little larger then a marble, then roll in additional sugar.
Place about 2 inches apart on a cookie sheet.
Bake at 350 for 10 minutes
Makes about 100 cookies depending on size.
UBC Cinnamon Bun Recipe

YIELD: 18 Large Cinnamon Buns

INGREDIENTS:
Dough
3 cups (750mL) milk
6 tbsp (90mL) butter
6 tbsp (90mL) plus 1 tsp (5ml) granulated sugar
1 tbsp (15mL) salt
½ cup (125mL) warm water
2 envelopes active dry yeast
2 large eggs
9 cups (2.25L) all-purpose flour
Filling
¾ cup (175mL) melted butter
1¼ cups (300mL) granulated sugar
2 tbsp (30mL) cinnamon

METHOD:
Scald Milk. Stir in butter, 6 tbsp sugar and salt. Cool to lukewarm.
Dissolve remaining 1 tsp sugar in warm water. Sprinkle yeast over water mixture. Let stand in a warm place for 10 minutes. Stir.
In a large mixing bowl, combine lukewarm milk mixture with eggs. Stir in dissolved yeast mixture.
Add four to five cups of the flour and beat well for 10 minutes. With a wooden spoon, gradually add enough of the remaining flour to make a soft dough.
Turn out on to a lightly floured surface and knead until smooth and elastic, adding additional flour as needed. This is a soft dough!
Place dough in a well-greased bowl and roll around to grease all sides of the dough. Cover with a damp cloth and let rise in a warm place until dough doubles in size, about one hour.
Punch down dough and turn out onto a lightly floured surface. Divide dough in half.
To fill, roll out each piece of dough into a 9 x 18-inch rectangle. Spread 1/4 cup of melted butter evenly onto each rectangle.
Combine sugar and cinnamon for filling. Sprinkle onto the rectangles. Roll dough up like a jelly roll, starting from the long side. Cut into 2-inch slices.
Place remaining ¼ cup of melted butter into the bottom of a 16½ x 11½ x 2½-inch pan. Arrange slices in the pan and cover loosely with greased wax paper.
Let rise in pan until doubled in size, about 45-60 minutes.
Preheat oven to 350°F (180°C).
Bake for 35-40 minutes.
Remove from oven and immediately invert onto a serving tray.
Nearly 65 years of UBC Alumni remember the pillowy softness and caramelized edges of the UBC Cinnamon Bun as a quintessential part of the UBC experience. But where did it all begin?
The UBC Cinnamon Bun recipe was first perfected by Hungarian Baker Grace Hasz in 1954. Within a few years she went from baking two dozen to a staggering 120 dozen per day as the bun grew in popularity.
Grace baked cinnamon buns for UBC until her retirement in 1971. She baked by instinct and never wrote the recipe down, though her grandson has recorded his attempts to recreate the original recipe from memory.
A few things have changed since 1955 – the original recipe used margarine, a holdover from war-time butter shortages, and was said to have so much cinnamon the filling looked black – but the association between UBC and great cinnamon buns has never diminished.
Today's recipe is still made from scratch every day, using real butter and simple ingredients. Next time you're craving a cinnamon bun, you'll find them in most UBC Food Services locations. But go early – they often sell out!