October 14, 2017
Crockpot Spicy Chicken Tortilla Soup
Ingredients
1 sweet onion, diced
2 jalapeños, seeded and chopped
2 cloves garlic, minced or grated
1 pound boneless, skinless chicken breast
2 teaspoons cumin
1 teaspoon kosher salt and pepper
3 cups homemade or store-bought red enchilada sauce
3-4 cups low-sodium chicken broth
1-2 cup cooked white or brown rice
juice of 1 lime
1/2 cup fresh cilantro, chopped, plus more for serving
tortilla chips, diced mango, sliced avocado, limes, shredded cheddar, and yogurt, for serving
DELICIOUS AND EASY TOMATO SOUP WITH PARMESAN DUMPLINGS
(from our friends @ ZOOMER - click to learn more)
Instructions
In the bottom your crockpot, layer the onion, jalapeños, and garlic. Add the chicken, cumin, salt, and pepper. Pour over the enchilada sauce and 3 cups broth.
Cover and cook on low for 6-7 hours or on high for 4-6 hours. Shred the chicken using two forks. Stir in the rice, lime juice, and cilantro. Taste and add salt if needed.
Ladle the soup into bowls and top with tortilla chips, mango, avocado, cheese, and yogurt. Garnish with cilantro and limes. Enjoy!
ooking for the perfect quick and easy tomato soup recipe? Here it is, a delicious tomato soup that can be made in under 30 minutes, but, don't let the speed fool you. This quick bowl of comfort not only offers up depth of flavor, but also is elegantly topped with Parmesan dumplings to make it a perfect entertaining first course.
Ingredients
Tomato Soup
2 tbsp butter
1 large white onion, chopped
1 tbsp shallots, chopped
1 large garlic clove, minced
2 small carrots, peeled and chopped
2 small celery stalks, chopped
1 small red bell pepper, chopped
3 sun-dried tomatoes, not oil-packed, coarsely chopped
2 tbsp tomato paste
1 tbsp fresh lime juice
½ tsp sugar
½ tsp kosher salt
¼ tsp freshly ground black pepper
Dash cayenne pepper
3 cups chicken broth
1 (28oz) can diced tomatoes, undrained
Parmesan Dumplings
1/3 cup flour
2 tbsp freshly grated Parmesan cheese
2 tsp chopped fresh basil
¼ tsp baking powder
¼ tsp kosher salt
1 egg, lightly beaten
2 tsp vegetable oil
Thinly sliced fresh basil, for garnish
Directions
1) For the soup, in a large saucepan, heat butter over medium heat. Add onion, shallot and garlic, cooking 4-5 minutes until tender. Add carrots, celery, red pepper, sun-dried tomatoes, tomato paste, lime juice, sugar, salt, pepper and cayenne. Cook, stirring occasionally, 4-5 minutes to soften vegetables. Add chicken broth and diced tomatoes. Bring to a boil and then reduce heat to low and simmer 20 minutes. Remove from heat and either puree directly in soup pot using a handheld blender or place half of the tomato soup mixture in a countertop blender. Cover and blend until smooth. Transfer to a large bowl and repeat with remaining tomato soup. Return all of the soup to the saucepan. Reheat when ready to serve.
2) For the Parmesan dumplings, combine flour, Parmesan, basil, baking powder and salt in a medium bowl. In a small bowl, lightly whisk together the egg and vegetable oil. Stir egg mixture into flour mixture with a wooden spoon until combined. Bring a medium pot of water to a boil. Using ½ tsp measuring spoon, drop slightly rounded dough into boiling water. Cook 4 minutes and remove with a slotted spoon. Rinse with cold water and drain well. Serve with soup. Garnish soup with sliced basil
October 07, 2017
SLOW COOKER BEEF, BEER & BARLEY STEW



INGREDIENTS

2 pounds lean stew beef, cut into 1 inch cubes
⅓ cup all purpose flour
2 tablespoons oil
1 medium onion, coarsely chopped
2 celery stalks, trimmed and chopped
5 medium carrots, peeled and sliced
5 medium red-skinned potatoes, scrubbed and cut into 1 inch cubes
1 (11-12 ounce) bottle of dark stout beer
1½ teaspoons kosher salt
1½ teaspoons coarse ground black pepper
1 teaspoon dried thyme
1½ cups low sodium chicken broth
½ cup quick barley

INSTRUCTIONS
Toss the beef with the flour to coat.
Heat the oil in a large skillet. Brown the floured beef and transfer the browned meat to the slow cooker.
To the slow cooker add all the other ingredients EXCEPT the barley, stir quickly, and then cover.
Cook 3-4 hours on high or 6-8 hours on low, stirring in the barley during the last 30 minutes of cooking.
September 30, 2017
Sweet Potato, Squash and Kale Buddha Bowl
INGREDIENTS

2-3 tbsp olive oil
1 sweet potato sliced
1 acorn squash
1 head of kale
3 Portobello mushrooms sliced
4 beets sliced
1 small red onion sliced
Optional toppings
sesame seeds
pumpkin seeds
Coconut chips
Roasted Chili Lime Chickpeas
1 can chickpeas drained, rinsed and dried
2 tbsp olive oil
1 tbsp lime juice
1 tbsp chili powder
3/4 tsp garlic salt
tsp ½pepper
Tahini Dressing
cup ¼tahini
2 tbsp water
1 tsp lemon juice
cup ½chopped cilantro or parsley
1 clove smallgarlic
tsp ¼ to ½salt
tsp ½pepper
INSTRUCTIONS
Report this ad
Preheat oven to 400. Toss chickpeas with olive oil and seasonings, then spread out on a parchment-lined baking sheet. Bake for 30 min, removing from oven and tossing every 10 min.
Meanwhile, prepare other veggies, tossing in olive oil and placing on separate baking sheets. I paired the sweet potatoes on the same sheet as the squash and cooked for 20 min, and the beets with the mushrooms for 15 min. Finally, I roasted the kale and red onion last because they take the least amount of time to cook (about 7-8 min).
While veggies are roasting, make the dressing in a food processor, Magic Bullet or blender (I LOVE my Vitamix!)
Once everything has finished cooking, toss all together in a large bowl. Drizzle with dressing and serve immediately.
September 23, 2017
Fish Tikka Curry
Ingredients

1 lemon
3 tablespoons tikka curry paste
400 g frozen white fish fillets , from sustainable sources
1 onion
2 cloves of garlic
5 cm piece of ginger
1 fresh red chilli
½ a bunch of fresh coriander , (15g)
olive oil
300 g potatoes
2 ripe tomatoes
300 g frozen cauliflower florets
50 g red split lentils
1 mug basmati rice , (320g)
10 cloves
4 tablespoons fat-free natural yoghurt
Method

Cut the lemon in half, cut one half into wedges for serving later, then squeeze the juice of the other half on to a large plate and add 1 tablespoon of tikka paste.
Mix together, then massage all over the frozen fish and leave aside in a single layer to marinate and defrost.
Peel and slice the onion, garlic and ginger with the chilli and coriander stalks, then place it all in a large casserole pan on a medium heat with a lug of oil and the remaining tikka paste.
Peel the potatoes, cut them into 2cm chunks, then stir them into the pan and cook everything for 15 minutes, or until softened, stirring occasionally. This will build up great flavour.
Quarter the tomatoes, add to the pan with the cauliflower, lentils and 600ml of boiling water, and bring back to the boil. Simmer for 45 minutes, or until the lentils are cooked through and the sauce is lovely and thick, adding splashes of water, if needed, then season to perfection.
Around 15 minutes before the curry is ready, put 1 mug (320g) of rice and 2 mugs of boiling water into a pan with a pinch of sea salt and the cloves. Cook on a medium heat, with the lid on, for 12 minutes, or until all the liquid has been absorbed.
Dry-fry the fish in a large non-stick pan for 3 to 5 minutes per side (depending on the thickness), or until charred, gnarly and cooked through – don't be tempted to move it around, just let it colour and crisp up nicely.
Stir half the yoghurt through the curry and dollop the remaining yoghurt on top. Fluff up the rice, flake the fish on top, then sprinkle with coriander leaves and serve alongside the curry, with lemon wedges for squeezing over.
September 16, 2017
Jamie Oliver Lamb Shoulder
Ingredients
500 g dried chickpeas
2 preserved lemons , (20g each)
1 kg ripe plum tomatoes
1 x 2 kg lamb shoulder , bone in
2 heaped teaspoons ras el hanout
Method
Pour the dried chickpeas into a 30cm x 40cm roasting tray. Quarter the preserved lemons and trim away the seedy core, then finely chop the rind and add to the tray with a good splash of liquor from their jar. Roughly chop the tomatoes, adding them to the tray as you go.
Drizzle the lamb with 1 tablespoon of olive oil, then rub all over with the ras el hanout and a pinch of sea salt and black pepper. Sit the lamb in the tray, pour in 1 litre of water, cover tightly with tin foil and place in a cold oven. Turn the temperature to 170ºC/325ºF/gas 3 and leave the lamb in there for 6 hours, or until the chickpeas are cooked through and the lamb is pullable – after 3 hours, stir a splash of water into the chickpeas, covering tightly again with foil.
To serve, taste the chickpeas, season to perfection, and drizzle with 1 tablespoon of extra virgin olive oil, then pull the lamb apart with two forks.
September 09, 2017

Harissa Chicken Tray-bake | Jamie Oliver
This cracking dish is packed full of flavour and only uses 5 ingredients and is one of the many amazing recipes featured in Jamie's 5 Ingredients Quick and Easy Food book
Skinny carbonara
Smoky Bacon/peas, almonds and basil
Ingredients

200 g freshly podded or frozen peas
1 tablespoon flaked almonds
1 small clove of garlic
½ a bunch of fresh basil , (15g)
15 g Parmesan cheese
1 lemon
150 g wholewheat spaghetti
1 rasher of higher-welfare smoked streaky bacon
olive oil
1 large free-range egg
100 g fat-free natural yoghurt
Method

Put a pan of boiling salted water on the heat for your pasta, dunk a sieve containing the peas into the water for just 30 seconds, then put aside, leaving the pan on the heat.
Very lightly toast the almonds in a dry non-stick frying pan on a medium heat, then blitz until fine in a food processor.
With the processor still running, peel and drop in the garlic, a pinch of sea salt, the basil leaves, the finely grated Parmesan and the lemon juice.
Blitz until it comes together, then pulse in the peas, to try and keep a bit of texture.
Cook the pasta in the boiling salted water according to the packet instructions.
Meanwhile, very finely slice the bacon and fry slowly in the frying pan with 1 teaspoon of oil on a medium-low heat until golden and crispy, then use a slotted spoon to transfer to kitchen paper, so the flavoursome fat stays in the pan. Scoop in three-quarters of your pea mixture to heat through.
Whisk the egg and yoghurt together well. When the pasta's done, reserving a mugful of cooking water, drain the pasta and toss straight into the pea pan, mixing well, then take the pan off the heat (this is very important, otherwise the egg will scramble when you add it, and we don't want that).
Pour in the egg mixture and toss until evenly coated, silky and creamy, loosening with cooking water if needed.
Taste and season to perfection, and serve topped with the remaining pea mixture and the crispy bacon. It might be skinny, but it's beautifully light and delicious. Enjoy!
Chickpea Quinoa Burgers in Pita Pockets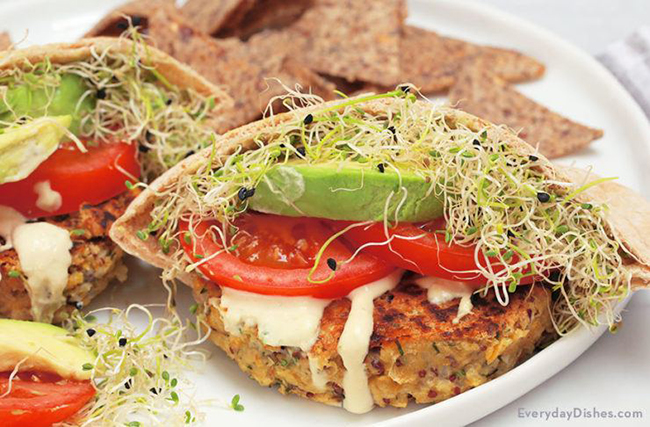 Sauce

1/2 cup tahini
1 clove garlic
1/4 tsp salt
1 tsp parsley, chopped
2 tsp lemon juice
1/4 cup warm water

burgers

2-15 oz cans chickpeas
1 1/2 cups cooked quinoa
1/2 small red onion, minced
1 clove garlic, minced
1 Tbsp cilantro, chopped
1 Tbsp parsley, chopped
1 Tbsp thyme, chopped
1 tsp salt
black pepper, to taste
2 eggs, beaten
1 Tbsp olive oil
garnish
1 tomato, sliced
1 avocado, sliced
bean sprouts
4 pieces of pita bread, sliced in half
For the sauce: In the bowl of a food processor add tahini, garlic, salt, chopped parsley and lemon juice. Pulse until smooth then, with the motor running, add water to preferred consistency. Scrape into serving bowl and set aside.
In a large bowl, mash together the chickpeas and quinoa until combined. Stir in the onion, garlic, chopped herbs, salt and pepper. Taste for seasoning before adding egg. Stir in beaten egg and form into 8 thin patties.
Heat oil in large skillet over medium heat and, when hot, add burgers. Cook until golden brown—about 6 minutes on each side.
To serve, top each burger with tahini sauce, sliced tomato, sliced avocado and sprouts. Slide dressed burgers into pita pockets and enjoy!
August 26, 2017
Jack Daniel's Chicken Quesadillas
Marinade

1 cup (250 ml) Jack Daniel's whiskey
1 tablespoon (15 ml) chili powder
1 tablespoon (15 ml) Worcestershire sauce
Quesadillas
4 skinless and boneless chicken breast halves
12 large tortillas
1 red bell pepper, roasted, peeled and cut into thin strips
3 cups (750 ml) grated havarti cheese
Sour cream, to taste
Salt and pepper

Sauce
1/2 cup (125 ml) ketchup
2 tablespoons (30 ml) apple jelly
Marinade
In a glass dish or large sealable plastic bag, combine all the ingredients. Add the chicken and coat with the marinade. Cover the dish or close the bag. Refrigerate for 8 hours or overnight. Remove the chicken from the marinade and refrigerate in an airtight container. Keep the marinade for the sauce.
Sauce
In a saucepan, bring the reserved marinade, ketchup, and apple jelly to a boil. Reduce gently for about 10 minutes or until the sauce is syrupy. Adjust the seasoning. Let cool and refrigerate in an airtight container.
Quesadillas
Preheat the grill, setting the burners on high. Oil the grate.
Grill the chicken for about 5 minutes per side or until cooked through. Season with salt and pepper. Let stand for 10 minutes. Slice thinly.
Place half of the tortillas on a work surface. Spread half the cheese on the tortillas. Top with the chicken and pepper strips. Sprinkle with the remaining cheese. Cover with the remaining tortillas. Press lightly.
Grill for about 2 minutes per side. Cut into wedges and serve with the sauce and sour cream.
August 19, 2017
Slow Cooker Honey Garlic Chicken
Ingredients
2 lbs skinless, boneless chicken thighs or breasts
1/3 cup soy sauce
1/3 cup honey
3 tablespoons hoisin sauce
2 tablespoons balsamic glaze
1 teaspoon Thai sweet red chili sauce
1 teaspoon sesame oil
3 cloves garlic, minced
1 medium onion, diced
2 1/12 tablespoons corn starch + 3 tablespoons cold water
Green onions, sliced for garnish (optional)
Sesame seeds, for garnish, optional

Instructions

Spray slow cooker with non-stick cooking spray. Add chicken to bottom of crockpot.
In a medium bowl, combine soy sauce, honey, hoisin sauce, balsamic glaze, Thai sweet red chili sauce, sesame oil, garlic and onion. Pour sauce over chicken, cover with lid and cook on low for 3 to 4 hours or high for 1 1/2 to 2 hours.
To thicken sauce, whisk together corn starch and water in a small bowl and stir into slow cooker. Turn heat to high and allow sauce to cook and thicken for 15 - 20 minutes.
Serve hot with sauce over cooked rice or noodles. Sprinkle with green onions, if desired
July 29, 2017
Cherry Crumble


Serves 6

Filling

1 pound tart cherries, frozen
2 tablespoons sugar
2 tablespoons flour
2 tablespoons finely chopped crystallized ginger, optional
1/4 teaspoon cinnamon
Pinch of salt

Crumble

6 tablespoons unsalted butter
1 cup flour
2/3 cup sugar
1 teaspoon baking powder
1/4 teaspoon salt
1 large egg, beaten well
Position a rack in the center of the oven, and preheat the oven to 375°F.
Spread the frozen cherries in an ungreased 9x9-inch baking dish, deep pie pan, or similar-sized dish. Toss the cherries with the sugar, flour, ginger, cinnamon, and salt.
Cut the butter into several pieces and melt over low heat in a small saucepan. Raise the heat slightly after it has melted, and cook, swirling frequently, until the butter has turned nutty brown. Remove from the heat.
In a medium bowl, combine the flour, sugar, baking powder, and salt. Add the beaten egg and use your hands to combine the dry ingredients and egg. As you work the egg into the flour, it will form small moist crumbs. Sprinkle these over the cherries, then drizzle the browned butter over the topping.
Bake for 30 to 35 minutes, or until the top is browned and the cherries are bubbling. Cool for at least 30 minutes before serving. Serve warm or at room temperature with vanilla ice cream or unsweetened whipped cream.
FRIED RICE
3 tablespoons butter, divided
2 eggs, whisked
2 medium carrots, peeled and diced
1 small white onion, diced
1/2 cup frozen peas
3 cloves garlic, minced
salt and pepper
4 cups cooked and chilled rice (I prefer short-grain white rice)
3 green onions, thinly sliced
3-4 tablespoons soy sauce, or more to taste
2 teaspoons oyster sauce (optional)
1/2 teaspoons toasted sesame oil
DIRECTIONS:
Heat 1/2 tablespoon of butter in a large saute pan over medium-high heat until melted. Add egg, and cook until scrambled, stirring occasionally. Remove egg, and transfer to a separate plate.
Add an additional 1 tablespoon butter to the pan and heat until melted. Add carrots, onion, peas and garlic, and season with a generous pinch of salt and pepper. Sauté for about 5 minutes or until the onion and carrots are soft. Increase heat to high, add in the remaining 1 1/2 tablespoons of butter, and stir until melted. Immediately add the rice, green onions, soy sauce and oyster sauce (if using), and stir until combined. Continue stirring for an additional 3 minutes to fry the rice. Then add in the eggs and stir to combine. Remove from heat, and stir in the sesame oil until combined.
Serve immediately, or refrigerate in a sealed container for up to 3 days.
July 22, 2017
Slow Cooker Thai Chicken

The key to brightening up a slow-cooked dish is to add fresh elements right at the end. In this recipe, peas, cilantro and lime wedges do the trick.
INGREDIENTS
¾ c. light coconut milk
2 tbsp. natural creamy reduced-fat peanut butter
1 tbsp. red curry paste
1 tsp. grated ginger
1½ lb. boneless chicken thighs
2 red bell peppers
1 large onion
1 lb. rice noodles
1 c. frozen peas
¼ c. fresh cilantro leaves
Lime wedges, for serving
DIRECTIONS
In a 5- to 6-qt slow cooker, combine the coconut milk, peanut butter, curry paste and ginger; mix in the chicken, peppers and onion.
Cook, covered, until chicken is cooked through, on low for 5 to 6 hours or on high for 3 to 4 hours.
Twenty minutes before serving, cook the noodles according to package directions. Stir the peas into the chicken mixture, and cook, covered, until heated through, about 3 minutes. Spoon the chicken, vegetables and sauce over the noodles and sprinkle with the cilantro; serve with the lime wedges, if desired.
Slow Cooker Asian Pork Tacos with Red Cabbage Slaw
These pork tacos are made with an Asian spin, using ingredients like soy sauce and orange zest.
INGREDIENTS
1 large navel orange
¼ c. balsamic vinegar
¼ c. packed dark brown sugar
2 tbsp. low-sodium soy sauce
2 clove garlic
1 tbsp. grated fresh ginger
¼ tsp. crushed red pepper flakes
1 pork shoulder
2 tbsp. olive oil
Kosher salt and pepper
½ small head red cabbage
1 medium carrot
8 small flour tortillas

DIRECTIONS
Using a vegetable peeler, remove 4 strips of zest from the orange (reserve the orange). In a 5- to 6-quart slow cooker, whisk together the vinegar, sugar, soy sauce, garlic, ginger, red pepper, and orange zest.
Add the pork and toss to coat. Cook, covered, until the pork is tender and shreds easily, 7 to 8 hours on low or 4 to 5 hours on high.
Thirty minutes before serving, make the slaw. Squeeze the juice from the orange into a large bowl (you should have about 1/2 cup). Whisk in the oil, 1/2 teaspoon salt and 1/4 teaspoon pepper. Core and thinly slice the cabbage. Cut the carrot into matchsticks. Add the vegetables to the vinaigrette and toss to combine.
Warm the tortillas according to package directions. Using two forks, shred the pork into large pieces; gently toss in the cooking liquid. Fill the tortillas with the pork mixture and top with the slaw.
July 15, 2017
Watermelon & Feta Salad
Ingredients

700 g watermelon
1 small red onion
180 g feta cheese
1 bunch of fresh mint
extra virgin olive oil
Method

Scoop out and chop the watermelon flesh into chunks, discarding the peel.
Peel and finely slice the onion, crumble the feta, then pick the mint leaves, tearing any larger ones.
Place it all into a bowl and combine. Drizzle over a little oil and season with black pepper.

July 08, 2017
Brined Shrimp with Charred Corn Salad
photo Caitlin Bensel
Ingredients
1 tablespoon kosher salt
1 qt. water
1 pound large raw shrimp, peeled and deveined
3 cups fresh yellow corn kernels (from about 4 ears)
1 cup thinly sliced baby red bell pepper rings
1 cup vertically sliced red onion
2 tablespoons chopped fresh chives
2 tablespoons white wine vinegar
1 tablespoon extra-virgin olive oil
1/2 teaspoon chili powder
How to Make It
Combine salt and 1 quart water in a medium bowl, stirring until the salt dissolves. Add shrimp to brine; cover bowl with plastic wrap. Place in refrigerator for 30 minutes.
Heat a large cast-iron skillet over medium-high. Add corn, bell pepper, and onion; cook 5 minutes or until vegetables are lightly charred and tender. Place corn mixture in a large bowl. Stir in chives, vinegar, and oil.
Wipe skillet clean; return to medium-high. Remove shrimp from brine; pat dry between paper towels. Sprinkle shrimp with chili powder. Add shrimp to pan; cook 1 minute on each side or until done. Serve shrimp with salad.
BISCUITS WITH SAUSAGE GRAVY
YIELD:
12 servings
PREP:
15 minutes
COOK:
40 minutes
TOTAL:
55 minutes
Fluffy buttermilk biscuits are smothered in creamy sausage gravy.
INGREDIENTS:
For the Biscuits:
1 cup all-purpose flour
1 cup cake flour
1 teaspoon granulated sugar
2 teaspoons baking powder
½ teaspoon baking soda
½ teaspoon salt
½ cup unsalted butter, chilled, cut into small pieces
¾ cup buttermilk
For the Sausage Gravy:
1 pound breakfast sausage
⅓ cup all-purpose flour
4 cups whole milk
2 teaspoons black pepper
½ teaspoon seasoned salt

DIRECTIONS:

Make the Biscuits: Preheat oven to 450 degrees F. Line a baking sheet with parchment paper or a silicone baking mat (do not grease your baking sheet).
Place the flours, sugar, baking powder, baking soda and salt in a large bowl or the workbowl of a food processor fitted with the metal blade. Whisk together or process with six pulses.
If making by hand, use a pastry blender or your fingertips to quickly cut in the butter until the mixture resembles coarse meal with a few slightly larger butter lumps. If using a food processor, distribute the butter evenly over the dry ingredients. Cover and process with twelve pulses.
If making by hand, stir in the buttermilk with a rubber spatula or fork until the mixture forms a soft, slightly sticky ball. If using a food processor, remove the cover and pour the buttermilk evenly over the dough. Process until the dough gathers into moist clumps, about eight pulses.
Transfer the dough to a lightly floured surface and quickly form into a rough ball. Be careful not to overmix. Pat the dough into a ¾-inch-thick circle. Cut out the dough rounds with a 2-inch biscuit cutter. Push together the remaining pieces of dough, again pat into a ¾-inch-thick circle, and cut out several more dough rounds. Discard the remaining scraps. Place the biscuits on the prepared baking sheet.
Bake until the biscuit tops are light brown, 10 to 12 minutes. Remove baking sheet to a wire cooling rack while the sausage gravy is prepared.
Make the Sausage Gravy: Cook the sausage in a large skillet over medium-high heat until no longer pink, crumbling it into bite-size pieces as it cooks.
Reduce the heat to medium and sprinkle half of the flour over the sausage, stirring to dissolve it. Add the rest of the flour and again stir for about 1 minute, until all of the flour has been dissolved.
Slowly pour in the milk, stirring constantly as it is added. Cook the gravy, stirring frequently, until it begins to thicken (10 to 15 minutes). Season the gravy with the black pepper and seasoned salt and continue to cook until it is very thick. Spoon the gravy over the buttermilk biscuits to serve. Leftover gravy can be stored in an airtight container in the refrigerator. If it is too thick when reheated, simply add a splash or two of milk to thin it out a bit.
July 01, 2017
CRISPY AVOCADO TACOS
INGREDIENTS
4 California avocados
¼ cup lemon juice
1 cup all-purpose flour
1 teaspoon salt, plus more to finish
2 egg whites
2½ cups panko bread crumbs
1½ teaspoons ground cumin
1 teaspoon garlic powder
TACOS & TOPPINGS
2 tomatoes, diced
4 scallions, thinly sliced
1 garlic clove, minced
Salt and freshly ground black pepper
1 cup sour cream
Zest and juice of 1 lime
12 small flour tortillas
¼ cup chopped fresh cilantro leaves
DIRECTIONS
1. Preheat the oven to 400°F. Line a baking sheet with parchment paper; grease the parchment with nonstick cooking spray.
2. Halve the avocados. Remove the pits and then remove the flesh from the skin. Cut each half into 6 thick slices (you'll get 12 slices per avocado; 48 total).
3. Place the lemon juice in a small bowl. In a large, shallow bowl, stir the flour with the salt to combine. In another large, shallow bowl, lightly whisk the egg whites. In a third large, shallow bowl, stir the bread crumbs with the cumin and garlic powder to combine.
4. Working in batches, dip each piece of avocado first into the lemon juice, then into the flour mixture, then into the egg white, then into the bread crumb mixture. Transfer the breaded avocado slices to the prepared baking sheet. Repeat with the remaining avocado slices.
5. Bake until the breading is golden brown and crisp, 15 to 20 minutes.
6. While the avocados cook, stir the tomatoes with the scallions and garlic in a medium bowl to make an easy pico de gallo. Season with salt and pepper, and set aside.
7. In a small bowl, stir the sour cream with the lime zest and lime juice to combine. If desired, warm the tortillas in a medium skillet over high heat (30 seconds to 1 minute per side).
8. Place 4 avocado slices on each tortilla and then top each with a spoonful of pico de gallo, a drizzle of lime crema and a few cilantro leaves. Place three tacos on each plate and serve immediately.
June 17, 2017
Oven-Baked BBQ Ribs

We wish we had written the Chili's baby back rib anthem. You see, these easy oven-baked, tender and flavorful ribs make us want to sing. Marinated in a sweet and spicy dry rub and baked low and slow, the meat on these baby back ribs is so tender it falls off the bone. We want our baby back, baby back, baby back ribs...
Ingredients
2 (2 lb. each) racks baby back ribs
Rib Rub
½ cup brown sugar
2 tbsp paprika
1 tbsp kosher salt
1 tbsp garlic powder
2 tsp chili powder
1 tsp ground cumin
1 tsp freshly ground black pepper
½ cup beef broth
¾ cup of your favorite barbecue sauce
Directions
1) To prepare the ribs, remove membrane from the underside of the ribs. In a medium bowl, mix together brown sugar, paprika, salt, garlic powder, chili powder, cumin and pepper. Generously rub ribs with spice mixture until evenly coated on all sides. Wrap ribs tightly in aluminum foil and marinate in the refrigerator anywhere from 6 hours to overnight.
2) Remove ribs from the refrigerator about 30 minutes before cooking. Preheat oven to 275ºF and line a shallow roasting pan with aluminum foil. Pour beef broth into the bottom of the roasting pan. Unwrap ribs from aluminum foil and place, meaty side up over broth. Cover pan tightly with 2 sheets of aluminum foil and bake 3 ½ hours until the meat falls easily from the bone. Remove from oven and carefully unwrap foil. Coat ribs with your favorite barbeque sauce and continue to bake uncovered 20 minutes more.
(click here for more Father's day recipes courtesy of our ZOOMER friends)
Salt Potatoes

Salt Potatoes
6-8 servings
INGREDIENTS
2 pounds white- or yellow-skinned baby potatoes (about 1 inch in diameter), scrubbed
2 ounces best-quality sea salt, like sel gris or Maldon
A distillation of several salt potato recipes from around the world, this version uses sea salt for deliberate mineral flavor and boils the brine until it evaporates for maximum salt crystallization on the potatoes' skins. Use the freshest baby potatoes you can find—preferably new potatoes from an early summer farmers' market. Serve with melted butter or an herby sauce, like mojo verde or aji.
Combine the potatoes and salt in a wide pot and add enough water to just cover the potatoes. Set the pot over high heat and bring to a rapid boil. Reduce heat as needed to maintain a vigorous simmer and cook potatoes until tender, 20 to 25 minutes.
Pour off all but ½ inch of water, if needed, then return the pan to the stove. Increase the heat to high and roll the potatoes around in the reduced salt water until the water evaporates and the salt crystallizes, about 3 minutes. Continue rolling the potatoes around until the pan is completely dry, the potatoes are coated in an even salt crust, and the skins appear slightly wrinkled, another minute or two.
Salt Potatoes
Salt Potatoes
6-8 servings
INGREDIENTS
2 pounds white- or yellow-skinned baby potatoes (about 1 inch in diameter), scrubbed
2 ounces best-quality sea salt, like sel gris or Maldon
June 11, 2017
Ingredients
1 pound of chicken breast tenders
1 pound of smoked turkey sausage, sliced into bite sized pieces
1 tablespoon of olive oil, divided
2 tablespoons of firmly packed brown sugar
1/2 teaspoon of garlic powder
1 tablespoon of chili powder
1 teaspoon of smoked paprika
1/2 teaspoon of kosher salt
1/4 teaspoon of freshly ground pepper
1 large red bell pepper, cut into 1 inch chunks
1 red onion, cut into 1 inch chunks
1 large zucchini, cut into 1 inch chunks
4 ears of fresh corn, husks and silks removed
2 tablespoons of butter
Additional salt and pepper
1/2 cup of prepared barbecue sauce
Green onions for garnish

Instructions
Preheat oven to 425 degrees and spray baking sheet with non stick cooking spray.
In a small bowl, combine brown sugar, garlic powder, chili powder, paprika, 1/2 teaspoon of kosher salt and 1/4 teaspoon of freshly ground black pepper.
Place chicken and smoked sausage on one side of baking sheet, drizzle with 1/2 tablespoon of olive oil and season with barbecue spice mixture, tossing to coat.
Add veggies to other side of baking sheet and drizzle with 1/2 tablespoon of olive oil and season with kosher salt and freshly ground pepper to taste.
Combine meat and veggies and leave room for corn in one corner.
Season corn and top each cob with 1/2 tablespoon of butter. Wrap in foil packet.
Arrange corn cobs on baking sheet along with meat and veggies and bake at 425 degrees in upper third of oven for about 25 minutes, or until chicken registers 165 degrees.
Remove baking sheet and brush chicken and smoked sausage with BBQ sauce.
Place baking sheet back in oven and turn broiler to high. Broil 2-3 minutes or until veggies start to pick up color and barbecue sauce starts to caramelize.
Garnish with green onions and serve.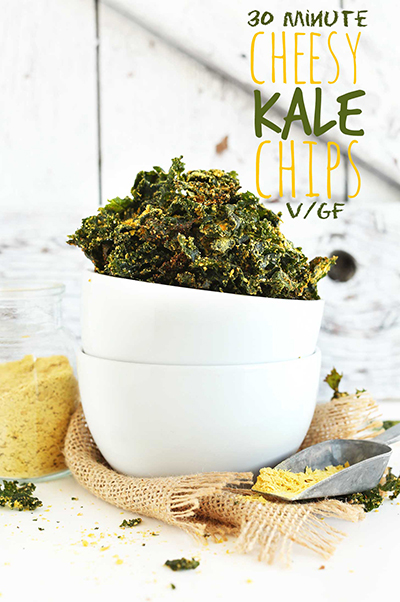 Ingredients
10 ounces (283 g) chopped kale leaves, washed, thoroughly dried (stems removed)
2 Tbsp (30 ml) grape seed, olive or avocado oil
1/4 cup (30 g) raw cashews
2 Tbsp (14 g) raw or roasted (unsalted) sunflower seeds
5-6 Tbsp (15-18 g) nutritional yeast, divided
1/4 tsp each salt and black pepper
1 tsp garlic powder
optional: Healthy pinch cayenne pepper

Instructions
Preheat oven to 300 degrees F.
Add kale to a large mixing bowl and drizzle with oil. Use hands to massage the kale to soften its texture and disperse the oil. Set aside.
Add cashews, sunflower seeds, 4 Tbsp (12 g) nutritional yeast, salt, pepper, garlic pepper and cayenne pepper (optional) to a food processor or blender and blend/pulse into a fine meal, scraping down sides as needed.
Add spice mixture to the kale and toss with hands to distribute, working it into the grooves so it's thoroughly coated.
Divide kale between 2 large baking sheets and spread into an even layer, making sure the pieces aren't overlapping to ensure crispiness. You may need to bake them in two batches depending on size of baking sheets.
Sprinkle the kale with remaining 1-2 Tbsp (3-6 g) nutritional yeast for extra flavor and bake for 15 minutes. Then remove from oven and toss/flip kale to ensure even baking.
Bake for 5-10 minutes more, or until chips are crispy and golden brown. Watch carefully to ensure they don't burn. Let cool slightly before enjoying.
Once completely cooled, store leftovers in a large plastic bag or container for 2-3 days. The crispy texture begins fading past 24 hours, so enjoy as close to baking as possible!
June 04, 2017
Mexican Street Corn Dip
INGREDIENTS
2 tablespoons unsalted butter
1 white onion, minced
3 garlic cloves, minced
3 cups corn kernels (fresh or thawed)
2 tablespoons all-purpose flour
½ cup whole milk
¼ cup heavy cream
1½ cups shredded Monterey Jack cheese
Tortilla chips
½ cup chopped fresh cilantro
½ cup crumbled cotija cheese
⅓ cup sour cream
½ teaspoon cayenne pepper (or more as needed)
2 limes, cut into wedges
DIRECTIONS
1. In a medium pot, melt the butter over medium heat. Add the onion and sauté until tender, 4 to 5 minutes. Add the garlic and sauté until fragrant, 1 minute more.
2. Add the corn and sauté for 2 to 3 minutes. Add the flour and cook, stirring constantly, for 1 minute.
3. Add the milk and cream and bring to a simmer. Simmer for 3 to 4 minutes. Stir in the Monterey Jack cheese until it's fully melted.
4. Arrange the tortilla chips in an even layer on a platter, and pour the corn mixture evenly over it.
5. Sprinkle the cilantro and cotija cheese evenly over the dip, and drizzle the sour cream across it. Sprinkle with cayenne pepper, then serve immediately with lime wedges.
May 20, 2017
Baked BBQ Beans
Ingredients

2 red onions
2 cloves of garlic
1 fresh red chilli
2 large carrots
olive oil
1 heaped teaspoon sweet smoked paprika
1 level teaspoon cumin seeds
1 level teaspoon dried chilli flakes
6 medium sweet potatoes
1 x 700 ml jar of passata
2 x 400 g tins of mixed beans
100 ml quality BBQ sauce
a few sprigs of fresh rosemary
½ a loaf of ciabatta or stale bread
40 g Cheddar cheese , optional
fat-free natural yoghurt , to serve
Method

Preheat the oven to 180°C/350°F/gas 4.
Peel the onions and garlic, then finely slice with the chilli. Peel and chop the carrots. Put all these into a large roasting tray and place on a medium heat with a lug of oil, the paprika, cumin and chilli flakes. Cook for 20 minutes, or until softened, stirring regularly.
Meanwhile, scrub the sweet potatoes clean, then rub them with a little oil, sea salt and black pepper, place on a baking tray and put aside.
When the time's up, stir the passata into the tray, add a splash of water to the empty jar, swirl it around and pour it in along with the beans (juice and all). Drizzle over the BBQ sauce, season lightly and stir well.
Pick and roughly chop the rosemary leaves, toss in a little oil and sprinkle over the top, then place in the oven for around 1 hour, or until bubbling, baked and gorgeous, adding a splash or two of water to loosen, if needed.
Put the tray of sweet potatoes into the oven for the same amount of time, or until soft and cooked through.
Around 20 minutes before the beans are ready, tear the bread into rough chunks and toss with a drizzle of oil in a roasting tray.
Grate over the Cheddar (if using), then place on the bottom shelf of the oven for around 15 minutes, or until crispy and golden, to make croutons.
Remove everything from the oven, tear up or squidge open the potatoes, and serve with the beans, dollops of yoghurt and the homemade croutons to mop up that delicious sauce, with a simple green salad on the side.
May 13, 2017
CRUNCHY ASIAN RAMEN NOODLE SALAD
SALAD INGREDIENTS:
1 (16-ounce) bag coleslaw mix
2 (3-ounce) packages of ramen noodles*, crumbled (you will not use the seasoning packet)
1 cup shelled and cooked edamame
1 avocado, peeled, pitted and diced
1 mango, peeled, pitted, and julienned (or diced)
1/2 cup thinly-sliced almonds
1/2 cup thinly-sliced green onions (scallions)
Asian honey vinaigrette (see ingredients below)
ASIAN HONEY VINAIGRETTE
1/2 cup avocado oil (or vegetable oil, or any cooking oil)
1/4 cup honey (or your desired sweetener)
1/4 cup rice vinegar
2 teaspoons soy sauce
1/4 teaspoon toasted sesame oil
pinch of salt and black pepper

TO MAKE THE SALAD:
Heat oven to 425°F. Spread the crumbled ramen noodles and sliced almonds out on a baking sheet, and stir a bit to combine. Bake for about 5 minutes, or until the almonds and noodles are slightly toasted and golden. Remove baking sheet, and give the mixture a good stir to toss. Then return it to the oven and toast for an additional 3 minutes. Keep a very close eye on the mixture so that it does not burn. Remove and set aside.
Add ingredients (including the vinaigrette) together in a large bowl, and toss until combined.
Serve immediately, or cover and refrigerate for up to 3 days. (This salad is much better eaten the first day, as the noodles lose their "crunch" the longer it sits, and the avocado may brown a bit. Still, it's perfectly edible and enjoyable even after a few days!)
TO MAKE THE VINAIGRETTE:
Whisk all ingredients together until combined.
*You can use any kind of packaged ramen noodles for this recipe. If you'd like organic (and less-processed) alternatives to the classic $0.30 packets at the grocery store, I recommend these organic classic ramen noodles or organic brown rice ramen noodles.
May 06, 2017
Mennonite Cabbage Rolls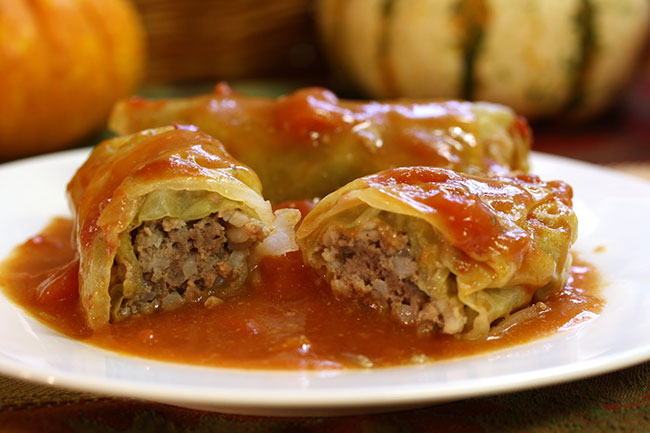 Cabbage rolls are one of my favorite meals. My mom used to make them all the time when I was growing up and I have continued the tradition with my own family.
Ingredients
1 large savoy cabbage
2 pounds lean ground beef
2 medium to large onions
2 tablespoons canola or Bertolli olive oil .. or even butter is fine
1 cup white or brown rice. . . and 2 cups water
3 Eggland's Best eggs
1 1/2 teaspoons Morton salt
1 teaspoon pepper
2 cans tomato soup
2 small bottles (individual serving sizes) tomato juice or vegetable cocktail . .like V8
1 can or small carton chicken broth
In the bag that you brought your savoy cabbage home. . .place the cabbage in the freezer and leave for 12 hours or overnight.. . .remove and leave to thaw at room temperature. .this will take awhile. . so I often take it the night before the day I want to make the cabbage rolls. The leaves will be soft and easy to use without having to boil them.
In a small saucepan or a microwave safe covered dish. . .cook the rice. . set aside to cool. The rice can be made the day ahead and kept chilled in the refrigerator overnight.
Chop the onions fine and saute them slowly until they are golden brown. . .set aside to cool.
In a large bowl, break apart the ground beef, add the salt, pepper, eggs, sauteed onions and the rice. . mix together until combined. . use your hands.
Remove the leaves from the cabbage, cutting away the tough part closest to the core.
Spray your large casserole or two small casserole dishes with cooking spray.
Put about a 1/3 to 1/2 cup meat mixture at the bottom of the leaf and roll up. . the meat amount varies depending on the size of the leaf. . repeat until all the meat is used up.
In a large mixing bowl. . .combine the tomato soup, juice, and broth. . pour evenly over the cabbage rolls. Cover with foil. . or the lid.
Bake the cabbage rolls slowly at 325 for two hours. . serve or cool on the counter. .remove the foil (if you don't. . you will have little bits of foil on your cabbage rolls where ever it touches. .) cover with plastic wrap. .and either refrigerate or freeze.