Recipe(s) Of The Week
November 09, 2019
Turkey Pot Pie
Ingredients
1 egg beaten
1/3 cup butter
1 onion diced
1/3 cup flour
1/2 teaspoon poultry seasoning
1/4 teaspoon thyme
1 cup chicken broth
2/3 cup milk or cream
1 potato diced and cooked
1 1/2 cups frozen vegetables defrosted
2 cups leftover turkey
Instructions
Preheat oven to 400°F. Whisk egg with 1 tablespoon water. Set aside.

Cook onion in butter over medium low heat until tender, about 5 minutes. Add flour, poultry seasoning, thyme, salt & pepper. Cook 2 minutes more.

Whisk in chicken broth and milk a little bit at a time stirring after each addition. It will seem thick at first but will smooth out. Bring to a boil over medium heat, simmer 1 minute and remove from heat. Stir in turkey and vegetables.

Line a 9" pie plate with one of the crusts. Fill with turkey filling. Brush edges of crust with egg wash and top with second crust. Pinch edges to seal and cut a few slits to vent pie. Brush with egg wash.

Bake 35-40 minutes or until lightly browned and filling is bubbly.

Cool for 10-15 minutes before cutting.
Cornbread Dressing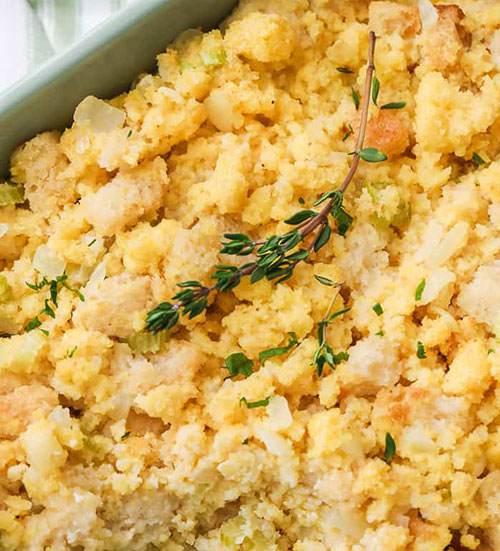 This dressing is a meld of savory herbs delivering deliciousness in every bite! 
Ingredients
1/2 cup plus 2 tablespoons butter divided
1 onion diced
1 cup celery chopped
1 teaspoon poultry seasoning
1/2 teaspoon ground sage
2 tablespoons fresh parsley chopped
6 cups crumbled cornbread dry*
3 cups white bread cubes dry*
4 cups chicken broth or as needed
3 eggs beaten
salt & pepper to taste
Instructions
Melt 1/2 cup butter in a large skillet. Add celery, onion, poultry seasoning and sage. Cook over medium heat until tender (do not brown). Cool.

Place cornbread and bread in a large bowl with celery, onion, parsley and salt & pepper.

Combine eggs and 2 cups chicken broth whisking until smooth.

Drizzle bread cubes with egg mixture gently tossing just until moistened. Add more broth as needed to moisten the mixture allowing the mixture to stand a few minutes between each addition to soak up the moisture.

Place in a greased 2qt baking dish and dot with remaining butter. Cover and bake 35-40 minutes or until heated through.
Recipe Notes
To Dry Bread: The bread should be slightly stale or dry. To dry bread, cube and leave out overnight or place on a baking sheet at 325°F for about 10 minutes. Cool completely.
November 02, 2019
Pumpkin Angel Food Cake with Cream Cheese Glaze
INGREDIENTS
12 large egg whites
1¼ teaspoons cream of tartar
1¼ cups (248g) granulated sugar (preferably superfine sugar)
1 teaspoon pure vanilla extract
1¼ cups (141g) cake flour
1½ teaspoons ground cinnamon
¾ teaspoon ground ginger
½ teaspoon ground cloves
¼ teaspoon fine sea salt
1¼ cups (283g) pumpkin puree
CREAM CHEESE GLAZE
4 ounces (113g) cream cheese, at room temperature
½ cup (56g) confectioners' sugar
3 tablespoons heavy cream or whole milk
1 teaspoon pure vanilla extract
Pumpkin pie spice, as needed
DIRECTIONS
1. Preheat the oven to 350°F. Place an ungreased angel food cake pan on a baking sheet.
2. MAKE THE CAKE: In the bowl of an electric mixer fitted with the whisk attachment, whip the egg whites and cream of tartar until they become white and frothy, about 2 minutes. Add the sugar in a slow, steady stream and continue to whip to stiff peaks. The meringue should be smooth and glossy. Add the vanilla.
3. In a medium bowl, sift together the cake flour, cinnamon, ginger, cloves and salt. Gradually sprinkle a small portion of the flour mixture over the meringue and, using a silicone spatula, fold in gently to incorporate, repeating until all the flour mixture is incorporated. Do not overmix.
4. Place the pumpkin puree in a large bowl. Add about a quarter of the batter to the pumpkin puree and mix to combine. This will lighten the puree and make it easier to incorporate into the rest of the batter without deflating it much. Add the remaining batter to the pumpkin mixture in 2 or 3 additions, folding just until incorporated.
5. Gently spoon the batter into the prepared pan and spread into an even layer. Transfer to the oven and bake until the top is golden brown and the structure is set (it will spring back lightly when touched), 35 to 40 minutes.
6. Invert the cake pan onto a cooling rack and cool completely in the pan. When the cake has cooled, turn the pan upright and run a sharp knife gently around the edge of the cake to loosen it. Invert the cake pan onto the cooling rack to release the cake.
7. MAKE THE GLAZE: In a medium bowl, mix the cream cheese with a whisk until it's light and fluffy. Add the confectioners' sugar, cream and vanilla; mix to combine. The glaze should be thick but drizzle-able. If it's too thick, add more cream or milk 1 teaspoon at a time until it reaches the desired consistency. Drizzle the glaze over the cake and garnish with pumpkin pie spice, if desired.
Candied Yams
Ingredients
1/2 cup unsalted butter
6 yams peeled and sliced 1/3 inch thick (approx 3.5 lbs)
1 cup brown sugar
1.5 teaspoons pumpkin pie spice
Kosher salt to taste
Instructions
In a large high sided skillet, add butter and set over medium-high heat. When the butter is melted add the sweet potatoes and toss to combine.

Add the brown sugar and pumpkin pie spice to the skillet. Stir to combine.

When the sugar is melted, lower the heat to low and cover with a lid. Cook for an hour, stirring every 15 minutes.

As the potatoes cook they will start to soften so be careful when stirring that you don't break up the potatoes.

When the potatoes are fully cooked and the sauce is thick, taste the potatoes and add kosher salt to taste.

Serve hot.
October 26, 2019
Spicy Southern Chicken Spaghetti
INGREDIENTS
1 lb pasta – cooked
1 lb chicken tenders
2 TBS butter
12-16 oz Velveeta (plus extra if you want to add more when you reheat it – see above notes – or if you like a wetter dish use the full 16oz.  Go less for a mac-n-cheese texture – more for an Alfredo kinda thing.)
1 cup milk
1 10 oz can Rotel (tomatoes & chilies)
1 10 oz can cream of chicken soup (or cream of mushroom or cream of celery)
1/2 tsp cumin
2 TBS sriracha or other hot sauce
1 cup Panko or other bread crumbs
1 cup grated cheese (I used a cheddar & mozzarella mix)
S&P to taste
Mixed Greek Vegetables
INGREDIENTS
1 1/4

 lb/ 570 g gold potatoes (about 

3

medium-size potatoes), peeled and thinly sliced into rounds (about 1/8-inch thick)

1 1/4

 lb/ 570 g zucchini squash (

2

 to 

3

zucchini), thinly sliced into rounds (about 1/4-inch thick)
Salt and pepper

2 tsp

/ 3.6 g dried oregano
scant 

1 tsp

/1.2 g dried rosemary 

1/2 cup

/ 35 g chopped fresh parsley

4

 garlic cloves, minced
Early Harvest Greek extra virgin olive oil

1

 28-oz/ 794 g canned diced tomatoes with juice (no-salt added organic tomatoes are recommended)

1

 large red onion or 2 smaller red onions, thinly sliced into rounds (if large, you'll want to cut the onion in half first, and then slice)
DIRECTIONS
Melt the butter in a deep stock pot sprayed with cooking spray, too.  The cooking spray seemed to make the inevitable browned/burned bits of cheese easier to clean off later.  Add the Velveeta, Rotel, soup, milk, hot sauce & cumin & melt it all together over med-high heat.  Add the chicken.  Toss it with the pasta.  I added about 1 TBS of black pepper here.  You add S&P to taste.
Spray a casserole dish with cooking spray & put the chicken spaghetti in it.  Top with grated cheese & bread crumbs.
Cook at 350 for about 30 minutes or until the cheese is bubbling & the bread crumbs brown a bit.
Cook & drain the pasta.
Spray a grill or frying pan with cooking spray & cook the chicken tenders & then cut them up.