Recipe(s) Of The Week
December 01, 2018
VEGAN LENTIL NUT "MEAT" LOAF
Incredible vegan lentil "meatloaf" with wholesome, whole-food ingredients like lentils, nuts, sweet potato, and mushrooms! Just 10 ingredients required for this flavorful, comforting entrée.
Ingredients
VEGETABLES
2 Tbsp coconut or avocado oil (DIVIDED // if avoiding oil, sub water)
3 heaping cups thinly sliced shiitake or cremini mushrooms
1 Tbsp vegan worcestershire or coconut aminos (ensure vegan and gluten-free friendly)
2 cups sliced and peeled sweet potato (1/4-inch rounds)
THE REST
2 cups raw nuts or seeds (we prefer a mix of walnuts and pecans)
2 Tbsp fresh thyme (or sub dried)
2 cups cooked brown or green lentils (rinsed and well drained)
1/2 tsp each sea salt and black pepper (plus more to taste)
4 Tbsp tomato paste
2 Tbsp vegan worcestershire or coconut aminos (ensure gluten-free friendly as needed)
1/2 cup gluten-free bread crumbs (we like Ian's gluten-free panko* // If not gluten-free, use regular breadcrumbs)
GLAZE optional
1/2 cup ketchup (or skip and serve with Vegan Gravy*)
Instructions
Heat the oven to 350 degrees F (176 C) and line a standard loaf pan (or 8x8-inch baking pan) with parchment paper. Set aside.

Heat a large cast-iron or metal skillet over medium heat. Once hot, add half the oil and mushrooms. Sauté then cover and cook for 5 minutes, stirring frequently. Once softened and reduced in size, add the vegan Worcestershire and stir to coat. Cook for another 3-4 minutes or until caramelized. Set aside.

Meanwhile, heat another large cast-iron or metal skillet (or use the same one as you cooked the mushrooms in) over medium heat. Once hot, add the rest of the oil and arrange sweet potatoes in as even of a layer as possible. Then cover and cook for 4 minutes. Flip, add 3 Tbsp (45 ml) water, and cover. Cook for another 3-4 minutes or until tender and browned (but not mushy). Set aside uncovered to cool slightly.

To a large (at least 7-cup) 

food processor

, add nuts and pulse a few times into a loose meal. Then add sweet potatoes, mushrooms, and thyme, and pulse to combine. Add lentils, salt, and pepper and pulse to loosely combine but be careful not to purée.

Transfer mixture to a large mixing bowl and add tomato paste and Worcestershire and stir until a loose dough forms. Then add bread crumbs (we like Ian's gluten-free panko) a little at a time (we used all of the recommended amount) until a thick dough forms. If for some reason it's crumbly (which may happen depending on the texture of your lentils), scoop half of the mixture back into the food processor and pulse until it's more finely puréed and then return back to the bowl and stir with the remaining mixture. If for some reason it's too wet, add more bread crumbs as needed.

Taste and adjust flavor as needed, adding more tomato paste for added moisture / tomato flavor, Worcestershire for depth of flavor, salt for saltiness, or thyme to taste.

Transfer the mixture to the parchment-lined loaf pan, spread, and press into an even layer. Then add ketchup glaze (optional) and spread into an even layer. If not using the glaze, brush the top with a little oil to help the loaf retain moisture.

Bake uncovered for 35-40 minutes or until golden brown on the edges and slightly dry to the touch. Remove from oven and let rest for 10-15 minutes in the pan. Then gently remove and carefully slice and serve.

Leftovers keep for 4-5 days in the refrigerator or 1 month in the freezer. Reheat in the microwave or in a 350-F (176 C) oven until warmed through.
November 24, 2018
Garlic Ginger Soup
Modified Garlic Soup Recipe
Serves 4
INGREDIENTS
26 garlic cloves (unpeeled)
2 tablespoons olive oil
2 tablespoons (1/4 stick) organic butter (grass fed)
1/2 teaspoon cayenne powder
1/2 cup fresh ginger
2 1/4 cups sliced onions
1 1/2 teaspoons chopped fresh thyme
26 garlic cloves, peeled
1/2 cup coconut milk
3 1/2 cups organic vegetable broth
4 lemon wedges
DIRECTIONS
Preheat oven to 350F. Place 26 garlic cloves in small glass baking dish. Add 2 tablespoons olive oil and sprinkle with sea salt and toss to coat. Cover baking dish tightly with foil and bake until garlic is golden brown and tender, about 45 minutes. Cool. Squeeze garlic between fingertips to release cloves. Transfer cloves to small bowl.
Melt butter in heavy large saucepan over medium-high heat. Add onions, thyme, ginger and cayenne powder and cook until onions are translucent, about 6 minutes. Add roasted garlic and 26 raw garlic cloves and cook 3 minutes. Add vegetable broth; cover and simmer until garlic is very tender, about 20 minutes. Working in batches, puree soup in blender until smooth. Return soup to saucepan; add coconut milk and bring to simmer. Season with sea salt and pepper for flavour.
Squeeze juice of 1 lemon wedge into each bowl and serve.
Can be prepared 1 day ahead. Cover and refrigerate. Rewarm over medium heat, stirring occasionally.
Sweet Potato Maple Vegan Beer Bread
The beer bread, which does not taste like beer, is made in one bowl in minutes, there's no kneading, it's vegan, and refined sugar-free. No eggs in this fluffy-rising loaf with a firmer exterior and a soft, moist, open crumb on the interior. There's no refined sugar used, and the natural sweetness from the sweet potato, along with maple syrup and robust dark molasses, provide a gentle and subtle sweetness. Baking times will vary based on moisture level of sweet potato, climate and oven variances, and brand of beer used. Since it's free from refined sugars and it's vegan, feel free to have a few extra slices. Makes great sandwich bread or toast.
INGREDIENTS:
about 1/2 cup mashed sweet potato (the flesh from 1 small cooked and peeled sweet potato)
2 tablespoons canola, vegetable, or melted coconut oil
2 tablespoons light, medium, dark molasses (not blackstrap, too bitter)
1/3 cup maple syrup (I used sugar-free)
1 teaspoon cinnamon
1/2 teaspoon ground nutmeg
1/2 teaspoon ground cloves
1/2 teaspoon salt, optional and to taste
2 1/2 cups all-purpose flour
1 tablespoon baking powder
12 ounces beer (I used Stella Artois; use your favorite beer)
DIRECTIONS:
Preheat oven to 375F. Spray a 9×5-inch loaf pan with floured cooking spray, or grease and flour the pan; set aside.
Add the sweet potato to a large mixing bowl (I microwaved the sweet potato for 7 minutes, let it cool momentarily, peeled it, and mashed it with a fork in the mixing bowl).
Add the next 7 ingredients, through optional salt, and whisk to combine. Some small sweet potato lumps will be present and that's okay.
Add the flour, baking powder, and slowly pour the beer over the top. It will bubble and foam. Stir until combined and no white bits remain at bottom of bowl. Batter is thick, gloppy, and dense.
Turn batter out into prepared pan, smoothing the top lightly with a spatula. Bake for about 40 minutes, or until top is domed, firm and set, and a toothpick inserted in the center comes out clean or with a few moist crumbs, but no batter. Allow bread to cool in pan for about 15 minutes before turning out onto a wire rack to cool completely. Slice using a serrated knife. Bread is best fresh, but will keep airtight for up to 4 days. I prefer it toasted with butter, and makes good sandwich bread.
November 17, 2018
Tomato Pie
A flaky crust filled with juicy ripe garden tomatoes and topped with a golden cheese crust.
INGREDIENTS
1 pie crust single
3/4 cup mozzarella cheese divided
1/2 cup cheddar cheese divided
3 large tomatoes
1 teaspoon salt
1/2 teaspoon garlic powder
1/2 teaspoon oregano
1/3 cup fresh basil leaves
1/4 cup mayonnaise
1 cup grape tomatoes , halved
INSTRUCTIONS
Preheat oven to 450 degrees.

Lightly salt tomato slices and spread over a double layer of paper towels to dry.

Poke pie crust with a fork. Sprinkle 1/4 cup mozzarella cheese on the bottom and bake for 10 minutes until lightly browned. Cool completely.

Combine 1/4 cup cheddar cheese and 1/4 cup mozzarella cheese in a small bowl.

Sprinkle tomato slices with garlic powder, oregano and black pepper to taste. Layer 1/2 of the tomato slices, 1/2 of the cheese mixture and 1/2 of the basil. Repeat layers. Top with halved grape tomatoes.

In a small bowl combine remaining 1/4 cup cheddar cheese, 1/2 cup mozzarella cheese and 1/4 cup mayonnaise. Dot over grape tomato mixture.

Reduce heat to 350 degrees and bake uncovered for 30-35 minutes. Cool before serving.
RECIPE NOTES
Note: This pie can be served warm, room temperature or cold.
Pull Apart Pizza Bread
INGREDIENTS
November 10, 2018
Garlic Parmesan Roasted Cauliflower
Ingredients
1 large head cauliflower cut into florets

1 tablespoon garlic clove minced

½ cup grated parmesan cheese

Fresh parsley chopped
Instructions
Preheat oven to 400 degrees F.

In a large bowl, add cauliflower florets, olive oil, salt, pepper, garlic, and paprika and mix everything well to combine.

Transfer everything to the prepared baking sheet. The florets should be in a single layer.

Bake the cauliflower for 15 minutes.

Turn the florets to the other side, sprinkle with the parmesan cheese and bake 15 more minutes.

Serve in a casserole and garnish with parsley.
SLOW COOKER CREAMY RANCH POTATOES
INGREDIENTS
1½-2 pounds red potatoes, chopped into 1 inch pieces
1 cup sour cream
½ cup milk
1 can condensed cream of potato soup
1 packet of buttermilk ranch dressing (dry, not prepared)
salt and pepper to taste
toppings: bacon bits or crumbled bacon, chopped parsley
INSTRUCTIONS
Add potatoes to slow cooker. Add sour cream, milk, potato soup, ranch dressing mix, and salt and pepper to taste (I used ¼ teaspoon each) and stir well.
Cover and cook on high for 2-3 hours or low 4-5 hours. Stir just before serving and top with bacon bits and fresh parsley.
November 04, 2018
PUMPKIN CRÈME BRULÉE
INGREDIENTS
October 27, 2018
FRIED CALAMARI (THE BEST)
INGREDIENTS
PREPARATION
Aioli 
n a bowl, whisk together the egg yolks, mustard and garlic. Slowly add one-third of the oil, drop by drop, whisking constantly. When the emulsion begins to form a mayonnaise, drizzle in the remaining oil while continuing to whisk. Season with salt and pepper. Stir in the water and lemon juice. Transfer to a small bowl and refrigerate until ready to serve.
Calamari
On a work surface, pull apart the squid heads from the bodies. Using a knife, cut off the tentacles, then cut the beak off the tentacles. Pull the cartilage out of the body and peel off the fins and skins, if desired. Rinse the bodies and tentacles under cold running water (see note). Pat dry with paper towels. Cut the bodies into rings 1/2 inch (1 cm) thick. Keep in the refrigerator, along with the tentacles, until ready to use. 
Preheat the oil in a deep fryer to 365°F (185°C). Line a baking sheet with paper towels. Preheat the oven to 200°F (95°C).
In a food processor, pulse the cereal to the size of fine bread crumbs. Transfer to a bowl. Add the flours, spices and salt.
In another bowl, beat the egg whites with a fork until frothy.
Dip several squid pieces at a time in the egg whites, then dredge in the breading mixture. Shake to remove any excess.
Working in batches, fry the squid for 1 minute or until golden brown. Drain on the paper towels. Keep warm on another baking sheet in the oven. 
Serve the fried calamari with lemon wedges and the aioli.
OCTOBER 20, 2018
Brussels Sprouts Skillet with Crispy Pancetta-Garlic Bread Crumbs
INGREDIENTS
10 servings
1½ tablespoons unsalted butter
2 garlic cloves, minced
1 cup panko bread crumbs
Kosher salt and freshly ground black pepper
4 ounces pancetta
2⅓ pounds brussels sprouts, trimmed and halved
Zest and juice of 1 lemon
DIRECTIONS
1. In a small skillet, melt the butter over medium heat. Add the garlic and sauté until fragrant, about 1 minute.
2. Add the panko bread crumbs and cook, stirring occasionally, until the bread crumbs are lightly golden brown, about 4 minutes. Season with salt and pepper. Remove from the heat.
3. Heat a large skillet over medium heat. Add the pancetta and cook until the fat renders and the pancetta is crisp, about 4 minutes. Transfer the pancetta with a slotted spoon to paper towels.
4. Add the brussels sprouts to the pan, season generously with salt and pepper, and sauté until tender, 5 to 8 minutes.
5. Add the lemon zest and juice to the pan and stir to combine. Transfer the brussels sprouts to a large serving bowl or platter and top with the bread crumbs and pancetta.
October 13, 2018
Baked Spaghetti & Meatballs
Ingredients
Meatballs (I used about 1½ doz homemade meatballs) **Meatballs were fully cooked
24 oz jar marinara sauce (I used San Marzano Sauce)
½ yellow onion (diced)
3 cloves garlic (crushed)
1 tsp Italian seasoning
2 TBSP olive oil
¾ # spaghetti noodles
1-2 cups grated cheese (I used half colby-jack, half mozzarella)
½ cup grated parmesan
Instructions
In large cast iron skillet, sauté onions in olive oil over med/low heat. Add in garlic and continue sautéing until onions are tender.
Add cooked meatballs.
Add marinara sauce and tsp Italian seasoning.
Heat over med/low heat for about 20-30 minutes.
In separate large pot, cook spaghetti noodles according to package directions (under cook by 2 minutes).
With large slotted spoon, scoop meatballs from sauce and set aside.
Scoop cooked spaghetti (with large slotted spoon) into marinara sauce. Add in about ½ cup pasta cooking water. Gently stir until pasta is fully coated with sauce.
Add cooked meatballs to top of spaghetti.
Top with grated cheese & parmesan cheese.
Bake at 350* for approx 20-30 minutes or until hot and bubbly and cheese is melted.
October 06, 2018
Crispy Chicken wings without frying. How can that be?
Butternut Squash, Kale, and Black Bean Quesadillas
Ingredients
2 cups prechopped peeled butternut squash
6 tablespoons water
2 cups baby kale
1 teaspoon canola oil
1/4 teaspoon salt
1 cup canned unsalted black beans, rinsed and drained
4 (8-inch) whole-wheat flour tortillas
6 ounces shredded part-skim mozzarella cheese (about 1 1/2 cups)
Cooking spray
Directions
Step 1
Heat a skillet over medium heat. Add squash and 6 tablespoons water; cover and cook 6 minutes. Uncover and stir in kale, oil, and salt; cook 2 minutes. Remove from heat.
Step 2
Place 1/2 cup beans in a bowl; mash. Add remaining 1/2 cup beans and squash; toss. Divide mixture among tortillas; top evenly with cheese. Fold each in half over filling. Coat tortillas with cooking spray.
Step 3
Wipe skillet clean; return to medium heat. Add 2 quesadillas; cook 2 minutes on each side. Repeat with remaining quesadillas.
September 29, 2018
The Almost Mac and Cheese
.....by The Juice Truck
A vegan dream
Ingredients

1 cup cashews
3 cups carrots
2 cups cubed sweet potato
2 cups diced onions
1 cup nutritional yeast
1 clove garlic
1 cup roasted garlic cloves*
1 tablespoon smoked paprika
1 teaspoon cayenne
Salt to taste
1 cup gluten-free pasta
*To roast garlic, put peeled garlic cloves into an oven-safe container. Add enough olive oil to cover the garlic, and add some salt and thyme. Roast at 350 degrees Fahrenheit until the garlic is golden brown. Use the oil after as a garnish, in dressings, or on toast. Roast as much garlic as you want, but make sure you cover the garlic completely with oil, otherwise it will burn. Keeps well in the fridge for up to two weeks.
Method
Soak cashews overnight in the fridge. If you forget to do this, a couple of hours will do, but they're best soaked overnight.
In a medium pot, add carrots, sweet potato, and onions and enough water to cover. Cook until all vegetables are soft.
Add cashews, nutritional yeast, garlic, roasted garlic, and all of the spices and use a hand blender on high speed until silky smooth. You can also transfer the ingredients to your blender, if you don't have a hand blender.
Boil a gluten-free pasta or any pasta of your choice.
Serve the sauce over the pasta. We always serve just a bit of extra sauce. Sauce makes everything better.
September 22
Perfect Homemade French Fries
Food journalist Julia Moskin shared this recipe in The New York Times. You can cut the potatoes into round slices, medium-size chunks or wedges or use whole baby potatoes, peeled. Any kind of vegetable oil is fine. Be sure to salt the fries while they're hot.
6 large Idaho potatoes
Vegetable oil
Salt
Peel the potatoes and cut them lengthwise into slices that are 3/8 to ½ inch thick, keeping the slices together. Give the sliced potato a quarter turn and cut slices into strips. Soak in cold water at least 30 minutes or overnight.
Drain potatoes and pat dry. Place them in a deep, heavy pot and pour in vegetable oil to cover plus an inch or two. Heat to a bare simmer and let potatoes cook slowly for about 30 minutes, stirring occasionally to prevent sticking, until very soft.
Raise the heat to medium. Line a large bowl with paper towels. Let potatoes fry in bubbling oil until golden and crisp, 10 to 15 minutes more.
Lift out potatoes and place in the paper towel-lined bowl. Shake to drain, remove paper towels, add salt, and shake again. Serve immediately
Cabbage Rolls aka Holopchi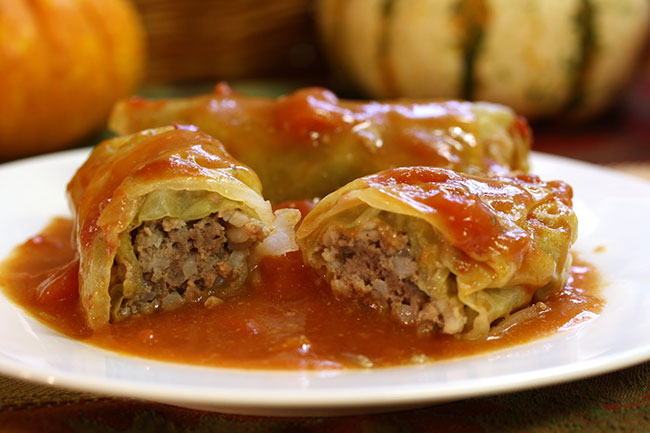 Ingredients

2 heads of cabbage
2 lbs ground beef 
3 cups cooked rice
1 egg
1 tsp garlic
1 tbsp parsley
2 slices diced onion
1 -15 oz. can tomato sauce
1-28 oz. can crushed tomatoes
1/4 cup tomato sauce (in meat)
Salt & Pepper to taste
Preparation
Put a head of cabbage in a pot of boiling water, and peel off the cabbage leaves one at a time.
Cut off the rough part on the end of the cabbage leaf with a sharp knife.
Mix all ingredients together except the 15 oz can of tomato sauce and crushed tomatoes and put a small amount (size of a sausage) on a cabbage leaf, and roll up like a fajita and place seam side down in a casserole dish. I put tomato sauce and a cabbage leaf or 2 on the bottom of the casserole dish so the Halupky won't burn.
Pour crushed tomatoes over Halupkys.
Cover and bake approximately 75 minutes at 375º.
Turn oven down to 325º and bake for approximately 90 more minutes until cabbage is tender. Baste every hour.
Serve with tomato sauce.
September 15, 2018
Pineapple Korean Chicken Thighs
4 servings
INGREDIENTS
2 tablespoons extra-virgin olive oil
8 chicken thighs
Kosher salt and freshly ground black pepper
1 red onion, minced
3 garlic cloves, minced
1 tablespoon minced fresh ginger
2 tablespoons gochujang
3 tablespoons soy sauce
3 tablespoons rice vinegar
1 pineapple, peeled and cored, thickly sliced
1 bunch scallions, thinly sliced on the bias
INSTRUCTIONS
1. Preheat the oven to 375°F. Heat the oil in a large, oven-safe skillet over medium heat.
2. Season the chicken with salt and pepper. Place the chicken skin side down into the hot skillet and cook until the skin is evenly golden brown and crisp, 7 to 9 minutes.
3. Turn the chicken over and cook for about 3 more minutes. Transfer the chicken to a plate. Remove all but 1 tablespoon fat from the pan.
4. Add the onion, garlic, and ginger and sauté until the onion is tender, about 5 minutes. Add the gochujang, soy sauce and rice vinegar. Bring the sauce to a simmer, and simmer until it reduces by about half and becomes thick and syrupy. Remove the pan from the heat.
5. Return the chicken to the skillet, skin side up, and arrange the pineapple in the skillet. Transfer the skillet to the oven and cook until the chicken is cooked through and the sauce has thickened a bit more, 12 to 17 minutes.
6. Brush the sauce over the chicken. Garnish the chicken with scallions and serve immediately.
SEPTEMBER 08, 2018
SPICY CORN CARBONARA
Corn, bacon and just a touch of Parm = completely irresistible.
6 servings
INGREDIENTS
4 ears corn
8 strips bacon, diced
1 red onion, minced
1 clove garlic, minced
Kosher salt
½ teaspoon crushed red pepper flakes
16 ounces bucatini (or spaghetti or linguine)
2 large egg yolks
⅓ cup heavy cream
½ cup grated Parmesan cheese
Freshly ground black pepper
Chives, for serving
DIRECTIONS
1. Cut the corn off the cob with a sharp knife. Transfer kernels to a bowl and firmly scrape the knife against the cob to release any liquid. Discard the cobs.
2. Heat a large skillet over medium heat. Add the bacon and cook until the fat has rendered and it's very crisp, 5 to 6 minutes. Remove the bacon from the pan with a slotted spoon and drain on paper towels.
3. Add the red onion and cook, stirring occasionally, until it's tender, about 4 minutes. Add the corn and garlic and cook until the garlic is fragrant, about 3 minutes. Season with the salt and red pepper flakes and reserve over low heat.
4. Bring a large pot of salted water to a boil over medium-high heat. Add the pasta and cook until al dente, 8 to 10 minutes. Scoop out and reserve 1 cup of the pasta water, then drain the pasta.
5. Stir the pasta water into the corn mixture. Raise heat to medium and bring the liquid to a gentle simmer. Add the pasta to the skillet and toss to combine.
6. In a small bowl, whisk together the egg yolks and cream. Add to the skillet and toss well to coat. Add the Parmesan, plenty of black pepper and reserved bacon and toss to combine. Garnish with the chives.
Saturday September 01, 2018
Garlic Chive Fries
Have you eaten the garlic fries at the Safeco Field (home to the Seattle Mariners)? These are close.
Ingredients
4 medium russet potatoes
1 tablespoon olive oil
4 teaspoons dried minced chives
1/2 teaspoon salt
1/2 teaspoon garlic powder
1/4 teaspoon pepper
Directions
Preheat oven to 450°. Cut potatoes into 1/4-in. julienne strips. Rinse well and pat dry.
Transfer potatoes to a large bowl. Drizzle with oil; sprinkle with the remaining ingredients. Toss to coat. Arrange in a single layer in two 15x10x1-in. baking pans coated with cooking spray.
Bake 20-25 minutes or until lightly browned, turning once.
Vegan/Paleo Cauliflower Walnut Taco Meat
TACO MEAT

1

 

cup

 raw walnuts (sub 2/3 C sunflower or pumpkin seeds)

12

 

ounces

 1" cauliflower florets (I buy bagged from Trader Joe's; equals 4 1/2 cups)

8-10

 

ounces

 sliced baby bella or button mushrooms

2

 

teaspoons

 olive oil or avocado oil

2

 

tablespoons

 nutritional yeast

 

For Serving:

 tortillas or shells, guac, salsa, avocado, clantro, shredded lettuce
TACO SPICE MIXTURE

2 1/2

 

teaspoons

 smoked paprika

2

 

teaspoons

 chili powder

1

 

teaspoon

 garlic powder

1 1/2

 

teaspoons

 onion powder

3/4

 

teaspoon

 cumin

1

 

teaspoon

 dried oregano

1

 

teaspoon

 sea salt, plus more to taste

1/4

 

teaspoon

 black pepper

1 

tablespoon

 coconut sugar
Preheat oven to 350 degrees F and add walnuts to a baking sheet (can be unlined). Roast walnuts until slightly darkened in color and fragrant, approximately 10 minutes (start checking at 8).

Remove walnuts and place in a heatproof bowl and set aside. Turn oven up to 400 degrees. Now line baking sheet with parchment paper. Add cauliflower and mushrooms to the baking sheet. Drizzle oil over vegetables and toss gently to coat.

Roast veggies for 20 minutes, until the cauliflower florets have golden brown edges. While roasting, make Taco Spice Mixture. Add 1/4 cup of spice mixture, walnuts and nutritional yeast to a food processor. Pulse just 1-2x to incorporate. 

When veggies have finished roasting, allow to cool until they are easy to handle with your fingers but still warm to touch. Add to food processor and pulse another few times, until mixture is incorporated but still has a chunky texture. Taste and stir in extra spice mixture and salt as you like—I personally use all the spice mixture and add an extra 1/2 teaspoon salt.

Serve immediately and enjoy! Leftover "meat" will keep tightly sealed in the refrigerator up to 5 days or frozen for 1 month.
Low-cal "fried" fish
Four white fish fillets, Norwegian or Alaska Cod are good
Marinate for 15 minutes or more in:
1 tbsp mayo
2 tsp Dijon
1 clove of crushed garlic
½ tsp salt
Fresh ground pepper
1 tsp smoked or regular paprika
Preheat your oven to 400f/170 C
Roll the fillets in ¾ cup Panko crumbs season with:
Salt, pepper and 1 tsp paprika or smoked paprika
Place the fillets on a baking rack over a foil-lined pan. Spray the rack and the filets with cooking spray.
Bake 20-25 minutes until the fish is flakey and the crust is lightly brown.
Low-cal tartar sauce
Mix
2 tbsp yogurt low- fat
2 tbsp mayonnaise
1 heaping tbsp pickle relish
1 tbsp capers
A squeeze of fresh lemon
August 26, 2018
Cheaters Skillet Paella
INGREDIENTS
6 servings
2 tablespoons extra-virgin olive oil
1 onion, diced
3 garlic cloves, diced
1½ cups chopped roasted red peppers, diced
2 links cooked chorizo, sliced
1 tablespoon tomato paste
1½ cups carnaroli or arborio rice
½ cup white wine
3 cups chicken broth
1 pinch dried saffron
1 dried bay leaf
Juice of 1 lemon
1 pound shrimp, peeled and deveined
1 pound littleneck clams, washed well
1¼ cups peas
Salt and freshly ground black pepper
Fresh parsley, as needed for garnish
DIRECTIONS
1. Preheat the oven to 325°F.
2. In a large, flat, oven-safe pan, heat the olive oil over medium heat. Add the onion and sauté until tender, 3 to 4 minutes. Add the garlic and cook until fragrant, 1 minute more.
3. Stir in the peppers and chorizo. Cook until the chorizo browns slightly, 5 to 6 minutes.
4. Stir the tomato paste into the pan and cook for 1 minute. Add the rice and stir well to combine. Cook for 1 minute more.
5. Pour in the wine and broth, then add the saffron, bay leaf and lemon juice. Stir well to combine and bring the mixture to a simmer. Nestle the shrimp and clams into the pan.
6. Bake the paella, uncovered, until the clams open, 22 to 25 minutes. Gently add the peas. Season with salt and pepper.
7. Garnish with parsley and serve immediately.
August 18, 2018
With grilled meat and veggies on repeat through the summer months, I constantly find myself craving something that just jazzes them up slightly. Now I have this creamy 3-ingredient sauce in my back pocket.
Magic Summer Sauce
Makes about 1 cup
1 cup plain yogurt
2 to 3 tablespoons Dijon mustard
1 to 2 teaspoons Sriracha or Asian chili-garlic sauce
Place all the ingredients in a small bowl and whisk to combine.
Creamy Turmeric Chicken Skillet


2 tablespoons unsalted butter
1 medium yellow onion, thinly sliced
1 tablespoon peeled and minced fresh turmeric root
1/4 teaspoon freshly ground black pepper
1/2 teaspoon kosher salt, plus more for seasoning
1 1/2 pounds boneless, skinless chicken thighs
1 1/2 teaspoons ground turmeric
1/2 cup dry white wine
1/2 cup heavy cream
1/2 cup low-sodium chicken broth
Cooked basmati or jasmine rice, for serving
Chopped fresh cilantro leaves and tender stems, for garnish
Melt the butter in a 12-inch or larger skillet over medium heat. Add the onion, fresh turmeric, pepper, and 1/2 teaspoon of the salt. Cook, stirring occasionally, until the onions are softened, about 5 minutes. Meanwhile, place the chicken on a large plate with the smooth-top side facing up. Season with salt and all of the ground turmeric.
Push the onions to the outer edges of the pan and place the chicken, seasoned-side down, in a single layer in the middle of the pan. Season the chicken with more salt. Cook, undisturbed, until the chicken just begins to brown, no longer than 3 to 4 minutes (any longer and the turmeric will start to burn).
Using tongs, flip the chicken and cook for 2 minutes more. Pour in the wine and use a wooden spoon to scrape the browned bits from the bottom of the pan. Cook for 1 minute, pour in the cream and broth, and stir gently to combine.
Reduce heat to medium-low, cover, and cook until the chicken is tender and cooked through, and registers at least 165°F on an instant-read thermometer, 18 to 22 minutes. Serve over rice and garnish with cilantro.
PEANUT BUTTER CORNFLAKE COOKIES

Peanut Butter Cornflake Cookies are an easy and sweet treat with no baking required! Everyone will love these chewy, sweet, and salty cookies that are ready in no time at all!
INGREDIENTS:
1 cup granulated sugar
1 cup light corn syrup
1 cup creamy peanut butter
1 teaspoon vanilla extract
6 cups corn flakes

DIRECTIONS:
In a large saucepan, combine the sugar, corn syrup, and peanut butter. Cook over medium high heat until center starts to boil, make sure to stir constantly so the sugar doesn't burn.
As soon as the sugar mixture comes to a boil, remove from heat and stir in the vanilla extract and corn flakes, mix until corn flakes are evenly coated in sugar mixture.
Use an ice cream scoop to drop cookies onto wax paper as quickly as possible before mixture starts to cool and harden.
Let cool on wax paper for 20 to 30 minutes before enjoying
May 12, 2018
UBC Cinnamon Bun Recipe

YIELD: 18 Large Cinnamon Buns

INGREDIENTS:
Dough
3 cups (750mL) milk
6 tbsp (90mL) butter
6 tbsp (90mL) plus 1 tsp (5ml) granulated sugar
1 tbsp (15mL) salt
½ cup (125mL) warm water
2 envelopes active dry yeast
2 large eggs
9 cups (2.25L) all-purpose flour
Filling
¾ cup (175mL) melted butter
1¼ cups (300mL) granulated sugar
2 tbsp (30mL) cinnamon

METHOD:
Scald Milk. Stir in butter, 6 tbsp sugar and salt. Cool to lukewarm.
Dissolve remaining 1 tsp sugar in warm water. Sprinkle yeast over water mixture. Let stand in a warm place for 10 minutes. Stir.
In a large mixing bowl, combine lukewarm milk mixture with eggs. Stir in dissolved yeast mixture.
Add four to five cups of the flour and beat well for 10 minutes. With a wooden spoon, gradually add enough of the remaining flour to make a soft dough.
Turn out on to a lightly floured surface and knead until smooth and elastic, adding additional flour as needed. This is a soft dough!
Place dough in a well-greased bowl and roll around to grease all sides of the dough. Cover with a damp cloth and let rise in a warm place until dough doubles in size, about one hour.
Punch down dough and turn out onto a lightly floured surface. Divide dough in half.
To fill, roll out each piece of dough into a 9 x 18-inch rectangle. Spread 1/4 cup of melted butter evenly onto each rectangle.
Combine sugar and cinnamon for filling. Sprinkle onto the rectangles. Roll dough up like a jelly roll, starting from the long side. Cut into 2-inch slices.
Place remaining ¼ cup of melted butter into the bottom of a 16½ x 11½ x 2½-inch pan. Arrange slices in the pan and cover loosely with greased wax paper.
Let rise in pan until doubled in size, about 45-60 minutes.
Preheat oven to 350°F (180°C).
Bake for 35-40 minutes.
Remove from oven and immediately invert onto a serving tray.
Nearly 65 years of UBC Alumni remember the pillowy softness and caramelized edges of the UBC Cinnamon Bun as a quintessential part of the UBC experience. But where did it all begin?
The UBC Cinnamon Bun recipe was first perfected by Hungarian Baker Grace Hasz in 1954. Within a few years she went from baking two dozen to a staggering 120 dozen per day as the bun grew in popularity.
Grace baked cinnamon buns for UBC until her retirement in 1971. She baked by instinct and never wrote the recipe down, though her grandson has recorded his attempts to recreate the original recipe from memory.
A few things have changed since 1955 – the original recipe used margarine, a holdover from war-time butter shortages, and was said to have so much cinnamon the filling looked black – but the association between UBC and great cinnamon buns has never diminished.
Today's recipe is still made from scratch every day, using real butter and simple ingredients. Next time you're craving a cinnamon bun, you'll find them in most UBC Food Services locations. But go early – they often sell out!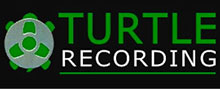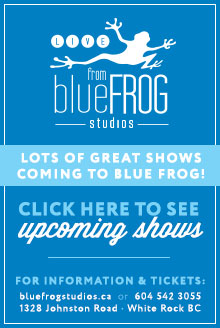 Buy Tickets