September 27, 2017
National Seniors' Day on October 1
In recognition of National Seniors' Day on October 1, the Society of Notaries Public of B.C. is offering tips and resources to help B.C. seniors stay in their homes, find appropriate new housing or connect with available supports.
Given high real estate prices and rents throughout the province, seniors on a fixed income or relying on social assistance may struggle to continue to afford and function in their homes:
According to the 2016 Statistics Canada Census, 33% of women and 17.5% of men age 65+ live alone.
The B.C. Real Estate Association reported that the average house price across B.C. increased 19.1% year-over-year in August 2017.
A recent survey of residential care homes by the Office of the Seniors Advocate of B.C. found that while residential care is under-resourced in some areas, it's performing well in others. While 83% of residents believe staff know what they are doing, 40% do not want to be there.
Only 4% of BC seniors live in residential care.
"Put simply, seniors are happiest and healthiest living in their own home for as long as possible," said Tammy Morin Nakashima, a Richmond Notary and President of B.C. Notaries. "A Notary can help seniors and their families prepare plans and documents specifying various supports and responsibilities, including financial and healthcare that help keep them in their home. We can also help them plan for future residential care, or an equivalent, that fits within their financial framework and wishes."
Housing Tips for B.C. Seniors:
1. Consider deferring your property taxes:
If you're over 55, you might qualify to defer all or part of your current year's property taxes. You'll be charged a low rate of interest and the Province will hold a lien on your property, but this might be a viable option if your home has increased substantially in value, as the deferred costs would be settled as part of your estate – or paid back if you sell your home. More information is available here.
2. Learn more about available funding to adapt your home for safety:
Adapting your home in small ways can help you stay in your home longer and more safely. There are a number of programs available that might help fund these improvements including B.C. Housing's Home Adaptations for Independence and the Province of B.C.'s Home Renovation Tax Credit for Seniors and Persons with Disabilities. Additionally, the Government of Canada has information to help people thinking about aging in place.
3. Access funding available for renters age 60 or older:
B.C. residents age 60 or older with low to moderate incomes who rent their homes may be eligible for B.C. Housing's Shelter Aid for Elderly Renters (SAFER) program, which provides a monthly cash payment to subsidize rent, including homes in the private rental market.
4. Learn more about home support options:
If you or a family member need help with simple day-to-day tasks, the United Way's Better at Home program, which manages 67 local programs across B.C., funded by the Province, might be a helpful resource.
B.C. Housing provides more information here about supportive housing, which is typically modified rental homes for low-income seniors and people with disabilities, or assisted living housing facilities. Both offer a range of care services.
5. Keep your planning documents up-to-date:
It's a good idea to have current written instructions for your future healthcare. Consult your Notary to discuss granting a Representation Agreement to appoint someone you trust to carry out your wishes. Without one, your spouse or other loved ones may not be empowered to enforce your instructions with doctors, nurses and other healthcare providers on your behalf.
"Notaries are very familiar with the support services available to seniors, and planning that can be done to provide peace of mind for seniors and their families. This helps ensure they receive the support they need now and in the future," said Susan Tong, a Notary in Vancouver.
If you have questions about your or a family member's options, see your Notary for expert advice. To find a Notary in your community, please visit www.notaries.bc.ca.
The Society of Notaries Public of B.C. represents more than 365 highly-trained Notary professionals. Most Notaries have locally owned and operated offices and all provide personal assistance to clients around the province. Individuals, families and businesses seek the services of B.C. Notaries for a wide range of non-contentious legal matters, including residential and commercial real estate transfers, mortgage refinancing, Wills and advanced healthcare planning, Powers of Attorney, and other important documents.
The Notary's Tradition of Trust spans 2000 years. Notaries first came to British Columbia over 100 years ago. They continue to serve their valued clients and their communities across the province. For more information, or to find a Notary near you, please visit www.notaries.bc.ca.

March 29, 2017
Rocking Out with White Rock Beach Beer Company
The Brewery
There's a term in the business world that I love – Bootstrappin'. It's technically called bootstrapping, but I dropped the "G" for a little street cred. Basically, it's a business model that requires slow growth from proof of your model to building a solid customer base and growing incrementally from there. This is White Rock Beach Beer Company in a nutshell. It started out with a bunch of teachers who had a passion for beer and decided to give a brewery a go. Thank dog (yes I said dog) they did.
A brewery could not have been received by a neighborhood better. In a relatively sleepy part of town, a ragtag band of misfits, outsiders, and neer do wells frequented this hole in the wall brewery until they reached the point they could open their very own tasting room – a big jump from where they were before.
Where you once saw wire racks filled with growlers, vinyl, and merchandise, you now see a gorgeous bar and tasting room that screams White Rock. If you know the area, you'll know what I mean. A surfboard hangs above the bar serving as a light fixture; some classic Adirondack beach chairs sit in the corner for an easy pint; even the drink rail along the back wall is fabricated to look like the railing along the White Rock Pier complete with the landmark light fixtures.
White Rock Beach Beer Company Surf BoardSpend five minutes in this place and you'll feel like you're home. The owners, Peter and Bill, are some of the more genuine people you'll find in the industry and take the time to chat to you and learn your story. Over your conversation, they'll stop and yell out the name of the regulars as they barge through the door. Think cheers, without the dusty dive bar. They've quickly become a much-needed watering hole in the middle of a quickly growing community. They may not be the biggest brewery around, they may not make the best beer in the industry, but they certainly treat everyone who walks through the door like an old friend, and that's the heart that the industry could use more of. I have no doubt in my mind that over the years, White Rock Beach Beer Company will become bigger than they ever thought they'd be- all due to the fundamentals of business: treating your customers like champions…sexy, sexy champions.
White Rock Beach Beer Company BeerThe Beer
If only they had enough beer for flights! White Rock Beach Brewing borders on being a nano-brewery; they really only offer two or three beer at a time. Since the opening of their tasting room this year, they've been rolling with two of their own beer, plus a sprinkle of an occasional seasonal- and a guest tap from another brewery around town. The two mainstays are perfect for the market, nothing too intense, one light, one dark; easy to drink and great gateway beers for the community to get hooked on craft:
West Beach Pale Ale – 5% ABV
A very sessionable Pale. It's perfect for the market, a good balance of hop and malt that one could drink in great succession. I have done it many times, so I should know. My spidey senses give me a feeling this recipe will grow over time and will eventually lean on the more hoppy side of the tracks as the local market develops a taste for craft beer.
East Beach Brown Ale – 5% ABV
This is my go to every time I'm here. You don't often find brown ales around. Mainly because people tend to shy away from them in general. As the darker beer on tap here, I'm willing to bet they move a lot of it. Like the Pale Ale, it is very sessionable and has this really soothing malty/bready backbone that ale drinkers live for. The flavour is a bit nutty, a bit chocolatey and finish the right level of sweet.
Food
The usual pepperoni and beer jerky fare that you'd find in most tasting rooms are readily available if you're looking for a snack. For more substantial items… They don't have the room for a kitchen, nor do they want one. Being smart business guys, they took advantage of their surroundings. Two businesses down, there's a wicked little restaurant called "the Wooden Spoon". White Rock Beach Beer has worked out an agreement with the Wooden Spoon that once their lounge license kicks in (sometime in March hopefully), they'll have a simple menu for the tasting room patrons that the Wooden Spoon will bring right over. That one's a little stroke of genius, and a great way to dive further into the local community.
White Rock Beach Beer Company ChairOverall
This is a great little haunt that keeps growing at a controlled pace. Every time I stop in, there is a growing number of people filling the room. I've been following these guys since they opened their doors, at first because they are a brewery 5 minutes from home, but now because it's an awesome place to go for a casual pint and conversation with one of the wacky locals.
Read more from THE BEER RATER (click here)
December 07, 2016
South Surrey resident MARK CATROPPA is the driving force behind a new revolutionary "car service" that is arriving at a perfect time, the holiday season.
We recently learned about this start up company based here on the Semiahmoo Peninsula that has the world market in their sights.
Today we sit down with MARK to find out more about this revolutionary personal car service.


Mark you have recently launched a new car service called KATER (www.kater.com) How exactly does this new service work?

Kater is a driver on demand App. Kater drivers drive you in the comfort of your own car.


The natural question that many will ask is how does this service compare to UBER? UBER has been denied a business license in Vancouver for at least another year. Besides the vehicle used is there another particular difference in KATER that will be operating in cities where UBER is in place?

Kater does not require the license that UBER requires.
Kater can be significantly cheaper then UBER and it is way more convenient as the driver is always waiting for you.



You are launching the service just in time for the Christmas/Holiday season when people are challenged with going out for an evening which may or may not include a few festive holiday drinks. In addition to the Lower Mainland what other cities are you set to roll out your service?

We are testing and approving drivers in Calgary and Toronto right now


What will the next markets be that will soon have KATER service worldwide?

We plan to launch in the USA later in 2017 and may go to London at the same time



What is the hourly rate? I have heard and maybe you can confirm this, when hire a driver for a period of time, during the down time that you are at an event, is it possible for you to have your driver perform other duties, IE: Pick up other travelers? Perform simple duties like have the vehicle washed, pick up laundry, do grocery shopping etc.? Are there any boundaries on what duties you can have your driver perform?

$25/hour, the driver is available to do whatever you want while on a trip. Multiple pickups , laundry, lunch,coffee we tell our customers to be creative


Along those lines I would assume if a couple wanted to pick up another couple to travel with them and share the cost, is there any additional cost?

No additional cost


What type of screening process do you perform in choosing your drivers.
Personal interviews
Criminal record check
Drivers claims history check
Drivers abstract check


In addition to simply using the service for holiday events, getting to and from the airport for instance and or business executives can use your service. How would these services work?
Being able to work while you head to the airport to to a business meeting is a great use of our service, especially with distracted drving laws plus you have access to the carpool/bus lanes when you use our service.


Most new ventures are a result of an "aha moment" when the light goes and and you say "This would be a good idea." Did you have such an "aha moment where KATER was born?"

No real aha moment, just lots of frustration with having not many options led us to be creative
KATER is now fully functioning and beta testing the service in the Lower Mainland and you are the winner. Check out the exclusive offer below KATER is partnering with the White Rock Sun which means big savings for you.
D.Chesney/Editor
The White Rock Sun in association with KATER has a very special offer for you this Christmas season.
Visit the KATER website, download the KATER app then simply enter the code WHITEROCK50 for a $50.00 reduction in your car service fee.
Book the car service for four hours and only pay $50.00 for your night out.
September 29, 2016
Landmark In Good Hands
For many years J&H Market has served our community from its location on Pacific avenue. That is all coming to an end this week.
Today we are talking with Mr. Soo the owner and operator of J&H for a number of years.
Mr. Soo let's start at the beginning. When did you come to White Rock and open J&H Market?
* We came to White Rock in March 15, 1970. Took over J H Grocery business from Mr. Peter Charles.
Had you owned or had any experience operating a general store prior to arriving in White Rock?
* We were renting a grocery store on 4th and Trafalgar in Vancouver for number years before coming to White Rock. My cousins helped us to get that going and we decided to come to White Rock because we wanted to have our own business. We looked in Vancouver and surrounding, but ended up in White Rock because we had four small children and the school was less a block away. For a business that requires you to be there all time. it was convenient because the kids could walk to school. And next to the water was attractive. too. White Rock is a beautiful place.
You have been in White Rock now for over four decades. What are some of the changes you have seen. Good and bad.
* When we moved here there was only one traffic light on the corner of 16th and Johnston Road. The city was a lot quieter, there were CIBC bank and car dealer & a gas station(Don Carr) in Five Corners

The store has always been a family operation. Your wife and son have helped you operate the store. What is your son's name and your wife's name?
* My wife's name is Sheila and my son's name is Steve

There was a rumour that your son may continue to operate a store in the same location, but in a smaller version. Has there been any decision on that matter?
* Steve is going to take a break from the store. The store was open 10 hours a day. 7 days a week so he deserves a little holiday.

Have you not lived above the store with your family all these years? Will you continue to live above the store?
Yes we have always lived above the store and will continue to make our home in this same location.

Let's talk a bit about the future. Many in the community were anxiously awaiting to see where Laura's Coffee Corner would turn up following the Five Corners fire which destroyed her business. I understand LAURA'S will rise from the proverbial ashes in her new location which will be your old general store location. How did this all come about. How did Laura find out you might be interested in scaling back your operation?
* I've been thinking of retiring for a while now, before the 5 Corners Fire. I buy coffee from Laura's coffee shop. She is all time busy with little space in her shop.I joked with her that she needed a bigger place, she should move to my store, that I'd be happy to rent it to her. Then the fire happened. She came to me see if I was serious. She was eager to make it happen.

In closing Mr. Soo. For the many customers that never really had the opportunity to personally instrouce themselves what is your first name> what do you think you will miss most about operating a general store in White Rock?
* My name is Terry Soo. I'll miss all the customers and friends

Any plans for the future or is it just time to sit back and relax?
* No special plan yet. I just want say thank you to all the loyal customers and great friends.
D. Chesney
Publisher
August 2016
Cider House Rules
Rachel Bolongaro
Today we are talking with RACEHL BOLONGARO the co-owner of the Fraser Valley's firs full production cidery. Welcome RACHEL. Your accent (British) belies you are not originally from these parts. How did your travels bring you to the Langley area?
We came over from Britain in 1998. Faced with a move to London that we really weren't looking forward to, we opened a copy of Yachting World one day, saw a picture of Desolation Sound and said "lets go there instead!". Three months later our landed immigrant cards had arrived, we'd sold our house, the dog got put in a travel crate and we were on a flight to Vancouver. We've never looked back since arriving in Canada but ironically we still haven't made it to Desolation Sound!

When did you actually open the Fraser Valley Cider Company?

We opened May 23rd 2016 but we have been working on our project since mid 2013 and bought the farm in March 2014.
I seem to remember reading recently cider is rapidly increasing in popularity. Can you provide any insight or confirmation into this phenomenon?
Yes - many different sources point to cider being the fastest growing beverage sector in north america and craft cider is a big part of that. There is a huge craft cider scene in Portland and Seattle and it seems to be tracking up the West Coast - similar to the surge in craft beer 5 years ago.
Now for something completely different. How did you go from a career in engineering to a rural farm in South Langley brewing and bottling your cider creations?
I'd been an engineer for 20 years and although I enjoyed the hands on aspect of it, I was being increasingly channeled into more administrative tasks as my career progressed. Plus I felt that sitting at a desk all day was slowly killing me! I looked forward to the next 20 years and couldn't see myself doing more of the same. Instead I made a list of what I enjoyed, batch production (in my past as a chemical engineer I made pharmaceuticals!), growing things in my garden, creating things and home winemaking and brewing. I visited some cideries on Vancouver Island, really enjoyed the experience and saw a gap on the Mainland for a similar "back to the orchard experience". Thus a project was born!
You have explained to me you took a course in cider production in Seattle. Tell our readers about that experience.
It was an amazing week long experience with 20 other cider makers - both novice and professional. The course was taught by an instructor from the UK who is himself an award winning cider maker. We started each day with cider appreciation. By 10am the atmosphere in the room was very convivial! We did a course of lectures that covered all aspects of the cider making process, talked about business and marketing, how to set up a production facility and everything we would need to know. This was supplemented by laboratory work and practical cider making - we all came home with a jug of cider - and workshops on orchard management. It was the most fun I've ever had on an educational course (some of the engineering ones can be a bit dry!)

How many different ciders do you create and where did you get your recipes from?

We currently have five different ciders. Bone Dry, House Cider, Rosy, Elderflower and Honey. My recipes come from several years of experimentation with apple types and yeasts. I try them out on family and friends and have had many fun "focus groups!". We were told on our course to make cider that your customers like, not necessarily what you like (although you have to be proud of the product). I got a lot of feedback from friends I can trust to give me the straight goods! I think that was key in developing our range of ciders which have been very well received by the customers. We focus more on dry ciders since that seems to be a gap in the market right now with the commercial varieties. However we hope there is something for everyone within our range of ciders.
Sean & Rachel Bologaro & staffer Miki Dawson
With a twinkle in your eye you say you are living out your mid-life crisis ha ha. Was there another option when you decided "something" had to change in your life?
My husband Sean has always been very supportive and has encouraged me in all my (sometimes crazy) decisions. One thing I did think about was going to art school. A keen artist in my youth, my parents were reluctant to support the art school option when university came around. Don't tell them but I think they made the right decision!

You are located in the heart of Langley wine country. Was this by chance of did you actively seek out your current location?
We did see this as an asset when we purchased our farm however we totally under-estimated how helpful this would be in getting our business off the ground. Our winery neighbours, Township 7, Domaine de Chaberton, Backyard and Vista D'oro have been so welcoming and supportive. They share their knowledge and resources with us and are always sending customers to their wineries our way as well. Their staff often drop by for after works drinks too (we open later than they do). This was something I didn't anticipate - we now have a great circle of new friends!

Do you produce your cider from your own orchard?
We have 4 acres of heritage english and french cider apples planted - 27 different varieties. These trees will start to bear next year and then we'll be introducing a more traditional english style cider into our line-up. Right now we lease land in the Okanagan and our partner farm sends us some apples to tide us over.

Is it safe to say growing up in England cider was more commonplace than it was/is in North America?
Yes - cider is a huge part of English culture. Its as much about tradition and heritage as it is about a drink. We really missed that and the whole english pub scene when we came to Canada. Cider has been produced in the UK since the Norman conquest of 1066. In the 1700's it was common as a farm worker to receive part of your wages in cider. The farms that made good cider got their pick of the labourers. When this was abolished in the early 1800's and farmers were forced to pay in money instead there was a riot. Not by the farmers though but by the workers!

Two things that instantly set you apart from other liquor vendors?
1. Your logo has a rooster.
Yes Rocky the rooster! He has nothing to do with cider but we find him very appealing. We have been long time chicken keepers so I suppose there is a connection there. One reason for including him and the farm scene on our logo is we wanted to emphasize our link to the countryside and the fact that we are an active farm, not just a production facility.
2. Your cider is bottled in a very unique vessel.
Yes our bottles come all the way from Germany. They need to be a special design to withstand the high pressures generated in our pasteurization process. They also look just great on our shelves and the customers seem to like them too. I know quite a few have been repurposed to hold olive oil, dish soap and kambucha!

Are the bottles recyclable?
Yes we take them back at the cidery and clean them for re-use. Its nice to be able to reduce that carbon footprint a little. Of course you can recycle them through the usual channels as well.
I noticed in the back of your warehouse you have quite the water treatment area. How and why did you have to add a private water treatment plant?
We had water quality issues with our well water (higher than mandated arsenic levels due to natural groundwater conditions). We always knew that we would have to treat the water but in discussions with our health authority the scale of the treatment system ended up being greater than we at first envisage. The treatment system produces top quality reverse osmosis water now.

Anyone that has started up a business knows that costs can run away from the original budget. What was/is your secret to keeping the costs of setting up Fraser Valley Cider?
It was important to get a really good cost estimate put together and include a healthy contingency. Even knowing our final budget we made sure we still had some excess borrowing capacity in case of the unexpected. Only having 90% of the money guarantees 100% failure of the project. We tracked costs carefully and made savings where we could. We put a lot of sweat equity into the project and made most of our own equipment to keep costs down. Towards the end of the project we cut out some of those "nice to have" items to keep within our budget. Anything we did include in the project though we made sure was 100% what we wanted it to be - build your last cidery first! Our engineering background came in really handy when it came to project managing the whole job.
You are holding a very special event coming up at the cider on Saturday August 20th. What do you have planned?
Yes its our first big event at the cidery! We have local chef Adrian Beaty coming out and he is creating us a special cider and apple sausage! We're using pasture raised pork and other produce from our friends at Laurica Farm (the best sausage and bacon on the planet!). Chef Adrian has got a delicious menu planned out which he'll be cooking completely on the barbecue. We have live music from James Devon - spanish and brazilian style guitar playing, we'll get the fire pit going and of course they'll be lots of cider! Tickets are limited to 60 and we're selling them at the cidery and on-line at Eventbrite at a cost of $35. They're selling fast and we're looking forward to a really fun evening.

If anyone is interested in trying your cider and can't make it out to the cidery where else is your cider currently available?
We sell at White Rock and Langley Farmers market and have just started selling at Broadway International Wine Shop in Kitsilano. Our cider is also served at the Orchard and The Sea cider bar in Gastown. I don't think we'll be selling too much more off-site this year. We have trouble keeping our own shelves stocked but we have plans to expand production next year.
(clcik here for location and more information on the Fraser Valley Cider Company)
Check out theri FACEBOOK
Visit The Fraser Valley Cider Company every Sunday at the White Rock Farmer's Market 10 a.m. - 2 p.m.
With the arrival of Fall in White Rock we often witness a changing of the guard on the local restaurant scene. Here is a look at who is in, and who is out.
The Honeywell Family recently sold their popular Five Corners Bistro to a young Vietnamese family from Calgary. Five Corners Vietnamese restaurant joins the two existing Vietnamese restaurants serving the community.
With the recent passing of the namesake of GEOFF'S On The Corner the future of the street level Bistro in the Five Corners district is uncertain. The venue is currently on the market.
The long vacant White Rock Market on Marine Drive on the waterfront had been undergoing a fury of renovations by a contracting company that specializes in building restaurants. The work seems to have come to a grinding stop in the first two weeks, leaving us wondering if the work and renovations will actually be completed.
CIELO'S was one of the most popular dining establishments year round on the White Rock waterfront. A month ago a bailiff seizure notice went up on the door. Since then the locale has sat dark. The big rumour on the street fo a shot period of time was the return of a well known waterfront restaurateur. In the past 24 hours the Cielo sign has been removed from the front of the building and a For Lease sign has gone up on the building, effectively putting to rest that rumour.
Local diners who enjoyed DELUXE on East Beach continue to ponder the future of the eatery. The FOR LEASE sign has now been removed yet there does not appear to be any sign of life at what one would have to believe would be an ideal location for a restaurant. The East Beach district is generally inhabited by Fish N Chips and take away outlets the area certainly could use an upscale dining venue.
Work will begin soon on the expansion on WATTS COOKING located on the ground floor of the Ocean Promenade Hotel. The new dining establishment will take over the adjoining conference room area. The new eatery will be a licensed premise and double as a lounge for the hotel in the evening.
Good news at the Roadhouse. Owner DWAYNE JACOBSON is back in the saddle, and that means one thing. Let's expand. The always popular dining outlet on King George Highway soon will be home to a small take out addition as well as a private liquor store.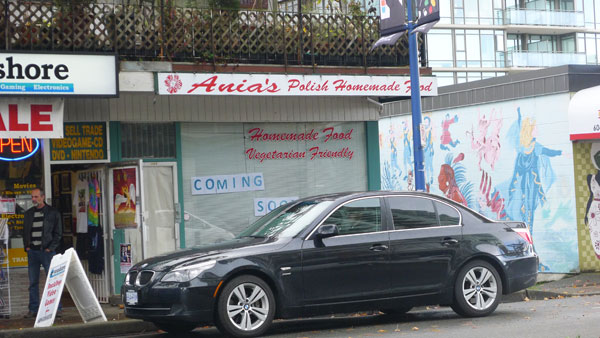 ANIA'S did not last long on Johnston Road after moving out of the tiny locale in the Hillcrest Mall. The Ukrainian based menu did not seem to click with the lunch crowd in uptown White Rock. What and who is COMING SOON? Stay tuned.
September 09, 2015
l-r Rajesh Aryadevan & Bintish Cheria
RAJESH and BINTISH welcome to White Rock. How long have you had the market under your guidance?
We took over the store in the first week of Dec,2014

Let's turn back the hands of time and learn a little bit about your history. How did you two meet?

We are both from India and from the same province,Kerala.We came here to Canada as students in 2011 and did our 1 year Post graduation in management from Toronto.After our studies we both moved to Regina,Saskatchewan where we first met each other. Since then we have become good friends and both share the idea of starting our own business. Previous marketing experience helped us firgure out the retail landscape in the uptown area of White Rock.
What made you choose to make your home in White Rock "our city by the sea?"

BC always attracted our attention ever since we landed here.The beautiful weather and landscape made this place so heavenly. We visited here a couple of times last year in search of business and White Rock attracted our attention a lot.We were so glad that we could find a place right in the heart of this beautiful city.
Since you have purchased SEASIDE MARKET it seems each new visit I make to the store there is yet another wonderful new feature you have added to the inventory. Without giving away any of your trade secrets are there other items and services you hope to incorporate into the store?
White Rock is a truly multicultural community as more and more people moving to this town for work and to enjoy their retired life .Our store also shares the same passion for multiculturalism.We understand that everyone likes the aroma and flavors of food stuffs from all over the world.Our store is a humble beginning to bring good stuffs from all over the world.
We are already handling items from almost 15 countries and we have a lot more coming soon. We are also planning to keep an area inside the store for "Tasting station ", where people can taste different products we carry.

Do either of you have a background in the produce/grocery field?
Back home ,we both had small farming lands from where we learned the basics of farming and our marketing experience gave us the strength to be in this field. To be honest, we don't have years of experience in the produce/grocery industry, but our mottos is we will leave no stones unturned to learn about the industry and what the customers really like.

Where do you make your home. Are either of you married with children?

We are living a few blocks away from the shop. We find it necessary to be close to the store given the long hours we must devote to making our store the Seaside Market a success. We are married and our wives usually come and help us whenever possible after their job
Editors Note - Rajesh and his wife Saranya are both engineers by profession. Bintish was a bank manager in India and his wife Silvy is a pharmacist.
You must work very long hours but if you do find yourself with any spare time do you have a favourite activity or place you like to go in White Rock / South Surrey?
As we are very new to this community we don't have many friends or relatives here. We often go to the White Rock beach for relaxing.
What do you like most as a merchant in White Rock?

We meet a lot of new friendly customers each day and get to know about variety of products from them. We bring food stuffs according to the need of the people. We are trying to bring the creamy layer from all the continents. Since this is a border town we get customers from US too and gets information from them too.
Seaside Market
1515 Johnston Rd

, 

White Rock

August 25, 2015
Welcome to White Walk
HUGH SMITH has some big plans on promoting the uptown shopping district of White Rock. HUGH welcome to the pages of the White Rock Sun. Tell us a bit about your plans to spotlight and promote the uptown district of White Rock.

Thank you for showcasing our latest endeavor. "The Free Johnston Street Walking Map" is a powerful and unique marketing tool to help build shoppers to Johnston street. The map is published 2 times a year giving Johnston road advertisers the chance to change their message with the seasons. The map targets both locals and tourists alike.

It is true when the vast majority of lower mainland residents think of White Rock, they naturally think of the beach, the white rock and our world famous pier. What made you decide to try to focus a bit more attention on the Johnston corridor shopping district?

Vancouver is known for many things, and the Pier and our amazing beaches are a great starting point to the area. But within these well defined locations in White Rock sits a shopping zone that most visitors to our city are unaware of. I hope our natural beauty continues to draw visitors to White Rock and once they arrive here and pick up a copy of the new Johnston Road Walking Tour Map, they discover the wide variety of shops in the uptown district. Vancouver has Robson Street, we have Johnston road!

You served for a time on the board of directors of the White Rock Business Improvement Association. Did being involved with the BIA help shape your present day endeavours?

Yes it did. I realized that there are a lot of dedicated people in this community that love this little beach town. We all want to insure many people can come here and discover this place. The challenge has been to get all these great ideas in to one coherent vision. The BIA , The City, White Rock Tourism and independent marketing people all will play a part. Not sure it will be a coherent plan but we are all adding to the pot of great ideas, the best ones will survive regardless of which organization or people implement it.

Tell me a bit about your personal history of White Rock. How long have you been living in "the city by the sea?" I also understand you have an interesting story about your home on the hillside.

I have been here since 1999, my first real estate deal was buying this old beach house on Victoria ave. I wanted a water view, but I could only afford something that needed work, so I settled on this one. I fell in love with the character of the place and realized that there were not too many houses left such as this in White Rock. Further research I realized that this house was one of the original 5 structures here in 1918, photos in the museum show the house alone on the hill along side the location where Little India sits in 1920. I have two young kids and they are growing up on the beach just as they have for over a 100 years. Glad to be keeping the tradition alive!

For a number of years Cloverdale drew shoppers to their town centre with a large collection of antique dealers. White Rock is home to quite the collection of "Thirft Shops" do you think these shops are beginning to draw shoppers to our uptown.
Its funny a lot of retailers on Johnston don't like to consider the Thrift stores as being a great draw for the area, but I disagree. Thrift stores are what antiques used to be, a place to find diamonds in the rough, young and old, rich and poor all shop at the thrift stores, and they all love to tell the story of how they scored a deal at a White Rock thrift store..bring more on- it will on add to the sunniness of the street!

The Steveston area of Richmond and Fort Langley have created very unique shopping areas with a diverse collection of retail outlets. Do you foresee White Rock with a bit of direction could begin to create an identity for our uptown shopping district. All the while working on refurbishing out decaying waterfront business district?
I think the idea of Johnston Road as the Robson street of White Rock could work. The street has a unique past, it began as a service road through Johnston farm as a way to access the beach over 150 years ago. In fact this road pre-dates Canada by 1 year. Happy 150th birthday for Johnston Road next year, lets have a street party to celebrate....as for the waterfront I think it will naturally come out of its decaying look and feel given the fact these properties have gone up in value and new landlords have only one choice but to upgrade them to insure they can keep tenants. I think the city could help by coming up with a plan that would grant the business owners a break on the reassessed values from these upgrades, I think they may have done this in the past?

Do you think the city plays a part in the revitalization or does free enterprise dictate the shop owners are on their own?

Its a mix, but the City side really should have a better matrix to measure success, if the business owner puts together an ineffective sales/marketing campaign, feedback is pretty instant-they are out of business or soon to be because they are loosing money, City gets to try and try again with out really measuring the spend.

I hate to put you on the spot, but do you have;

A favourite restaurant?
LOL I have lots but I am going to name one that refuses to advertise with us, and its the French bistro on the beach called Le Vol Au Vent, service is very francais but the experience and food is true to France.

A favourite business?
I would have to say the one I have a lot of respect for is Lauras Coffee or the Farmers Market, if you could call that a business, both those ladies deliver a consistant product day in and day out all on small budgets. To be honest all the small businesses in the area,they are dedicated merchants that really care about this place!

A place where you can get away from it all on the Semiahmoo Peninsula.
In the winter I do a staycation at the Pink Palace- it feels like Mexico in there
I quite often see you driving around town with a pretty blonde in the passenger seat of your original SUV. Who is the beautiful young lady?
Her name is Saga Smith- 4 years old -she is my sales assistant and she does not take no for an answer!
June 11, 2015
Ciao Bella
Today we introduce you to ALICIA GIACOMETTI & ADAM CAMPBELL. Let's get right down to it Alicia and Adam. Before we ask you any questions about your new venture in White Rock, tell us about the holy union you two will be joining into this summer?
We met 5 years ago in Abbotsford at work (we both worked part-time at Thrifty Foods during school). Adam was a grocery clerk and I was a cashier, he was very forward so we ended up dating almost right away! Anyway, five years later and we are two months away from getting married! Our wedding is a small ceremony/reception in Abbotsford with our closest friends and
family. We are getting very excited for the big day and love it when people ask us about it!

ALICIA how did you choose White Rock for a location for your new delicatessen?
We have always wanted to open an Italian deli, when we moved to White Rock a year ago it seemed like the perfect time to establish ourselves in the community both personally and professionally.
ADAM for any Italians the name of your delicatessen FAMIGILIA is obvious but for us anglo philes what does the name mean?
We picked the name Famiglia because it the entire store is orientated around Family. Our photo wall has pictures of Alicia's family members. Even the decorations on top of the shelves are from her Nonna and Nonno's house
(including the Chandelier).
Is FAMIGLIA a family affair?
Yes. The only three people you will see in the store are myself, Alicia and her brother David.
Your store has only be open for a few weeks ALICIA. How are you deciding what items to stock? Are there plans for expansion of the products you carry?
As we are still in the soft opening stages of the store, we are still developing a solid list of products to stock regularly. We have to pay close attention to items that sell and special requests from customers. We have lots of ideas for expansion down the road (and some really fun ideas from customers too), but for now we want to focus on establishing a good
foundation.
ALICIA/ADAM had either one of you had any delicatessen or commercial business experience before opening FAMIGLIA?
I took a business technology program in University and learned a lot of practical skills that I could apply to the deli. Adam is actually an Aircraft Maintenance Engineer by trade, but like the name says we put family first and this opportunity was something we really wanted to accomplish and experience together.
I understand you make your home in White Rock. What are some of the local treasures you have discovered. Favourite restaurant, special place for a walk, thing you love about White Rock?
We don't know much about the area yet but we love running on the promenade, visiting the Cones Old Fashion ice cream shop on Marine ( Alicia likes Mint Chocolate Chip and Adam likes the Skittles and Sprite flavor). Our favorite thing so far was all of the fireworks last summer, we are excited to see more this summer!
Do you have any presence yet on the internet? FACEBOOK or website?
We are on social media (Facebook, Twitter, Instagram and Pinterest) and are currently working on developing a website.
What plans do you have for the future of FAMIGLIA? Will you be doing any co-events with LAURA' S COFFEE CORNER or any of your other neighbours @ Five Corners?
Our dream is to expand with an espresso machine and gelato, but for now we are focusing on planning our grand opening in the summer. Events are our favorite part of business, we love hosting and meeting our neighbors. We have had the most wonderful response from our community, especially our business neighbors. The support system they have established for each other is phenomenal and we are so grateful to be a part of it. As far as collaborations we are definitely open to them but will have to see what the future holds!
FAMIGLIA is located @ 15218 on Pacific Avenue in the 5 Corners district of White Rock.
May 13, 2015
Meet Jessie - Over A Bowl of Homemade Soup
Jessie's is a new little coffee shop located next door to Buy Lo grocery in the Hillcrest Mall in uptown White Rock. The tiny little shop has been home to no less than three other restaurants. The three previous owners did enough business that they moved on to larger locations. Jessie could well become the fourth in a row.
Jessie welcome to White Rock. What made you choose this location?
I was looking for a location anywhere from New Westminster all the way out through the Valley, but I just couldn't find the right place. I saw an advertisement for this location and it took a couple of weeks before I was able to meet with the previous owner who still owned the lease. I came and looked at the location and thought this would work for me.
Where is your home Jessie?
My husband Michael and I make our home in North Surrey. So it does not take us too long to get to work everyday. I have a grown son and daughter and a daughter that is just 14 years old. They are good kids they all took me out for lunch on Mother's day.
If I told you I was going to give you a millions dollars and you could open any kind of restaurant anywhere, what would your dream cafe be?
Well I think I probably open another restaurant right here in White Rock. Maybe one with a view and I would serve a mixture of a lot of different style foods.
You have only been open for a month or so, but do you have any observations on White Rock?
Well I have met so many nice people, they pop in and have a little visit while they have something to eat. There are a lot of seniors in the area. I think hat I see the most is the people in White Rock smile more than other places. I like that.
You have the best prices on food in town. How do you keep the prices so low?
Well I do all the work myself, my husband Michael sometimes comes to help get things ready before I open. Michael is a wonderful chef himself, he worked as a chef for years on the CN railway.
Jessie's is open daily 11 a.m. - 3 p.m. Monday - Saturday. When the White Rock Farmer's Market opens in two weeks (May 24) Jessie will be open to serve the patrons of the market.
Jessie's Menu changes daily.. Each day there are two homemade soups in the pot. For just $5.00 you can have a sandwich and a bowl of soup. Muffins or homemade cinnamon rolls are just $1.00 which is the same price you will pay for a cup of coffee.
On special days you will find homemade stew, lasagna or cabbage rolls.
Jessie's - 1400 block Johnston Road next door to Buy Low in the Hillcrest Mall in uptown White Rock
April 09, 2015
Welcome To Turtle Studios
The last time we checked in with TURTLE STUDIOS they were housed in a beautifully reclaimed/refurbished building behind the Boathouse on the White Rock waterfront. Owner LARRY ANSHCELL sold the property 4 years ago and set out to not only relocate his business but to change his residence as well. LARRY pondered whether or not he could combine both projects.
VOILA! A beautiful new home with his recording studio just out the back door housed in a carriage house above his garage.
Larry Anschel
Larry how long has TURTLE STUDIOS been in operation?
I started fresh out of a Vancouver audio engineering school in 1987 so that would be 28 years!

You took a very original route to eventualy opening your own bricks and mortar studio in White Rock. What year did you move the operation to White Rock, and what was the humble beginning of TURTLE STUDIOS?
We started renovating the old warehouse 1122 Vidal in 1998 and opened in 1999. The beginning of Turtle started with a 16-track studio built into a 1971 Dodge van. When I started it was Turtle Mobile Recording and I used that van to record hundreds of live shows all around Vancouver to be aired on CFOX, CFMI and CKWX (which at that time was a country station).
You have worked with a long list of rock bands that have gone on to some pretty lofty heights. PEARL JAM and DANIEL WESLEY spring to mind. How did you end up working with those artists, and as you look back on those records you did with those bands, are there any particular memories that pop to mind?
The night we recorded the live audio for Pearl Jam's first video "Alive" was also the first time the band had ever received a mosh pit. This was at the RKCNDY (Rock Candy) in Seattle with our second remote recording truck. I remember talking to Stone Gossard backstage and he was amazed they were being "moshed" to (audience members being thrown around) for the first time.
Daniel Wesley came to us for his first two albums, and he was just a very nice talented guy with good vibes all around. His albums were just very easy and fun to record.
The music industry has changed immensely due to changes in technology. We will never go back to the golden 60's or MTV driven superstars of the 80's, but can you get a feel on what it takes for an artist to make it in today's world?
I have no idea, and when I'm asked that question I usually respond that I know more about "what not to do" than "what to do". I'm looking forward to finding and recording some very talented artists regardless of how cute they are. The long downward spiral of the music industry started when MTV came out and it (success) became all about how an artist looks. Video killed the radio star.
You at one time had your own independent record label before it as fashionable. Tell us a bit about that hole process and how it came to be? Is this not how and where you met your lovely wife JODI?
I met Jodi when she was working in promotions with SL Feldman and Associates, Canada's biggest booking agency. I had rented out an extra unit in their Granville Island offices. We decided to start Turtle Records together and our first signing was a celtic/rock band called The Stoaters. I loved those guys, very original music. Our record label eventually morphed into national CD distribution for indie bands. After about 5 years, a lot of hard work and just breaking even, we decided to go back to what we know best, running a recording studio.
TURTLE STUDIOS as a real breeding grounds for young talent. I distinctly remember CHRIS DUNCOMBE reflecting on his internship days at TURTLE. Please fill in the blanks on what this gentleman went on to accomplish in the world of rock n' roll as the Program Director for Canada's biggest rock station - Vancouver's CFOX.
I've gotta give credit to you Dave as you first introduced me to Chris when he moved to Vancouver from Kelowna with a band he managed "The Smokin' Frogs". We did many recording projects for the Frogs over the next couple years and Chris wound up being a representative for our studio for a while. Funny thing is, one day Chris said to me "you know Larry, Vancouver could use a new Bruce Allan, someone to be a spokesperson for the Vancouver scene, and that could be you". I was flattered and a little stunned because this was a direction that I had never considered for myself. I think at this moment Chris may have had an inkling of his own future, and suffice to say he's reached that goal very well.
Your beautiful studio is now up and running tucked away back of your residence in a carriage house in the tranquil beauty of the Elgin area of Surrey. What next for TURTLE STUDIOS?
At this point I want to give a large amount of credit to Brad Graham, who as a our house producer/engineer has been doing the majority of recording sessions, and holding down the fort while I've been busy building the new studio. Brad and I are excited now to get back to business as usual, which is working with the most talented artists we can find. Our new location has also expanded our services to provide accommodations for out-of-towners and even in-house catering. We're going to concentrate on working with very talented artists.
Though you have done mainly rock records you have worked with a wide variety of artists. who are some of the artists that fit outside of the mould of rock n' roll?
We have actually done a wide variety of music from the lightest new-age chanting, to the heaviest "cookie monster" metal. Many jazz projects have happened at Turtle including albums for
Kate Hammett-Vaughan and Brad Turner.
Do you have a particular style of music or artist that you really enjoy working with?
I like any style of music if it's inspiring and well played. I grew up playing guitar in a band myself so I've always had admiration for talented players.
Since we last talked "new country" seems to have exploded in popularity. Do you ever see yourself doing a country record?
Sure, there's not much difference between pop and new country, you just have to throw a steel guitar in the background right?. Just kidding! Although that may be over simplifying it, I'd be quite comfortable working with Country.
If any singers/songriters/bands are reading this, are you open for business? How would anyone get a hold of you to arrange a tour of the facility?
Just give me an email at: larry@turtlerecording.com or call 604-535-8842. Our website is www.turtlerecording.com
Thank you Larry, go forth my friend - slow and steady - just like a TURTLE.
January 15, 2015
RELEAF Comes To White Rock
Tara Caine
QUESTION - Do you or someone you know suffer from constant pain. Are you frustrated with the medical system? Have you ever considered perhaps this "medical marijuana" stuff might be worth a try. Where to turn? Who to talk to? Where to go?

This weekend, Saturday to be specific RELEAF COMPASSION CENTRE will open the doors to the newest addition to their ever growing network in the Lower Mainland. We took a few minutes to stop by and sit down with TARA CAINE to find out more about RELEAF, herself and the services RELEAF will be offering to our community.

TARA let's start with an overview of what services RELEAF COMPASSION CENTRE will be offering to members of the Peninsula Village through your new outlet on Pacific Avenue in White Rock.

We offer consultation and counselling combined with compassionate support and access to safe, clean, high quality, affordable medical marijuana for those with medical need


The initial reaction by many people when they see and hear about medical marijuana is about the user getting high. Could you please explain how a patient can use medical marijuana without having to smoke or get high?

There are many different delivery systems that not a lot of people are aware of. There is smoking, vaporization, edibles and tincture. If used as a medicine, there is no what we call "Spill Over". For example the first time to take a pharmaceutical it may make you feel a bit off, however it is temporary. The same applies to using marijuana medically.



The use of medical marijuana has grown exponentially over the past couple of years. What are some of the most common ailments that have been helped with the use of medical marijuana?

The most common that we see is, MS, arthritis, cancer and anxieties.

TARA what is your background and qualifications that will allow and enhance your ability to consult with members of our community on the various uses and side effects of medical marijuana?

My background is critical care. I worked with the elderly for a few years, and I worked as a community support worker for several years in a medical house. These individuals were complete care from showering, trach and g-tube care and administering medicine. I also came upon it very honestly due to some of my own medical needs. I am able to speak openly and honestly of my own experiences, and personalize it.


What drew you to work in the medical marijuana industry?

What drew me was how it helped me not once but several times over the course of a few years. The major push was when I suffered from a sever lower back injury that left me on the floor for 4 days. On the fourth day, after taking Advil, Tylenol and Robaxacette and nothing was working my father (Randy) came to my house. He gave me some edibles and bud to smoke. After 15 min. my pain was now manageable. It really caused me to stop and ask myself why was it a last resort? Why will I take every pill offered when they were not working and only causing stomach upset and nausea.



Other than your own personal history have you personally witnessed any success stories first hand in the use of medical marijuana?

There are many. The one that I still draw to was my uncle. He was diagnosed with cancer but it had spread too far to treat. He had removed himself from the family previous so it was difficult to try and come to terms that there was not much time. He began taking tincture to deal with the pain and nausea. He was able to have a great quality of life both with his children and family for the next three months. He had dignity right up to the very end.


Will RELEAF distribute medical marijuana from the Pacific Avenue location?

At this point no we will not. We want the community to get to know us, what we do, and who we are. Not just as a business but as people too. Since we are coming into your community, if dispensing becomes something that the community wants or feels that they would like to try, then yes it would be an option for us to look at in the future.



If not how will your clientele be able to secure medical marijuana? Where does the prescription from their doctor enter into the whole equation?

Our members are put in contact with a dispenser that I work with. An increasing number of medical practitioners recognize the effectiveness of cannabis in their patients' treatment, and are referring patients to us. However, in order to maintain the level of legitimacy expected from our organization, RELEAF requires a confirmation of diagnosis and/or recommendation from a physician, naturopath or doctor of traditional Chinese medicine as a condition of membership.
Join the staff for the grand opening of RELEAF Saturday 10 a.m. - 4 p.m.
15220 Pacific Avenue (5 Corners District) White Rock BC
Visit RELEAF online (click here)
November 20, 2014
Amazing Tutors is open in White Rock

Suzanne Hayat is very excited about yet another opening of an Amazing Tutors Inc. Centre. It opened on November 1 2014, at 1381 George St., one block from White Rock Elementary School. The general public is invited to a pot luck supper, which will be held there on Friday, November 21, from 7:00 to 9:00 p.m. Since opening her first Centre with her husband 10 years ago, in Surrey Newton, she has expanded to Scott Road, Guildford, and Cloverdale. During that time, together with her tutoring team, she has tutored over 10,000 students, and counting. The local demand for tutors just keeps increasing all the time.

Students range in age from KG to Grade 12, and while most come to improve their knowledge of Math and English, tutoring is offered in most other subjects as well. Amazing Tutors offers help with school homework, but for most of the hour (8 times a month), students work from the company's own binders, which provide them with additional exercises. Every student up to grade 9 is assigned three pages of homework at every session.

Suzanne does not do this just to make a living and to have something to do. She says: "We believe in giving every student the best education possible. We believe that all children should have the ability to develop and succeed to their fullest potential. That is why we provide superior tutoring programs and tutoring services at an affordable rate."

Amazing Tutors always has, and always will, welcome all children, of all nationalities, ethnic backgrounds, and religions. Also, no children are turned away because of their parents' inability to pay. In addition, all staff members adhere to the highest standards of professional and educational conduct in administering superior tutoring programs and tutoring services.

Suzanne's plans for expansion are not limited to opening her seventh location. In addition, the Amazing Tutors' executive team will improve and expand her proprietary students' manuals for Math and English at all grade levels.
To find out more about all that Amazing Tutors has to offer, please visit www.amazingtutors.ca or e-mail Suzanne at amazingtutors@hotmail.com
With these new developments in the works, Amazing Tutors is now offering Franchise Opportunities, which are also described on the website. Anyone who may be interested in opening an Amazing Tutors franchise location anywhere should also come to the upcoming pot luck supper. And of course, all parents and their children are welcome first and foremost. This event will be sponsored by the Amazing Tutors Children's Foundation.
-- Joseph M. Krush, Ph. D., Senior Education Consultant
October 28, 2014
Amazing Tutors Expands To White Rock

Suzanne Hayat is all excited about yet another opening of an Amazing Tutors Inc. Centre. It opens this coming Saturday, November 1, with an Open House from 2:00 to 4:00 p.m., at 1381 George St., one block from White Rock Elementary School. Since opening her first Centre with her husband 10 years ago, in Surrey Newton, she has expanded to Scott Road, Guildford, and Cloverdale. In that time, together with her tutoring team, she has tutored over 10,000 students, and counting. The local demand for tutors just keeps increasing all the time.

Students range in age from KG to Grade 12, and while most come to improve their knowledge of Math and English, tutoring is offered in most other subjects as well. Amazing Tutors offers help with school homework, but for most of the hour (8 times a month), students work from the company's own binders, which provide them with additional exercises. Every student up to grade 9 is assigned three pages of homework at every session.
Suzanne does not do this just to make a living and to have something to do. She says: "We believe in giving every student the best education possible. We believe that all children should have the ability to develop and succeed to their fullest potential. That is why we provide superior tutoring programs and tutoring services at an affordable rate." She does not credit the success of Amazing Tutors to herself, but to the entire Amazing Tutors team. "Over the years," she says, "teachers, Ph. D. holders, performance writers, degree holders, and young graduate students have made their contributions, and all have helped the children of our community." Suzanne's husband, Sikandar Hayat (who is a candidate for School Trustee in the upcoming municipal election), does his share by engaging South Asians, because he speaks Urdu, Hindi, Punjabi, and English.
Amazing Tutors always has, and always will, welcome all children, of all nationalities, ethnic backgrounds, and religions. Also, no children are turned away because of their parents' inability to pay. In addition, all staff members adhere to the highest standards of professional and educational conduct in administering superior tutoring programs and tutoring services.

Suzanne's plans for expansion are not limited to opening her fifth location. In addition, she has recently engaged two education consultants and three certified teachers to help her with improving and expanding her proprietary students' manuals for Math and English at all grade levels.
To find out more about all that Amazing Tutors has to offer, please visit www.amazingtutors.ca or e-mail Suzanne at amazingtutors@hotmail.com
With these new developments in the works, Amazing Tutors is now offering Franchise Opportunities, which are also described on the website.
Anyone who may be interested in opening an Amazing Tutors franchise location anywhere should also come to the upcoming Open House. And of course, all parents and their children are welcome first and foremost to the Open House, where tasty snacks and drinks will be served.

Joseph M. Krush, Ph. D., Senior Education Consultant
August 06, 2014
Brunch @ The Wooden Spoon
Sabrina Boocock
Today we visit with SABRINA BOOCOCK manager of the exciting new eatery THE WOODEN SPOON recently opened on Russell Avenue.
SABRINA, welcome. Thank you for taking the time to tell us the story of The Wooden Spoon. Is The Wooden Spoon an independent restaurant or is it part of a larger group of eateries?
Thank you for taking time to inquire about our new venture and welcoming us to the neighborhood. The Wooden Spoon is part of a close group of three restaurants currently, with the other two located downtown on Granville Street. We are all independent restaurants however possessing our own character, menus and unique staff. Here at The Wooden Spoon we will strive towards providing residence of White Rock and its surrounding communities with a place to call their own and not just another cookie cutter corporate mirror.
How and why was White Rock chosen as the location for THE WOODEN SPOON?

We came upon our location in White Rock through family. We had always wanted to expand outside of downtown and when this location fell into our hands we were very excited to become part of the community. We believed the area was lacking something that we could offer and once the owners saw the space and the area the vision they had fit right in. With all the revamping that is going on currently in uptown we know the whole street will be revived soon and we are glad to be apart of that.

How would you describe the menu and atmosphere of THE WOODEN SPOON?
Kids Play Area
The whole menu and concept behind the Wooden Spoon is gourmet comfort food with a twist. We wanted to create menus that bring back memories of growing up and having family dinners. And that is what we built our menus around; our brunch menu features spins on classic Canadian and American dishes. Twists that require you to treat yourself with dishes you wouldn't make at home but will still feel at home eating here. Who wants boring old pancakes when you could have Pulled Pork pancakes with house spiced pulled pork smothered in our maple bourbon syrup (kid friendly of course). On both our brunch and dinner menu so you can satisfy that craving all day long. Also on our dinner menu we have classic bistro dishes like Steak Frites that is jazzed up with a decadent marsala wine sauce accompanied by delicious sautéed mushrooms and caramelized onions with seasonal vegetables sourced locally or our freshly made pappardelle with nonna's secret recipe meatballs. Our room atmosphere both brunch lunch and dinner is casual but also has a sophisticated elegance alongside the natural color palate of the room. You'll hear anything from classic rock, to nu disco and indie pop songs playing throughout the day guaranteed to put a bit of pep in your step or get a bum wiggle or two while in your seat. We want to be a spot everyone can feel comfortable in. We even have a kids play area so parents can come enjoy a meal for a while with the kids entertained by toys books and Netflix.

Your menu is very exciting and varied. I realize you have been open for just a short period of time, but would you venture to say there are any "signature" dishes at THE WOODEN SPOON?
There is definitely some stand out dishes on our menu currently. We have had good response to the entire brunch and lunch menu but we are definitely hitting a stride with our most popular items being our spins on benedicts served on warm house made cheddar biscuits and The Sweet & Salty. The Sweet & Salty pretty much sums up everything you could want in a breakfast. French toast, bacon, eggs, cheese, and of course cover that in hollandaise and maple bourbon syrup (yes, we really like syrup here). Speaking of Maple Bourbon syrup our Maple Bourbon Bacon Burger has been a favorite on our dinner menu. It is definitely a two handed mouthful and you will need a couple extra napkins by the time you are done (if you can finish it). There are also tons of options for those that have allergies, we are very gluten free friendly here as well. We have gluten free pancakes, potato fritters, buns and bread options for those that are intolerant or celiac. The restaurant is also a nut free environment, which is important being as we are so family friendly. We are hoping that as we establish our spot in the community everyone will have their own favorite dish.

Who is your chef at THE WOODEN SPOON? Could you provide a bit of background info on your chef?
We have had quite the collaboration between multiple chefs here at the Wooden Spoon. Our Chef de Cuisine, Marcus Allan, from our other restaurants, created our current menus as we had an unfortunate circumstance come up which had our opening Chef having to leave the company due to a family emergency. Marcus developed our initial menu and now that we are starting to hit our stride we have put two people in place to help oversee our menu development and day-to-day kitchen operation so Marcus could focus on our other restaurants once again. Matt Lyon and Rob Morrish are the two people that will continue the charge. Both have worked in the area for many years and we feel have a strong grasp with what people are looking for out here.
I understand you make your home on the Semiahmoo Peninsula. How wonderful is it to live and work at the beach?
It's so beautiful out here we are all very fortunate to live here. I just recently moved to the area and although I haven't had time to go explore what White Rock and the area have to offer I know what I've seen so far has been so great. I moved from downtown and I have noticed that out here the weather and people are just all around sunnier. I am looking forward to getting out there and taking advantage of that.

Your hours of operation are still rather fluid until you figure out how the dining landscape ebbs and flows locally. What are your hours presently?
We have found that it is very hard to predict what the ebbs and flows of the area are but we are getting into a steady rhythm. We are currently open 6 days a week with Monday's being the only day that we are closed. Tuesday through Friday we are open at 10am for brunch and lunch and we are open straight through for dinner service as well. Saturday and Sunday we are open a bit earlier for those weekend risers opening our doors at 9am and again open straight through for dinner. We will serve you brunch right up until 3pm and then our lunch menu to tied you over until we start dinner service at 5pm everyday. You might be able to twist the chefs arm with a cold beer for after his shift to get you a delicious breakfast poutine after 3pm. Or you could wait until 5 to get the dinner version minus the eggs. Down the road we will most likely open 7 days a week but for now we have that one day so you can just stand outside salivating for Tuesday to come around.
I notice you are licensed with a full compliment of beer, wine and cocktails. Given you are located next door to the newly opened White Rock Beach Beer, can we expect to see the local micro beer on tap in the future? Tell me about our wine list and some of the more unique cocktails on your beverage list.
There are tons of great beers we would love to have on tap, especially one so local, unfortunately we are limited to space at the moment. We hear they are currently expanding their brand so you never know what the future holds for both establishments. Having a brewery right next door would most definitely make ordering beer a lot easier and more cost effective. We tried to create the whole beer list sticking with BC or Canadian brands and you won't find any mainstream Budweiser or MGD here. There is something for everyone from the darker parallel 49 Gypsy tears ruby ale to the lighter big rock kolsch that is growing in popularity. Having a good variety is important; we even have a gluten free option, which is our only non Canadian beer product.
Our cocktail list draws inspiration from our Wooden Spoon concept on spins on classics like our Grapefruit mojito to our Jam Sour; spins on the classic mojito and bourbon sour. We have some more interesting cocktails like the Root "Beer" Float which you wouldn't believe would actually contain beer and is topped with house made lime sorbet. Our Peach Cobbler is another one of our popular cocktails with notes of vanilla and fresh peaches reminding you of the warm dessert cobbler your Nonna might make for you. If you are into something new and a bit more daring but still delicious we have the cocktail for you.

On your website I noted you are looking for staff and appear to be reaching out locally to the work force?
I am always looking to hire new staff and having people that are familiar with the area is a huge bonus. Most of my staff makes their home close by. I wish I could hire everyone that walks through the door but I think people would get grow tired of having so many doting staff all over their every move. We have a good crew currently and although some of them are new to this industry I think the personalities make up for any lack of experience. There are some things that are teachable and being engaging and holding a conversation aren't them.

The Wooden Spoon host a Grand Opening this Sunday (August 10th.) We are making a big event of the day. We will be opening at 9am for regular service and at noon the Mayor himself will be doing an official ribbon cutting ceremony with myself and the owners. In the space next door we will have live music throughout the day as well as djs playing music. We will be doing a pig roast and handing out canapes and porchetta sandwiches. There will also be a limited bar with sangria draught beer and one of our signature cocktails. I would love it if everyone in our community could make it to the Grand Opening. It is also Kids day at the Market which is great for us to promote our kid friendly atmosphere. We will be keeping the event going all day and night long so if anyone can't make it in the morning we will still have something happening into the evening.
Visit the Wooden Spoon website
July 17, 2014
Sonia Kucharonok is the owner operator of Prancing Paws and we would like to welcome you to White Rock/South Surrey though the magic of cyberspace. How long have you operated Prancing Paws and what was your inspiration to start your service? 3 years and 2 months. I have a great love of animals. So many people have dogs but never take them out for walks they just hang out in there back yards. I thought to myself what if..

There are dozens of dog services in the Fraser Valley, what makes PRANCING PAWS stand out from the rest?
My fantastic team of dog walkers, We have ladies who run, jog,cycle,walk and swim the dogs. We are Insured-Bonded-Licensed and have Canine 1st Aid.
Specifically what are the personalized services you offer through PRANCING PAWS?
Coming in fall 2014 Real Time G.P.S.Tracking, We offer indoor heated swimming sessions for all animals who have had surgery, or are unable to get out due to old age.

Is there a limit of the number of dogs a dog walker can have in their care at any one given time?
We here at Prancing Paws per pack leader only take out 2 dogs per half hour. I have seen walkers take out as many as 22 dogs at a off-leash dog park this is unsafe for the dogs as well as for the one pack leader.
I am assuming when you take owners dogs out, one of the places you head for is off leash parks in the area? Is there a concern or do you put the dogs through a screening process to ensue once you let them off leash, that they come back?
We do a meet and greet of all dogs & there owners prior to taking them out. Some dogs do not get along well with other dogs so we do not take them to off- leash parks. Instead they may head out for a run,jog or swim to burn off some energy. As for those dogs who do get along with other dogs we take them to a fenced off- leash park within there area of pick-up. We never venture to far out of the municipality.

Due to the tragic incident recently of a number of dogs perishing while in the care of a local dog walker, what advice do you pass along to potential customers of PRANCING PAWS to avoid such a terrible incident.
I offer my clients a medical exam stating that my walkers are in the right frame of mind to be walking and in control of there beloved family members. We also send text messages and photos of there fury friends out for there walks.
Tell our readers more about the GPS service you will be launching.
It's real time G.P.S. tracking. It will let the owners know when there dog leaves the house where they will be at all times, when they go to the bathroom,and when they come back home again. This is a fantastic I am so happy to introduce this into my system.

Do you personally have dogs, if so what kind.
I recently lost my beloved Layla suddenly to cancer on June 6 2014 she was an 8 year old Rottwieler. I had her when she was 8 weeks old. I will be adding another member to my family in the near future.

Are there any dogs that you have deemed unsociable and unable to get along with other dogs, causing you to not care for a certain breed.
We do not discriminate against any breed of dog they are all welcome.

Are you able to provide nutrition advice and or do you recommend veterinarians?
I have about 10 Veterinarians that I could recommend and that we do use in case of an emergency.

What is the best advice you can offer to pet owners?.
I have a list of them.
1. Your dog needs daily exercise leaving them in the back yard is not sufficient enough.
2.So many people are advertising for walking your best friend hire a company that can stand behind there name and who offer Insurance and Canine 1st Aid.

Last question SONIA any final words of advice for pet owners today?
When you go out shopping please leave your pet at home ( sitting in a hot car it only takes 10 min for them to over heat and die from heat stroke). Remember walking dogs on hot asphalt burns the pads of their paws.
Visit the PRANCING PAWS website (click here)
July 07, 2014
President of the market HELEN FATHERS
Partrons and vendors to the White Rock Farmers Market all know Helen Fathers. She is everywhere, every Sunday making sure the market operates seamlessly.
There are some people that don't seem to understand The Farmers Market is not the place you do your weekly grocery shopping. It is a treat to make purchases at the market. You are buying nothing but the very best, and as a result prices will be somewhat higher for artistan items.
The Provincial Government identified the Farmers Market across the region generally speaking might be in large part out of the price range of fixed and low income families. In order to help ensure this group is still able to consume healthy fresh products the Liberal government has distributed tens of thousands of coupons to the lower income families.
Market Manager and White Rock councillor Helen Fathers explains how the program is working at the WHITE ROCK FARMER'S MARKET.

Helen tell us about the exciting new coupon program the White Rock Farmer's Market will be participating in this year.
We are thrilled to be part of the 2014 BCAFM Nutrition Coupon Project sponsored by the Government and the Association . It is our first year and are very excited to be helping people get better access to healthier food choices .

In reading the Press Releases the program was a Provincial initiative to help ensure residents who live on a low income, now maybe able to purchase fresh vegetables. What exactly will the coupons be redeemable for?
The coupons will be handed out by Sources and it's program partners White Rock/South Surrey Food Bank and The Women's Place .
The Coupons are redeemable for meat,fish,cheese ,eggs, veggies and fruits , nuts , seeds etc.

What is the amount in a dollar figure the market will be directing back into our community?
The Market has been approved for 40 families and 20 Seniors which equates to almost $15,000.
Each Family/Senior is given weekly coupons which they can redeem each week or save up for a few weeks .

Are you going to be working with a social agency on the Peninsula to identify and distribute the coupons?

Yes The Community Partner is Sources, WR/SS Food Bank and The Women's Place
Is there a fixed amount any one family will receive?

It is up to the Community Partner to acess each case , it makes sense to me that a family with 5 children would receive a higher value/amount of coupons as they have more hungry mouths to feed .

Have the coupons already been distributed, and if so what has the return on the coupons been to date?
It was the first week's redemption on July 6 and $300 in coupons came through the Market .

Good luck, we hope this will be a huge success so it warrants continuation for next year.

Thank you so much , we are honored and thrilled to be part of such an amazing program .
While we have your attention Helen, please bring us up to date on what's happening at the market this year. Last week at the market you had a locall spirits vendor and a local wine merchant on hand. Will they be with us on a regular basis?
Yes the provincial government changed the liquor laws and we can know have vendors who sell , craft beer,wine, spirits and cider.
We have Township 7 and Dragon Mist Distillery and The White Rock Beach Beer Co.
What date is the ever popular Dog Day At The Market this year?
July 20
Looking at the coming events new this year is Caribbean Day. What is the date for this new event and what can one expect?
Aug 24 . What an exciting new event for us . We can expect , Caribbean Music, Food , and a celebration of culture explosion at the Market

This past week you were absolutely sold right out with no more space for any additional booths. Congratulations on your success. Do you have any options to physically expand the market as demand grows.
We have reached capacity at the Market place and have a await list of over 15 vendors . I am not sure where we could expand in the current location . Maybe it is time for a pocket Market , maybe expand to another day somewhere down at Grandview Corners? As well as keeping our Sunday Market . We will be world famous soon , the best Market in BC we are no longer our best kept secret , the word is out . White Rock Market rocks !
Closing thoughts?
See you at The Market . Don't forget to bring your smiles and shopping bags . Hope to see you soon.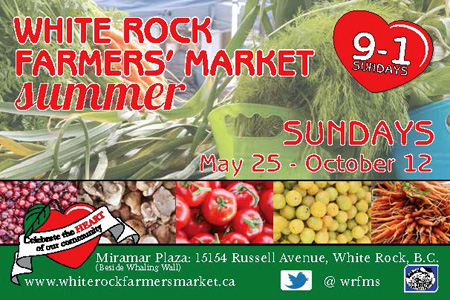 Visit the White Rock Farmers Market online (click here)
June 19, 2014
White Rock Welcomes The Stylish Traveler
Grace co - owner of The Stylish Traveler
Grace welcome to White Rock. It is so wonderful to see a store of your quality and inventory opening on the White Rock waterfront. Please tell the readers about THE STYLISH TRAVELLER. Is this your first store?
This is our second store actually. Another store is located in Tsawwassen Quay Market on Tsawwassen ferries terminal.

Why did you choose the waterfront of White Rock for a location of your new venture?
We like the neighborhood of this area. Also there is not too much competition. We expect both tourists and local customers.
On the recent visit to your store I notice you have mens and ladies hats, could you tell us about the stock you carry?
We carry fashionable hats and functional hats both in men's and ladies'. For ladies styles, we have many selection of beach hats, cadets, wool felt cloche and organic raffia hats. For men's styles, we have stylish duckbill, ivy, safari, outback in different fabric. It meets the requirements of people's traveling or daily wearing.

In addition to hats, the store also carries quite an extensive line of ladies scarves? Where did you find such a beautiful collection of unique scarves?
We found those scarves when my husband Max and I were traveling in India. The first sight we saw the beautiful Indian shawls and scarves, we were stunning on the unique beauty and soft feel. Transformed from virgin wool into a shawls, then hand embroidered the beads, flowers or modern graphic design, shows impeccable craftsmanship.

I also noticed you have some original decorative tiles that come in various sizes. What is the story behind these works of art?

Our art tiles are all come from Aihe Guo's studio. Aihe Guo is the top artist doing the tile paintings. We've bee working with him more than 10 years. Ceramic tile painting is an traditional technique from China, brilliant colors and 3 dimensional look are the character is this kind of artwork.
Do you make your home on the Semiahmoo Peninsula?
Not now. But it is on our plan.
To wrap this interview up tell us of any favourites you have in the area. Favourite place to go for a walk to get away from it all? Favourite restaurant on the Peninsula?

Our favorite activity is walking on the beach, favorite restaurant is Cosmos Greek restaurant.
The Stylish Traveler 14833 Marine Drive
Fashion Accessories, Crafts and gifts
778-552-5096
May 27, 2014
Something Is Brewing In Uptown White Rock
l-r PETER ADAMS/ROB KWALHEIM & BILL HADDOW

White Rock recently quietly became home to the city's first micro-brewery, appropriately named the White Rock Beach Beer Company. The new venture is headed up by ROB KWALHEIM - Brewmaster, PETER ADAMS - Sales, and BILL HADDOW - Marketing. We stopped by recently to meet the "brew crew."
BILL HADDOW explains how it all came together and what a micro-brewery really is.
Bill, how did the three of the partners come to the conclusion White Rock would be a good location for your start up craft beer shop?
First of all, it's a beautiful place. That doesn't hurt. We also like the idea that our beer is uniquely tied to a specific place. And it's the only brewery in this beautiful, unique city.

All three of the partners in White Rock Beach Beer Company are all school teachers. Which districts do you all teach in? Do you all live locally?
Rob teaches in Surrey (lives in North Delta), Pete (lives in South Vancouver) and I (live in White Rock) teach in Richmond.

What are the guidelines from the Provincial government in starting up such an operation.
For us, we have a manufacturing license, so it's basically the same as for any other business manufacturing a product. There are some other 'liquor specific' regulations, but really not much else that most businesses must have in place to operate.
Most people may find it very civilized and enjoyable that you are able to serve your brews on the premises in the form of a tall cold glass of your beer. Does this indicate a relaxing of the drinking laws in British Columbia?
Civilized and enjoyable - what a concept, eh? This government has made it clear that they want to loosen up some of the antiquated liquor laws that have made responsibly enjoying alcohol a challenge. I think there are more positive changes coming, all of which should help out our business.
How many different varieties of beer do you have on hand?
We have determined that when at all possible, we will have three varieties on hand at the brewhouse. We started out with: 'West Beach' American Pale Ale, 'East Beach' American Brown Ale, and a 'Border' (Baltic) Porter. The Porter will be phased out and used as a seasonal; we'll bring it back for the Fall/Winter. We are looking at offering a Hefeweizen as a Spring/Summer seasonal. It hasn't been finalized yet, but we are thinking of calling it the 'Oxford Hill' Hef.
Are all the brews created on the premises?
Yes, everything is made on our premises. When customers ask us where it is made, Pete likes to say, "20 yards to the North."

You have three different sizes of your beer available for purchase. How will that work? Are your various sizes of bottles returnable to the premises?
A customer can purchase a 12 oz. glass to drink on premises - just one per customer, per day. That is one of the newer liquor laws, where there can be a tasting area in the micro-breweries. You can also purchase beer to take home. We offer a 1 litre bottle, and a 'Growler', which is 1.864 litres. Both bottles must be purchased, and then can be brought back for refills whenever the customer wants some more beer.

Are there plans to have White Rock Beach Beer on tap in some of the local eaties?
For sure this is a major part of our business plan. We definitely want to see our products in all of the local pubs and restaurants.

Why do you think we have seen such an explosion in micro breweries. Vancouver in short order now has over two dozen outlets.
There have been a number of micros here for longer than a lot of people might know. Definitely there has been some 'trickle down' from Washington State, and Oregon, which is really booming with micro-breweries right now. There's a really cool West Coast vibe to this industry I think.
I also think that people want to drink beer differently now. The era of buying cases and six packs seems to be petering out. People want fresher beer, and they want to be able to have access to different tastes, at different times. I heard someone say recently that they like to be able to have different beers to suit different moods they may be on any given day.
Your logo, complete with a drawing of our famed White Rock and the archway on the pier certainly clearly identifies you with the "city by the sea." Was the logo difficult to come up with?
Somewhat. We always knew that the rock was going to play a part in the logo. We wanted to play on the beaches as well, but that got to be a little busy with water, sand, and shoreline. I was out for a run one day, and as I went by the pier it hit me that the archway would be perfect as a 'banner' for "White Rock" with "Beach Beer Company" under it. By adding the railing of the pier, along with the bell lamps that 'introduce' it, we had something. A buddy came up with the idea of the sun over top of it all, and voila - we had our logo, and we are really pleased with it. And it has been very well received by people who have seen it - particularly the locals.
What are your hours of operation? You are located in the heart of the White Rock Farmers Market on Russell Avenue across from the Wyland Whale Wall. Will you be open during the White Rock Farmers Market on Sundays?
Right now we are open from 4:30 - 7 of Fridays; 1 - 5 on Saturdays; and 9 -4 on Sundays, to take advantage of the Farmer's Market. This is a little fluid however. It's best to check our website (www.whiterockbeachbeer.com) weekly for now. As we get more settled into the business our hours will stabilize, and once school gets out for the summer we will definitely be open more often.
We are so encouraged by the response we have received so far. Everybody who has come in loves our beer, and the locals in particular are stoked to have their very own micro-brewery. We have a lot of regulars already who come in every weekend to see us, have a chat, and take home some good, fresh, local beer. Everyone's happy!!
Hours of operation;
Friday 4:30 to 7  
Saturday 1 - 4                
 Sunday 9 - 4
"Because Beaches and Beer Go Better Together"
April 09, 2014
Music Makers - Surrey
owner BOB DOUGLAS
We are happy to welcome MUSIC MAKERS STUDIOS to the White Rock Sun family. The world class rehearsal space located in Surrey is now home to dozens of musical groups who have made MUSIC MAKERS their home away from home.
BOB DOUGLAS the owner and operator provides the background on MUSIC MAKERS.
BOB how did MUSIC MAKERS begin?

I have been a part of the Vancouver music scene as a bass player since the 60s. My last music project was a 10 piece horn driven soul band and we had a tough time finding a studio that met our needs. After trying several rehearsal rooms all over the lower mainland it seemed to me that other bands must be having the same experience.
So it is safe to say over the years working as a musician you would have had the opportunity to visit a number of commercial rehearsal spaces. Was MUSIC MAKERS born out of your personal experience?
Yes. We found that finding a clean, acoustically tight, sound isolated rehearsal space at a reasonable price south of the Fraser was impossible.
How long has you been operating MUSIC MAKERS? Why did you choose your present location in Surrey?
I purchased the building in January 2011. We then spent a year in designing, engineering and construction and officially opened in January 2012. I was attracted to this Surrey location for a number of reasons. Close to my home in White Rock, a vibrant music scene south of the Fraser River and limited rehearsal facilities, a very central location minutes from many communities, and real estate values that allowed me to offer great prices.
Is there a typical band that uses your facility?
Not at all. From folk and Celtic to classic rock cover bands to original alternative rock and heavy metal, they all rehearse at Music Makers.

Delta's THEORY OF A DEADMAN take time out of their world tour to woodshed new songs at MUSIC MAKERS
What are the hours of operation? Is there a particular time and day of the week that you find the majority of the groups wishing to use the facility?
All our sessions are a full 6 hours, either 10 am to 4 pm or 6 pm to midnight, seven days a week so there's no rush to get there after work and there is never a band standing outside the studio door waiting for you to get out. We are rocking every day.

You supply more than just four walls and electricity. What are some of the add on features MUSIC MAKERS provides to your clients?
Music Makers is designed to be "Plug and Play". Each studio has two complete Marshall half stacks, an Ampeg bass amp, a Fender amp for keyboards or acoustic guitar, Yamaha stage custom drum kit with dual toms and a good quality cymbal set, a Behringer PA with JBL fronts and monitors, Shure mics, a computer centre with a printer and software and open wifi. We offer no rentals. Everything is included. There is even a refreshment centre with gourmet coffee, green and black tea, hot chocolate and bottled water all complimentary. Each room is individually heated and air-conditioned for year round comfort at the touch of a remote control. We really try to make Music Makers a "Musical Home". A comfortable studio with a constant supply of fresh air means a more productive rehearsal session. Oh, and we take the time to sanitize the microphones.
Obviously MUSIC MAKERS is designed and caters in large part to musical groups, but would your facility also work for any other groups. IE; Dance groups, yoga classes etc.
The 1000 sq ft Penthouse suite has hardwood floors and it does get used from time to time by dance groups. It has the flexibility to accommodate a wise variety of uses.

MUSIC MAKERS offers three different studios for rent. Could you explain the features and differences in the three studios?
The downstairs studios are about 350 sq ft, each. Studio 1 is acoustically tuned to emulate a live venue. Live venues aren't sound dead so this room is designed for a tight sound but a with a bit more life. Studio 2 is more sound deadened. Both of those rooms offer outstanding sound isolation with 15 inch thick walks built with specialized materials. The upstairs Penthouse studio is a favourite for professional bands that demand a large and truly first class room. It offers outstanding acoustics, and a private washroom. We have had band videos shot in that room along with TV interviews with artists. Local musicians and International stars all choose the Penthouse at Music Makers. And at just $85 for 6 hours the Penthouse is within the teach of most music projects. Studios 1 and 2 are great rooms at outstanding value at just $60 for a full 6 hours.
I am not sure if this is a fair question, to single out a couple of groups that have been in MUSIC MAKERS, but have you come across any bands that you think are a cut above the rest?
With more than 50 bands playing at Music Makers and such a variety of styles it's tough to single out any one band. Heart tribute band Barracuda started out and still rehearses at Music Makers and are an outstanding band that now sells out venues wherever they go. Fusion band INDANATION also started out and still play at Music Makers and are in high demand. Of course it's always fun to have Internationally known artists like Theory of a Dead Man to Banghra superstar Jazzy B, and players from Stonebolt, the Paul Rodgers band, and 9 Inch Nails. You never know who is going to be in the next room.
Do you have any plans to possibly one day incorporate a basic recording set up so bands can demo material while they are rehearsing?
Some bands do Zooms but we are not really set up for true recording. I believe in doing what you do best so we offer high-end rehearsal services and refer artists to the spectacular Blue Frog Studios in White Rock for sound and video production.
In closing (for the time being) with the obvious success of your first location of MUSIC MAKERS, have you considered expanding and opening other venues?
For now, I am very happy to be the rehearsal studio of choice for Surrey/Delta/Langley/White Rock. I have looked at other facilities in other markets so who knows what tomorrow brings.
MUSIC MAKERS Bob Douglas (l) in the studio with INDANATION
Visit Music Makers online (click here)
March 26, 2014
Doctor Veronika Botova - Naturally Good
Dr. Botova, perhaps we could start this conversation with a brief history of how you were attracted to the naturopathic form of health care.

I have had a passion for medicine since I was a little girl and there was no doubt in my mind that I was going to be a doctor. It wasn't until I was in my last year finishing my biology degree that I was referred to go see my friend's 'amazing' doctor who happened to be a naturopathic physician. I was very curious about this doctor, because I have never heard about naturopathic medicine before so I went to talk to him to learn more about it. The doctor's wife was the clinic supervisor and she happily sat down with me to answer all my questions, because he was too busy with patients to meet with me. I ended up being offered a position at their clinic which I happily excepted. I worked there for about 4 years and in that time I saw many patients get better or at least achieve greater quality of life where allopathic medicine had failed them. My passion for this field kept growing since that time and I quickly realized that there was nothing else I could see myself doing for the rest of my life.

For those interested in naturopathy is it possible to receive the necessary training to become certified, locally?
Actually, we are very lucky because one of the only two naturopathic medical schools in Canada is located here in New Westminster, Boucher Institute of Naturopathic Medicine. This is the school that I chose to attend. In British Columbia, naturopathic doctors have under-graduate degrees, followed by a 4-year post graduate program at an accredited Naturopathic medical school. Graduates must pass licensing examinations set out by North American Board of Naturopathic Education (NABNE) and the College of Naturopathic Physicians of BC (CNPBS) before obtaining their licensure.

How do you explain to people what naturopathic medicine is?
Naturopathic medicine is a unique form of primary health care that combines modern scientific research with the art and wisdom of traditional and natural forms of medicine. Naturopathic doctors (ND's) are licensed as primary care physicians with expertise in complementary medicine, as well as the ability to prescribe and manage most pharmaceutical medications and have access to a full range of diagnostic tests and therapies.
Naturopathic physicians are trained to treat acute and chronic conditions. The focus of naturopathic practice is on understanding the unique needs of each patient, and treating the individual, rather than the disease. Patients are involved in their health program and learn to make effective lifestyle choices. Everybody can benefit from naturopathic care, whether it is to treat illness or simply for preventative health maintenance.
How does diet and physical fitness factor into the natural way of treating a patient?
Diet and exercise are the cornerstones of naturopathic treatments. Lifestyle has a huge impact on our health, and therefore, is a requirement for patients to be able to achieve their health goals. My job is not only to be a doctor, but most importantly a health mentor who guides patients along their path to recovery. The patient does all the work in their healing process.

There is presently a raging debate on the pro's and con's of vaccination for children. There are some people who believe the recent outbreak in the Fraser Valley could be tied to the fact many parents chose to not participate in the recent vaccination of school children. Do you have any thoughts on this topic?
Yes, vaccinations are a very controversial topic. I am assuming you are referring to the current measles outbreak in the Fraser Valley. Measles is a treatable childhood illness with very rare complications in a previously healthy individual. The problem with measles arises in very young children, seniors and immunocompromised individuals, because they are much more susceptible to dehydration and other complications. That said, measles has claimed about 50-70 lives per year in Canada prior to the introduction of the vaccine about 50 years ago, and the flu claims approximately 3500 lives per year currently with vaccine use, and therefore, I would be more concerned about the risks associated with the flu rather than measles. Although, there is one population which needs to take greater precautions and that is pregnant women. Being exposed to measles in pregnancy can cause miscarriage or birth defects so staying away from public places in this case is key.

It is important for the proper development of a strong immune system to be exposed to illnesses in childhood so the immune system can actually perform its function. The immune system is like a muscle, it must be exercised for it to get stronger. Research also points to the fact that children's brains go through developmental leaps during acute illness so this is natural and necessary for overall healthy development. Vaccines have definitely decreased the number of children deaths especially in 3rd world countries where access to medical care is limited. Also, vaccines have given us the answer when it comes to incurable diseases, but the question arises where do we stop? Should we vaccinate against treatable viral illnesses? The more vaccines we give, the more toxic materials the child is exposed to including heavy metals which are not easily eliminated from the body and could very well contribute to the development of chronic illnesses such as cancers, dementia, Parkinsons etc later in life. I think it is important to weigh the risk in each case, because everybody is different. We simply don't know the long term effects of vaccines so it becomes the responsibility of the parents to educate themselves on this topic and make the best decision for their children. This is where a naturopathic physician's role is important and the ability to provide unbiased information of the pros and cons and then let the parents make a choice. In Canada, we are lucky to have the freedom to make a choice whether to vaccinate or not, but with this freedom comes responsibility.


You recently opened your practice in White Rock. Was there any particular reason you chose sunny White Rock?
I chose to open my practice in White Rock, because my husband and I decided to raise our three boys in this community. We moved here 4 years ago and we love it here. It is wonderful for me to be able to serve the community I live in.

Are there certain health ailments that you end up treating more than other sicknesses?
I see a lot of women so hormonal disturbances including menopausal symptoms come up often, as well as digestive complaints and allergies. The great part of practicing general medicine is that I see a wide variety of patients and conditions, newborns to seniors and anything from acute colds/flus down to chronic illnesses like heart disease or asthma.

Do you think we are making head way towards naturopathy being more accepted across the board in our society?
British Columbia is definitely making head way in naturopathic medicine becoming main stream. Naturopathic doctors are primary physicians and our scope recently expanded to include access to laboratories and most prescription medications. I believe that our medical system will benefit greatly from integration of naturopathic and medical doctors, because preventative medicine is currently hugely lacking and our current medical system simply won't be able to accommodate our aging population in the way it functions now.

Is the UK leading the Western World in complimentary health care?
I am not very up to date on the situation in UK specifically, but I know that western Europe is definitely ahead of North America in the medical treatments and diagnostics they offer as main stream. Some of the greatest thinkers and forefathers of alternative medicine came out of Germany. Physicians such as Dr. Samuel Hahnemann, the founder of homeopathy and Gunther Enderlein, a zoologist who discovered pleomorphic theory and what is known today as biological medicine. Biological medicine has been widely used in Germany and Switzerland and has made great head way in the treatment of chronic/degenerative diseases where allopathic medicine fails us. Allopathic medicine does not offer a lot of treatment options for chronic disease, and the treatments it does offer are there to simply slow the progression of the disease or to cover the symptoms often at a huge cost due to the side effects which can significantly decrease quality of life. I use biological medicine to decrease the acidity of the body which allows pathological processes to occur. Also, powerful isopathic remedies are used to stimulate the immune system and change the 'terrain' of the body so that harmful organisms can no longer be sustained in this healthy environment, and therefore, the body can start to heal.
How does Canada stack up, say against the United States?
Again, I am not an expert on the medical system in the United States. In 2000, the World Health Organization published a list of 191 countries ranked according to the quality of their medical system. Well, Canada came in 30th and USA lagged behind at 37th. I would say that both countries have their problems and the one thing that is clear is that the Canadian medical system is not sustainable long term with our aging population. It is simply too costly to keep palliating chronic illness, and therefore, preventative medicine should be an effective solution. The whole philosophy of medicine in this country would have to change for our medical system to improve and that is not an easy undertaking. In terms of naturopathic medicine, I think that Canada and US are fairly on par because naturopathic doctors in both countries must pass licensing examinations set out by North American Board of Naturopathic Education and most provinces/states also have their own licensing examinations. NDs have the privilege to have one of the widest scopes in the medical profession. This allows for a great variety in the way each ND chooses to practice, and gives patients the freedom to find a doctor that really resonates with them.
Is there a difference between homeopathy and naturopathic medicine?
Homeopathy is a specialized system of medicine which uses remedies prepared in a specific way to stimulate the body to bring it back into balance and allow for healing not only on the physical level, but also emotional level. Homeopathy is very gentle, yet powerful type of medicine which is extremely effective when used in the right way by a proficient practitioner. Homeopathy is within the scope of naturopathic doctors, but it takes years of study to become a skilled homeopath.
Can you expound upon what Vega testing is?
Vega or electrodermal testing was developed over the last 50 years by physicians and scientists in Germany (Vega is a German company). It was developed out of a realization of the limitations of existing physical and biochemical testing. The basis of this testing applies scientific biophysical technology to Traditional Chinese Medicine (TCM) acupuncture theory. Testing technique involves the use of a precise electronic measuring instrument to specific acupuncture points to measure changes in skin resistance in response to remedies, supplements, foods, or medications placed in circuit with the patient. Testing is painless and quick. This testing is operator- dependent and thus requires a highly experienced medical practitioner.
Electrodermal testing is used diagnostically to help identify a wide range of disorders, allergies, food/chemical sensitivities, nutritional and enzyme deficiencies, organ dysfunctions and more. It is used to help confirm what is discovered in the clinical history, and pinpoints functional disorders, which occur in the pre-clinical phases of disease, and precede changes in conventional laboratory testing. Electrodermal testing allows me to create individualized treatment plans and deliver better and faster results for patients.
Contact Dr. BOTOVA in person at the White Rock Wellnes Centre located next to the famous whale wall in White Rock. Or via email dr.botova@gmail.com
March 20, 2014
Panda Szechuan - A Rare Find Indeed
YOYO and CHI MAN JON
The Semiahmoo Peninsula like most areas in the Lower Mainland has a long history of hosting Chinese restaurants. Through the 50's through the 70's our fare was mainly Cantonese and Mandarin style Chinese food.
In the 80's across the Lower Mainland a number of new style Chinese restaurants opened under the banner of Szechuan style food which is for the most part. South Surrey is now home to what could best be described as a "fine dining" Szechuan restaurant with the recent opening of Panda Szechuan.
Szechuan food generally speaking has bold flavours, particularly the pungency and spiciness resulting from liberal use of garlic and chili peppers, as well as the unique flavor of the  Sichuan Pepper. There are many local variations within Sichuan province and the Chongquing  municipality, which was part of Sichuan until 1997. Four sub-styles include Chongqing, Chengdu, Zigong, and the Buddhist vegetarian style.
Sweet and Sour Squirrel fish
As lovers of Asian food and in particular Szechuan food, we were thrilled when a friend from Chinese Arts organization invited us to lunch at Panada Szechuan. As the old saying goes "a little hard to find, but well worth the trouble." The easiest way to describe it's location is just across the street from the Cactus Club in South Surrey. Join us as we sit down with Yo Yo to find out more about Panda Szechuan.
YO YO can you tell us how long Panda has been open?

We opened Panda on December 01, 2013

Is this your first restaurant? How did you end up choosing South Surrey for the location? If I am correct you and your husband own and operate Panda Szechuan. What is his name and his background?

Yes, This is my first restaurant, but my mother-in-law use to have a restaurant in Ottawa, she retired now. I find South Surrey need a good
Chinese restaurant, and a good Authentic Szechuan food. As we all know, there are more and more Chinese people moving to South Surrey, and Szechuan food is always popular, because of their unique taste and flavor.
My husband`s name is CHI MAN JON. He has been in Canada over 25 years, and he studied at Waterloo university. He is a big fan of
Szechuan food, he loves spicy. He has big passion for cooking and spicy.
Spicy poached fish(we use BASA FILLETS)
Visitors to Panda will almost immediately notice the large tanks you have with live seafood. Am I correct in assuming customers can walk up to the tank and point at a crab, lobster or fish and say I would like to have that one for dinner?

Yes, the customer can pick any live seafood from our tanks in the restaurant and our chef will prepare them fresh

As one looks over your menu they will see a number of dishes not normally found on the South Surrey/White Rock food landscape. Tell us about a few of your signature dishes.

It is hard to narrow our whole menu down to a few items but I would say:
1 Spicy cold chicken(appetizer),
2 Shredded pork with chili,
3 Shredded pork with chili and garlic sauce with 8 wraps,
4, Kung Pao Chicken & Crispy Fried Duck
These are all very popular menu items at Panda.
Generally speaking I think most people think of Szechuan style food as being a little spicier than other Chinese food. Is this actually true?
Not really, Szechuan food has a lot of different flavor in side, I will say it`s probably stronger than normal Chinese food.
Spicy Crab

When you and your husband have any spare time, what is it that you like to do for relaxation?

We enjoy time with our two daughters who are 2 years old and her younger sister who is just 8 months old.

#450-3099 152 Street, South Surrey
Visit the Panda Szechuan website
March 11, 2014
Aldo's Karmel Cafe

Today we take a trip to famed East Beach district of White Rock and sit down for a gourmet coffee with ALDO HERNANDEZ the Manager of ALDO'S KARMEL CAFE on Marine Drive (across the road from Semiahmoo Park).
Aldo Hernandez
ALDO first of all a belated welcome to "our city by the sea." How long have you been operating ALDO'S KARMEL CAFE?
1 year and 6 months

How would you describe the culinary fare and focus of your restaurant?
Our food is fusion cuisine, featuring our specialty Eggs Benny, Panini's, homemade soups, salads and our Daily Specials. Our menu has a variety of flavors with Italian & Mexican flare. We also have our liquor license and we serve beer and wine.
Presently what are your hours of operation?
We are open Wednesday to Sunday 9:00 am to 4:30 pm We are currently closed Monday & Tuesday but once the weather improves we will be extending our hours and we will be open seven days a week.
Your name would lead me to believe you are of Spanish origin? How did your travels bring you to White Rock?
I am from Acapulco Mexico, I used to work for Princess Cruises, and we would be in Vancouver every week, ironically on one of my day trips about 20 years ago I went exploring and I took a bus out to White Rock. It was so beautiful and it really stood out as one of my favorite spots that I had visited from around the world. I later came to Vancouver to go to school and I got my degree in Tourism & Hospitality Management and then made Vancouver my home.
Do you make your home in the area? Do you have a family?
I live in Surrey with my wife and two children.
Tell me about your chef, I understand he has worked at some of the finer kitchens in Vancouver restaurants.
My chef's name is Douglas Ross, he used to work for the Vancouver Terminal City Club, Umberto Menghi (Il Giardino), Francesco Alongi(Don Francesco) and various golf courses in the Fraser Valley. I first worked with Douglas 15 years ago in a restaurant called Villa Verde. I believe having his skills and knowledge have helped the cafe to be recognized for our excellent flavours of our food.
Your background working on the cruise ships has inspired you to create a very unique and wonderful dining event that is coming up this month at your restaurant. Could you enlighten the readers on what the event is and when it will take place.
We will be hosting a Titanic themed dinner on March 22. The menu will reflect the food that was served on the last night of the Titanic`s voyage. We are going to transform the cafe into a fine dining experience, with music from the era and recreate the atmosphere of glamour and luxury.
Given that White Rock is a small town, and the town you came from in Mexico was also a small town, do you see any similarities?
Yes there are many similarities, You can really feel the sense of community in White Rock just like my home town. My neighbors are supportive and we really feel that we part of a family. It really does have that small town feel.
Long time residents always like to hear what new arrivals find special about "our city by the sea?"
For me what I find special about White Rock is the view of the ocean. Most of my customers always comment about the great weather that we enjoy year around, and how amazing it is when it is sunny and warm. We are fortunate to be able to enjoy being so close to the water with so many wonderful shops and business to enjoy. Our Customers are also part of why I love enjoy being a part of the White Rock community, every one is so supportive.
When you are able to carve out some personal time away from ALDO'S KARMEL CAFE? Do you have any special places you like to go or things to do?
I enjoy spending time with my family, we also have a dog that we like to go exploring with, hiking on the north shore or fly fishing at Cultus lake and Whistler are just a few of my favorite escapes.
ALDO'S KARMEL CAFE 1577 Marine Drive, East Beach - White Rock
604-536-1991
Recreating the Titanic ~ A Dining Experience Saturday, March 22, 2014
As part of the Irish Festival, the White Rock BIA would like to invite you to dinner
Aldo's Karmel Cafe will be transformed into The First Class Dining Room aboard the Ship
(docked at 15777 Marine Drive)
- Tickets are $75.00 -
To Register please call the SouthSurrey/White Rock Chamber of Commerce 604-536-6844 Ext. 204
January 26, 2014
In the first part of our feature on the locally based company HUNKY HAULERS, you met ANTHONY JONES the founder and CEO of the company. Now we would like you to meet MARCO PASQUA.

In the second part of our "Meet The Merchants" feature you will now have the opportunity to get to know a bit more about the company and MARCO PASQUA the Director of Corporate Giving and PR (public relations)


MARCO let's start at the beginning. Perhaps you could take a moment to give our readers the Coles Notes version of your professional background. One of the aspects of your career I am interested in is the Entrepreneurial Award you recently received from the city of Surrey.

Yes, this was truly an honour. In August of 2013, I was recognized for improving business practices, while contributing to the betterment of society by supporting and creating opportunities for marginalized groups when I was named "Entrepreneur of the Year" by the Self-Employment and Entrepreneur Development Society (SEEDS). This was for my work as an Inspirational Speaker within Marco Pasqua Enterprises.


What about your personal background. How long have you made your home locally?
I've been a Metro Vancouver boy my whole life. I was born in Vancouver, I would later be diagnosed with physical disability Cerebral Palsy, so my parents moved us to Surrey to afford a bigger property (as they didn't know what kind of mobility aids/space I might need growing up), as well as, give me access to programs and services that would allow me to excel. They had no idea at the time how well that would end up turning out. Later, I did some post-secondary education in Burnaby before starting my business. It's been a busy but rewarding 28 years.


In addition to your work with Hunky Haulers I understand you also have your own motivational speaker company called CUBE. Is there a specific field you excel in. Corporate, private or youth. Is there a specific focus of your speaking engagements?

My company is actually called Marco Pasqua Enterprises, within my company; I've created a system called "The CUBE Principle." I've worked with a variety of different clients from corporate team building events, school assemblies, to one-on-one mentoring. The focus is simple, using my own stories of struggle and success; I work with the audience to unlock their full potential to go after what they want in life. I'm not reinventing the wheel here, but based on my past experiences of working in team-based settings, I've learned some tangible steps that anyone can take to recognize a challenge, assess what is needed to overcome it and how to use their best energy (or the energy and strengths of those around them) to guarantee success.


How did CUBE come about and what does CUBE stand for?

I actually came up with The CUBE Principle while in the shower. In 2010, I was laid off from my job in the video game industry due to lack of work, it was tough times for a lot of people. Because of this, I wanted to use what I learned in team management and in overcoming my own challenges, by helping people to excel in their lives; finding the right fit for their talents. CUBE is an acronym that stands for "Creatively Utilize your Best Energy". It is some much more than just a set of steps to consider when facing a challenge. I look at it as a call to action, where it holds you accountable, always asking the question "What are you doing to creatively utilize your best energy to get the most out of life?


I have provided the link (here) that captured your appearance on a TED TALK filmed in Vancouver. Tell me about that experience, it must be incredibly regarding and perhaps a tad unnerving to have such a massive worldwide audience that is afforded one by an appearance on TEDTALK.

Being a featured speaker at TEDxStanleyPark was a dream come true. My business colleague, Sean Sibbet of Reality Controls, and I were speaking on the topic of utilizing motion and voice control to increase accessibility for computer users. Be it that my background is in the tech world, I love speaking on this topic, and to be a part of something that could impact the way we use our devices at home is extremely exciting. I had a few butterflies prior to rolling out on stage, but once I saw that the audience was engaged, I knew we were on to something.
l-r Marco & Anthony having fun

How did you connect and begin working alongside ANTHONY and Hunky Haulers?

Anthony and I actually met at the Business Leadership Awards where I received my entrepreneurial award. Luck would have it that he met me about 30 seconds before my name was announced. When I returned to my table, we spoke briefly about my goals, what it is that I do and my involvement within the not-for-profit world. Anthony and I would later meet a few more times over coffee, before he gave me the great honour to join his team and continue to do what I love, positively impacting the lives of others.



Was there any particular aspect of the company that personally and professionally excited you and drew you into the project?

Absolutely, the fact that Anthony right out the gate said he wanted an entire component of the company dedicated to corporate giving got me very excited. I've worked with a number of not-for-profit organizations over the years and now Anthony was giving me the opportunity to utilize my talents to give back to those in need. I basically have the best job ever.


Hunky Haulers has made a commitment to giving back to the community. Could you explain how they achieve that goal?

Hunky Haulers philosophy for giving back is simple; we have a passion for building stronger communities. We do this by focusing on 3 pillars: Children, Education and Promoting a Healthy and Active Lifestyles. We work with a number of organizations including: Big Brothers of Greater Vancouver, Easter Seals/Lions Society of BC, BullyingCanada and many more to give back to our community. Some of the ways we give back is by donating some of the items we find during "Clutter Cleanups" to those who can use give them a "fresh start", donating our services to community fundraisers and events, we're even helping to develop an anti-bullying program to be used throughout schools across Canada, and this is only the beginning.


A two pronged question MARCO, what does the future hold for you personally and professionally. Are there any particular goals you have set for yourself and in conjunction with Hunky Haulers?

Well, personally I'm getting married in April of this year, so that's a big step in my life. Professionally, between running Marco Pasqua Enterprises, working as Director of Communications at Reality Controls and now Director of Corporate Giving at Hunky Haulers, I keep myself quite busy, but I am always open to new opportunities because you never know where they'll lead you. I see huge things coming for Hunky Haulers, I would love to give back over $1 million to various organizations within my first 2 years of being with the company.


Finishing on a lighter note do you have a favourite restaurant, are and or activity on the Semiahmoo Peninsula?

I spent many a day (and night) with friends at White Rock Beach growing up, and it is still to this day one of my favorite spots. That and the gelato you can get on the boardwalk is fantastic.
Visit the HUNKY HAULERS website
Visit MARCO'S personal website
January 22, 2014
Meet ANTHONY JONES Owner/Founder and CEO of an exciting new company with its roots planted squarely in South Surrey.

ANTHONY your newest commercial venture is called HUNKY HAULERS. What exactly is HUNKY HAULERS and what service does it supply?
Hunky Haulers provides a selfless "Clutter Clean up" service for our local community neighbours, partners, businesses and charities. We have a passion for building stronger communities and enriching lives by donating any items that we can to local charities and ultimately want to be creating fresh starts for the items we pick up, the individuals who are looking for their items to be removed and for the community neighbors who may be in need of these items. This is part of our core values and core purpose.

Hunky Haulers is also the "Service Brand" for "Brands" we offer a business to business recycling service that energizes solutions for paper, cardboard, bottles, Styrofoam and organics recycling. Our uniformed, etiquette trained, gentlemanly Hunky Haulers will come into your business and remove the recyclables from where they are located - all you are required to do is place them in the labelled recyclable bins. Further to being the "Service Brand" for "Brands" - Hunky Haulers "BIG HUNK TRUCKING" and "Lil' Hunky Truckers" offers a long haul/short haul tractor trailer service and inner city delivery for large and startup brands and franchise customers and always insuring our values align with those whom we work with.
ANTHONY a large number of people I have spoken with have indicated like me they saw you featured on the popular CBC television show The Dragon's Den. Entrepreneurs who appear on the television show are in search of financing and the subsequent massive exposure they receive on The Den. What is the application process to appear on Dragon's Den?
The application process is quite simple, you go online, fill out the form and wait to receive an email to see if you have been accepted to appear on the show. There is also an audition process where you can go to a local location and present your idea to the producers of the show - this is a great way to gain some experience presenting your pitch and also meet the amazing individuals who are behind The Hit Show!

You were in Edmonton on work related business when you got the call confirming your story was captivating enough that you had been chosen to appear before The Dragons. Walk us through what happened after you got "the call."
After I received the call I spent a few days going over the previous Dragons Den episodes to understand the Dragons better, to see who likes franchise businesses (Other than Mr. Treliving of course) and really get a good grasp to what their overall capture rate was. I then spent 4 days driving and sleeping in my truck to get to Toronto. I would drive for as long as I could and then sleep,I would stop in larger cities typically and find a local YMCA where I could workout, shower, shave and get ready for the long drive. I arrived to CBC's studio downtown Toronto, pulled into their parking lot and slept in my truck. I woke up at 4am went to the 24hr fitness and got ready - I arrived back at the studio where I met one of the Producers Mr. Scott Boyd, who was such a huge help!

I have supplied the link here of the portion of the Den when you appeared. Tell me do you interact with The Dragons prior to the start of the show, or is it your first encounter cold so to speak?
That's a great question, you do not see the dragons - they do not see you. It is 100% cold meeting and introduction, when you see me coming down the stairs is exactly just that. You walk down a ramp towards a set of stairs, head down the stairs and you are in the Den and in front of the dragons.

Self proclaimed "Mr. Wonderful" Kevin O'Leary gave you a bit of a rough ride. Do you think a lot of his bluster is just show business?
I believe it is a bit of show biz and a lot of his personality.
Watch the Hunky Haulers on The Dragon's Den (here)

Jumping forward you get your funding, you get back in your truck and drive home to South Surrey correct?
There is certainly more of a behind the scenes due-dilligence process prior to getting the funding - I think what's most challenging is not being able to tell anyone how it went. And I mean no one. Your family, friends and people close to you want to know everything - I stayed true to my word and said nothing so it was amazing to see everyones face and surprise when they watched the show!

Once back on the West Coast what is your next step to making HUNKY HAULERS a reality?
There is a lot currently happening internally with Hunky Haulers and franchising is just one item - we are excited to open our franchise doors fall of 2014.

This is not your first business venture. Tell me about your last start up company and its history.
I started a construction company when I was 19, at the age of 26 I was at 2.75million in sales and contracts at the age of 29 we were up to 22million dollars in contracts and 300million dollars in fulfilled contracts. It was a very large business that had a lot of great people behind it and was one of the hardest things to watch close down and let go especially when it started from only a $600 dollar contract. However, the experience, the knowledge that I gained and even the hardships and struggle I'm grateful for; it taught me to always know and remember my values and know my value.

It is obvious you have plans to franchise HUNKY HAULERS. Expand on your vision on how you will work with the franchise owners.
We are in the process of developing quite the national and international partnerships between businesses, charities and community partners that will not only bring our franchise owners strength in business sustain ability, but will give them an opportunity to give back to the communities that give them the opportunity to have a business. One thing business owners need to always be mindful of is that it's not a right to own a business, it's a privilege and always remember that you should always be thankful and grateful for everyone or anyone who uses your business. We all work hard for our money and when someone believes in your dreams and spends their hard earned money at your business, be grateful.

Will you personally be involved with the first actual HUNKY HAULERS? Will it be based out of the South Surrey area?
I love Hunky Haulers and will always be involved with the brand, the communities that it's in, our franchise family members, our team and our partners. I love the day to day operations and energizing solutions for everyone involved.
I understand a part of the HUNKY HAULERS mandate to give a portion of the profits from the company back to the community? Please explain the reason for this and how it can be monitored with franchise operators? You already have a working relationship with some charities.
It is 100% a huge part of our business, corporate culture, core values and core purpose. When I first started Hunky Haulers and was on my knees, I reached out to BigBrothers of Greater Vancouver to provide a solution to their recent post about them not accepting large furniture items, I sent Mr. Slav Gudelj, BigBrothers Renew Crew GM an email and they welcomed me into their charity and process with open arms and immediately started referring their donors to me . It was so humbling and heart warming that a charity of over 100yrs old would do such a selfless act, I felt this is where I need to be, this is how I need to base my business and this is the feeling I want my customers to feel and experience. I will always back BigBrothers and will never forget the selflessness they showed towards me.
We are in the process of developing a full metric tracking system that will allow all of our franchise owners, employees and team members to see in real time where we are at with donations, recyclables and disposal.

In our second part of this edition of MEET THE MERCHANTS we will be speaking with MARCO PASQUA. How did you meet MARCO and how is he fitting into your long range vision of HUNKY HAULERS?
I'm extremely grateful to have met Mr. Marco Pasqua and really owe it to Mr. Scantone Jones & Mr. Stevie Vu of SEEDS (Self Employment and Entrepreneur Development Society) we were at a SEEDS event that they were hosting last August and Stevie introduced me to Marco about 45seconds prior to him being awarded Entrepreneur of the year award. It was remarkable and humbling to me to meet such an amazing individual who truly has a passion for building stronger communities and providing selfless service. We met at a local Tim Hortons an few days after the event and the rest is history so to speak!
l-r Anthony & Marco
Saturday in our second part of this Merchant feature we meet MARCO PASQUA
Visit the Hunky Haulers website
November 05, 2013
Stories that appear here in the White Rock Sun can come from a number of different directions.. One of the ways we quite enjoy is the first person testimonial from people like yourself, members of our community who feel compelled to share a "find" with everyone.
That is exactly how we came to meet LARINA GONCHAROVA. A mutual friend (Barb Andrews) got in touch with us and was simply gushing about what a wonderful lady LARINA was and how great her pilates training centre in uptown White Rock. More about BARBARA later but first let's get to know LARINA.
Larina Goncharova

Larina how did your career in personal fitness begin? Have you always been physically fit?
I was always a chubby girl, and started gaining weight as a teenager. My family wasn't very much in fitness and healthy eating. So I had to learn it on my own. I joined the local aerobics club when I was about 14. And it became my dream to be a fitness trainer and lead other people into wellness and fitness.

Your studio in White Rock offers pilates, personal training and gyrotonic fitness programs. Pilates seemed to have surge in popularity a few years ago. Could you please tell us the principles of pilates and the benefits.
"After 10 sessions you'll feel better. After 20 sessions you'll look better. After 30 sessions you will have a new body." ~Joseph Pilates
Comprised of over 500 movements performed on specialized equipment, Pilates is designed to stretch and tone muscles while eliminating tension and strain from joints. The inspiring result is an increase in strength, grace, energy and flexibility.
Joseph Pilates originally called his work "contrology." He considered this to be a body/mind/spirit approach to movement founded on the integrative effect of principles such as centering, concentration, control, precision, breath, and flow.

Conversely what is Gyrotonic?
Developed by Juliu Horvath, a former dancer and Yogi, Gyrotonic incorporate key movements taken from ballet, yoga, swimming and gymnastics. Using graceful circular movements together with gentle resistance, the continuous Gyrotonic rhythmic movement elongates the spine and rejuvenates the spirit bringing the entire body and mind into balance. Gyrotonic is a low-impact expansion system that can be practiced by everyone regardless of age or fitness capability.
Whether you are an advanced athlete, a golfer looking to improve his or her game, a beginner student, or perhaps recovering from an injury, Gyrotonic increases flexibility and range of motion dramatically while at the same time toning and strengthening the body.

Your studio offers workout programs for people with specific sports interests, could you explain a bit about how these programs work?
I believe any particular sport doesn't make you stronger. You have to be strong to play your favourite sport! Otherwise it is the way to injure yourself, especially as we get older. For any athlete it is essential to have strong and flexible body. I create a unique program for each athlete, depending on his or her goals. I usually use fusion of Pilates, Gyrotonic, Yoga and Weights Training

Another step to wellness you seem to practise is cleansing. How important is cleansing and what types of programs have you created for us to reach optimum health?
Working with the clients as a Personal Trainer and Pilates teacher for over 15 years, it became very frustrating for me, that many of my clients just couldn't loose the weight, despite their hard work at the studio, counting calories and eating clean. I myself gained 20 pounds in the first 6 months after moving to Unites States 12 years ago. And it sticked to me for a long time. After moving to Canada 6 years ago, having my daughter and running my own business, I was suffering in silence. I woke up tired every morning and struggled through the day, living on coffee and sugar, very often had bad headaches and colds. After my friend and yoga teacher shared her success with Nutritional Cleansing, I became interested enough to give it a try. And it has changed my life forever, same as Pilates did it 15 years ago! Just in a week on the program my energy skyrocketed and I have lost 7 pounds and 11 inches over my body. I also gained 4 pounds of lean muscles, stopped craving coffee and sugar, and I haven't had a single headache or cold for over 18 months. I feel that now I am the healthiest, happiest and fittest I have ever being! And I am so excited that finally I have all the tools to help my clients in reaching their health and wellness goals.
Nutritional cleansing will result in the following benefits:
Better sleep cycles
Toxic fat loss
Increased muscle mass
Removal of impurities
Clearer skin
Increased energy
Clarity of mind
Decreased stress
Hormonal balance
Reduced sugar cravings
Reduced bodily aches and pains
Do you have staff that support your operation or are you the hands on instructor when people come to your studio?
I am the hands on instructor. And it is my passion to teach and educate people in health, fitness and wellness.

You must be constantly bombarded with many what is your secret to fitness? Obviously you workout for a living, but what other practises do you follow?
I do not believe in "get fit quick" programs. It is for lazy people, who do not want to educate themselves. Fitness is just like anything else in the life: it is easy to do, and it is easy not to do! For me it is the lifestyle. And this is what I teach to my clients and to my 5 year old daughter Alisa .By the way, she finished the 5KM Pumpkin Run this year in just 32 min! She also is very active with figure skating, gymnastics, swimming, playing soccer and tennis.
Another aspect you offer is exercise programs for older adults. How old? And how do these sessions work?
For the older population keeping fit is essential. But so many forms of exercise can be hard on the bodies of older adults. Pilates is perfect for older adults because it does not have the impact on the body that other forms of exercise do, and is not nearly as severe on the joints as most workouts are. It really is a gentle way to exercise. My oldest client now is 73, and I have many clients in their 50's and 60's. They start with private sessions, where we focus on their specific goals. And as they get stronger and more comfortable in using the equipment, they can easily continue in the small group class format (3-4 people max).

You also focus on post pregnancy fitness programs. Why is it important specifically for women who have gone through a pregnancy to regain their physical fitness?

Moms of infants are often sleep-deprived, stressed, and unsure of themselves, particularly first-time moms. They often feel pressured to immediately get back their pre-pregnancy bodies, look fabulous in their pre-birth jeans, or flawless in a bathing suit just weeks after giving birth. We see recently pregnant celebrities on magazine covers and on television appearing thin, svelte, and like they never gave birth, giving us an unrealistic view of what our bodies should look like post-pregnancy… Many mothers struggle with this. Some see it as an impossible goal, not even giving exercise a thought, while others may feel so "out of their bodies" that they lack the confidence to start working out again.
Pilates practice emphasizes the importance of feeling good first. Pilates can not only change their bodies, but it can change their ways of thinking about their post-pregnancy bodies. I am a mom of a very healthy and happy 5 year old girl myself. And I love helping other new moms to feel and look fabulous and become the best role models for their kids.

Is there one particular aspect of your business/job that you find a great deal of pleasure in?
I LOVE seeing how my clients in the very short time start feeling and looking better!

You travels have taken you from Europe to the United States and finally to "our city by the sea." How and why did you decide to start your studio business in White Rock?
After living in Santa Barbara, CA for over 7 years, I had pretty high expectations! :) But when came to White Rock just for the day, I new right away this is the place where I want to live, raise my daughter and start my own wellness business.

What is it that you love about White Rock? Would you like to share with us some of your favourite things to do, places to go or perhaps your hidden treasure on the Semiahmoo Peninsula? Favourite restaurant?
I love the community feeling. I love it is small, beautiful, quiet and save. My favourite place is of course White Rock beach. I just love the ocean! And since I was a little girl, I always dreamed to live by the sea. So all my dreams came true, here, in White Rock! One of my favourite thing to do is to walk down to the beach with my daughter, treat her with Dolce Gelato and watch her playing with the sand and rocks. My favourite food is sushi, and I really like them at Sushi Castle in Morgan Crossing. And as a family, we love biking in the summer and skiing in the winter.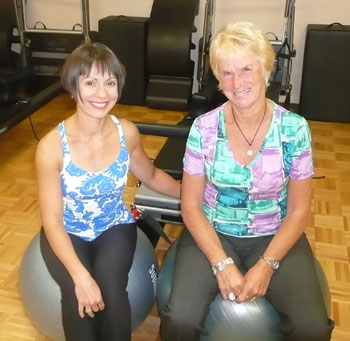 Larina and Barbara
Thank you LARINA for sharing your story with us. Now let's turn things over to BARBARA who alerted us in the first place about your wonderful business
Barbara how long have you been a student/client of Interfit Pilates Studio?
I have been a client at Interfit Pilates Studio since January 2013.
What drew you to Pilates as a form of exercise?
Both of my daughters were clients and had been encouraging me to join. One of them asked me to pay for a three month session as a Christmas present, on the condition that I went too!! In my first few sessions, I would often end up giggling and saying "You want me to do What?... there is no way!" However, within a few months, I was keeping up with other clients and feeling more confident and coordinated. Now, ten months later, I feel fitter and stronger than I ever have in my life. I did take reformer Pilates for a short while about ten years ago after a car accident, but the equipment at Interfit Pilates is so much more "state of the art" and enables a much wider range of exercises to be done. No two sessions are the same, and as soon as I think I have something mastered I am introduced to something new. It's always interesting and fun!
What are some of the benefits you have found in using Pilates as an exercise regime.
When I first moved to South Surrey 16 years ago we had a horse barn and I was used to hauling hay bales, etc., so at that time I felt strong. However, resistance exercises in Pilates develop deep muscles that I never knew I had, so at 64 I am feeling healthy and fit in a very different way. Pilates is enabling me to do the things I love … cycling, kayaking, swimming, walking and dancing … so much more easily. I am going to be a grandma soon, and I am looking forward to putting my new flexibility, energy and strength to good use!
For more information on INTERFIT STUDIOS (click here)
Watch LARINA perform some of the basic pilates exercises on her FACEBOOK (here)
October 23, 2013
Eugene Get Your Axe!

ROBBIE KEENE is the owner and operator of a very unique business on the Semiahmoo Peninsula. Surfside Music in addition to being a front line music store complete with musical instruments and musical instruction, under that soft underbelly lies a very unique aspect of the industry that does business worldwide.
But let's start at the beginning. ROBBIE where did your musical odyssey begin?
In the 4th grade at Rosser Elementary in North Burnaby, one of the school teachers was offering to teach guitar to students after school. I borrowed a guitar from a friend's dad and away I went. We moved to Surrey (Fleetwood) in 1968 and that Christmas I got a brand new $13.00 guitar from K-Mart. I got to take a year of lessons at Wayne Fryer's music in Newton. One of my 5th Grade classmates, Justin (Redd) Volkaert and I spent our free time figuring out and trading licks. We got pretty good pretty fast as we were always trying to out do each other.

I understand over the years you have played with many bands including 60's hit maker BUDDY KNOX. Care to share an interesting road story or two?
While on tour in the US with Buddy a funny thing happened. I had very long hair and one week I just decided it was time for a change. I had my hair cut very short and dyed platinum blonde. needless to say it was a drastic change. That night while waiting in the green room to go on our drummer decided that as Buddy hadn't seen the change yet it would be a perfect prank. When Buddy came in to the green room Kevin (the drummer) said "Buddy, we have a problem. The FBI and some local law enforcement showed up and arrested Robbie. That said he had shot some guy in Edmonton and they were taking him to Canadian authorities and deporting him." Buddy hit the roof. "what the hell are we going to do? We can't go on without him. The whole tour will have to be cancelled." Kevin told him they had found a local hot shot guitar player that could fill in the gig and maybe the rest of the tour. He pointed at me. Buddy looked over and gave me a cursory nod. "Hey." I nodded back. " Kevin you don't understand! Robbie knows this stuff cold. He's probably the best Rockabilly guitar player there is out these days. A sub just isn't going to cut it. We have to get a lawyer. Make some calls..." Well, very high praise from the Man himself. I couldn't take it anymore. "Buddy, it's me." A blank stare. "Look at me Buddy. It's me!" Very slowly a look of relief came over Buddy's face. "oh my God! I thought we were done for!" I think old Kevin gave Buddy a few new grey hairs that night. I think Buddy always took everything Kevin said after that with a grain of salt.

When did you open Surfside Music in South Surrey? Had you owned a music shop before opening here, and what made you choose South Surrey to base your operation out of?
I opened the shop in August of 2009. I had been a long time resident in the area. Seemed like a natural. It's my first music store.


I think visitors to your store find themselves with the same initial reaction I had and continue to have when walking through the door and seeing the entire wall of Surfside festooned with seemingly every design, colour and make of guitar on display. On average how many guitars would you say you have on hand on average?
There's an average of 200-250 guitars in the shop. Things are always coming and going.

In addition to selling guitars and offering accessories and lessons, your work repair desk is front and centre. Is there a limit to the type of musical instrument repairs you offer at the shop?
I can repair most any instrument problem. Most of the time it's actin and intonation or electronics upgrades but I do full instrument restorations too. Right now I am slowly restoring a 1954 Gibson J-160E That the owner has owned since 1957. He wants everything restored as it will be passed down to his son one day. A guitar like that will probably stay in that family forever. A playable heirloom.

You must have a story of someone that walked through your door looking to sell an instrument and they had no idea what a collector item they had in their possession? How do you handle a situation like this?
In a business like this your reputation is everything. I am always very honest with people. If you ripped people off the word would get around fairly quickly and no one would trust you or your opinion. I have had some beautiful pieces walk through the door with people wanting to sell. I make sure they know what they have, the condition it's in and any repairs required. I will make an offer based on fair market value and let them decide what to do. I have recommended people keep their instrument and pass down through the family and I have purchased many instruments as well. In business as in life, honesty is the best policy.
On a recent visit to the shop you were un crating a very special guitar you had received from local guitar manufacturer LARRIVEE guitars. tell the readers a bit about this guitar please.
This is a very special piece. Hand crafted by the top builders at Larrivee and hand signed by the man himself, Jean Claude Larrivee. Special abalone inlay on the headstock and beautiful book matched flame maple back and sides. An abalone rosette and special tuners. It is number 14 in a very limited edition of 20. The top is hand selected bear claw Sitka spruce. It's a Larrivee that will grow in value as the years roll by. Oh, and it sounds unbelievable!

What is the most expensive collector guitar that has come through your world? In addition to your vast guitar collection you also have some pretty cool amplifiers. any favourites there?
I have had a few big fish go through my hands over the years. Flame top '50's Gibson Les Pauls, Fender Broadcasters, an original '58 Gibson Flying V, some very old Martin guitars. It would be hard to say what was the most expensive as times change and prices continue to rise. A '50's Flame top Les Paul can be over $200K these days. I'm also not sure that value is the most important factor. Sound is it for me. If you're a player and a certain guitar has the sound you crave you'll probably do whatever is needed to get it. Afterall, they are guitars. They should be played by the people that need to play them. Perhaps one day we'll get to where the classical guys are. A wealthy patron will buy and own a Stradivarius and have it on loan to their local symphony so that the first chair violin will have an instrument to play that is worthy of their talent.

In addition to selling locally have a side project of securing and selling collector guitars worldwide. How are you able to do this?
I do sometimes broker high dollar guitars. The collector guitar world is a small one and just about all the dealers that specialize in the vintage market know one another. Although the shop has been open since 2009 I have been dealing in Vintage guitars since 1973. Of course the internet has helped to open things up in the last 20 years or so.

What music instruction courses are available through SURFISDE? Are the lessons just geared for young musicians or do you also have "seasoned students?"
I have great teachers working out of my shop. We teach students of any age and any ability. Never too early to start and certainly never too late to start. We have teachers for piano, guitar, ukulele, harmonica,mandolin, bass.

Well that about does it ROBBIE, final question, do you still play yourself? And with that tell the readers about "your favourite" model of guitar.
I certainly still play but not in a regular situation anymore. I'd love to find a couple a great players and do a little pickin' on a regular basis again but it's more difficult than it sounds. There are a lack of venues to play at even if I could find a couple players who had a bit of spare time.
I still own my Telecaster that I've had forever. It's a bit of a mongrel but it is MY guitar all the way through. Looked almost new when I got it and now it looks like it's been dragged around by a tractor for a few years. I've owned it for over 35 years and I put every ding, dent and scratch in it by playing it during my 27 or so years on the road. They can bury me with this one. Never for sale and although I have other guitars, for me, there is no other like it.

Robbie, what other interests do you have outside of music. I understand you love to get out and take photographs.
That's the one Dave. I do wildlife photography. Great excuse to get out in nature, do some walking and hopefully get a cool picture once in a while. I don't have much interest in shooting portraits or that sort of thing. Photographing wild birds and animals is kind of like hunting and adventuring and you never know what you may discover. Great fun!
October 23, 2013
@The Market
A new arrival to the White Rock Farmers Market this year is PLENTY WILD FARMS. Meet DAVID TANNER.
DAVID first of all welcome to White Rock. Your booth is new this year at the market. You in a short period of time have started to draw large crowds. You seem to take great pride and care first of all in displaying your product.
Where is PLENTY WILD FARMS located and can you tell me a bit about the history of the farm?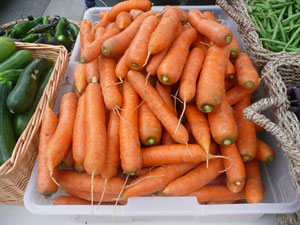 Plenty Wild is located in Agassiz, B.C. on farmland owned by the Farm House Natural Cheeses. My partner Alyssa and I were farming in Alberta when Debra and George of Farm House invited us to return to Agassiz. They offered Alyssa a permanent position as cheesemaker, and me the opportunity to borrow land and equipment to grow vegetables. So, we hauled ourselves back to B.C. and in the fall of 2012, Plenty Wild was born!
You have a number of very interesting vegetables which most of us have not seen. Lemon cucumbers is a personal favourite and on the odd Sunday you have banana potatoes. Tell us about some of the more unique vegetables you stock at your stand.
lemon cukes
I love growing a diversity of vegetables and it also makes for a beautiful display. Lemon cukes are an heirloom cucumber and one of my favourites. I eat them chilled and whole, just like an apple! Mustards and Asian greens are also fun and tatsoi is a personal favorite that you'll start to see in early Fall.
In looking at your website for the farm I came across a fabulous blog called DISPATCHES FROM THE DINNER TABLE. Tell me about the author ALYSSA BELTER and her relationship to you and the farm.
Alyssa is my partner in life and business. She is a Red Seal cook and an English and Environmental Studies major. We started Plenty Wild Farms together and she looks after most of the accounting, record keeping and social media; working the occasional market on her days off. She presently works as a cheesemaker for the Farm House Natural Cheeses.
In the lower Fraser Valley a large portion of the usable farm land is being gobbled up by development. There is presently a request to remove 37 acres of farmland from the Agricultural Land Reserve. What are your thoughts on the future of farming in the Fraser Valley?
I am committed to the preservation of farmland because I believe fresh and nutritious food is essential for communities to flourish. What's special and important about farmers markets is the communication and connection that takes place between farmers and the community. People get a real sense of the true value of food and preserving the land where it was grown naturally becomes a commitment. This makes me very optimistic and excited about the future of farming.
In closing thank you DAVID for joining the White Rock Farmers Market family. What is your impression of the market and have you had any time to get around to visit any of the other merchants?
I absolutely love being at the White Rock Farmers Market! And I must say that the market volunteers and management are a very cohesive, fun bunch of people to be around. I also enjoy my White Rock customers - what a curious, passionate, food-lovin' community! I try to get around the market as much as I can. Mrs Chip is a tasty favorite and I'm always in awe of the bounty Glen Valley brings.
August 12, 2013
White Rock Vacuums
I have probably driven or walked by White Rock Vacuums at the corner of Thrift Avenue and Johnston road, at least ten thousand times. A couple months back having some problems with my vacuum I decided to toss it in the car to see if it was worthwhile fixing it?

I dropped it off with specific instructions to call if it was going to be expensive. The next day I get a call "Your vacuum is ready?" Huh I thought, what about the quote. Hesitantly I asked "What do I owe you?" Twenty bucks was the reply just simply replacing a pulley or something.
When I went back to pick up my vacuum I got to talking to Gary the manager of the store. As we talked my eyes drifted up to a sign that said "We repair small appliances?"

I asked, what kind of small appliances do you repair Gary? "Oh between Bob the owner and I we pretty much do most any type of small electrical appliance." Now let's just stop right here. Have you ever had a toaster, blender, waffle iron or whatever pack it in and think, Heck I just bought this a couple of years ago. Well then you know most other places you contact will tell you it is a $50 one hour bench time minimum. Well guess we are just going to guy a new one at those rates. White Rock vacuum has free estimates for most items with a $12.95 min charge for work done for vacuums but not small appl

So I would like to take a bit of your time to tell you the story about White Rock Vacuums and to introduce you to Gary the manager and Bob the owner.

BOB HUNTER has been the owner of owner of White Rock Vacuums for 36 years. GARY EDMUNDS the store manager has run the day to day operations of the store for over 20 years. Gary explains how he ended up managing White Rock Vacuums. "Well I had been doing work for Automatic Electric Phone systems out of New Westminster for a number of years then I took a job with a couple of Royal City hospitals in the admin section. I found myself too stressed out and I needed to change gears. I had always loved fixing things since I was a little kid. So I started up my own small appliance repair business and set up a number of drop off points throughout the Fraser Valley, eventually that turned into this full time job for me here at White Rock Vacuums."

When you walk into White Rock Vacuums you will see a cute sing that pretty much sums up the bulk of their business. WE REPAIR WHAT YOUR HUSBAND FIXED! Most men reading this will see and star in the humour behind this limerick.

When the buzzer sounds that a customer has entered into the store there is no telling what they will be dragging behind them says BOB "Probably the strangest thing I have been asked to fix is a 1950's vibrating hassock" says Bob that was a bit of a challenge finding the right parts but I got it done."
Bob and Gary both have somewhat special areas of expertise. For BOB it is microwaves, sewing machines, some electronics and carpet shampooers. They say the sins of the family fall on the daughter, well the rest of the small appliance repairs are handled by GARY, who quickly indicates lamps and irons tend to be his specialty. As a matter of fact GARY estimates he probably fixed 250 lamps last year. BOB'S big item is microwaves.

As the world of moves more and more towards everything being disposable and built in obsolence continues to roll along, it is comforting to know there are two "Last of the Mohicans" according to GARY that quietly are going about saving the past, and saving you money at WHITE ROCK VACUUMS.
June 19, 2013

DAVID HAWKINS is the driving force in conjunction with the White Rock Farmers Market in awarding a scholarship to help further better living through good nutrition. Today we sit down with DAVID to find out more about this wonderful joint venture.

David Hawkins
David describe how your created a scholarship in conjunction with the our Farmers Market in White Rock.
Thanks Dave
A little back grounder on the Mary Hartwell Scholarship program for 2013 (Year 2)with two scholarships of $500 each.
My late wife Mary Hartwell was a past director of the White Rock Farmer's Market Society and a passionate supporter of its vendors and the community values they stand for, including good nutrition, organic farming and alternative health.
Mary had developed a mine of knowledge on nutrition gleaned from books, online research and helping out with the Society's vendors. She filled her days with projects such as tracking down and supporting organic farmers, caring for a major vegetable garden and cooking soups for the Women's Center.
When she passed, I thought that some of her amazing energy could be transmitted to the winning candidates through a scholarship program.
Words from Khalil Gibran spring to mind; "A little knowledge that acts is worth infinitely more than much knowledge that is idle."
At Mary's Memorial Service, I invited friends and family to donate to a scholarship to be administered through the Society. The WRFMS directors generously provided additional funds to bring the scholarship up to a value of $2,500. When we interviewed the candidates, three were of such a high calibre, I decided to add more funds and the Society was pleased to help Samantha Smith, Lucy Brain and Grace Augustinowicz with scholarship of $2,500.00 each in the fields of food, nutrition and sustainable agriculture.
What are you hoping we will see from the future recipients of the scholarship?

The 2012 Scholarship was open to regional applicants and, as mentioned, we had three outstanding winners. This year, the Board felt we should focus closer to home and the 2013 Scholarships with two scholarships of $500 each and are open to Vendors, Family Members of Vendors and staff at The White Rock Farmers' Market. Successful applicants in both years require(d) a high school diploma.
In its inaugural year the scholarship went to three different young ladies. Have you had any communication with last year's winners?

No, we were happy to receive their thanks and let them get on with their studies but we will invite all three to give us their news and join the presentation ceremony for this year's scholarship winners in August.
We are getting close to the end of the eligibility for 2013. When does the application period end? How would someone go about getting more information?

The application period ends in June 30th. We have been passing out a letter announcing this year's program to vendors and friends at the Sunday markets. I have added the text in a postscript for your reference.
Now if you would please explain what Blending Bene is and how the program works.


After a lot of thought and ongoing discussions with Marla Meneghin, the nutritionist owner of Generations of Wellness whom you interviewed last week, I changed the header of the Blending Bene web site from "Blending Bene Nutrition Just in Time" to "Blending Bene Nutritionists Just in Time".
Originally, I had a Facebook-type business model in mind where BB would sell online advertising to users of its recipe-building toolkit as seen here http://www.blendingbene.com/Blending-Tool.
I now realize Blending Bene is a game changer with worldwide benefits if it equips nutritionists such as Marla with an online monthly-rented chat room to deliver hosted service to clients via a 'virtual office'.
The client will pay the nutritionists for a month of online service and the nutritionist will pay Blending Bene for the use of the chat room plus a pre-registration fee for the online recipes which will be stored with the client's testimonials in Blending Bene's master directory or database.
The meaning of "Blending Bene [Find] Nutritionists Just in Time" then becomes self-explanatory; subject to invitation and passwords, the prospective client and fellow users will be able to enter their zip/post codes to find the nearest chat-room nutritionist from the Blending Bene map or enter a symptom to find the chat rooms of nutritionists who have established reputations for mitigating that symptom's severity.
Invited and password-enabled clients can thus enter a private chat rooms via a nutritionist's web site as in http://www.generationsofwellness.ca/Contact-Us (Push 'Join Marla's Chat') or via http://www.blendingbene.com/Blending-Tool.
Blending Bene has only been in operation for a year. Is it possible to guage the response yet?


Tremendously positive for the recipe-building graphics and the concept of BB hosted chat rooms but this is still a work-in-progress. Our website builder – a brilliant California-based company called Gutensite – is now doing the interactive systems integration which I have designed to provide a seamless link between host-nutritionist website and Blending Bene chat-room directory and recipe-building toolkit/testimonials.
Here is their promo https://www.youtube.com/watch?v=egVPI3GwhfY See our toolkit interface at 1:39!

What is your association with the White Rock Farmer's Market.

I am the Vice President of the WRFMS and help the market rig up and down for a few hours each Sunday.
You see far more of the market than the average person. While running the risk of playing favourites, do you have a favourite booth?

I'd better not say and it varies with what I am buying, but all of the vendors are fantastic.

What do you think it is about the market that makes it "the heart of our community?

On a sunny day with a big crowd; the produce, the colours, the kids, the frail, the lonely, the friends, the dogs, the music and the magic. Only on a Sunday it all comes together in "the heart of the community."
Post script
Mary & David
The Annual Mary Hartwell Scholarship Program (2013 Year #2)
Administered by the White Rock Farmers' Market Society

White Rock May 23, 2013: The White Rock Farmers' Market Society is pleased to announce the launch of the Annual Mary Hartwell Scholarship Program for 2013 (Year 2) in memory of the late Mary Hartwell who was a Past Director and passionate supporter of the Society, its vendors and the community values of good nutrition, organic farming and alternative health.

The Mary Hartwell Scholarship is to support your studies for a career in health, nutrition and organic farming.

DONORS: Collections from past year and White Rock Farmers' Market Society.
TENABLE: At post-secondary institutions registered with the B.C. Ministry of Education
FIELD OF STUDY: Any courses leading to career in Health, Nutrition and/or Farming
VALUE: $500
NUMBER: Two
ELIGIBILITY: Open to Vendors, Family Members of Vendors and staff at The White Rock Farmers' Market and who have completed – or are in the process of completing the requirements of a high school diploma. Applicants are required to submit an application letter of three paragraphs with about 500 words outlining:

a) Who Are You? Tell us about yourself, why health, nutrition or organic farming is important to you and your present/recent past role in the White Rock Farmers' Market or with its vendors.
b) What is Your Passion? How does it relate to health, nutrition and organic farming?
c) What is Your Plan? If you pursue this course of study, tell us how it will make a difference in your life and in the lives of others.

Selection will be based on your application letter, essay and an interview with the Board of Directors.

APPLY: Applicants should prepare an application letter to the WRFM Society and attach copies of application to educational establishments for which the scholarship funds are sought.

SELECTION & PAYMENT: Recipient will be selected by July 31, 2013. To claim the award within two years of notification, the recipient must be registered in an eligible program of post-secondary study. Payments will be made to post-secondary institutions.

DEADLINE: Applications to be mailed to the Society and received by June 30, 2013.

Market Manager, White Rock Farmers' Market Society PO Box 75105, Surrey, BC V4A 0B1
Tel: 604.897.3276 E-mail wrfm2008@gmail.com Web: http://www.whiterockfarmersmarket.ca/
June 15, 2013
Hi Ho It's Off To The Market We Go
MARLA MENEGHIN a registered holistic Nutritionist is the newest member of the White Rock Farmers Market. MARLA first let's find out what exactly a holistic nutritionist is.
A RHN is a professional trained in Natural Nutrition and complementary therapies, whose principal function is to educate individuals and groups about the benefits and health impact of optimal nutrition.

You have now operated your Free Health Consultation booth for just two weeks but it appears the service has struck a chord with visitors to the market. Without divulging any personal specifics could you give us an overview of the type of questions visitors to your booth are asking?

I welcome them in to a non-judgmental atmosphere. This has allowed all the visitors to open up and share what is going on with their bodies and the concerns they have from a holistic approach. Most ask specific questions regarding what they can do to alleviate symptoms or a diagnosis they have from their doctor.

Upon completion of your consultation what options can you present to those people that have had a consultation?
Each consultation is based upon an intuitive guide and an individual case by case scenario as each of us is uniquely designed body, mind and spirit. I present options first within the vendors at the farmers market and what is presently in season. I give new thoughts and ideas for menu options and look to some textbook research ideas as well. I.e. Rosemary (Rosmarinus officinalis) is in season – it contains certain compounds that are known to have disease preventing and health promoting properties. It has dietary fiber, rich in B-complex vitamins, contains vitamin A, C and an excellent source of iron. It fights free radicals, inflammation, bacteria and fungi. It helps the digestive system, promotes circulation, detoxifies the liver and is good for headaches, blood pressure and menstrual cramps. It also makes a good food preservative. Caution: should not be used during pregnancy.

We are all very aware the basics like drink lots of water, eat good food products, get lots of rest and exercise are all corner posts to good health. Can you offer a Coles Notes version of additional things or more specific areas of the above we can work into our daily routines for a healthier life? Self love and awareness, detoxification, good food combining, antioxidant protection, an HMF pro-biotic to re-seed healthy micro flora and of course the 80/20 rule (80% of the time whole food choice (certified organic when you can) and 20% of the time a favorite indulgence ;)

Is there one thing over and above the rest that you recommend for good health?
Yes – great food, great company during a meal with thanksgiving. This helps digestion and nutrient absorption for the whole body! A joyful heart is good medicine.

Your business card in addition to noting your holistic nutrition training it also mentions "Doula." What exactly is doula and how does it relate to your personally?
A "Doula"- Birth Doula: provide emotional support, physical comfort measures, and an objective viewpoint, as well as help you obtain the information you need to make informed decisions, become familiar with your expectations, hopes, and concerns about the birth of your baby. They remain with you as a constant support throughout the labour and birth process, provide guidance to partners, encouraging them to participate at their own comfort level, help you and your partner create an ideal atmosphere for your birth experience at home or in the hospital. We recognize childbirth as a key experience that you will remember for the rest of your life.
I am a certified Birth Doula through Douglas College DONA Doula Program and a member of the Doula Services Association in Surrey, BC. I love working both nutritionally and as a birth doula for expecting Mom's. This is one reason for my company name "Generations of Wellness". I do not limit the scope of practice just to expecting mother's though. I work with all who believe I am the right connection needed at that present time in their life.
I noticed at your booth at the White Rock Farmers Market there was a schedule of visitors to your booth. How long is the consultation and how does one schedule a consultation?
Every Sunday from 9am-1pm there is a sign up board outside the nutrition tent. Each free consultation is 15 minutes in length. Come on out to the WRFM and if there is a convenient time spot open place your name in that spot. I look forward to our time together!

The consultation is free. How is this service subsidized? Is this something the market felt strongly about and searched you out?

The service is sponsored by the WRFMS and was part of the grant application with BC Buy Local with the Investment Agriculture Foundation with the Province.

Final question Marla. Actually a two part question. Had you spent any time at the White Rock Farmers market prior to providing your wonderful service? How would you describe the White Rock Farmers Market experience?
Yes, my family and I go often. We love the friendliness of the people, the music, and the smell of the freshly brewed coffee. We enjoy the samples each vendor displays and all the nourishing colors of the fresh, local produce and beautiful flowers displayed. A place of pure goodness! My favorite part is that each life represents a beautiful story and we connect at the heart our community – The White Rock's Farmers Market!
May 23, 2013
White Rock Farmers Market Grand Opening Sunday
Helen Fathers - Heart of our Community
Everyone loves a party and this Sunday when the White Rock Farmers Market re-opens for a new season everyone will be in a partying mood.
The White Rock Farmer's Market is set to commence the 2013 season Sunday May 26. Today market manager and White Rock councillor HELEN FATHERS reveals some of the wonderful events and happenings we can expect at this years market. Helen as we enter another year of operation of the White Rock Farmer's Market tell us about any changes and new events we will see at the market this year?

The Market season for 2013 starts this weekend May 26 - Oct 13 same time , same venue. Miramar Plaza , White Rock. We run for 21 weeks. Due to popular demand we have also added 9 Winter Market dates from Oct 20 - Dec 15 these will be held at our old friends the Elks at 1469 George Street, White Rock same time 9am - 1pm and of course on Sundays.
We have lots going on this year we have our regular Special events Fathers Day, Doggy Day and Kids Day and this year we have a New Holistic Nutrition Tent giving away FREE Health Assessments and FREE t.shirts, bags and other cool stuff, we also have a weekly draw for $25 at the Coffee tent, buy a coffee and enter to win. Lots of New Vendors as well as many returning ones. We are starting with 70 vendors, wow that makes me shiver a bit with excitement , wow we have really come a long way in our 14 years in White Rock.
The Farmer's Market last year began to promote itself as "The Heart of the Community." How did you come to this designation?
Well, we really are the Heart of this community, we promote this through Healthy whole foods, connections with the Farmers/Artisan who make bake and grow the food you are consuming , a wonderful meeting place and a great place to celebrate with friends and family ; whilst listening to local musicians or playing chess and chequers at the Kids Tent or sitting having a cup of coffee and enjoying the atmosphere of a Sunday morning in uptown White Rock. Sounds like the thriving Centre of any community to me.
Last year it was revealed the market contributes heavily to the economy of White Rock. Tell us a bit about the economic benefit for the weekly market.
Well the Market conducted a Survey sponsored by BCAFM , UNBC along with the BC Province - the estimated benefit to the local economy was 1.75 million which is pretty good considering we only operate 4 hours per week .

Over the winter months a public stage has been created in the area where the market takes place Sundays. Will the market be using this facility for public performances and special ceremonies?
Yes we will be having musicians play there.

Visitors to the market see you patrolling the market from start to finish each Sunday. Give us an idea of how a typical day starts, runs and finishes for you in your position as Market Manager.

Starts at 5am ends about 5pm. Each week there are a new set of problems and exciting events to tend to. It wouldbe impossible to say what a typical day is. I love going from booth to booth ensuring the vendors are well taken care of. I also love to meet and talk to friends of the market and new visitors that are experiencing the White Rock Farmers Market for the first time. Of course like many other visitors to the market I love to sample the wide variety of homebaked goods.
You have some very competent assistance in staging the weekly event of the farmers market. Tell us a bit about your team members.
We have about 10 staff members and 6 Board Members. Most of our staff have been with the Market for years and years. We could not operate our Market without this great team that we have and I am very thankful that we have such dedicated committed people to help serve our Community . I would like to say a special Thanks to Deb and Don who have been with the Market since its start, they truly are very special and have stood the test of time and continue to work tirelessly for the Market.
We have Kim, Mark, Suzanne in the Coffee tent/Information . Josh and Rebecca on the barricades, Rob and David on set up duties . There is also one small child Ellie who has an amazing work ethic for such a young age (9 years old) , I think she has her sights set on Market Manager, I better watch out!!!!
JOHAN SANDSTROM of White Rock SPRKR radio talks with HELEN FATHERS (listen here)
February 27, 2013
Billy Griffiths - PG'S Jamaican Takeout
Fans of Caribbean food have been watching and waiting patiently for PG'S JAMAICAN RESTAURANT to open in uptown White Rock. A little difficult to find but well worth the effort. Tucked away in the little alcove at the corner of Thrift Avenue and Johnston Road in a shop that up until recently was home to a personal trainer.
So come with us as we head to the islands.
BILLY welcome to White Rock, I know by the diners that I have seen on a couple of recent visits there are a number of people that are flocking to your new restaurant. First is this your first restaurant?
No my wife PAULINE and I had another Jamaican restaurant in downtown Vancouver at Nelson and Granville for a number of years. We were very happy there but in time the neighbourhood became very dangerous. The crime rate was going up, so we decided we would be going on.
So you came to White Rock directly from downtown Vancouver?
No our restaurant in Vancouver was operating from 1992-1997. We then move to Toronto for a few years. When we came back in 2005 we started to think about opening another restaurant if we could find the right situation and location.
So how did you end up choosing White Rock?
Well I had been coming out here for a few years to work and I thought "Too Much Sushi Mon!" I figured out quickly there was nothing like our food being presented to the residents of White Rock and Surrey, so after looking for some time this location came up. It took us a little longer to open than we planned but that happens sometimes with a restaurant. We are really looking forward to growing with the community. I think there are going to be more and more people moving here. Just look out my front window and you can see two new apartment buildings getting ready to open. This whole area is growing very quickly and we hope to be part of this growth.
Let's talk a bit about our menu.
Well we have the usual items you will find in a Jamaiican restaurant. Our meat and veggie patties are made fresh daily here on the premises. Everyday we make our rice and beans fresh. Of course we have jerk chicken, jerk goat and roti. We have a vegetarian roti along with our veggie patties.
You have n interesting selection of beverages (unlicensed)
Yes we have some soft drinks imported from Jamaica. I also notice you serve sour sop juice. I have read recently the sour sop fruit is being heralded as very effective in some forms of cancer treatment?
Well I have heard that too. In Jamaica we drink the fresh fruit because i helps with a lot of things to keep you healthy.
Tell me about ackee and salt cod.
Ackee is a fruit that grows in Jamaica. You must wait until it flowers, because if you were to pick the fruit before it is ripe and opens, and cut it with a knife the gas that escapes could kill you dead. Ackee and cod is the national dish of Jamaica.
All of your food looks so great, and the dishes I have tried including the vegetarian patties and Ox tail were incredible, What is your favourite food to eat at the restaurant?
Oh that is easy. I would like people to come in and try our Ox Tail. It is slow cooked in a special bled of spices and served with rice and beans and vegetables cooked in coconut music. It is delicious.
Well Billy thank you very much for taking the time to tell us a bit about your history. Two final questions.
Do you live in White Rock?
No my wife and I drive from out home in Coquitlam everyday. One day maybe we will move here.
How did you choose the name of the restaurant?
My wife's name is Pauline and our last name is Griffiths, so there you go we just chose the first two initials in her name.
"Come by and say hello. Have a taste of the Islands. Take a trip south without leaving home"....Billy Griffiths.
The interior of the restaurant afford customers a small clean and inviting are to dine in.
PG'S JAMAICAN TAKE OUT
1387 Johnston Road (uptown) White Rock
Linda Lock - Cottage Paint
East Beach White Rock

Linda what exactly is "cottage paint?"

Cottage Paint is a clay based paint whose claim to fame is that you can paint it on almost any surface without any sanding, priming or stripping! Just wipe the surface clean and paint! It really isn't a "new" product, after all, Michelangelo used a very similar product to paint the Sistine Chapel!
It appears to me this is a very cost and time effective way to re-create that old fashioned farmhouse look on furniture, would you say that is a correct assessment?

Definitely! You can transform a tired old piece of furniture into something fresh and new for a fraction of the cost of replacing it!

If someone does not have the time or desire to refurbish a piece of their own furniture, for an additional cost would you be able to do the work for them?

I have been quite surprised at how many people want to do just that. I've already done several pieces for people who are just too busy and I'm sure that will be a major portion of my business.
You are an artist yourself. Tell us a bit about your arts history?

I have been a decorative painter for more than 30 years, travelling around the world teaching various decorative techniques, so it seemed a natural fit to partner up with a paint company in Toronto to develop this new line of paint. It really feels as though everything is working together to make this new venture a success!

You recently partnered up with another local artist Sherron Fairbarn on a couple of projects. Your WHITE ROCK'S BEST online portal has now gone into a hiatus.
What was your goal for the website? You also have a pair of beautiful chairs that you and Sherron created in your store. Tell me about the chairs. They truly are one of a kind original art pieces are they not?
l-r Sherron Fairbarn - Linda Lock

My personal goal with White Rock's Best was to have fun working on the site (which I love) and make enough money to keep me off the streets! Unfortunately, we couldn't make it work well enough for us, so............next.........
I saw something like what Sherron has done with the chairs online and thought it would be too much fun to try it. Her work is amazing and somehow, putting it together with a useful piece of furniture, just makes it that much better! We hope to do more of these in the future - 8 are being reupholstered as we speak with artist's canvas - ready for their one-of-a-kind transformation!
Sherron an artist herself pictured with her original work of art chair now on dislay at COTTAGE LIVING
Back to your store which is located on East/East Beach. Initially it would appear your market has a private/individual market. But could you see a
commercial application here, where you would be commissioned to come in and perhaps do an entire room or for that matter a revitalization of a cute beach cottage.

I have already been asked if that would be possible and of course the answer is YES! Why, have something in mind?
You are now taking reservations for classes at your beautiful boutique store. It appears in addition to the cottage paint classes you have at least one other art class scheduled. tell us about these classes.

I have very extensive Cottage Paint Basics classes which are on-going and these classes teach how to use all of our products. The goal here being that the homeowner can then tackle any project on their own with skill and confidence! As well, I have lots of interesting classes for making simple, yet beautiful, projects for home decorating such as floor cloths, candles, decorative cushions and accessories. It's been my experience that these classes go well beyond a finished project in that they provide a fun afternoon of creativity with like-minded people and the inspiration is very contagious!

I also get the impression you are a distributor for "cottage paint" correct?
Yes, my name and reputation are on this paint and we have big plans for marketing it around the world. Currently it is going full steam ahead in the eastern and southern states, we have a rep in Japan this month and I'm working with a wholesaler in Australia to get the line there. I will be attending lots of trade shows this year for hands-on demos and workshops and will be writing "how-to" books as well, which will really help promote the product.

I can see one of the benefits of "cottage paint" actually ties into recycling correct?

Yes one of the wonderful side effects of this product is the fact that we are reusing, re-inventing and restoring furniture that otherwise may end up in the landfill. Did you see that cute little rocker in the store when you were there? I found it on the side of the road this fall and it's now ready for "adoption" as a beautiful addition to any family home. There are countless old and tired pieces of furniture just waiting to be reborn!
Final question Linda. I understand the city of White Rock has finally decided to adopt something I have been advocating for over a decade to anyone that would listen, an actual White Rock Arts Walk along our promenade on the weekend. Artists of all disciples can display their creations and expose and hopefully sell their wares to the crowds that inhabit our promenades on weekends. As an artist what do you think about the this initiative and would you personally consider partaking in the Art Walk.
There definitely is an art scene but I think the Arts Walk that you suggested would go a long way to helping the artists get their work out there. I would love to participate and think how much more interesting a walk on the beach would be!
For more information on COTTAGE PAINTING the simple life (click here)

"Life Is A Highway"
...I want to ride it with you
January 10, 2013


The recent holiday season is a time of loving, caring and spending time with your loved ones and family. Divorce or separation changes all of that. Your family and subsequent family life are blown to pieces. How do you pick up the pieces? Well a company and lady on the Semiahmoo Peninsula just might be able to help. You see it is one of their specialties.
RUTH KEWIN of Divorceroadmap.com took time out of her busy schedule to explain how her company works.
First of all RUTH how long has DIVORCEROADMAP been in operation?
DivorceRoadMap started in 2000. It is the outcome of a 30 year journey to my Life Coach practice, having been a social worker in public and private practice, a child advocate, a family therapist, an entrepreneur in the financial/credit industry and for the past decade a Life Coach working with people going through major life transitions, including divorce.
My partner in life and in this business Art Kewin was a psychologist before becoming a lawyer in 1982. His legal practice has included litigation, mediation, arbitration and collaborative law. In 2001 he became a Certified Financial Planner. He has integrated his knowledge and experience in these three fields via DivorceRoadMap to help people navigate major life transitions like Divorce.
Many companies are born out of personal need or experience. Was there a defining moment for you when you said "People need this service."
Yes. The tipping point came when I discovered that there was no other cohesive and focused resource available for people wanting guidance and support to navigate the emotional, financial and legal aspects of the divorce process.
For Art the tipping point arose when teaching law to financial professionals and financial planning to legal professionals. He realized that the disconnect between their separate silos of knowledge would not be bridged in a meaningful way by most practitioners. That is when and why we developed DivorceRoadMap; to give legal consumers divorce settlements that are actually fair and make sense financially going forward.

What exactly are the services DIVORCEROADMAP offers. Do you operate as mediators in large part?
Art offers mediation, and I Coach individuals in that process, but mediation is not our exclusive practice. Mediation, arbitration, collaborative law, and yes, even litigation, all have their place. The key to success is to start with an objective assessment of the case and the parties before deciding which process is best.
The Discover Consultation results in people knowing how to get started and they get a roadmap to navigate the process.
Our other programs offer various methods of managing the divorce negotiations, completing the process and moving on with a solid foundation.
I Coach clients involved in all of the processes. Art is a mediator, arbitrator and collaborative lawyer. He does not accept litigation cases now but does direct people to the courts in the few cases when that is required.
The holiday season for the most part is thought by many to be a time of love and happiness. I have read though one of the quiet little secrets about the holidays is it puts a lot of strain on relationships and those that are not strong quite often break over the holidays. In your line of work have you seen evidence of this?
Yes. January is the biggest month of the year for initiating a relationship break-up. The Holiday Season and start of a New Year are stressful and emotional times. However, they are not the cause of a matrimonial break-up. Much has transpired before a January consult with a divorce lawyer.
Having just recently watched Wedding Crashers again, the characters played by VINCE VAUGHN and OWEN WILSON at the start of the movie are trying to get a couple to sensibly move forward with their divorce. Is this the type of situation you find yourself in?
I have not seen that movie. We know that negotiating a divorce settlement is a very complex undertaking. Reasonable people often behave unreasonably when they are already stressed out on the emotional rollercoaster of a relationship breakdown.
What we do is empower people to negotiate knowledgably and wisely. We guide and support clients to make smart decisions based on expert legal and financial advice.
DIVORCEROADMAP brands itself as a One Stop Source for Legal/Financial and Coaching. The Legal and financial in a typical divorce seem straight forward but what exactly is the coaching aspect of your company?
The effects of divorce on individuals and families cannot be overstated. It can be a very lonely, overwhelming and financially devastating experience. Coaching supports people during the process. They become empowered to make good choices for themselves and their families. My clients report feeling more confident and are able to go forward positively because of the coaching experience.
What is the split male - female ratio of your clientele. Would one be wrong to think this is mainly a service designed for women?
We have always represented men and women in our separate practices. DivorceRoadMap programs are designed for both genders. Broadly speaking, men and women approach and handle the experience of relationship breakdown differently. How they manage the process depends more on their values, culture, life experience, needs and goals than on their gender.
December 18, 2012
Carved In Stone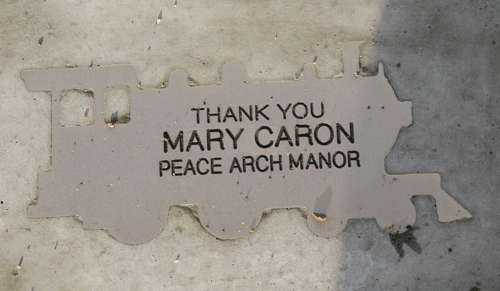 If you have ever walked past the front of the White Rock museum you have no doubt seen the array of brass plaques inlaid into the stonework out front of the museum. We recently had the opportunity to see first hand how the program works. Subsequently we sat down with Lauren Boni Visitor Services & Resource Development Manager of the museum to learn more about the plaque program.

Lauren how long has the plaque program been in place as a fund raiser for the White Rock Museum?

2006/2007

How many plaques are there spread out across the front of the museum.

Approximately 450

Who and where are the plaques created?

A local fellow by the name of Rene Duson works closely with the Museum and has looked after the production of the plaques on our behalf. The actual installation of the plaques on the Promenade is done by the City of White Rock. A long term employee of the City, Leon, has been doing the installations from the beginning but we have recently learned that he will be retiring this year. Leon will be greatly missed by our Train Plaque Program.
Mary Caron front and centre with Peace Arch Manor Board of Directors

I was recently involved with the purchase of the a plaque for a lady that was a fellow board member at the Peace Arch Manor. Many people these days are trying to cut down on the clutter in their life and we were faced with that challenge. Given the fact our honouree is a long time White Rock resident (Mary Caron) we thought it would be a wonderful idea to create a lasting legacy for her volounteer work at the Manor. To say she was touched and blown away would be an understatement.
What is the gamut of dedications you have seen for the plaques?

In memory of an individual, an anniversary celebration, recognition of a first date, births, birthdays, celebration one's life while they are here to enjoy and appreciate the plaque, graduation celebration


Is there one or two stories you could share with the readers about a plaque dedication.
Every plaque has its own unique story and every story is very touching.

1) one woman has purchased six plaques commemorating family births and birthdays

2) a fellow purchased one to commemorate his first anniversary of his marriage. The walk along the Promenade was the site of their first date.

3) Many families have purchased a plaque in memory of a loved one. Perhaps the family spent a many an afternoon at the beach, Mom & Dad strolled along the promenade on a regular basis, the loved one may have lived many years in the community, it is a place where the family can come to reminisce about memories of a loved one.


What is the cost of a plaque?
$600 including tax and with that a $450.00 tax receipt is issued to the purchaser.


Given the plaques help fund the operation and improvements at the museum it seems like a reasonable expenditure especially if like us a few people can become involved.

The train plaque program is one of our greatest fund raising programs at the Museum. It allows individuals to contribute to the programming and improvements at the Museum while at the same time leaving a permanent legacy and memory of a loved one or of a special event.


It recently was brought to my attention the bench dedication available through the city of White Rock are limited to a period of time. The plaques though are forever correct?

This is correct. We will continue on with each new installment of plaques where we left off with the last----there is a lot of promenade space to fill


Are the purchasers of the plaques responsible for the cleaning of the plaques? Is it difficult to keep them bright and shiny?

The purchaser of the plaques are responsible for the cleaning of the plaques but cleaning is purely optional. Cleaning kits are provided in our Museum Shop at no charge to individuals who wish to clean a plaque. The process is very easy as it involves the finest of sandpaper and steel wool with a bit of water.

Some purchasers enjoy the weathered look while others come on a regular basis to ensure a constant shine to their plaque. One woman who purchased a plaque in memory of her late husband told me that she has given the responsibility of ensuring "Grandpa's Plaque" was shiny has been given to her grandchildren. She hopes that they will continue to shine the plaque for generations to come.

One elderly gentleman is committed to keeping his late wife's plaque in pristine condition – I see him every few weeks diligently cleaning the plaque and remembering the good times that he and his wife shared at White Rock Beach. It is a place for him to visit and to connect with his wife of many years.
For more information on the plaques (click here)


December 05, 2012
l-r TRACEY ELLIS and MICHELLE HERLIHY
First of all Michelle if you could tell us a bit about your information that brought you to realize there may be a need for a service like your upcoming speed dating evening.
I heard an interesting stat a few months back. Currently, White Rock and South Surrey has the most single women ages 40-50 in all of Canada. The greater Vancouver area has the most single people in the world (% wise) I know as a women in her 40's with children and a career, it is very hard to meet people on a social level. If it's not an organized event, it usually gets pushed down the list of priorities. Life is just very busy at this stage. Kids still come first. The empty nesters sometimes just want to find new golf buddies or someone to go dancing with. We will be hosting events for many age groups.
You partner in this event and in the company CONNEXTIONS is a local stylist TRACEY ELLIS. How did you two end up forming CONNEXTIONS, was there an "aha moment" that occurred where you said "We have to do this."?
Both Tracey and I have been business owners in this community for over 25 years. I have known her personally for longer than that! In essence, we have both been connectors of people and business for our entire business careers, and we both come from media backgrounds. It was inevitable we would be working together some day - we had talked about it over the years. Co-incidentally, both of us recently became single, and it opened a window into a world that was foreign to us for many years. Tracey runs a Men's Salon/Spa and talks to her men clients daily about their personal lives. They all complain about the difficulty of meeting new people in a small town, and just in general. We both agreed the online thing is tough, so we decided to go to a speed dating night, as they were becoming popular, just to see what it was all about. The aha moment was in the car ride home.
It has recently been brought to my attention a the vast number of friends and associates I know, that have met their mate through on line dating services. I must admit I was somewhat taken back at the high percentage of couples that have met in cyberspace before meeting in real life. From your experience have you found a similar situation?
Yes, I have married friends that have met online. I like the online dating platform. It definitely has a place. Match.com and some others have perfected it. But it will always be a little scary to me. I compare it with shopping at Value Village. There are always great buys there, but you need lots of time to turn over every hanger and go through every shelf. It's a needle in a hay stack scenario. We just remove some of that time required in the search. We bring everyone together, provide an atmosphere in a public/safe environment, and voila! 15 dates in 2 hours. It's great! It's time management and safety we are trying to promote. Our saying...
...we bring people together!
Please explain how your upcoming speed dating night works?
Without going into too much detail and giving away some of our newly added features...it is basically 15 women and men. The girls stay seated and the guys move to the next date every 5 minutes. Tracey and I MC the event and let everyone know their timing etc. You hand in special guest cards at the end of the evening and choose who you would like to be matched with. We connect you both. There are some special features I won't go into, but we assure everyone a fun evening! our web site has a bit more detail for you. www.mherli.wix.com/connextions
Our formal web site will be launched in the new year.
Is there any advance screening for the participants or does everyone that signs up get accepted?
We do pre-screen our guests. We get their contact numbers, email & photos. If they are on social media we connect to their Twitter or Facebook page. Without these things they can't participate. The online platforms leave that up to you. People can hide behind that wall until you meet them. You don't always know who your chatting with. Meeting new people can be intimidating and a little scary. We try and remove a few of the fears by making sure our guests are local, professional and who they say they are. We also try and provide all our guests with safety knowledge regarding online dating provided by the NCSA (National Cyber Security Alliance) We will always be looking for new ways to improve how we screen guests without going beyond privacy laws. Our new web site will have some state of the art security features. It is in the works and should be launched some time in Jan-Feb
The National Cyber Security Alliance is a non-profit organization. Through collaboration with the government, corporate, non-profit and academic sectors, the mission of the NCSA is to empower a digital citizenry to use the Internet securely and safely protecting themselves and the technology they use and the digital assets we all share. NCSA works to create a culture of cyber security and safety through education and awareness activities.
NCSA board members include: ADP, AT&T, Bank of America, EMC Corporation, ESET, Facebook, Google, Intel, McAfee, Microsoft, PayPal, Science Applications International Corporation (SAIC), Symantec, Trend Micro, Verizon and Visa www.staysafeonline.org
Speed dating get togethers have been around for awhile. Have you or Tracey ever encountered one of these events as a participant as opposed to an organizer?
We attended a Vancouver event as guests a few months ago, and realized how much we could improve on the guest experience by bringing in a few more elements:
1/ We have sponsorship that allows us to provide our guests great discounts at local merchants. These local businesses range from fitness outlets, clothing stores, spa services and salons.
2/We host it at a place that provides great food and beverage. Even if you make no love connection, it will be a fun night out. Something many of us just don't do often enough.
3/ We work with a charity each time so that the events are giving back to the community not only on the business level but to those that need it most.
4/ We have tried to make guests aware that although you may not make a love connection, they are not to dismiss the fact that they might just meet a good friend & a possible business contact. It's not every day you have a chance to sit and chat with 15 professional people in a two hour span.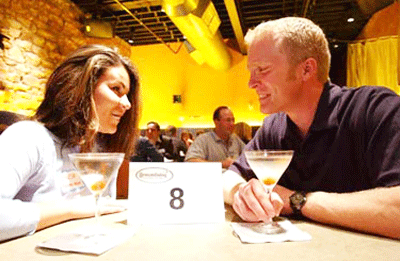 If there is one myth that you would like to dispel about Speed Dating get togethers what would it be?
I think the stigma is on dating over 40 in general. Whether online or speed dating, there is just a weird negativity around being over 40 and dating. If someone does not want to post a picture on an online profile, I call "fraud". They are not who they say they are. If they just don't want people to know they are dating online, I ask why? Why is it so shameful to be single and dating? I am certainly not ashamed of who I am. I am a professional business woman in this community and do not care what others opinion is of my marital status. There are frauds everywhere, not just in the dating world.
I think both platforms, on line as well as speed dating, are a sign of the times. I think both are brilliant, and if done safely, can provide a great way to meet people. Long gone are the days we meet people at a bar or party. Not saying it can't happen, but how often do you actually meet new people these days in these environments? I don't know about you, but with the little time I have, when I do go out with friends, I want to talk to them, and enjoy their company. If I had to choose a way to meet "new" people I would have to choose speed dating. It's just a riot! My experience was great, and both Tracey and I are hoping to extent that same experience to our invited guests - with our added features and surprises! We are both detail orientated and professionals, and all of our events will reflect that. We are hoping to bring awareness to a new and fun way to get people together.
Our event on the 21st of this month is focussing on singles 40-55. Our next event will be in January and more than likely that particular evening will be geared for the 55+ crowd. The third event will be for younger singles 25-45 and that will be scheduled for the spring of 2013.
November 02, 2012
HOLY SMOKE!...it's a coffee shop
Tales of the Tepee Excerpts Taken from RHYMES OF THE TIMES
Thanks to all the Characters I've met throughout. My life, they have been my inspriation, and to the "Angels who push my pen"
AL NEMETH
PART II OF THE HISTORY OF THE TEE PEE
Bray sisters build a bigger and better Tepee
After the dramatic burning of the original Timberland Tepee,
the daughters of the new owners were obsessed with the idea of
getting their dad to build them their very own Tepee.
They really drive me crazy; you know just what I mean.
Guess I don't remember when I was a teen.
I guess I'll just keep saying, the things I need to say.
When they do get older, they'll understand my way.
As young girls, the Bray sisters had started off by selling lemonade
outside the office in a make shift Tepee. Since it was their dad
that was sending them their customers, they did very well.
She still calls me daddy, thinks I'm big and strong.
Loves me without question, if I'm right or wrong.
In 1995 the sisters were in their late teens and with some
help from their father, William Bray, decided to go into the
coffee business. Mr. Bray built them a brand new Tepee.
The three sisters, although quite naïve in the ways of
the world, took turns selling coffee at the"NAVA-java-HO".
Running a new business taught the girls lessons, in not
only business but, in dealing with all kinds of characters.
The girls did very well for a couple of years before
Starbucks and Tim Horton's decided to cut in on their
business. At that point the girls retired from the Tepee.
They rented out their Tepee to few different people but
being somewhat unreliable, the renters never made it work.
Hope that they listen, seldom they do.
Gotta do it their way, it ain't nothing new.
Then one day a stranger came into town
My Grampa saw the Tepee first and said "Holy Smoke kid, stop the Buggy!" There she was big as life; a Tepee with a For Rent sign
In the old days, people bought coffee fresh-roasted in small batches from their local roaster. Grandpa wanted to bring those days back
by turning the Tepee into the Holy Smoke Coffee Company.
It took a bit of elbow grease and a little help from our
friends but before long we were ready for opening day.
Well, except for everyone we knew and a couple other
folk, we didn't sell much coffee that day at all.
In fact, now that I recall, we couldn't give it away.
My Fathers Father was a Roaster who roamed from town to town,
Roasten' up Good coffee, the best there was around.

"Open up a coffee shack and they will come". I'm pretty sure
that was what my grampa said. Now I ain't sure if Grampa
scared em' off waving at them the first couple of days but
by the end of the first month all I could say was "Why won't
they stop"? Grampa said that I should feel sorry for
them cause they don't know what they're missing.
Have you ever seen a person, you felt that you should know?
But because of inhibitions, you turn and let them go.
Something quite familiar, maybe in their smile,
Just go up and say hello, can we talk a while.
Why can't it be that easy? We should learn to trust,
that little voice inside our head, before it starts to rust.
We're often right the first time, second guesses get us by.
The more we count on instinct, the less we have to try.
Well that first six months of being a proprietor sure wasn't
all that I thought it should be. As time went on I started
noticing the various characters that showed up at the Tepee.
Old time rock and rollers, people of the past.
Seem a little slower now, ain't movin' very fast.
Some say they remember, others never will.
But when they get together, they talk about it still.
As the summer faded and the cool crisp autumn came around
Grampa left me to man the Tepee while he went off to his
Happy Hunting Grounds (Palm Springs) and said
"Don't worry kid they'll show up".
My Grampa always told me, that I shouldn't run.
I'd miss so many things, if I didn't sit in the sun.
I couldn't understand then, what he did mean.
Busy looking ahead, for the dreams I hadn't seen.
And by the end of the first year they did just that. I guess
word spread far and wide. "HOLY SMOKE" that's good coffee.
"There's one thing worse than being talked about,
It's not being talked about" Oscar Wilde
Biography
Born and raised in North Jersey in the mid-20th century (1950),
I grew up amongst different social & ethnic groups. My formative years
coincided with the racial tension of the early '60s. Never quite fitting in
with any one group or clique, I remained on the fringe and developed
a loner mentality that helped me survive wherever I roamed.
Early meditation & escapism was achieved by cheap Thunderbird wine.
By the late '60s, already having tried out a Roman Catholic seminary,
selling suits at an exclusive men's store, & a short stint in the US Marine Corps,
I began an odyssey that took me hitch-hiking across Europe & North America.
In 1973 I made up my mind that Vancouver was where I would settle down.
My interest in the metaphysical realms led me to take courses in
creative visualization. Eckankar & other "new age wisdom" helped me
continue my travels through the universe, using my mind rather than my thumb.
I started writing about that time and continued over the years to
chronicle events, ideas & feelings that always seemed to come out in rhyme.
Over the years the box I deposited those one-to-five verse poems
collected dust until late 1998 when I felt the need to review my life.
Sorting through random thoughts & words of wisdom, I decided to
compile some of them into "Rhymes of the Times"(1999),
which I hope will give my children, friends & people I haven't
met yet, a better look and understanding of me.
In 2007 I started working on "Tales of the Tepee"
I dedicate this dalliance to my lady, Shawneen ~ Al Nemeth "2012"
LEGEND OF THE TEE PEET PART I
Legends have been written by many men telling tales of far-off lands and wondrous exploits of colorful characters. This is the story of the "TEPEE" and some of the people
that have been involved with its' vivid past.
There always is a story, or a lesson to be learned.
Sometimes a pretty poem or a tale of being burned.
So I hope you will excuse me, as I share my words with you.
Just can't seem to help myself, it's the only thing I do.
It all began in the early 1960's when South Surrey and the lazy little town of Crescent Beach were a haven for many early transients. The Beach & the farm land meant a lot more in those early days and the fertile soil near the Serpentine River grew crops that fed not only the bodies but also the minds of a new generation of Hippie farmers.
There's a special place I often go, where the weather is so fine.
I walk on down the old steep steps, to a beach that's always mine.
Timberland Campground came to be when one of these homesteads was being abandoned by a local after losing his wife in the cold winter in '64'. The land with its abundance of tall trees bordering on a small stream was the perfect spot for a young Hungarian family to start up a little sawmill which would eventually become an RV park.
Waves roll in so gently, and softly slip away.
So glad that I take the time, to come here every day.
Timberland started attracting a certain segment of society that was trying to get back to the land. These new age Hippies as they were called, led simple lives spending their days just hanging out, working odd jobs, scrounging, and relying on our benevolent welfare system. Some were avid gardeners who grew their own and relied on bartering to supplement their lifestyles.
The worlds seen many changes, in the last half century.
Life is so much better, because of Technology.
A few are getting richer; the poor don't get their share.
The old are growing older, does anybody care.

The very first "Tepee" at Timberland was built in 1971 by a guy named Lou from Nova Scotia. He cut poles from pine trees and lashed them together using hemp rope, covered it with canvas and used black pitch to seal it as the tar set his girlfriend Sunshine threw on some sparkles and mumbled an old Gypsy spell to bless their humble home. Legend has it that the only piece of furniture was a king-size waterbed and that the inside walls were draped with flags from each Province of Canada.
She comes to me at midnight so soft and tenderly
Hair is golden sunlight, she moves so naturally.
Days fly by so quickly and once again in bed.
I await my special lady, who is always in my head.
Timberland was purchased in the in the early 1990s by the Bray family. The Brays built the Adobe style motel units, hired a manager who didn't care who he rented rooms to and soon Timberland became a favorite spot for transient construction workers, one night affairs as well as becoming known as a good place for an afternoon quickie.
You took me without effort, to a strange & distant land.
Where love would last forever, if only I held your hand.
Being a family man, Mr. Bray fired that first manager and attempted to change the cliental by offering monthly rentals to those who were of strong moral fiber and happened to have first and last months' rent in advance.
We wanted to change things, but didn't quite do
All of the things, that we started to
Our kids can fulfill the things that we didn't
We showed them the way, in what we have written.
The Night of the Burning Tepee
It was early Oct in 1994 when, according to legend, a suspicious fire broke out on full moon welfare Wednesday night. The original Tepee had long since been replaced with even a bigger one that was constructed out of salvaged plywood and lumber. Rumors were that Lou and Sunshine had been popping out babies every year in order to increase their welfare rates as well trying for a record onhow many kids can live in a TEPEE?

Way back in the seventies, I tried to see the light.
By doing magic mushrooms, every second night.
On that fateful night Sunshine and the kids were out of town. Lou was at home fixen up some supper when a ragtag band of bikers pulled into the campground. Lou decided to invite these bikers over for a party and it didn't take long to get out of hand.
Seen 'em come, & watched em' go.
They couldn't understand, you know.
All their lives, they've never seen.
Or gone to places, where I've been.
One thing led to another and soon a fight broke out. One of the bikers went over to his saddlebags and pulled out a couple of Molotov Cocktails. As the fights spilled out of the TEPEE the fiery bottles were thrown inside and that's when all Hell broke loose. The entire campground came to Lou's aid but nothing short of a miracle could stop the flames that were reaching for the sky on that late Harvest moonlit night. By the time the fire department got there, the bikers and Lou split, never to be seen again.
There's some friends, I never bring home.
But when I'm out drinking, I'm never alone.
Don't really know them, or like them so much.
But they're always ready, to keep me in touch.
October 25, 2012
ON THE ROAD AGAIN
Dwayne & Sharon Jacobson owners of South Surrey's ROADHOUSE GRILLE
Shortly after the White Rock sea festival this past summer, DWAYNE & SHARON JACOBSON owners of McJac's ROADHOUSE GRILLE set off in a caravan of fellow RV owners heading for the Maritimes. That would be the first leg of their circumnavigation of North America. They are heading home and now we can tell the story.
PART II of The Jacobson's Excellent Vacation


This report covers out time in Newfoundland, return to Nova Scotia and New Brunswick
Thank you for all those who help make this a wonderful experience for Sharon and I.  I hope we have been a
blessing to you as well.
Thank you
I am writing this while camped in Pigeon Forge, Tenn. having driven here today from Gettysburg where we spent 2 days.  It was there that I discovered
no fluid in the master brake cylinder serving the rear brakes.  I imagine I had been driving the last few thousand miles with only front brakes.
Well all 4 rear received new seals, riveted shoes, wheel cylinders and bearings greased.  The parking brake does nothing. What a difference.
And to think back to driving some of those hills, city streets, the Bronx, New York . . . . . . . . .
Across Canada Rolling Rally – Last leg in Canada
We finally boarded the overnight ferry (the short northerly route) to Newfoundland. Warning – if you are going on the overnight one make sure to book a state room well ahead of your sailing date.  The reclining seats only partially recline and not far enough to be comfortable for sleeping.  The cost for this ferry and the return one (Longer route) was just over $1000.00 for our 26 ft coach, 2 passengers, reclining seats on the shorter route (6hr) and a state room on the long route 16 hr).
We stopped in Corner Brook for some brake fluid. Coming into the plaza I spotted what I thought was a guy I know from White Rock.  I run after him, calling his name and whistling.  He stops his rented RV and looks at me with surprise written all over his face.  Soon his wife comes out from the store and again the surprise effect.  They tell us of their ventures on the Island sharing places that are a must see.
We arrive in our Deer Lake campsite for the first evening.  Stopped next morning in Rocky Point to buy tickets for the Boat cruise in Western Pond in Gros Morne Nat'l Park and headed for it.  Sandy decided not to join the Gregory's and ourselves and went on to Cow Head where she would secure a campsite for us plus buy tickets to the evening live play.
Western Pond – to get there you hike in approx 3 km.  The boat holds about 50, and it was full. The trip into the Fjord was fairly smooth, bits of wind and the odd wave coming aboard.  A beautiful scenic  tour.  High rock cliffs on both sides, waterfalls cascading down the rock face in several locations.  Roughly a
1 ½ hr one way ride.  On the return the wind had increased and swells of 3 to 4 ft occurring with many
Leaping on board soaking those on deck.  Both Darlene and Sharon got soaked just before we docked.  A delightful tour and recommend it to those who visit the Island.
It was a wet night in Cow Head and a entertaining play by 2 local actors.  The next morning we headed north on the Viking Trail arriving at the tip of the Island where we toured the Museum and grounds of where the Vikings landed 400 yrs before Columbus.  This is very well presented and worth the trip.
For the evening we headed into St. Anthony's, ate at a local restaurant (OK) (Sandra did not join us but decided to head to our campsite.  She got about ½ mile and her coach quit on her.  Start, run a bit then quit.  We found her by the side of the road and tried to figure out what the problem was.  She spent the night there in a parking lot and the next day had it towed to a local garage that discovered after 2hrs that it was a dirty fuel filter (one by the carb.).  We in the meantime did some shopping and a lunch out by the Lighthouse.  Had Cod Cakes and beans, excellent!
It took us a couple days to get into St. John's and stayed in the RV park located in the city.  Darlene and Sharon walked  to the downtown waterfront and got Screech –in  at Trapper John's.  Glenn and I spend a day and half caulking the coaches.  We finally made it down to the waterfront in our coach and found parking and our wives, walked around the waterfront area and had a meal.  Finding our way back home was a bit of trial and error.
The next day we made our way to the ferry that took us back to Nova Scotia.
We very much enjoyed Newfoundland however the architecture I had envisioned was not there having been replaced with a coating of Vinyl Siding.  I realize the homes would now be better insulated and comfortable but I would have liked to have seen more thought go into the selection of materials and colours.
Back in Nova Scotia we were met by Hugh and Rosemary Macdougall driving their 78 Palm Beach.
They joined us as guides to Peggy's Cove where we camped.  From there we toured Peggy's Cove,
Part of the cottage coast line and Halifax.  We took in a great tour of the Alexander Keith Brewery, shopped, and ate some more great seafood chowder.  We continued together to Lunenburg where we were joined by Corwin and Rose Marie Hirtle of Bridgewater in their 77 Hughes GMC 2600.  We spent the day touring the waterfront, shops, café's, horse and buggy ride and viewing the work in progress of the Blue Nose.  That evening we shared a lovely campsite meal together.  It really was delightful spending the time with these two couples.  Hopefully we will meet again and enjoy more time together.
After saying our – until we meet again – we headed for the Digby Ferry that would take us on a 3 ½ hr trip in the Bay of Fundy to Saint John, NB.
Upon arrival in NB we followed the GPS plus phone instructions to Adam Raeburn's residence where we
spent  the night camped
in their front driveway.  What a wonderful family.  Our time there was short but enough to see the many projects Adam has done, underway, starting and dreaming of.
Our last stop in NB was St. Andrews by the Sea.  Visited the street market where we tasted the local fare, I had my hair cut, the dogs got their exercise and then we were off to the USA.
That ended the trip in Canada.  I highly recommend you do it at least once.
Visiting America
Sharon and I presently are on the Cruise out of Galveston.
Our travel from the Maritimes to Galveston had many wonderful experiences.
Maine offered beautiful small towns and seaside resorts.  It was here that Sandra left us and headed west.  Not sure where she is now but she has no problem travelling alone (well not completely – she has Lacey with her) and no problem meeting people.
Glenn and Darlene Gregory of Thunder Bay and ourselves carry on in tandem.
New Hampshire – again beautiful scenery and a before you know it you've gone through it.
Massachusetts – We drove into Boston and walked around the Freedom trail, had lunch at Dick's then on the road again but this time to Cap Cod and an overnight stay close to the beach.  Absolutely Beautiful.  The girls (Sharon and Darlene) and Cooper tried out the water in Cap Cod Bay. The next day we stopped in Providence for lunch.  Delightful old city.
Connecticut – also offered beautiful scenery and drove right on our way to the RV camp site in Jersey City.
New York – Well both Glenn and myself, fully reliant on the GPS, found ourselves driving on a road that soon became restricted to vehicles as high as ours. We turn off and find ourselves in the Bronx, dodging traffic and train trestle structures. After what seemed like hours we were on 3rd avenue which became Park Avenue, a trip through the arched opening in the Met Life building onto a raised roadway leading us down onto Broadway Ave amongst hundreds of yellow cabs – rush hour traffic – and no where to turn off (side streets read "Cars Only" ) – By now we have spent close to 2 hours in New York Traffic on streets restricting RV's – Glenn following me went through several red lights in order to stay right behind.  Police were in sight of several of his infractions but did nothing. We get to the entrance of Holland Tunnel and see the sign "NO CAMPERS _ NO PROPANE" and there's a police officer just to the left of us. We both hop out of our coaches and turn our propane tanks off.  The cop leaves his car and walks across in front of us into a small building – not looking back at all.  We proceed through the tunnel to Jersey City – get into the camp site and flop – recounting the just finished journey.
New York – we take the sub into the city delivering us at Ground Zero.  We tour the site – very very interesting. Next we take a sub to Times Square and walk around gazing at the billboards and people.  Lunch then a walk to Central Park where we take a horse and buggy tour of the Park. Wow!  much bigger than ever imagined and so much going on inside. This is a DO NOT MISS this part of the City.  We head back to our Jersey site then take a very long walk to the waterfront looking over at New York skyline , Staten Island and the Statue of Liberty.  Then a long walk to a Cuban restaurant for a delightful meal.  It has been 2 very full days. New Jersey to Gettysburg where we camped and then toured the Battlefield the next day.  I found my rear brakes were failing and spent that night camped in the rear parking lot of the Brake shop.  We spent more time touring Gettysburg while waiting for the finished work on the coach.  Work done around 4;30 pm then on the road again.
West Virginia – beautiful rolling hills – run into a thunderstorm that almost stops all traffic.
Pigeon Forge, Tenn. – we camp here for 2 nights – spend a good part of the day in Dolly wood and take in the Dolly wood Stampede show. All very enjoyable.  Do a window shopping walk around the town in Gatlinburg before on the road to Nashville. We arrive in Nashville Sunday to find no Grand Ole Opry until Tuesday – so we miss it but head down town to dine and listen to those wanting to make it in the music business.  Make a stop at Coyote Ugly – and although the servers may be pretty the place is downright Ugly.  After several other stops we head back to camp to rest our bodies. Leaving Nashville we take a secondary road that takes us through residential (estate) neighbourhoods and small towns, countryside – very scenic and much better than on the free-ways.  We are headed for Harvest, Alabama where Glenn has a generator door waiting.  We arrive at Kerry's place where I swap the rear 2 right tires (one is wearing too much on the outer edge).  We look over Kerry's handiwork in formed aluminium.  Amazing work.  A heavy rain downfall then sunshine.  We are on our way again headed for New Orleans. Walmart – here we spend our first night dry camping in their parking lot. OK except for the garbage truck at 4am.
New Orleans:  we find a lovely camp site at a marina and tour the French Quarters, find a free outdoor music fest in the Financial portion of the City then walk another 1/2 mile to a Cajun Dine and Dance restaurant.  Great food, music and fun dancing. Swamp Tour – the final day we are together we take a Swamp tour – where we get to see more than a dozen 5 to 6 year old alligator's, some turtles, Birds, and an Armadillo.  Nice trip.  A lunch together then we say our good byes with Glenn and Darlene headed East to Florida and ourselves West to Galveston.
Our time with Glenn, Darlene and Cooper has been rich.  We have loved their company, humour,  cook off's, crib games, tours and relaxing times.
Galveston Island.  We take the trip from the east that takes us across to the island by ferry.  We find a camp site on the far west end of the Island where they allow us to store the Coach – plugged in,  while we cruise.  We spent Saturday driving around Galveston, walking the beach and having lunch at a beach side restaurant.  Awesome beach that goes for miles and miles. The owners have built this camp site up over the past 7 years to include, a pond with fountain, a mini-golf game, outdoor theatre  horse back riding, tame ducks, palm trees, full service with picnic benches. To add to all this they drove us to the cruise ship terminal and will also pick us up next Sunday morning. 

We have travelled more than 10,000 miles so far.
–
September 14, 2012

As I strolled through the White Rock Farmer's Market recently I noticed the Golden Ears Cheesecrafters booth. Upon further inspection I found the booth was home to a wide variety of fromage products.
Meet Emma Davison who graciously has taken the time to answer a few questions about the many wonderful culinary delights available at Golden Ears Cheesecrafters.


How long has Golden Ears Cheesecrafters been in operation? What was the motivation to create your own cheese crafting company? I also understand it is a family operation.

Yes, the family running Golden Ears Cheesecrafters is myself, Emma, my older sister, Jenna (head cheesemaker) and my parents Kerry and Lynn Davison, whom both grew up in strong farming families that have passed the knowledge down through what is now, 5 generations. The whole idea of Golden Ears Cheesecrafters came about because my parents wanted to have something to pass on; something that was value added to the little bit of our heritage that is left in Maple Ridge. The first generation of our family that came to Maple Ridge in 1902, started farming, and we've been doing it ever since. Throughout the past century, most of the land has been sold off. Today, the existing farm is only of 50 acres of land which belongs to my Uncle (Kerry's brother). So my parents approached my sister and I in 2009 about the idea of cheese making and we fell in love with it. Jenna originally went to school for horticulture and agriculture, so when she started working in Agassiz for Farmhouse Natural Cheeses she found her niche. I, myself, am a super 'locavore', so my passion turned into my career. I love food, with an emphasis on local and natural. I had the opportunity to study business at the University of the Fraser Valley where I got really motivated to share what I had learned and run a staff team. Today, our family is closer than we've ever been. When the four of us sit down together, we can get a loud and argumentative, but in the long run, its just a lot of creative juices flowing. We bounce ideas back and forth and we all manage to make some agreements- for the most part. We opened our big welcoming doors on Aug 23rd, 2011.


From the name I assume your base of operations is in the Maple Ridge area? Do you source your milk for your cheese locally?

As I said above, the "Family" part of our business runs a lot deeper than what might be contained in the four walls of our facility. The milk comes from my uncles Jersey Cow herd which is located just 300 meters from our doorstep. Most would say that Maple Ridge is a small town to start a a big-dream operation such as this, but in the last 30 years this one horse town has grown into a big town with a lot to say and lots of plans for the future. My town is growing, and I want to be a part of it. Maple Ridge is really full of hidden treasures; people need to stop assuming that we are in no-man's land and cross that threshold into our territory- I guarantee that they will fall in love.
I believe this is your first year at the White Rock Farmer's Market correct? Have you had a chance to get around to any of the other booths to sample the wares of your neighbours? If so do you have a favourite booth?

This is our first year at every market we're at (which is 3 per weekend, plus some odd ones). We love doing farmers markets. The point of our store is to tell people how we do everything and what we use to do it. We want people to start asking about other products that they use every, where its coming from? what's in it? what processing techniques are they using? Farmers Markets are almost the only way that they can ask those questions, so we relish in it, really.
Honestly, I have no had a chance to work our booth in White Rock, yet, regardless of how fabulous it is. Lest, every Sunday afternoon there is some kind of treat on my desk, whether its a chocolate quinoa square, a bag of kettle corn or some funky carrots; its always something different and delicious and makes me love that Sunday market. From what I hear, all of the other vendors are quite fond of our cheeses and have been trading goods each week; I think its brilliant. We will be back next year for sure- we already voted.

In addition to attending the White Rock Farmer's Market, you will be involved in a number of special events in the coming months. Could you tell us some of the other locations you will have your product for sale?

This being our first year, we are trying so hard not to turn any opportunity down. We will be at High Point Equestrian on Sept 29-30 for the Shed Row Market in South Langley (I can hardly spare staff to go to that event, but the site is so unbelievably gorgeous that I just had to say yes). We're crossing our fingers to get into the Cranberry Festival this year. We also host a number of events every month at our facility that are posted on our 'News and Events' page on our website [www.cheesecrafters.ca] as well as we list all of our retail locations and the other markets that we do.
In addition to your cheese being available Sundays at the market, I understand there are two other locations in the South Surrey area just one at the moment. where you stock your cheese. What other locations can we find your product at?

At the moment, we are just selling our cheeses to the lovely ladies over at the lovely Road House Bake Shoppe in Surrey. But we're always looking for more spots that we can squeeze some cheese into.

At the market and on your website I see you are very proud of your fresh cheese curds. Excuse my ignorance but besides poutine what other recipes call for curds?

Come to think of it- not a lot 'call for curds' but that's where the creativity comes in, right?! Aside from eating them when they're fresh and warm, straight out of the bag: we put them on top of pizza, in omelette's, in soups, on nachos, you can make cheese bread and roll the curds right into the dough before you bake. Surprisingly enough, we get that questions a lot. People shouldn't be so scared of them. They freeze really well, actually. and when they're a bit older, they melt better. Dave- you should use them just like you would use any cheese; add it to everything.
Just looking at all the varieties of your cheese products makes my mouth water. Could you please tell us the 2 or 3 varieties of cheese that are your top sellers.

This is a really tough question, because everything we've made so far- is really popular. I would have to say, and I think my staff would agree, our top sellers are Brie, Natural Cheddar and Quark. The Brie is triple cream, so its really rich and delectable, so, just as it should be- its most peoples first choice. The Natural Cheddar is popular because people are really starting to not only see, but taste the difference between the cheddar we make and something that is orange. It's still pretty young, but the flavours have really started to jump out in the last 3 months. The Quark is one of our spreadable fresh cheeses. It's only popular because we're telling people about why its a great cheese and the more they learn about it- the more they want it. This is why: In the small container we package it in, there are only 2 grams of fat and a whopping 22 grams of protein. This is a cheese that you can use as a cream cheese to spread on toast, bake into cheesecake, whip into mash potatoes, spread on fruit...anything. It's a brilliant cheese to have, especially for low-fat, low-sodium or low-cholesterol diets. Its a low fat cheese that doesn't taste anything like a low-fat cheese- it almost tricks you, because its so creamy.
Thank you Emma
August 03, 2012
A Ha - Ahee
DYANA BIAGI / Aji (Ah Hee) Gourmet Products
Next time you visit the White Rock Farmers' Market take the time to stop by to say hello to DYANA and have a free sample ofher wonderful sauces and dips.


First of all, was there a defining moment for you to enter the hot sauce market. Had you made a sauce for you own personal use and friends and family urged you to take it further?

Ají is as a staple in our diet; I used it to make Guacamole and spiced up every other sauce. Ají isn't meant to be a Hot sauce it just adds tons of flavour and some spice, but by public demand I have increased the heat to my Hot, but more requests for hotter so I formulated the BURN which was my first true HOT SAUCE, and it has been a hit, I now need to increase the size of my bottles


Are your AJI sauces produced locally from local products?

We produce locally, and we use local ingredients as long as they are available.
We see you at the White Rock Farmers' Market regularly. Are your products available at any retail locations in the area?

We are so gracious for retail locations in South Surrey and White Rock have been amazing supporters of us. You can find our Ají at Kitchen Garden, and Kitchen Therapy the very first store to take our product, so they are very close to our heart, and since you can find us at Choices Markets, Fieldstones Artisan Breads, Piquant Gourmet Specialties, Keso and Thitsa's in Crescent Beach.

Let's take a moment and have you tell us about the wide variety of sauces in your line.

Ají Original, Hot Honey Garlic and BBQ these are our relishes
Ají original mild Hot sauce
Ají medium Hot sauce and
Ají Burn Hot sauce


How did you come up with the eye catching design and logo for the labels of your product?

Thank you for the complement,
I have done all my own designs for labels, point of sale sheets and posters, I do all my own photography. So it is all a big work in progress.


With a variety of sauces and flavours one would assume your sauces have a wide variety of uses. When customers buy your product at the market are you able to suggest some serving options?


I put all the images of what mixtures can be done with Ají on the left panel of the label and mix to taste and encourage customers to play with the sauces and make their own mixes and try Ají in their cooking and just use it at their tables to enhance their meals.


What do you tell people when they inquire how difficult it is to launch your own line of a food product? I assume your product is prepared under strict guidelines.

When People tell me they are thinking of develop a product, I always let them know they can count on me for resources and advice. It isn't easy and I appreciated when I got help myself.


Dyana thank you for taking the time to inform us about the history of AJI. One final question. What do you enjoy the most about participating in the White Rock Farmers' Market? Do you have a favourite fellow vendor?

I love the White Rock market because it is so friendly, I enjoy all the vendors and the customers are so great and supportive, the market is so easy going. The White Rock Farmers Market is my market, because its my community
July 18, 2012
Live Well's SARA HODSON
Sara I understand you grew up locally and upon the completion of your post secondary education you returned to work at the Peace Arch Hospital. Could you give us the Coles notes version of your early history as a health profession?
After graduating from UBC and then completing my post-graduate studies through ACSM (American College of Sports Medicine), I was hired full time by the Peace Arch Hospital Cardiac Rehab program. One of my memorable roles was developing and managing the community cardiac rehab program, now located at the Centre for Active Living. This program hosts group exercise sessions for people with heart disease and as post-event rehab (heart attack, bypass, stents).
I understand it has now been over 10 years since you began working with the development and coordination of cardiac rehab. Was there one particular incident or event that caused you to identify the need for a facility like you have created at Live Well Exercise Clinic?
In my ten years at Peace Arch Hospital, I saw that individual's gained a great sense of benefit, both physically, but also mentally, from exercising with other people who were like minded in improving their health through exercise. I knew that a more vast population could benefit from supervised exercise programming, namely, all people living with a chronic condition. I knew that if I designed a program that opened it's borders from not only providing cardiac rehab, but was pro-active and forward thinking, if we focused on true chronic disease management, the effect on our community's overall health, as well as health care spending, would be improved. The reality is that people living with one chronic condition are often living with other co-morbidities and are at risk of other chronic conditions. It became my passion to develop a program that could encompass all of this, be evidence based, and cost-effective, it could change the face of our community...so Live Well Exercise Clinic was born.
Sara checks blood pressure of program participant Terry Fisher during workout
Am I understanding correctly that prior to enrolling at Live Well Exercise Clinic clients should/must be diagnosed and referred by an MD?
We call this a prescription for exercise. Just as a statin is prescribed when a patient has high cholesterol, exercise is medicine and can be prescribed as so. This is the valuable area that many local physicians are excited about. Exercise is the super drug that has an overwhelming amount of benefits on chronic disease management and prevention...and NO SIDE EFFECTS!
The reason we ask for a referral/prescription is because we take every patient's medical history, treatment course and current medications very seriously in regards to minimizing their risk while exercising. Exercise is our speciality and our approach represents the quality and level of care we provide. Live Well Exercise Clinic has created a triad of care in our community that is very effective. This triad is the relationship between the patient, the physician, and our program. We continue to work with each referring physician to meet the needs of their patient and to provide clinical exercise prescription that produces outcomes. Reports are sent to the involved physician(s) multiple times per year or as needed.


Live Well Exercise Clinic focuses on Chronic Disease Management. What is CDM and how can the clinic help people that are suffering with these diseases?
Chronic Disease Management is a pro-active, forward thinking approach where program participants work with health care professionals to manage disease progression. The professional team that directs CDM programs consists of Exercise Physiologists, Registered Nurses and Dieticians. The program focus is most often activity and education. The term "chronic disease" includes heart disease, diabetes, cancer, COPD, chronic kidney failure, depression, stress, anxiety, chronic pain, dementia, and much more.
The unique aspect of Live Well Exercise Clinic is our approach and evidence based programming. As health care professionals, we become team members with each of our participants and work collaboratively to support them as they work to improve their health. Since our focus is individualized, we have the ability and capacity to work with our participants to make small changes in their life that will have a great benefit on their health. Some examples of this may be: increasing muscle mass and nutrition in a cancer survivor who experienced muscle wasting and weight loss as a side effect of their chemo treatments, or a diabetic who is struggling to manage their blood sugars, or someone who has recently had a heart attack and wants to return to their daily activities safely, or someone who has been told their cholesterol is high, or blood pressure, or fasting glucose,...the list goes on and on. The evidence behind exercise for any chronic condition is that it will help, in more ways than one, and in ways that can only be experienced, not written about. The key factor is that not all exercise is equal exercise, meaning that the approach we take with an individual who has high blood pressure, versus the person who has diabetes, is quite different, but this is the advantage of our program. We have taken care of the thinking part because of our extensive background and experience. Our participants don't feel confused or lost, instead they feel directed, supported, and encouraged.
You have explained the physical attributes of a Live Well Exercise program. Do you see any mental side effects from a personal having a healthier body, does it relate to a healthier more positive way of thinking?
Exercise has been shown over and over again to improve psychosocial factors including depression, anxiety and stress. Many of our referrals come from local physicians who's primary reason for referral is this exact reason. Exercise is powerful to the mind, it not only increases confidence, self-esteem and depression symptoms, but can change someone's outlook to being more positive. This is why the approach at Live Well Exercise Clinic is so unique, but also so effective, because we take the whole person into account. We focus on more than the function of the heart or the stabilization of blood sugars, we connect with each participant to improve their whole health which includes a multi-faceted approach, one that Live Well is receiving a lot of recognition for. Our goal for our participants is that they can truly live well, being able to do what they want, when they want, how they want, and feel great while doing it - isn't this what true health is. Saying that, the mind has to be healthy to succeed at this.

We have heard since the beginning of time exercise and diet play a big part in our healthiness. Does Live Well Exercise Clinic factor in dietary advice to your clients?
In treating the whole person, nutrition plays a huge role. What we put in our bodies, how much, and why, are key factors in our health. For this reason, we have teamed up with Choices Markets as a Wellness Partner. Their Nutrition team of educated and experienced Dietitians and Nutritionists, have a passion for chronic disease management and prevention. Our program participants benefit from in-house nutrition counseling offered at the clinic by our health care team, but also enjoy an enhanced experience through our partnership with Choices Markets.
Our goal is to support our participants to eat well on their journey to live well!

What is the age range of the clients of Live Well Exercise? Is there a difference in the number of men and women that enrol in your programs?
The clinic currently hosts participants from ages 14-88 years young. 42% of our participants are men, and 58% are women.

Are the programs at Live Well standard or are individual programs created by you and your staff for each client? What factors decide the programs for an individual?
The greatest success of our program has been that we meet each of our participants where they are at, not just on their first day, but every day they attend the clinic. Each participant has a LIVE WELL Plan that is individualized to their needs, wants, interests, and takes into account their diagnoses, treatments and medications. Equally as important, each individual has a completely customized exercise program. Participants attend sessions at regular times throughout the week in groups of up to 10-12, but their program is unique. This is one if the greatest benefits and successful elements of our program, that every participant gets the opportunity to participate in activity that is appropriate and evidence based for their health history, while benefitting from the power of a group.
Live Well Exercise Clinic is a research partner with the University of British Columbia's Dept. of Physical Therapy in an ongoing research project focused on chronic disease management. It also liaisons as a mentorship site for 4th year UBC Kinesiology students who learn through hands on experience for 8-12 month internships.
TO ATTEND THIS PROGRAM you can call the clinic directly, or go to their website and download a referral form for your physician to complete.
www.livewellexerciseclinic.com
Around the top of the wall on one side of the LIVE WELL studio program participants have created positive personal affirmations.
Beyond the Bubble…
We hope you are all enjoying seeing the bubbles above the mirrors at the clinic. They are so inspiring and motivational! You have all accomplished so much and it is evident by how many bubbles were posted this month. Although the words on the bubbles may seem simple and uncomplicated, many have a story behind them. Today I am sharing a story about one bubble that will live forever in our hearts.
Richard, a participant in our cancer rehabilitation program, set his goal for our "goal bowl"…to be able to walk up his staircase at home. At first, it seems like a basic goal, perhaps one that with some exercises may be easily overcome. The story is much more than that…at the age of 46, Richard was diagnosed with terminal cancer. His goal represented his ability to climb up the stairs in his family home so that he could sleep in bed with his wife for as long as possible.
Live Well Exercise
306-1676 Martin Drive,
Surrey B.C. V4A 6E7
Phone: 604.541.2846
Fax: 604.541.2866
E-mail: info@livewellexerciseclinic.com
Live Well Exercise Clinic is located centrally on the White Rock/Surrey border just off 16th avenue on Martin Drive in the corner of the Semiahmoo Mall shopping centre parking lot (sw corner), in the Scotia McLeod building.
July 12, 2012
AMANDA RIVARD Clawfoot Spa
Amanda how long have you been taking part in our wonderful community market?

This is my second year at the White Rock Farmers Market.
You have quite a wide variety of products available at your booth at the market. Could you please give us a list of the Top 5 products you sell and a bit about their attributes.
Rose & Apricot Cleansing Milk - A gentle non-foaming, soap free cleanser that cleans skin without stripping it of its own nourishing oils. Rose & Apricot Cleansing Milk leaves skin feeling soft and rejuvenated.
Apricot Kernel Face Cream - A light feeling, deep penetrating facial moisturizer with a very clean after feel. Apricot Kernel Oil is composed of fine molecules that penetrate the skin and moisturize at the lower levels preventing a heavy, greasy sensation.
Hemp Lip Butter - A rich colour-free, fragrance-free, flavour-free lip balm that is truly moisturizing. Carefully blended with nourishing butters, oils, and beeswax Hemp Lip Butter allows ambient moisture to penetrate the balm to prevent lips from feeling more chapped after the balm is removed. Many of our clients have also used this product in its convenient slider tin to moisturize cuticles and other small dry areas.
Apricot & Calendula Body Cream - Deep penetrating, and highly moisturizing Apricot & Calendula Body Cream soothes and hydrates skin with a clean silky sensation. This intense body cream with nourishing oils and soothing calendula can be used as a massage aid or as a intensive moisturizing body cream.
100% Olive Oil Soap - A luxurious low lathering bar soap that cleanses without stripping. We produce this bar this hard bar with a variety of beneficial additives as well as the simple 100% Olive Oil Bar. The line includes Canadian Marine Glacial Clay-a mineral rich detoxifying clay from Vancouver Island, and Soothing Oatmeal a fine ground oatmeal powder that soothes and moisturizes skin and does not contain rough chunks of oats.

I understand you also do SPA PARTIES. Could you enlighten us with a description of a Spa Party?
A Spa Party allows you and your guests to experience the benefits of our product line in the comfort of your own home. Although we carry testers of our products at all our markets and fairs, there is not always the time to indulge in the full range of a line. At the party we accommodate the needs of all who come and offer to demonstrate the most effective way to experience the products for each individual. The host sets the mood weather it be active or relaxing and we enhance the experience with our complete product line however it suits the host and guests.

You inform customers of Clawfoot Spa your products are fragrance and colour free. Why is this important?
Most members of our immediate family are sensitive to a wide variety of cosmetic products, including fragrance and colourants and foaming ingredients. While developing our ever expanding product line we found that many other people experienced the same difficulties. There are a wide variety of wonderful natural handmade products available that include colourants and fragrances that add to the beauty of their product. We decided to cater to those we could most closely relate to and avoid adding colours, fragrances, and foaming ingredients. Our client base with intense sensitivities appreciate being able to approach the booth and try the products without being surrounded by a variety of fragrances or other irritants.

What was your motivation to start Clawfoot Spa?
Our company started from a desire to service our growing family's need for sensitive skin products. With the birth of our youngest and most sensitive family member, our second daughter, we discovered dire a need for fragrance-free, colour-free, & foam-free products. We had such great success with the products we created for our personal use we started sharing them with our friends and local community. We quickly found that people loved the products we created and decided to share them with the our local community by attending local markets and fairs. We love the personal experience of meeting face to face with others who have been faced with similar skin sensitivities and work with them to help relieve their discomforts and introduce them to the growing world of handmade products.
Do you make your home in the area?

Yes, born and raised here. Our roots dig deep a few generations back.
If and when you get a moment before, during or after the market, are there any other vendors at the market that you like to pop in and say hello to?
I have enjoyed bouncing around and getting to know the vendors who attend regularly. Each Sunday I do my best to check out those who visit only a few times a season. I indulge myself most Sundays with lunch from the market and try to purchase from different vendors and try different food each week. I am awful at making decisions and would have an impossible time picking favorites.
June 29, 2012
EZ BONES Electric Bicycles Sunday at White Rock Farmers' Market
We are speaking today with HARRY CHONG of EZ BONES electric bicycles. HARRY how did you become involved in selling electric bikes?

I purchased my bike from my supplier last year and was using it when my wife showed interest in having one also. We bought her one the end of last summer and it was then that I asked my supplier if I could get involved with promoting these electric bike. I soon setup a distributorship and have been doing my best to let people know about them.
Do you personally use one of the electric bikes to get around?

We try to use them for pleasure as much as we can. This involves enjoying them on the weekends and some early evening rides to our favorite coffee shop. I have commuted to my business a few times but the nature of my business doesn't allow me to do this on a regular basis.
The day I stopped by your booth at the farmers' market a gentleman was taking the bike for a test ride and he seemed quite surprised how quick and fast the bike was. What is the top speed of the bike?

The top speed is 32km./hr. under its own power, that is, using no extra human pedal power.
How long will the bike hold a charge, how long does it take to charge up?

The battery should hold a charge of up to 60km. depending on the amount of hills you are travelling or the total weight you might be carrying.
Do you just plug it into a simple wall socket?

Just simply plug the battery in your regular house wall socket and within one hour, you will have 80% charge and if the battery is totally drained, it will take only three hours to charge it up to 100%.


In reading your literature if the bike was to lose its charge before you got home, you can ride it like a normal bike correct?

Absolutely. In every sense, it operates just like an ordinary 24 speed bike.
I assume you do not need any special drivers license or insurance for the bikes correct?

You do not need any special insurance or license to operate this bike in BC.
Depending on what extras you add on to the bike I am assuming the price would go up, but give me a ballpark figure for someone to get themselves into one of your bikes.

The price of these bikes are $1,895.00 + tax which is about 20% to 35% less than any other in the marketplace if you were to compare apples to apples. We have front suspension, hydraulic disc brakes, puncture proof tires, extra strength stainless-steel spokes, why even the seat post is full suspension.
I purchase a set of panniers (saddle-bags) for my bike for about $90.00 which are great to carry groceries or anything you like.


What kind of reaction do you get when you are riding your bike?

I think it's cool when you casually ride past someone else on a regular bike while going up a hill. You can see that they are working it, and then you just zip by them. I also get the stares from people as I take-off from a standing stop at a traffic light when it turns green.
The debate is raging on in Vancouver that perhaps to increase bicycle riding there are some camps that are lobbying to get rid of bicycle helmets. Do you have an opinion on this movement?

I personally believe that although it would be fantastic if Vancouver is able to implement a bike sharing program like they have all over Europe, it will be a challenge because of the helmet law we have in place. Having said that, I'm totally in favor of leaving the helmet law as is. I would never dream of riding my bike without a helmet and would encourage anyone to do the same.
Would it be possible for a potential customer to test drive/ride the bike before purchasing?

I would have it no other way. Seriously! Spending upwards of $2,000.00 without even trying the bike out is ridiculous. If after anyone took a test ride at the marketplace and would like to pursue it further, I would suggest that I bring the bike to their home where they can ride it around their own neighborhood and get used to it before purchasing.

Thank you Harry see you Sunday.
June 23, 2012
The Flour Peddler Does Not Need A Bike Helmet
Today at the White Rock Farmers' Market The Flour Peddler rides into our fair city. Healthy organic products delivered right to your door. How good is that? How good is The Flour Peddler? Let's find out. And who better to talk to-Chris Hergesheimer, BA, MA, PhD applicant
Owner/Operator/Founder
The Flour Peddler Enterprises
Chris what exactly is a flour peddler?
A flour peddler, or more specifically, the one and only flour peddler is a community miller, working with regionally sourced grain crops. We build relationships with people through direct marketing activities and educational programs and attempt to revive the role of the community miller in providing the freshest flour for baking as well as developing direct relationships with customers. We use a unique pedal powered bike mill to help educate and demonstrate; overall, we just try and help people realize the many advantages in terms of flavor and nutrition that fresh flour can bring. All the while we support BC grain growers by providing an artisan, small batch production facility to turn their grains into flour
How long has the flour peddler been in existence?
The Flour Peddler has been operational since 2009. We have worked over 100 farmers markets over these years, conducted workshops for learners of all ages, spoke at conferences and presentations and all the while provided bakers interested in going back to basics, the freshest flour that is around.
What are the benefits of your products?
Fresh flour has huge nutritional benefits as all the vitamins and flavours are stored in the whole grain form; when a kernel is cracked and exposed to air, it starts to oxidize and loss flavour and nutritional value. We advocate using our product within a week for optimal freshness and taste; that is why we work in small batches and try and have ongoing relationships with customers so they can use what they have and always purchase fresh. We also only produce 100% whole grain flour with nothing added or taken away. Whole grain flour preserves all the goodness that is in the bran and germ, two parts of a grain kernel that are often removed in the milling/production process. The taste difference is amazing. Furthermore, our products are milled from BC grains, some of them grown as close as Aggasiz, BC. This helps local farmers and helps us, as a local processor, build our local business sustain ably.
What was the inspiration? Had you seen someone else doing this, or did it come in one of those late night brainstorms?
I had an idea for the concept during his fieldwork for my MA research in 2009. Meeting with local farmers and learning about the lack of small mills in BC's south, I started buying wheat and milling it by hand at local farmers markets in an effort to teach and engage people; to get them thinking about the central role of grain, flour and bread in our lives. The idea of the bike came later. I had seen a few of these bikes on the internet, but no one actually taking the bike to farmers markets and milling on site. Our bike set up is a marketing tool, and educational tool and a production aide all at the same time. So, definitely more than a late night brainstorm; the business was started after data analysis and looking for a way to educate people about BC grain growing and help some of these farmers add value to the grain products and help get them directly to consumers as fresh as possible.
The freshest flours, mixes and hot cereals delivered right to the doorstep of your customers. Explain how this works?
In addition to being at a range of farmers markets, See website "CSP program" (community supported processor program) for details
How many products?
See website (products and pricing) for details
White Rock? First visit?
Never been there before! Hoping to interest and engage customers there with our product. Our rep Christine Wekking is excited to meet shoppers and bring the flour peddler's sustainable message to people in the white rock area.
June 14, 2012
SPIRAL DANCE - More Than Just A Dance Studio
Loretta Sramek and recital dancers

Loretta how long has SPIRAL DANCE made its home in White Rock?
Spiral Dance opened it's doors 19 years ago. First on King George and 160th, then 2 years later moved to the Stayte Road Address.
This week (tonight and Friday) you are staging your annual recital of your students. Have you been doing public events such as the recital for a number of years now? Have you always been in the Bell Centre for the Performing Arts?
Since Spiral's first year of business we have always done a Year End Recital. We used t a couple of local theatres, but they were too small. For a few years we even traveled to Abbotsford to do our show at Abby Arts Centre. As soon as Bell Center opened it's doors I was on the list to get dates. I love this theatre as I am so happy that Surrey has a top of the line theatre.
photos courtesy LES BAZSO
Your recital features a wide spectrum of dance performances, from ballet, to hip hop to what I would call interpretive jazz. The thing I found very interesting was the wide range of age groups that performed on Tuesday evening. Could you provide an overview of the age brackets and dance programs you offer?

Spiral has a Recreational program as well as a more intensive Competitive program.
Our Recreational program offers classes from 3 years up to Adult. Those little ones would take Pre-Dance. As they get older they can take Jazz, Ballet, Tap, Hip Hop, Lyrical, Contemporary.
Our Competitive dancers take ballet,pointe, Jazz, lyrical, Hip Hop, Modern, Contemporary, stage and acro.
Every Recital night is different show. Each night I feature one or more of our competitive teams. Last night you saw our Pre-Co III group ages 9-11 yrs., as well as our International Teen group ages 13-16. As there are 7 different Competitive groups our youngest Juniors are 5-7 years and our Senior group is 16-17 years


In that you have been training young and old dancers for a number of years, I am sure you would classify every graduate as a success story, but are there any particular students that have gone on to pursue their dance goals that have graduated from SPIRAL DANCE?
On any Competitive team you will have those individuals who really want to pursue a career in dance. Only a small few have the natural talent and drive to make it. Spiral has in the past and even presently dancers who are working professionally. Several have taken the Cruise Ship
Route. How fun is that... traveling the world, doing what you love and getting paid. the Company's they have worked with are Princess Cruise Lines,and Disney Cruise Lines.
I have about 5 dancers right now who are working Independent Contemporary Artist in Vancouver. It is a pretty proud Mama Bear moment when I see them performing at the same venues I did when I was their age.
Again one of the things I found interesting was the number of young boys that were featured in the recital. Roughly speaking what is the percentage split between male and female dance students?

I am very fortunate to have so many boys at my Studio. The percentage is still 85% female.
The popularity of Hip Hop has brought them in the door and I have had some really talented Competitive boys who set the stage for other boys to consider doing Tap, Jazz, Ballet etc.
There are a number of obvious attributes the young people receive from the dance lessons. What have your personal observations been in watching the interaction between the students?
One of the biggest things is these young students end up with is life long friends. When you work together (as many of my competitive dancers do ,up to 15 hours a week & more) they develop bonds that run deep. They learn team work, develope incredible time management skills, are put in performance situations where they have to quickly adapt and cooperate.
Plus they learn how to be incredibly sensitive to their bodies so the subtlest of nuance speak volumes.

This week's recital at THE BELL is an incredibly fast paced and professional production. How long does it take to put together the show?
We start working on the show ...pretty much when classes start up in September Choreographic ideas are germinating in the instructors minds. Costume ideas are formulating, and endless hours listening to music to find just the right piece for each group. That is just the in class creativity, the administration organization to make it run seamless is huge.
You obviously have a team that helps create the choreography and costumes. How many production people are involved in creating this very professional slick production?
I have 14 dance instructors, some teach many different styles, other specialize. There are 4 administration staff, including myself at the helm to keep it all ticking along.
Tell us about the special event you are hosting in September through SPIRAL DANCE.
We are pleased and excited to announce that Spiral Dance will once again be hosting ROCKFEST - a dance a thon run over 2 days in support of Free The Children. Our last ROCKFEST raised $8,500 and we built a school in Haiti. We plan to do it again – with the same amount raised, it will allow us to build another school, this time in Kenya.
Please mark your calendars for the weekend of Sept 15th & 16th - it will be a weekend of celebration – with a number of local artists performing and some exciting surprises planned for the registrants., who are looking forward to an inspiring and successful community-supported event
June 08, 2012
Meet Chris Clark Clarke Pet Masseuse
Sundays at the White Rock Farmers' Market
Chris In Action
Oh the times they are a changin' - and no way more eveident that how pet owners care for their animals. On a recent visit to the White Rock Farmers' Market. On a recent trip through the market I was drawn towards MERIDIAN MASSAGE for DOGS and CATS. Meet Chris Clarke.

Chris first of all, how did you come to be a dog & cat massage therapist? Is therapist the correct terminology?

I am a small animal massage practitioner level 1 from the North West School of Animal Massage located in Washington state.
I have been showing dogs for the last 20 years and have attended the America Pet Dog Trainers Conference in San Jose a few years ago, meeting such
luminaries in the dog world as Temple Grandin, Ian Dunbar and Suzanne Clothier. I got interested in dog Massage when I saw how it was of benefit to my own dog as
well as my friend's dogs, especially the dogs in agility and dog shows.

Most people know the attributes of a massage for humans, are animal massages similar in benefits?

Very much the same benefits, eliminating waste products from the muscles, increasing range of motion for the limbs, and encouraging healing in the joints and muscle bellies, and it can have an effect on movement as well as digestion and the lymphatic system.

What are some of the most common problems an owner and you can discover by giving a dog or a cat a massage?
You can discover old adhesions and possibly ligament and tendon issues, imbalance in the way an animal gaits, moves, and figure out how to correct that.
It can release tension ( EG: Cats moving from one house to a new house) or dogs with stress issues. Common problems are dogs with unbalanced muscles, and overuse Or underuse, of muscles, recovery from surgery and atrophy of muscle tissues.

I noticed you giving a boxer dog owned by fellow merchants Judy & Dave. He seemed a little anxious at first but then seeme to settle down. Dogs for the most part love to be petted, but do you find they are a little leary when you actually start to massage?
They can be, it was a windy day, there was a lot of flapping in the tent and people around. I would probably choose to massage the dog on the ground nexttime. Dogs give out signals, very much more than cats (cats have less facial muscles than dogs) we use calming signals that dogs would use with each other, yawning, turning away and calm breathing will help a dog settle. Also we
start out with passive touch, move in to efflurage and it usually calms the dog. We just wait until the dog is in a good place and they tell us by licking of lips,
yawns and relaxing. We never force a dog to do anything it is not happy with and also we aim to massage what they are happy with. There is a different set of plans for every dog. There are about 5 different parts to a dog massage but it can depend on what the dog needs or is willing to have done.
Cats on the other hand from my limited experience are not as willing to let total strangers get too close to them. Is this a prolem and how do you
overcome it?

We need to let the cat's own curiosity over come barriers. The cat needs to be comfortable coming to us. Cat's have whiskers on their back and legs, and are sometimes very sensitive to touch. Massage is great or cats mostly around the jaws and sinuses. They are an interesting species!

Regular visitors to the White Rock Farmers' Market are well aware the operators of the market encourage pets on leash to accompany their owners to the market. It is a very dog friendly environment. What generally is the reaction from dog owners when they see your massage booth? What are some
of the most common questions?

I have only been there two Sundays so ask me in a few weeks!!!!

Do you provide this service besides just at the market? If so how would someone who is interested in having their dog or cat receive a massage.
Yes, I can do massage in the guardians home or in mine. I would do a complete hour plus analysis of the dog, gait, previous injuries, concerns and contraindications such as heart disease.
I have many resources for nutritional information and behavior.
This is by NO MEANS a replacement, or alternative for Vet care. I do NOT diagnose!
I can be reached at iceni@telus.net or 604 861-9876 website is pending!
Thank you Chris. We look forward to seeing you Sundays at the White Rock Farmers' Market. 9 a.m. - 1 p.m. near the famous whale wall in uptown White Rock on Johnston Road.
May 23, 2012
Meet HELEN FATHERS. As if being a full time mother and a White Rock City Councillor wasn't enough to fill up her dance card, HELEN 8 years ago took on the added respnsibility of managing White Rock's weekly Farmers' Market.
Under FATHERS direction the market has become an epicentre for the community to gather. It will only take you one visit to see and feel the power of community at work every Sunday at the White Rock Farmers' Market
The popular market is entering its 13th year of operation. For the past few years the market has made its home in the Miramar Village in uptown White Rock adjacent to the famed Whale Wall. Today HELEN takes time out of her very busy schedule to bring us up to date on how things are looking for the White Rock Farmers' Market this year.
Many residents of South Surrey and White Rock have now turned visiting the market Sunday mornings into a weekly routine. What will we see new this year at the market?

Lots, starting the season with over 76 vendors - special event days this year include Opening Day May 27, Shred 4 Kids June 10, Library Live and on tour -Fathers Day June 17,Canada Day July 1, Doggy Day July 15, Aug 12 Kids Day. Mary Hartwell Scholarship Fund Day Aug 19 - we are giving away a scholarship grant of $2500 in the name of our late and great Director Mary Hartwell who passed away last year of Cancer.
We also have new service vendor offering Dog Obedience Class taking place on the grassy area behind the coffee stand.
I understand you have a few surprises planned for Canada Day this year at the market.
Tommy Alto
Red and white and all things Canadian, also great music Act called Tommy Alto - Have you heard of him David?
(editor's note - I am well aware of the talented TOMMY ALTO. TOMMY recently won The White Rock Sun's Diamond In The Rock oOuth Talent Search at Blue Frog Studios in April of this year)

In your position of White Rock Councillor you recently took part in a meeting relating to Food Sustainability on Fraser Valley farmland. What did you personally take from the meeting?
We need to focus on feeding our families, children, community the best food we can. We need to make sure that food is accessible to all people at all times. We need to take care of those less fortunate than ourselves. We need to create policies that support these principles and incorporate them into our society.
A very popular part of the market is the community cafe area where patrons of the market can sit and relax while enjoying the weekly feature musical entertainer. Please tell us the music will return this year. Do you have any idea of who some of this years entertainers will be?
This week's feature entertainer is CHANEL STASIUK a fnalist in the White Rock Sun's DIAMOND IN THE ROCK Youth Talent Search, and what a talent she is!
Yes , this is always a favorite of everyone. We have most of the musicians from last year, Doug Towle, Heidi McCurdy, Pancho and Sal, Chanel Stasiuk plus the Great Mardinni and a young street dancer Ryan. We are in for a great season.

As one walks through the dozens of stalls at the market you can't help but notice there is a very strong feeling of community. Friends and neighbours stopping to talk and catch up on the happenings around town. What are some of your personal favourite things about the market?
I have always enjoyed the strong sense of community that the farmers market encourages , I also love the fresh farm produce, the artisans breads and the unique jewelry that I have purchased and treasured over the years. There is nothing like getting home after the long hours at Market and preparing the evening meal with wonderful fresh produce. It makes it all worthwhile.
Do you have a "bucket list" of long range things you would like to see the White Rock Farmer's Market become?

Yes, More food vendor trucks, we are a hungry lot you know!! It would be ideal to have what Vancouver has - a very diverse sub-culture of foodies- eating at our local market. Also more community groups, more artists and performers, I would love to have a chalk drawing artist. During my youth growing up in England most weekends we would catch the bus into Nottingham town Centre, there was always street performers and chalk artist creating masterpieces on the pavement and sidewalks. These pieces of art would stay on the pavement until the rain came and washed them away, then the next week new ones were started. It was great and magical to watch these artists create their masterpiece. Would'nt it be great if our White Rock had this?.
It certainly would Helen. Thank you for providing an overview of this year's White Rock Farmer's Market. Visit the market in uptown White Rock Sundays 9 a.m. - 1 p.m.

Vendors - Sunday May 27 9 a.m. - 1 p.m.
Music by "Chanel Stasiuk" Performance by" The Great Marrdini
Art – Craft Bazaar

Baroness Ashley hats

Blackberry Hill

Brain food snacks

Chefs Natural choice sausages

Christina's garden

Class act stone

Claw foot spa

Coffee Tent – Sam Miguel Fair Trade Coffee

Cottage Books

Knitting Chair - knitted bags

Cravings Kettle Korn – fresh kettle korn

Culinary Blossoms

Dingolay Jewellery

Elanne's reflexology

European Breads – Bread and Baked Goods

EZ Bones Electric Bikes – electric bikes

Fieldstones Artisan Breads

Fieri del sol, flowers and body products

Fresh n Home

Fresh off the boat

Gesundheit Bakery

Glen Valley Organic Farm – Organic Veggies

Golden Ears Cheese works – artisan cheese

Good Day Sunshine Cafe

Gracious Gowns – Kids stuff

Great Himalayan Foods – Whole foods

Green Works Living Plants – plants and containers

Hello Friends bakery

Hinda' s Finest Foods

Jeannie Degand

Jenna's Jewellery

Jess Rice Arts

Judy's Country Kitchen – Baked Goods

Mann Farms – Farm fresh produce

Melias Enterprise

Meridian Cat and Dog Massage services

Miss Bossy Boots

Natural Village – Farm

Nouveau Shades – jewellery design

Outwest Ranch

Owl always love ya – handmade recycled designer wear

Patisserie Triebow

Paul Rindje Farm and Veggies

Pink Gargoyle

Rascal Goodies – candied popcorn

Richmond Specialty Mushrooms – Organic Mushrooms

Roadhouse Bakery – Artisans Bread

Rockweld Organic Chicken farm

Rustic Gourmet Foods – soups, sandwiches, chillies

Sandy's Dog Training services

Schatzi Bath and Body

Silver and Stones

Simply Delish Soups and salads

Smart Tea Company- teas, baths, and herbology

Sweet Thea Cakes – Baked goods

Trommell Greenhouse

Valley gold bee

Wyndson Farm

Zodies Barkery – Dog treats

+Music by "Chanel Stasiuk" Performance by" The Great Marrdini
May 08, 2012

Prior to Friday's opening of the third location of HEMPYZ in the Fraser Valley we had the opportunity to sit down with RANDY CAINE the owner HEMPYZ to find out a bit about the new store in White Rock.
RANDY I understand you grew up in the Surrey/Langley area of the Fraser Valley so you are obviously no stranger to White Rock. Do you have any fond memories of the City By The Sea?
I was raised during a time when almost all families took summer holidays together. I remember many great summer days at the beach in White Rock. During the 60's White Rock was a real summer draw for families and mine was one of them. At that time many of the homes were summer rentals only. Quite different now.


The HEMPYZ in White Rock is your third store in the area. You have two stores in Langley. The original store which is located in the "old town" section of Langley on the Fraser Highway and the second locale near the Willowbrook Mall. When did you open the first store and how long after that was the location at Willowbrook opened?
The first Hempyz opened in October, 2008. The original store was just 350 sq. ft. In 2010 I expanded, taking over the store next to Hempyz for a total of 800 sq. ft.
Early in 2011 I noticed a location near Willowbrook Mall had come available and was fortunate to be able to lease it. We opened Hempyz #2 on July 1, 2011, Canada Day.


The two stores seem to have a little bit of a different feel. Would you concur and if so please describe the general feel and focus and the differences between the two stores.
Very good point. The Hempyz business model has two components, "boutique style" gift and novelty stores and a large retail outlet. The boutiques are located in areas with high pedestrian traffic. These locations are smaller and offer a more intimate "Hempyz" experience. They are also very family friendly.
The retail outlet is simply that, a complete retail experience. It is intended to offer a more adult experience. At this location, in addition to gifts and novelties, we also carry a large selection of pipes, bongs, vaporizers,etc. As this store is in a low pedestrian traffic area it is more of a "destination location".

What type of products will you be selling at the HEMPYZ location in White Rock?
Hempyz is a '60 cultural experience. From Freak Brothers comic books to pot leaf ice cube trays and muffin pans, from Cheech and Chong to hemp clothing and cosmetics Hempyz intends to amuse and delight.
The vast majority of people reading this interview with you will have no idea of the importance of hemp products and how important they have been to society over the years. Could you give us the Coles Notes version on the attributes and benefits of hemp products.
While hemp might not save the planet it clearly is a plant with many uses. Historically it has been around since recorded time but due to its association with marijuana it fell into disrepute for about 70 years. Starting in the early '90s hemp products began finding their way back into the market. The uses for hemp and hemp related products are quite extensive. It is used in the manufacturing of clothing, edible/cooking oil, cosmetics, plastics, concrete, fuel oils, salves, paper, etc. In fact, Henry Ford built a car almost completely out of hemp products in the 1920's. It also used hemp oil as a fuel. At Hempyz we carry an array of hemp products for the consumer to try.


In addition to the local traffic walking and driving by your front door on Marine Drive, was the tourist market of the beach a factor when you chose the White Rock location?
It was the combination of both that caught my interest. Hempyz has spent the last 3+ years developing brand recognition. With the diversity of the tourists coming to White Rock, the new store will definitely add to that recognition as we expand into other communities in the Fraser Valley.
I find the story of how in part you came to locate your third store in White Rock. Could you elaborate on your "Angel Maureen" and how this business owner of the Angelic Tea pot played a role in you opening your third store in White Rock.
That is a wonderful story. The owner of Hempyz new location, Al, had been informed by his most recent tenant that they would not be renewing their lease, a common problem for many owners of retail sites on the strip. Seeking advise from the owner of "Angelic Teapot" on what business might be a good mix, Maureen told him that a "hemp store" would be a great idea. Shortly after that conversation Maureen and her husband were in Langley and came upon the Willowbrook location of Hempyz. As Maureen says, I loved the look and feel of the store so much I contacted Al telling him to give the owner of Hempyz a call to see if he might be interested in coming to White Rock...and I was. The rest, as they say, is history.

Given the fact you have spent a number of hours renovating your new location in White Rock have you formed any new impressions of the city?
White Rock has undergone many changes over the years. From its former glory as a THE place for vacationing families to spend summer holidays, to its most recent position as a tourist "day trip" locale it seems that a return to its early days is much needed. While the area has tremendous potential to become a place of "fun in the sun" it has lost some of its more eclectic nature. A need for increased diversity in the businesses on the strip would help bring more people to the beach and to the local retailers. I believe Hempyz will help kick-start that as it did on the one-way in "Old Langley".
14967 Marine Drive, White Rock 778-545-0095
In closing Randy here is your opportunity to personally invite the readers of The White Rock Sun to drop in for a visit.
As Hempyz has been welcomed into the community, we want to extend the same warm welcome. Come on down and meet KAT THOMAS the manager of the White Rock location and her helpful staff. You will also find that Hempyz has something for everyone, young and old.
KAT THOMAS
Kat you have now been behind the counter at HEMPYZ new location White Rock for a few days now. How are things going?
White Rock is amazing, people are very friendly, laid back. Super nice people. White Rock is a very beautiful place, a reflection of White Rock people.
Where is home?
My husband and I have lived in Langley for 8 years. We have spent a lot of time in White Rock even before the shop opened here. My husband is a tea freak so we often have made the trip to the ANGELIC TEAPOT. We always love walking along the promenade and sampling all the great restaurants in White Rock.
KAT do you have any special interests?
I read a lot. I have about 7-8,000 books and probably 1,000 novels on my laptop, I also own a ferret which I named Kilgore trout. I have a number of tattoos that mostly relate to literary themes. I noticed the other day their is a tattoo parlour on East Beach so I need to stop in there and check them out. I also start my day every morning with a nice big juice from BOOSTER JUICE, one of our neighbours on Marine Drive. Come on by and say hello.
May 02, 2012
Jan's On The Beach
14989 Marine Drive White Rock, BC

Today we are talking with Gord and Jan Wait. The owners and operators of one of the newly opened dining establishments on the White Rock waterfront, JAN'S ON THE BEACH.
Gord & Jan Wait
First let's get the introductions established, ladies first. JAN is this your first restaurant? First one I've owned yes. I've been in the restaurant industry for 6 years, most recently at Horizons' on Burnaby Mountain where I apprenticed under Executive Chef John Garret and completed my Red Seal in 2010.
Gord what is your relationship to JAN'S ON THE BEACH?
(Gord)
Jan and I are married, and co-owners of the restaurant. I'm the all round repair, marketing, internet guy, as well as my new title "Professional Shopper". I work full time in the electronics industry but help out at the restaurant whenever/wherever I can.
Do you make your home in the area?
(Gord)
Yes, Jan and have been North Delta residents for 25 years. We both grew up in Richmond BC. White Rock beach has long been a favourite destination of ours.
You describe your menu as "tapas." For uninitiated would you mind giving us a brief description of what is meant by the term tapas?
(Gord)
Tapas is a Spanish word, loosely translates to "Appetizer". We had fallen in love with the idea of Tapas/Share Plates and became complete
converts when we spent two weeks in Barcelona, Spain in the summer of 2010, trying out many Tapas style restaurants there.
We've co-opted the term and call ours "Fusion Tapas". We offer appetizer items from various cultural palates. For example our Quinoa
Fritters with Romesco Sauce combines the tastes of Peru and Spain. Our Prawn Trio offers Greek, South Asian and Mexican seasoned Prawns on
one plate.
Restaurants come and go on the White Rock waterfront. What was it in particular that drew you to opening your new dining establishment along
Marine Drive in White Rock?

(Jan)
We had been looking for a location to try out our restaurant concept, and when we found this opportunity right on Marine Drive with a great
ocean view we could not resist! As Gord mentioned, White Rock beach was already a favourite destination for us, and we couldn't ask for a
better location.
How would you describe the menu at JAN'S ON THE BEACH?
(Jan)
Our specialty is the Fusion Tapas concept, offering a variety of tastes to share (or not!) for an evening of dining.
We are also adding some traditional style entrees to the menu, such as a New York steak with grilled vegetables and onion jus, and a roasted
tomato Italian sausage and penne pasta.
You can't come to White Rock and not have fish n' chips

We also offer a "Patio Menu" with some beach style favourites, such as our "Fish Bites and Fries" with home made tartar sauce and coleslaw -
our take on the classic fish and chips, a requirement for any ocean view restaurant!
What would you say are your signature dishes that are resonating with the patrons of JAN'S ON THE BEACH?
(Jan) I would say our Halibut Cheeks with Crispy Prosciutto and Tomato Risotto has been a hit, as well as our Mongolian Lamb Chops with Wild
Mushroom Risotto.
(Gord) Don't forget our "Lettuce Unwrapped" - grilled pork tenderloin medallions on a bed of lettuce, with all the ingredients of a
traditional lettuce wrap dish turned into a vegetable salsa and finished with Hoisin sauce!
What are the hours of operation for JAN'S ON THE BEACH. By chance are you open for breakfast, a time of day most restaurants along the strip seem to avoid like the plague?
Our hours are Monday through Saturday, 9 am to 9 pm, and Sundays 9 am to 8 pm. Yes, we are open for Breakfast and Lunch as well, which definitely seems to be a hit with the locals!
L-R Kayla Goll (Server), Janet Wait (Executive Chef, Manager, Owner), Nick
McFarlane (Line Cook), Lisa Nicole (Server)
You have been open for a month or so now, but you have your Grand Opening scheduled for this Saturday beginning at 5 p.m. Tell us a bit about the
fun you have planned for Saturday.
(Gord)
We've been so busy starting up that we haven't had a chance to plan our Grand Opening until now. This Saturday is our chance to celebrate and hopefully introduce ourselves to "the strip". We're going to have some dinner specials,some live music, some tasting samples through the evening, offer up some cake, and we'll also do a free draw for dinner for two at 7 pm and another at 8 pm.
We're hoping people will drop by for dinner, or just stop in to say hi and see what we have to offer. Come and check out the renovations we made, offering an open kitchen plan inside, and a brand new ocean view deck.

If you ever have time do you watch any of the cooking shows? If so, which are your favourites?
(Jan)
All of them! Actually we're fans of the earlier Gordon Ramsey shows,the Top Chef Canada/America show, as well as Anthony Bourdain's
various shows.
On those rare nights that you find yourself with free time, and you don't feel like cooking at home, do you have a favourite dining spot on the
Semiahmoo Peninsula?
(Jan) There are a number of places we'd love to try but haven't had the chance yet. Some favourites would be Uli's (that burger really is as good as they say, and they make excellent soups), Le Vol au Vant, Five Doors down, and up at Five Corners we really enjoyed Share Small Plate and Wine bar.
Fully licensed. Call us for reservations and info 604 531-5444 or vist our website
January 24, 2012
Claudia and Jin Cho
Corner of Vidal & Marine Drive on the White Rock waterfront

Today we are talking with JIN CHO the owner of a new coffee shop/ice cream parlour on White Rock's waterfront. JIN how long have you been the operator of WHITE'S COFFEE & ICE CREAM?
It's been four months.
Did you previously have a business similar to WHITE'S?
Yes, I used to run a Coffee and Gelato shop in Langley. Also I owned another restaurant for 15 years.
Previously your business was called White Mountain Ice Cream. Is there now more of an effort to expand the menu and the coffee shop part of your
business?
The previous one was mostly about cce cream, but now we are concentrating on qualified coffee and more food. All of our employees have done Baristar training 1, and some of them have done Baristar 2. Also we started to make our own Soup of the day with bun which our regular customers seem to feel happy about. Not only for the menu but also for the shop itself is renovated to a new look recently. New counter top, comfortable tables and chairs, and displays make the shop more modern.
What are your hours of operation? What time do you open, and when do you close daily?
In winter time, we open at 7 am till about 7 pm.
In spring and summer time, we open from 7 am to 11 pm.


What is it about WHITE'S that makes it a special business to frequent when we make a trip down to the waterfront district of White Rock?
You will see this is the only place that offers a fantastic ocean view when you have creamy ice cream or real fruit frozen yogurt along with Latte or Americano. Homemade soup with bun will make your day so perfect.

Do you live in the area? Tell the readers of The White Rock Sun a bit about your personal history.
My wife Claudia and I live in South Surrey. We moved here 4 years ago from Lac La Hache in the Cariboo where we had a restaurant and a gas station right on HWY 1. People there are very passionate and friendly. They are still like my family. When we decided to come to the Vancouver area, we searched every corner of greater Vancouver area looking for a perfect place for raising my kids. We wanted a nice school and a lot of nature at the same time. That's why we bought a house around White Rock. I think White Rock is most beautiful and educational city in BC. We love it here so much.

Describe your family to us please.
My beautiful wife Claudia and two children. I have an 8 year old son who attends a local Catholic school, and he loves God. My 4 year old daughterl goes to Day care. She is very active and cute. Both of my children's favourite places are the White Rock beach.

What do you think the best thing is about having a business in White Rock?
We always meet generous and kind customers here. They know how to enjoy their lives I think. They enjoy coffee watching the ocean. I am so lucky to have a business on th4 waterfront whee I can meet so many wonderful people.
In closing, do you have a secret you would like to share with us? Your favourite other restaurant? Favourite shop to visit, or perhaps a place on
the Semiahmoo Peninsula you go to visit to connect with mother nature? A favourite walk etc?

Most of the Business down in White Rock beach is very unique and special. I try to visit every single business around here (Fish and Chips is my favourite lunch in summer). My wife loves Wings and Five Doors Down. Of course the Boat House has yummy seafood, too.
January 18, 2012
Cheryl Morgan & James Gregory
If you have visited the Semiahmoo Mall in the last few months, you had to have noticed a beautiful new store that has opened in the mall. CHERYL'S TRADING POST has an extensive collection of first nations art, jewelry, clothing and carvings.
Recently we had the opportunity to sit down with the two owners the husband and wife team of CHERYL MORGAN and JAMES GREGORY to learn about the history of CHERYLS'S TRADING POST.

CHERYL please tell us a bit about your background and how you came to open your "Trading Post?"
Well, I am a Gitxsan Woman. I grew up in Gitwangak Village, and every summer we travelled for fishing along the coast at the mouth of the Skeena River.
My father ran a mill in Gitwangak and had a logging camp, as well as fishing in the summer, spring and fall. My father was also a Chief Councillor for some time. At that time, all my grandparents and relatives were fishers and loggers. My mom worked net mending, knitting, and baking, and now has a successful business called Peggy's Pie House in Hazelton, BC. I was also influenced by my Auntie Dolly and Cousin Annie Watts who successfully ran Lilligit Feast House and wrote a book called Where People Feast and continue in Port Alberni, BC to sell bannock.
My husband James and I got married and together we ventured on a New Journey together. We researched various business ideas then when my husband asked me what kind of a store I would want to have and I told him I have always liked and enjoyed gift stores the best. From there we worked together. We had a few locations in mind, and had to be patient. When Semiahmoo Shopping Centre opened up we were happy to be welcomed here. And we had already been working on and planning our products for sometime.
We opened October 7th, 2011 before Christmas and have been well received since.
JAMES what is your background? Have you considered a store like Cheryl's Trading Post for awhile?
I'm a mixed blood Indian from Micmac territory. I've been involved in Native culture for quite a while - Native spirituality and traditional trading. I'm fortunate to have a lot of friends and contacts who are very good artists as well as being deeply involved in their own cultures. So it's been easy to work together with Cheryl to get the store going.
Could you tell me how you chose the Semiahmoo Mall for the location of Cheryl's Trading Post?
We liked the store because it's large and has lots of window to display our art. It's a beautiful area near the beach. And the people in White Rock/South Surrey appreciate our handmade products. We're happy this spot opened up for us.
Is this your first store of this nature?
Yes this is our first store.

What was your inspiration and driving force behind wanting to open the store?

We wanted to do something that we loved that would give us the freedom to be our own bosses. Also we wanted to work with and promote Native arts and culture.
You have a wide variety of merchandise in your store. You have a very extensive line of clothing. Please tell us about some of the interesting clothing items you have in stock?
We decided that we wanted to go with Aboriginal Authentic that included North, South, and Central Americas. We have North West Coast cedar hats, jewelry, ornaments, and baskets and bags. We purchase the locally produced clothing items like t-shirts and hoodies directly from the designers themselves. We also have sweaters, hats and gloves hand knit by Inca Indians in Peru and Ecuador. And also Inca cloth handmade of yarn and thread from their own animals, dyed with plants from their own land.
Do you in some cases have one on one contact with the carvers that have created the items in your store?
Mostly we deal directly with the artists themselves. Many are personal friends or relatives.
Beautiful selection of custom blankets

The motto on your business card states "Preserving Traditional Art, Supporting Native Communities, Sharing Success With Others, Celebrating Native Values and History. Could you explain in a little further detail the feelings behind this mission statement. How have you and how will you continue to implement these goals?
We believe artists should be paid fairly for their work. The training to become a Native artist is lengthy, deep, and intensive. Our North West Coast art is the product of many generations of culture learned on this land. We implement our goals by ensuring that our products are authentic and handmade by Natives of the Americas.
Thank you to James and Cheryl for taking the time to let us get to know a bit of the history of Cheryl's Trading Post. Located in the Semiahmoo Mall in South Surrey.
December 14, 2011
WINGS White Rock Under New Management
Ravi Reddy Manager WINGS White Rock

The WINGS restaurant chain arrived in White Rock a couple of years ago. During that period of time the restaurant has connected with young folks looking for a cold pitcher and a hot plate of chicken wings. Recently the restaurant went through a major change.
WINGS WHITE ROCK is now under new management. Today we get to know RAVI REDDY and a bit about the circumnavigating trip he followed to finally arrive in "Our City By The Sea."

RAVI could you tell the readers how your career in the food and hospitality industry began?
Well I have been in the hospitality industry for over 25 years. You might say I am a people person. I began my career with Hilton International back in 1985. I was the financial controller for them in Dubai, UAE. I also worked for Hilton International in the Middle East, Africa and in Europe.
The hospitality industry has always been my passion and I have been fortunate enough to have gained experience throughout the world.
How did you end up coming to Canada and what were your first impressions of a wintery Canada?
My family and I moved to Canada about 10 years ago. I was travelling back and forth from the Middle East, for a period of time after my family had moved to Canada. We moved here due to the high standard of living that Canada has to offer.
The weather is Canada was definitely a lot different than what we had experienced in the Middle East. Although the winters can get cold, I thank Vancouver has amazing weather - a good mix of heat and cold. It is beautiful here.
Like many immigrants to Canada you very quickly ascertained the winters in Eastern Canada may not be to your liking, and you headed West. What happened when you touched down in British Columbia?
British Columbia is beautiful. The rain and cold for a few months is worth all the other benefits of living here. I love British Columbia. After all my travels around the world I think this is the most beautiful part of the world I have seen.
How did you become connected with the WINGS location in White Rock?
I was looking to start a new business, preferably in the hospitality industry where I have a great deal of experience. My friend and I came across WINGS and we had a couple of locations to choose from. I had to go with the White Rock location - the area is great and the restaurant is so warm and cozy.
WINGS has now been under your direction for a couple of months How are you finding operating a restaurant on the waterfront in White Rock?
The location as I said is beautiful. It gets a little slow in the winter but I am getting to see a lot of repeat customers and also customers from all over the Lower Mainland. It's great to meet all sorts of people.
Sami Ghawi host the singer songwriter nights Tuesdays @ WINGS
My goal for WINGS is to offer the highest level of customer service. I want my customers happy and that is all that matters. I have been doing everything I can to make sure this happens. I recently started an Original Singer's night hosted by Sami Ghawi. It is starting to build quite nicely. Sami will be away now until January, but I would like to take this opportunity to welcome and singers to the restaurant every Tuesday 6:30 - 10 p.m.
Tell us a little bit about how many different chicken wings you have on the menu, and some of the other interesting food items you serve up daily?
We have 20 different flavors of chicken wings. everything at our restaurant arrives fresh daily. Nothing served at WINGS is ever frozen. All our food items are prepared fresh daily. We are offering a special feature every Wednesday and Sunday. Our wings are all half price. The wings are 39 cents each which means diners can enjoy a full pound of wings for under $5.00. We also have a full menu of items from soups and salads to burgers and steaks and many other items fresh on our menu.
Let's get personal to end this conversation Ravi. Do you make your home in the area? Tell us a bit about your family?
I live in South Surrey with my family - my wife and 2 daughters who are now both in university. All three members of my family work here at the restaurant, my wife helps in the kitchen and my daughters are hostesses. We also have a small Chihuahua named Francesco.
In closing do you have any final message to the White Rock/South Surrey readers of the White Rock Sun?
I would like everyone to know that we are here for them! My customer's satisfaction is our top priority and we will do everything we can to make sure their dining experience is a pleasurable one. This comes from my background with Hilton International. I have been through many courses and seminars in the Hilton system and we will always focus on customer satisfaction. This is what I hope to bring to the dining experience at WINGS in White Rock. Believe it or not from the day I took over back on July1st I have not taken a single day off; I will only do that when all my customers give me positive feedback of my restaurant, staff and our food. I look forward to meeting and serving the wonderful residents of White Rock and South Surrey.
November 03, 2011
ELLE'S KITCHEN Hillcrest Plaza
Marc Mackenzie and Lauren
A beautiful new dining experience opened in October in White Rock. Today the first of a two part series to get to know the owners of ELLES KITCHEN.
We sat down with LAUREN to find out her background and how she came to be in partnership in the newest restuarant on the culinary landscape in White Rock
Lauren please tell me about your personal history in White Rock?

I first came to White Rock in 2006. My daughter Kaiya started kindergarten here and my son Roman was born here in 2007 at Peace Arch Hospital. I moved away to downtown Vancouver in 2008 to take on an Executive position in a large Market Research firm but after several moves Marc and I decided White Rock should be home again. My brother Roland House lives here and my children's aunt, Lauri Weins lives three blocks from our home and is a teacher at Earl Marriott. Our family came first and they are here.


You and your partner Marc have opened a beautiful little cafe in uptown White Rock called Elle's. Where does the name Elle come from?

Elle is my nickname. I call Marc 'M' and he calls me 'L' but he has always spelled it 'elle'. I was not sure if I wanted to be the focus of our joint venture naming our café after myself but it's a little late to change it now!


From the time you and Marc decided on opening a restaurant how long did it take you to find your location? Is there anything in particular that made you choose this locale?

Marc and I had thought about opening a restaurant for years, it was just a matter of finding a community which we felt embraced us so in turn we could embrace it. Once we settled on White Rock it literally took a month for Marc to find this amazing little space. It bordered on the 'old' and 'new' development in White Rock and with it comes a new and exciting demographic. We took this as a huge opportunity to bring something new to the table that could unite the two.

Do you and Marc share the cooking duties? How and when do you decide on your daily specials?

Marc and I both take on not only the cooking duties but we also both contribute new ideas for our specials. To be honest, most ideas come the night before. We really just like making food our family or ourselves would order or enjoy. Elles kitchen is a reflection of our tastes and curiosity with food.

Though you have only been open a month what are your first impressions of operating a business in White Rock?

We love it! We love the community, the fascinating people, amazing fellow retailers and just the overwhelming positive response we have received from all of them.

You and Marc have a blended family. Tell me a bit about your children please.
Both Marc and I were adopted as infants so it comes as no great stretch to have such a unique family dynamic. Our children are the result of a previous relationship but Marc holds the title of dad. Our son Roman is 4 years old and the comic genius of our family where as our daughter Kaiya, 9 years old, is the studious artist. She is part of the excellence program in school, as she is far beyond her years and expresses herself with her artwork; one of which she has lent to our café and others showcased in the Hope Art Gallery where her Grandmother Mackenzie curates. We have been blessed with polite, kind and abnormally smart and socially adjusted children. I am sure most parents say this but this is what most parents tell us so we are inclined to believe it!

Is there a special place, a trail, a beach perhaps that you consider your place of solace in White Rock?

I wish! Do you know of any great places Marc and I can escape to? So far our only escape here is our home, our children and our family.

If and when you and Marc find time to go out for dinner do you have a favourite restaurant or two on The Peninsula you enjoy dining at?

To be honest, Marc and I have not found the time to go out for dinner but we are looking to find our new favorite sushi place as we need one no matter where we live!
Today we sit down with MANDI SIHOTA of SURREY.COM. Mandi first of all let's start off with you explaining your position at SURREY.COM
I am the project manager and my responsibilities gear towards the overall direction, coordination, implementation, execution, control and completion of projects ensuring consistency with company strategy, commitments and goals.
Tell me a bit about the history of SURREY.COM
Surrey.com was launched by two individuals who live in Surrey and studied at Kwantlen University. We were launched to serve and only serve the local businesses and customers in our community.
There are other redemption type coupons available. How do you feel SURREY.COM differs from other savings site?
We are different because we're a local Surrey company committed to working with local businesses and customers. Unlike the other daily deal companies, who are based in the States and have probably never been to Canada, let alone Surrey, we know the businesses we help to promote, as well as what is convenient and wanted by our customers.
SURREY.COM was an integral part of the White Rock Sea Festival. Do you see SURREY.COM becoming move involved in community events like this in White Rock and Surrey? Are there any other events you will be involved with in the near future.
As we continue to grow, we hope to continue to become more and more involved with the community. Our business was created to help our local community and economy, so it seems only natural to expand into sponsoring community events. Not to mention it's a lot of fun to get out and meet customers, have competitions, and give away prizes.
Please tell our readers a bit about your personal background. How long have you been involved with SURREY.COM.Prior to joining SURREY.COM what is a bit of your personal history?
I moved from the UK about 5 years ago after gaining my Bachelors from the University of Greenwich. I worked for our partner company, Orbital Marketing, prior to transitioning full-time to Surrey.com
Do you make your home in the White Rock/Surrey corridor?
Yes, I live in Surrey.
How do business owners become aligned with Surrey.com ? Unless I am treading into confidential matters could you please explain how does SURREY.COM work as far as how do clients pay, is it per sign up , flat fee or a variation?
Our clients pay a commission for each voucher that is sold. Instead of paying us some flat fee based on an estimate or projection, they only pay for the exact amount of vouchers sold, making it a win-win situation for all parties involved.
In addition to advertising through channels like The White Rock Sun, I am also under the impression people can sign up for daily emails. Tell me how consumers can win prizes by joining your mailing group?
We are always giving away prizes via e-mail and social networking, so it pays to subscribe, like, and follow us wherever possible. Every one of our subscribers are automatically entered into our drawings – whether we are drawing for concert tickets, Canucks tickets, or any other great event in the region.
In closing MANDI on a somewhat personal note, what are some of your favourite activities, restaurants and things to do in Surrey and White Rock?
I am one of Surrey.com's biggest customers, as I love a lot of things we offer on a daily basis. I like trying to new restaurants in the area, shopping at Morgan Crossing, doing Bikram Yoga in White Rock, and running along White Rock beach.
CHILDLIKE - MEG MASKILL
Meg Maskell is organizing a series of beginners Yoga lessons here in White Rock. Meg please tell us a bit about your personal history as it pertains to yoga instruction.
A month after I started practicing yoga, my Dad said to me, "So, you ready to teach yet?" it was meant as a joke, but I never shook it. A year later I found myself wanting to deepen my understanding of the practice as I had a growing group of friends and relatives that were asking for poses to help with this and that ailment. I found the Open Source teacher training with Dan Clement through Live Yoga, which absolutely inspired me.

How long do your yoga courses run? I also understand there are different options (days & times). What are the days and times for the yoga classes?
The workshop I am introducing this month will be running for 4 weeks at Organic Connections Cafe on East Beach. The first night will be a complimentary info session on Thursday Sept 22nd at 7:00pm. After that, there will be a set schedule: Friday morning yoga practice at 9:00am and Sunday morning yoga practice at 9:30am.

Wednesday evenings at 7:00pm I'm creating a space for people to come with any questions they might have about the practice or history of yoga, or perhaps about what they learned that week.I'm encouraging people to come to Wednesday nights even if they have never been in a class or to any of the other workshop sessions. I'm pretty excited about it!
I'm going to create a little haven in there with views of the ocean.


For anyone that has only remotely considered yoga classes would you please expound on the various physical and mental health aspects of yoga?
I can quote books, articles and medical journals for you, but I think it's better if I tell you how yoga has effected my own body. I had chronic back, shoulder and knee pain when I started. I could barely touch my knees let alone my toes! I was a very light sleeper, struggled with anxiety and depression, was pretty much constantly in pain. Yoga strengthens supporting muscles so that the larger muscles that are all stressed out can finally have the help they need. It lengthens connective tissues and helps to reintegrate damaged tissue, knitting it back into active muscle to help it to heal.
The mental benefits are substantial. The practice of learning how to work with and listen
to your body creates a kind of harmony that is often out of balance from our lives of constantly rushing here and there. It literally has helped me to be comfortable in my own skin.

I am sure many reader sof this feature find themselves in the same situation as me. Having considered (only vaguley) taking yoga lessons, what can we expect to experience in the classes?
My goal for the workshop is to be able to make yoga palatable for any participant, and to send you away at the end of the 4 weeks with the confidence to practice at home alone or in a studio if you prefer.
You can expect to be moving, and challenging yourself, and learning a ton about yourself. There will be a little history, a little anatomy, an introduction to the roots of the practice. It won't be boot camp- yoga is meant to be fun, safe and pain free.

Is it necessary for first timers to incur any special costs outside of the enrolment fee? Any special clothing, I would assume we will have to purchase a yoga mat. Can you facilitate that purchase or can you direct us to a location locally where we can purchase the necessary equipment?
The only clothing you need is something comfortable and unrestrictive. I often practice in my favourite pair of holey sweat pants. I will have one or two spare mats on hand, but I do recommend bringing your own. They can be picked up for $20 or less everywhere from Chapters to Choices, SuperStore to Walmart. If you really get into the practice later and want to upgrade, there are many great mat options depending on what you're looking for. I kept my $20 mat for the first year of my practice.

I will be joining your classes and providing a running commentary in weekly articles on the trials, tribulations and benefits of yoga? Like any exercise one is not used to doing, I am assuming the courses are designed to slowly get us up to steam, so to speak. Are there any health restrictions for a beginner to start yoga?
If you have high blood pressure, have just given birth or are recovering from surgery, it's best to have a chat with your doctor about what your body may or may not be ready for. I ask all of my students to let me know if they have any health concerns or body quirks I should know about. There are all sorts of options for people with knee, wrist, balance, shoulder problems, etc.
The classes appear to be co-ed correct?
The classes are absolutely co-ed! Come one, come all! I will be holding them in the main dining room of Organic Connections Cafe, 15622 Marine Drive. Parking is free on the 'Drive until 10am, and there is a bus stop right outside the cafe. There are directions on their Facebook page: https://www.facebook.com/OrganicConnectionsCafe?sk=info

In closing Meg please tell me a bit about your personal history here on the Semiahmoo Peninsula. Do you live locally? How long have you lived here? What do you find to be the most endearing qualities of living in White Rock/South Surrey.

I returned from travelling last winter and wanted a change from my home in Whistler where I've spent the last decade of my life. My good buddy, Ryan Bissell from Uli's Restaurant, had been trying to talk me into checking out White Rock for over a year. With the invitation on the table, I started hunting for Yoga Teacher Training schools and found myself living here the last week of June.
I'm hooked. My favourite quality about this area is the way that people still interact with each other in a very human way. People nod and say hello and start conversations with you just in passing. The visitors walking along the beach have big smiles on their faces. This is the sort of place where families can create fond memories, and a lady walking down the street at night can feel safe.

I think most of us have that special "zen" place we can slip away to on the Semiahmoo Peninsula. Where is yours?
Do I have to choose just one? I love East Beach, especially when the tide is out and you can walk for miles over the sand and wade through the tide pools. I also enjoy the walk along the promenade, those amazing ocean views. And the trees! I've tried to choose my favourite tree, but I think it's a hopeless task. Every day I discover another ancient beauty to sit under for a spell. There are a few people watching benches I also especially enjoy. I do love being in the marketplace surrounded by people as much as I enjoy being alone under a tree.

What are your favourite things to do in the White Rock area? Ane favourite shops, restaurants or activities you enjoy in the area?
Uli's Restaurant! Best Burger In Town! A little known secret is they also have the very best veggie burger of all time. Dolce Gelato is a personal addiction. I can't even handle it. The sour cherry, or the meringue...I dream about it sometimes.
Weekends breakfast at 5 Corners. A cup of Merlin's Magic black tea from Small Ritual. A burrito from El Taco, conveniently located directly under the house where I live.
But I've only been here for three months! I have so many other places to investigate and fall in love with.
You can tell I'm rather motivated by my tummy.
*All illustrations by Meg Maskell
September 09, 2011
White Rock's New Antique/Collectible Store
AMAZING CONSIGNMENT recently opened on Johnston Road across the street from Hillcrest Mall. We recently stopped into the beautiful appointed store and sat down for a conversation with the manager Norma Devi.
NORMA is this your first antique collectible store?
No I have had other antique and collectible stores in other locations in Canada and the United States, most recently in Florida

What made you choose White Rock as the location for AMAZING CONSIGNMENT?
Well I chose White Rock for the store because I live here. I had been thinking about opening a store here and when I saw this space become available I took it. We have now been open for just under 2 months


Your store name is AMAZING CONSIGNMENT. Is it safe to say you are interested in hearing from members of our community that may have some collectibles and antiques in their home they may be considering selling?
Yes I encourage residents in the area to come by and see the merchandise I have in stock. If they choose to do so and they are able to bring the item(s) with them that would be fine by me. I would also like the readers to know I handle estate sales as well, through my store.

Do you only take items on consignment, or do you in some cases outright purchase items?
That depends on the item and how much the person is asking for the item. But I do purchase outright as well as take items on consignment.


What is the most unique item someone has brought in for consignment?
Oh there have been a number of unusual items over the years. One day someone came in and wanted to know if I was interested in purchasing a life size replica of a horse, I had to laugh because I did not have the space for an item that large. You just never know what the next person that comes through the door is interested in selling. I like that. It makes everyday different.

Tell us a bit about some of the more original pieces you have in stock at AMAZING CONSIGNMENT?
Well I have some artwork that dates back to the 1800's. I also have a number of one of a kind very unique antiques and original furniture pieces.

What is your personal history with the Semiahmoo Peninsula? Do you make your home in the area?
I have lived in White Rock for over 4 years. I love living by the water and being able to look out and see the ocean.


The City of White Rock has come up with a new slogan to brand White Rock, it is MY CITY BY THE SEA IS........................... Can you fill in the blank please and tell us what White Rock is to you?
Oh my goodness, well I would have to say MY CITY BY THE SEA IS.........a wonderful place to walk along our beautiful promenade and smell the sea air and look out on the ocean. It really is beautiful here.

One final fact about AMAZING CONSIGNMENT. Norma is very passionate about helping those less fortunate in our community. To that extent AMAZING CONSIGNMENT also will take items for sale or consignment by donation with the proceeds from the sale of the items going to B.C. Mental Health.
Norma Devi

AMAZING CONSIGNMENT
Buy-Sell-Consign
1446 Johnston Road
White Rock
Hours - Tuesday-Saturday 10 a.m. - 5 p.m.
604-560-5088

Jennifer - Ravens In Motion

Ravens In Motion is a beautiful stall located at the White Rock Farmer's Market that features numerous first nations carvings, drums and clothing. Today we sit down with Jennifer to find out a little bit more about her booth.
Jennifer is this your first year at the Farmer's Market in White Rock?
Yes, this is our 1st year and we're having a blast. Just for clarification, we are not selling clothing yet. The button blanket you saw was made for me by my cousin who is also an artist/seamstress.
Your website identifies Ravens in Motion specializes in authentic coastal decor, jewelry and accessories. Could you be a little more specific on some of the many items you sell at your booth.
We have many different bird mobiles with First Nations' Art design carved in the bodies, wings and tails. They are brilliantly manufactured to look as though they are flying/soaring through the air. We have an assortment of colors and species. We have humming birds, thunderbird dancers, raven dancers, owls, ravens, bald eagles and golden eagles.
We also have smaller ornaments that can hang from your rear view mirror for example. They come in different animals too: Killer whale dancer, raven dancer, wolf dancer, thunderbird dancer and the eagle dancer.
Our hand made drums come in 3 sizes; 12", 14" & 16". They are made with either, moose, deer or elk hide and cedar rims. They are thought to be the heart beat of mother earth. You can play along with our CD, "Legends" by the Gilhast singers. The Gilhast is said to be the totem pole that connects the earth to heaven from which we came.

Are you personally involved in any of the creations that are available at the booth on Sundays?
Yes, I am personally involved in everything you see at our booth.

I also was amazed at the shawl/cape that you had hanging in your stall. Please tell me a little bit about this particular piece of clothing.
The button blanket with the frog crest was made for me by my cousin, Yolanda Skelton, who is also an artist/seamstress.
My crest is Fireweed which is the same as the killer whale clan but my name means Transformation like the frog in the jelly stage & my grandad was a frog so I have permission to use the frog.
Only a person of high rank
In consulting your web site I found that Ravens In Motion originates from the Gitskan people. Please tell us a bit about the history of the Gitskan people.
Today there are 4 clans: fireweed, frog, eagle & wolf. In each clan there are houses that have many house members. There are more than 50 houses in the Gitxan nation. In other words, our nation is growing and changing.

Have you had an opportunity to check out any of the other vendors at the market? Any recommendations?
Every Sunday varies but I am always amazed at the beautiful talent and ability of people that are out there sharing themselves every weekend. I would encourage everyone to come and see what is being offered especially with Christmas just around the corner.

In closing Jennifer if there is anything else you would like to add about Ravens in Motion in your own words feel free to add anything you would like.

We are a family business enjoying sharing a small piece of our culture with anyone who would like to be a part of it.
Ha' mii yaa / Thank you
Jennifer Gux Wok
Founder of Ravens In Motion, Client Relations
Jennifer is honoured to be the niece of Haxbegwootxw. She joins him in sharing their family's culture and heritage with the world. It is of great value to her that she has stood side by side with her uncle to learn the craft, hands on, in order to carry on the Gitxsan Artisan culture that is so rich in her family, clan and NW Coastal Native Art. Surrounded from birth by a talented family of artisans, singers, dancers and storytellers, Jennifer is immersed in her culture and language.
Her name, Gux Wok, means "transformation" and is what is called a Nax Nok, a special spiritual name. Jennifer has had the unique privilege of dancing on many occasions with her daughter, Regan, as a NW Coastal dancer at the UBC Museum of Anthropology, as well as for the 2010 Olympics. She was invited to Shanghai,China to represent Canada at the Canada Week celebrations in the private audience the former Governor General of Canada (2005-2010), The Right Honourable Michaëlle Jean and other worldwide dignitaries. She considers each of these creative opportunities as a blessing to share her rich culture with the world and break down barriers of prejudice and misunderstanding.
Jennifer is an educator, with university training as a teacher. She is a humble leader in her community, providing support to numerous women as a positive light in empowering women. Jennifer is the person to contact for events, performances, appearances and interviews.
KAREN FARQUHARSON of Sideline Designs.


Karen tell our readers a bit about the many things you have for sale at your booth in the White Rock Farmer's Market.

I definitely have a wide range of products in my tent. I started out selling my tote bags but soon got bored with making just one thing so I started adding items. The crib quilts came next and with that addition it became evident that baby items were a hot commodity. That is why today I make funky all-in-one cloth diapers, animal slippers, body bibs and hats, all for the little ones. For the adults I knit one-of-a-kind shawls which are a huge hit. And then I got involved in making glass beads. I started making bracelets for my daughters organization "Renew Humanity", but decided to bring some to the markets as well.

Do you make all the items in your booth? How long have you been attending the White Rock Farmer's Market?

All of my items are made by myself during evenings after work. This is my 4th year selling at farmers markets, my second in the White Rock market, and I hope to enjoy many more years here. I live in the immediate area which is one great draw to it, but the fact that the organizers are all fantastic and the customers are all lovely makes this a favorite market of mine.

Is there one item that you create that seems to be more popular with your customers?

The one item that I deem my best selling would have to be my quilts. They are an immediate attraction to people and I have many return customers for them. Because people can see the quality of work put into them and the fact that each one is unique makes them popular,(but my diapers and body bibs are definitely catching up fast.)

What is the best thing about bringing out your beautiful creations to the White Rock Farmer's Market?

I would love to be able to peruse the market as I know there is a lot of talented people there. I have been fortunate enough to meet a lot of the vendors over the years but it would still be fun to see what new items they have.

What is the best thing about bringing my stuff to the markets. I would have to say the people. The variety of people you meet and get to talk with are so diverse that they make my day fun. I would love to do markets every day if the weather would co-operate. Sitting in the rain definitly has its drawbacks.


If you would like to contact KAREN between visits to the market or during the offseason, please visit her web site www.sidelinedesigns.ca
Surrey.com's Mandi Sihota

SURREY.COM has stepped forward and signed on as the main sponsor of the main stage at this year's Spirit of the Sea Festival in White Rock. We thank SURREY.COM and introduce you to MANDI SIHOTA.
Mandi, first on behalf of everyone in White Rock and in particular the musicians and organizers of this weekend's sea festival thank you for your support of the main stage's musical line up this year. Please tell us how you became involved with the sea festival this year.
We are always looking to participate and be part of community events. We were introduced to the Sea Festival through Doug E (The Night Owl) and as soon as I heard of the event although it was only weeks away we definitely wanted to be part of the event. It sounded like a lot of fun and I have heard great things of the event in the past.***

Many residents in South Surrey and White Rock are already members of SURREY.COM but for those readers not aware of what SURREY.COM is all about could you please provide an overview?
Surrey.com offers a win win situation for both our subscribers and the businesses we work with. Local businesses offer a deal on Surrey.com (offering a 50% - 90% discount). Our subscribers purchase the coupon from Surrey.com and take it with them to the local businesses when they are ready to redeem the coupon. Surrey.com is a key to huge savings in the local area! ***

How long has SURREY.COM been operating?
Surrey.com has been operating and offering huge saving since December 2010. A year prior to our official launch, we launched a temporary website to get out the word out of what Surrey.com is and allowed visitors to subscribe to be the first to receive deals from Surrey.com***

What are the advantages of people signing up at the SURREY.COM website?
Huge Savings! The fact that businesses we work with are all in the local area our subscribers can take advantage of more deals in their City and support local businesses at the same time.

Now a little personal history about yourself. What is your involvement with SURREY.COM and how did that come about? Are you a resident of Surrey?
I am the Project Manager of Surrey.com and previously worked for the Marketing Company Orbital Marketing (which is owned by the same owners of Surrey.com), Yes I am a resident of Surrey.
Do you have a personal interest in music or was your motivation more professionally based?
A mix of both, Music is a big part of my life but getting Surrey.com name out to the people of the Lower Mainland was the main attraction to the event.
Can we look forward to seeing SURREY.COM involved in future events like the White Rock Spirit of the Sea Festival?
Yes, we want to be part of all local events. This allows us to get the word out about Surrey.com and educate people on how they can try new things with huge savings, it also allows us to meet our customers and of course these events are always so much fun to be at!
What music would we find in your CD player or on your iPod?
My taste of music is very diverse, you will find music from the 60's to today's latest hits.
Do you have a favourite restaurant in White Rock?
Oh so many! I think it would have to be... The Boathouse, great food, amazing patio and unforgettable memories.
Thank you Mandi for taking the time today to inform us about SURREY.COM.
If you happend to be out by one of the music stages this weekend at the Sea Festival and you notice Mandi swaying to the tunes, stroll over and say "Thank You" for the tunes!
Market Merchant
Amanda Rivard with Arianna
Clawfoot Spa
Today we are talking with Amanda Rivard about her booth at the White Rock Farmer's Market. Amanda please tell the readers of THE SUN what products you feature at the Clawfoot Spa?
Clawfoot Spa specializes in natural luxury bath & body products with a focus on fragrance-free, colour-free, & foam-free products. All the luxury products are handmade in White Rock & South Surrey by a family with fifth generation roots in the beautiful seaside town. The product lines include Natural Soap, Face Care, Hair Care, Momma & Baby care, Body Care, Spa Care, House Care, Laundry Care and Pet Care. Although all products are available unscented, I also offer most products naturally fragranced with therapeutic grade essential oils and all natural fragrance oils and crystals. The three most popular products are the Apricot Kernel Oil Face Cream, Rose & Apricot Cleansing Cream, and variety of Body Butters including the Momma & Baby Butter used as a diaper cream. Being a new company there are new products in formulation each week and I am happy to offer them at the market as soon as they are complete. Suggestions from clients and passersby have sparked the production of several new products, like the coming deodorant stick.
How long have you been offering natural organic and vegan bath and beauty products?
Although I have been using my family's handmade products for years and playing with the formulations for my personal use, I began production for sale in January 2011 and selling in May 2011.
How did your business come about?
Clawfoot Spa started from a desire to service our growing family's need for sensitive skin products. With the birth of our youngest and most sensitive family member, our second daughter, we discovered dire a need for fragrance-free, colour-free, & foam-free products. I had such great success with the products I created for our family's personal use that I started sharing them with our friends and local community. I quickly found that people loved the products I created and decided to share them with the world! Soon after the arrival of our youngest sensitive little daughter Clawfoot Spa was born too.
People can obviously buy your products at the White Rock Farmer's Market. Are there other locations where you stock your product, or can anyone that is interested in your products contact you directly?
I gladly accept telephone and email orders. I can be contacted directly at clawfootspa@gmail.com and 604-560-1123 Many products are listed on my website www.ClawfootSpa.com. A new friend of mine, Sylvaine, also carries them at her wonderful local spa Eclipse Esthetic at the Pacific Inn ( Pink Palace on King George & 9th) where she offers a variety of massages, reflexology, and other delightful spa services utilizing the clients choice of Clawfoot Spa or other great products. I love to join with others in our community to see these products available widespread.
Are there strict guidelines you must follow to have the designation of organic and vegan?
To be clear to future clients in writing as I am to clients that come visit me in person, my products are not themselves certified organic through a registered certifying body. This is a lengthy and expensive process that would increase the prices of the products beyond what I would consider a reasonable and fair amount. Clients can, though, be assured that I source high grade certified organic ingredients and will only use all certified organic ingredients in an organic product. This does reduce the amount of products I can offer as organic, but I feel that when non organic ingredients are used with organic ingredients that it may defeat the clients' intent in using organic products. I feel that those who opt for an organic lifestyle should feel confident that the products they receive are the quality and content they expect. Through custom orders I will vary from this and create custom products using the organic ingredients specified by the client in formulations to suit their individual needs and wants. Vegan products are thoroughly researched to ensure that all components contain no animal products or byproducts. I find that the vegetable version of ingredients available tend to be milder than their animal counterpart. So, other than cow's milk and goat's milk in some Spa Care products, all products are vegan.
Is this your first year at the market? I always like to ask the vendors if there are any other vendors you make a point of visiting before, during or after the market wraps up?
Yes, this is my first year at the market. I take some time each market day to view the other vendors here. I do not have a set spot at the market each week and I love visiting with my new neighbors every Sunday. It has been a wonderful way to get to know this friendly community.
If you were going to describe the White Rock Farmers experience, how would you do it?
The White Rock Farmers is a welcoming community of positive people. The arrangers, vendors and visitors make this a lovely place to come and enjoy the morning and early afternoon. As a new vendor I find that people are so helpful and inviting I quickly felt beyond welcome. I look forward to each Sunday and hope to make this a regular affair.
In closing if there is anything you would like to expand upon, here is your opportunity to talk directly to the readers of the White Rock Sun.
I strive to treat my family to an indulgent healthy home and life experience. My philosophy surrounding Clawfoot Spa products is that we can pamper ourselves without a detrimental effect on our bodies and our wondrous earth. I take the highest quality ingredients in a simple unaltered form to protect & pamper our bodies so we may protect & pamper the grand body we all reside in.
To those who have been inspired to come try Clawfoot Spa products at the White Rock Farmers Market, an additional 10% discount will be deducted from the low wholesale prices offered at the market by mentioning this article.
New to the White Rock Farmer's Market this year is a very unique booth selling beautful rock art.
First let's start with a little background on both of you who are operating the wonderful booth called RockYard garden curiosities.

As eighth generation "Rock Carving Kids", my brother Brodie and I have been carving designs into rocks since we were little at our family shop, J.B. Newall Memorials, located in Vancouver, at the corner of 35th & Fraser Street. Our family business started in Dalbeattie Scotland in 1820, and in 1909 the Newall family came over to Canada, opened up our shop, and we've been creating cemetery markers at the same location ever since.

What was your inspiration for creating the beautiful works of art you have created from plain, ordinary looking stones?

We are a family of animal lovers and when we lost our first family dog when we were kids, our family created a beautiful boulder for our garden memorializing her. Since then, my brother and I took over the pet memorials department in our family business. From that we started getting requests from family and friends for garden rocks with custom phrases and sayings as well as sandblasting address's into boulders. We love the opportunity to work with natural stone- no piece is ever the same!

How long have you been creating these unique works of art? How long have you been making these pieces?

Technically all our lives, but we've really been focusing on these garden rocks for the past year. As well as the rocks, my husband Chris started hand stamping silver plated spoons as markers for herbs & vegetables in your garden. This is the first summer we've ever done Farmers' Markets though.

What is the price range we are looking at for your art pieces?

The spoons are $7 each and the rocks can range from $255 - $85 depending on the size and content.

Do you do custom work, by that I mean if someone wanted their family name for instance engraved into a stone would that be possible?

Absolutely! Because both products are completely customizable, people are finding that they are great gift ideas!

Your booth is new to the White Rock Farmer's Market. Do you live in the area? What made you choose the White Rock Farmer's Market?

As avid farmers market and local shoppers, my husband and I thought it would be a good idea to try selling our rocks to our community for their gardens. We grew up in White Rock and live in South Surrey so this market was a natural fit for us.

I always like to ask the vendors if there is a particular other vendor that you have frequented, someone you would recommend to a friend that was coming to the market?

Zodie's Barkery! it's our dog's favourite too! And we love all the fresh fruit, vegetables and free-range eggs

In closing we'd like to mention is that we will have a website up and running soon (www.rockyard.ca) but you can contact us at rockyard@live.ca or make contact through our family business website www.jbnewall.com
Simply Dish Soup
Chelsey McGregor-Hawkings
This week we stop by the booth housing SIMPLY DELISH SOUP & SALAD CO. Where they say "healthy eating made easy"
Paulette Hawkings takes a moment to describe what products are featured weekly at her booth at the White Rock Farmer's Market.
We at "SIMPLY DELISH SOUP & SALAD" have created a line of "Artisan Food Products" that are beautiful to look at, delicious to eat, healthy...and quick! In todays busy world, it is all too easy to stop by fast food restaurants, or purchase quick, ready made meals at the local grocers. BUT, first off it is costly, and secondly, they are loaded with sodium and preservatives. Simply Delish packages healthy beans, lentils, rice, quinoa, veggies, and spices, to create delicious soups, salads, pilafs and breakfast cereals that are MSG free, salt free or very low sodium, dairy/egg free, soy free, and a great line of GLUTEN FREE products. They are reasonably priced at $7 each or 3/$20, and provide 8-10 servings. Our soups and salads are enhanced by the local vegetables, delicious breads, meats and cheeses supplied by the local vendors. They are wonderful additions to your pantry, great for RV's, camping, hostess gifts and year end teachers gifts.
We thoroughly enjoy participating in the local Farmers Markets. This is our second year at the White Rock Farmers Market and we are looking forward to the season. Sadly the weather has played a role in the market, as the farmers have been delayed with the lovely fresh local produce that is foremost the drawing card of the local markets. The vendors at the White Rock Farmers Market have been carefully chosen to compliment one another, and give the local community a well balanced shopping experience. It is arranged so as to provide a relaxed, friendly morning of shopping while you and your family are enjoying a walk with the family dog:) I find it very inspiring visiting the other vendor booths and realizing how inventive we as a community can be in offering art, food, lovely home baking, gift ideas, flowers...the list is endless. I personally do the majority of my shopping at the local markets, as we currently participate in 17 local markets weekly. Besides food items I love to purchase gifts that are locally designed and unique. With todays economic situation, we believe it is vital that we as a community support one another.
For those that have not visited the White Rock Farmers market, I highly recommend a stroll through. Enjoy a delicious coffee and cinnamon bun, listen to the music, pick up fresh produce that was picked the day before, flowers for your table, and soak up the community family environment! (And of course visit us and find out how you can make your meal time, delicious, quick, and nutritious.)

Paulette Hawkings & the team
The tarot ( /?tæro?/; first known as trionfi and later as tarocchi, tarock, and others) is a pack of cards (most commonly numbering 78), used from the mid-15th century in various parts of Europe to play a group of card games such as Italian tarocchini and French tarot. From the late 18th century until the present time the tarot has also found use by mystics and occultists in efforts at divination or as a map of mental and spiritual pathways.
Have you ever wondered about Tarot Cards? Do they really work, can they predict the future. Meet KCee who operates her tarot card table/booth every Sunday at the White Rock Farmer's Market

Please describe for our readers what service or products you feature at your booth.
"KCee's Tarot Room" I do Tarot readings at the market
What exactly is tarot card reading? Most of us have limited knowledge about the use of the tarot cards.
We are living in a time of accelerated growth where nothing is stable and the only constant is change.
Tarot readings can present you with an opportunity for continued awakening. You will be given insight and messages to aid you on your spiritual path. By incorporating Tarot symbology and using intuitive and psychic abilities, one is able to effectively and positively assist clients in accurately identifying problematic areas in our life. By identifying blockages and needs, one is able to move forward and effectively release old patterns.
The Tarot symbology connects with our subconscious mind as we hold all the answers inside of ourselves. When one chooses specific cards (by shuffling the deck) those specific cards are brought to our awareness with the issues and problems one is having at this specific moment in time.
Tarot allows us to see a "pathway" that is most suited to one's life plan. We may take that path, or we may choose not to. That is up to each individual. As we live in a free will zone, we can make our own informative decisions. What Tarot does do, very effectively, is to give us the information we desire to make a more informed choice and subsequent decisions -- the truth about Tarot is that it never lies. At times it can be brutally honest, but maybe that is exactly what is needed to move forward in life.
Carl Jung said it best: "The Tarot has to do with individuation - the process of bringing the conscious and unconscious selves into harmony. The symbols presented are of archetypal nature (i.e. as coming from a universal, or collective unconsciousness), and the inner connection between the cards.
Is this your first year at the White Rock Farmer's Market?

This is my second year of being at the market
We are just a couple of weeks into the Farmer's Market season for 2011, but with that said what do you find to be the most enjoyable part of being at
the market?
The fun atmosphere, seeing everyone there from last year. Not only the merchants but the people who come to the market to say hi. It's great to connect with the community again, after a long winter indoors.
How did you become involved in tarot card reading?
That's a Huge question but I'll try and keep it short.
I always felt a connection to the mystic and especially the Tarot. I read the books and learned a bit on my own and performed readings for friends over a glass of wine, or two. When I started getting serious about doing readings, as a professional, I then decided to train with a Tarot Master, with her direction and tutelage I was able to reach Master status. At the same time I chose to get certified as a Life Coach and received my Diploma as I wanted to professionally counsel others with the information gained from these mystical cards.
Have you had an opportunity to visit other vendors at the market? If so do you have a special booth you have enjoyed visiting and shopping at?
I love the "Honey Man", his honey products are the best. Also I enjoy the
baked goods and organic vegetables.
There are a number of other markets in the Fraser Valley. Are you exclusive to the White Rock Farmer's Market?
Pretty much, I also do a couple events at "Township 7" winery in Delta
Now you may have answered this with the first question, but can you see into the future of a person by reading tarot cards? If so how do you handle if you see trouble or sorrow in someone's future?
When individuals come to me you can be sure there is a problem, as most are seeking guidance and direction with real life issues. I would like to mention that I am also a certified Life Coach who chooses to use Tarot as a tool to uncover the deep issues an individual is experiencing, in this moment of time. The question they may have is "how do I deal with these issues and real life problems and can I see a path or direction for them to take toward solving these plaguing issues. With my Life Coaching abilities I move them forward and show them a path that they could take, if they chose to take it.
I also work very closely with a colleague of mine, Linda Rose who is a professional Intuitive and lives in the White Rock area. She is more than qualified to handle very "real" life issues and an outstanding citizen in our community of White Rock. If I feel that Tarot cannot help my client I have no question but to refer them to Linda Rose as we all work together to assist those in need. This is our truth and our work, to help others who need a helping hand, yes it is our profession, we are professionals and yes you will see real results. On the other hand if I see there may be serious abuse issues, either done to others or themselves I refer them to a professional psychologist or psychiatrist.
As whether or not I can see into the future. I would have to answer that "they" can see into the future. As they hold all the answers within themselves, it is "they" who choose the cards, I'm just the interpreter.
A number of people I have spoken to at the market, the vendors and the public have stated they enjoy the feeling of community at the market. Have
you seen evidence of that?
Most definitely, it's so nice to feel that your part of a community and getting together in an event like this is very comforting.
Tell me more about Tarot Training
Tarot - the very word raises thoughts of secret societies and mysteries of the occult. The imagery and symbology of each card in the Tarot may look strange yet beautiful. Immediately such questions are asked when looked upon for the first time. Are they used to divine the future? What is their history? What is the meaning of the symbols that appear on each card? How can I learn to tap into the true meaning of the cards and study the mysteries that they hold?
I have found that the truth about most books on the subject of Tarot leaves one with a feeling of confusion and frustration and acts more like a barrier to understanding the true meaning of the teachings of Tarot than actually explaining the meaning of the symbols that constantly recur in the cards.
With this in mind, I present my course of study by amalgamating my years of study, searching for the real truth that lies within the Tarot, channeling with my Guides and Masters, and careful extraction of original, basic meanings of the cards from a number of authentic sources. The conclusion of my life search and love for the "real truth" behind the mystery of the Tarot has produced a remarkable program. The meanings of the symbols and the interpretation of the cards are in simple language, so that the beginner can easily take the plunge and begin to use the cards in divination and contemplation.
It is with my pleasure and with my true love for the Tarot to teach this "real truth" as I feel that Tarot has suffered enough through the hands of religion and false prejudices. I take extreme pride in knowing this truth and enjoy thoroughly teaching others how to properly understand each card and the importance of the connection that Tarot has with the Divine.
Students of the Tarot will find this course a convenient path of study into an endless and rewarding realm of an ancient form of divination.
I welcome you to "My World of the Tarot"
What inspired you to sign up for the White Rock Farmer's Market?
The atmosphere it brought to being there, I felt I wanted to be a part of that.
In closing in your own words would you like to say anything to someone who is reading this article and has not had the opportunity to visit you or the
market?

Come on down to the market, enjoy yourself, bring your kids and family dog, and don't forget your husband, there's lots for him to enjoy also. The
Chocolate Beet Cake is superb, home-baked cookies, pies and much more to nibble on. Organics galore: from farm fresh vegetables to home-made soaps,

The White Rock Market has something for everyone - and let's don't forget about the music!!
In addition to being at the market can readers contact you directly for a reading? In their home or yours?
For a Tarot Reading or for information about the Tarot Arts Training Centre please contact KCee at: Phone: 778-294-0082 or email: tatc@shamaya.ca
Tarot readings are done from my home.
If your having a party or event I will go to the clients home.
To contact Linda Rose, Mind, Body, Soul Intuitive she can be reached at 604-603-3130
Every Sunday 9 a.m. - 1 p.m. Website
Farmer's Market Director
Helen Fathers
In addition to her duties as a White Rock city councillor, HELEN FATHERS is also the Director of the White Rock Farmer's Market. For the past few years FATHERS and her crew arrive at the market at daybreak to help the vendors get set up and ready for the crowds that arrive each and every Sunday morning.
The market is located at the base of the two high rise towers in uptown White Rock. The booths are placed strategically in front of the community centre and along Russell Avenue in front of the famed Whaling Wall.
The White Rock Farmer's Market is scheduled to open this Sunday (May 29) How many years has White Rock had a Farmer's Market?
This Farmers' Market has operated since 1998, but I believe according to The "street chatter" there used to be a farmers market here years and years ago!

We will provide a list of the vendors this year at the end of this article, but can you tell us about any new vendors that will be making their debut at the market this year?

A few new vendors that I am excited about are
Certified Organic Garlic - vendor arriving July
Certified Organic Turkey Farmer from Abbotsford - Lady Bug Manor
A First nations artist - Ravens In Motion
Tartine Pies and Tarts -
Nonna Pias Gourmet Oils and Vinegars
Wild Ginger Designs - Plants and Herbs
Upper Bench Organic Farm - arriving July time


In addition to the wonderful stalls at the market, there is usually music supplied for the shopper's entertainment. Who will be performing this Sunday at the market.
Ched Miller & Mike Villeneuve/The Lounge Brothers

The Lounge Brothers and entertainment By The Hoop Fairy

Given this is the kick off for the market do you have any special guests or events planned for the opening?
Mayor Ferguson

Well David, I am sure you will be there!! and of course Opening Day would not be the same without the Mayor doing the honours!!
There seems to be a real sense of community at the White Rock Farmer's Market that is not as prevalent at some other farmers markets. What do you think causes such a sense of community at our market?

White Rock Is All about Community. The Market is the place to observe this, We all need to a place to be, with our fellow people, Outdoor spaces are imperative in a city to bring this sense of relationship together.

You take a certain sense of pride professionally in the operation of the market. On a personal level are there any vendors in particular that you enjoy having here on a personal level?

All of them, They are all pieces of the pie.

It is rumoured Bosa will soon begin development of the other two high-rise towers on the Miramar site. Once construction begins will the market be able to function in its present location outside of the community centre or will the construction necessitate a move of the market?

We will still be able to continue our Market, with the closure of Russell Avenue that we have from The City, in this space alone , if push came to shove we could operate there.

Will the regular special events for the Sunday market return this year. IE: Pet day? Tell us a bit about some of the other special events scheduled for this year?
Fathers Day June 19
Dog Day July 3 sponsored by S.A.L. I. society with the pet washing station and of course our famous DOG SHOW.
Kids day Aug 14 with Korki the Klown

Is the market full for vendors this year or is it still possible for vendors to apply to participate in the market?

We are still accepting applications for some vendors, jewellery and craft vendor spots are full , but veggies and fruits still available.

Given you the fact you have to be on hand every Sunday for the White Rock farmer's market, have you had the opportunity to visit any of the other markets in the Fraser Valley?
Trout Lake - Vancouver
Granville Island
New Westminster
Abbotsford
Kelowna
Huntington Beach - California
To name a few


ANY special additions you some day hope to institute at the WHite Rock Farmer's Market?
Speakers Corner would be great or some kind of "soap box" area - we are working on it.
As a kid I used to catch the bus into Nottingham most weekends, In the town square there was always artists doing chalk drawings on the pavement, this was always so cool, I would love to see more artists performing at the Market, street performers that kind of thing.
As far as Vision - The Best Farmers Market in BC.
As regards the weather , I have checked and the forecast for the 29th "partly sunny" and I know the weatherman never gets it wrong!!
Complete listing of 2011 vendors
1. AJI Sauces
2. Alex the Woodman – Wood Products
3. Applebarn Farms – peppers
4. Bite me off sausages
5. Blackberry Hill
6. Chloes boutique – barrets, kids hair designs
7. Christinas Garden
8. Class Act stone - jewellery
9. Clawfoot spa products – bath and body
10. Coffee Tent – Sam Miguel Fair Trade Coffee
11. Creative Cutlery
12. Culinary Blossoms – jams, jellies , flowers
13. Dingolay jewellery
14. European Breads – Bread and Baked Goods
15. Fieldstones bakery
16. Fieri del sol, flowers and body products
17. Florillia Growers
18. Fresh and Go - 100% natural deordorizes
19. Fresh off the Boat
20. Friends of Semiahmoob Bay Beach hero program
21. Gesundheit Bakery – Baked Goods
22. Glen Valley Organic Farm – Organic Veggies
23. Gold Valley Bee co – Honey
24. Granola King
25. Hello Friends bakery
26. HG Farms – veggies and fruits
27. Hinda s Finest Foods
28. Jewellery by APT
29. Judy's Country Kitchen – Baked Goods
30. Lady Bug Organic turkey
31. Leslie Leslie Metal Art
32. Mann Farms – Farm fresh produce
33. Miss Bossy Boots
34. Natural Village – Farm
35. Nonna Pias Gourmet oils and vinegars
36. Out west Ranch – Beef
37. Pauline Smith
38. Pink Gargoyle
39. Ravens in motion
40. Richmond Specialty Mushrooms – Organic Mushrooms
41. Rock Yard designs
42. Schatzi Bath and Body Soaps
43. Sideline designs
44. Simply Delish Soups and salads
45. Southpoint chiropractic
46. Sunlight blossoms
47. Sweet delights
48. Tartine tarts and pies
49. Trommell Greenhouses
50. West Coas Natural Art
51. Wild Ginger Designs – plants and herbs
52. Wyndson Farm
53. Zodies Barkery – Dog treats
May 18, 2011
Wyland Whale Wall - The One That Started It All
In the summer of 1984 the city of White Rock was transfixed as marine artist WYLAND painted a beautful giant mural on the wall of a band in uptown White Rock. The local comunity opened their arms and hearts to this gypsy California artist.
The White Rock whale wall became a source of pride for the entire community. Upon its completion WYLAND created beautiful posters which he autographed at the dedication of the public art piece.
Almost without knowing it White Rock over the past 25 years has added nearly a dozen public art pieces on the walls of various businesses.
This past weekend the owners of Blue Frog recording studio JUANITA MOFFAT and KELLY BREAKS became the proud owners of the most recent addition to the wall mural inventory.
The artist who has painted the majority of the wall murals in White Rock is ELIZABETH HOLLICK. Over the years HOLLICK has put forth proposals to city hall with concepts of how to beautify our city by the sea.
Elks Hall on George Street in uptown White Rock. Artist unknown.
A collection of Elizabeth Hollicks public art pieces
White Rock Muffler Marine Drive
In the alleyway between White Rock Travel and Sugar & Spice restaurant on Johnston Road near Thruft avenue a pair of Hollick wall murals.
(L-R) Olympic welcome wall painted by Elizabeth for the arrival of the Olympic torch along Marine Drive at the end of West Beach. Fishing ship mural on wall behind Turtle Recording Studio corner of Vidal & Victoria Avenue
Another pair of Elizabeth's mural walls. ULI'S restaurant on Marine Drive and the wall of the Suprfluity Shop on Prospect Avenue just off Johnston Road.
Though no somewhat fading from the weather Elizabeth painted the water tank in uptown White Rock just off 16th Avenue.
April 07, 2011
First of all if you could give the readers a bit of your own personal background and how you two ended up owning and operating Blue Frog Recording Studio in White Rock.
Juanita Moffat: We met when we were both teenagers and in the same band together, and have been best friends and music partners ever since. We had been working on our own CD, a few years back, and loved recording at this studio when it was then called Rock Beach. This studio has so much magic about it. When you walk in, you can feel the special vibe of the room. It was specially designed and built for the likes of all musicians, and everyone that would appreciate it's perfect acoustics. The studio seems to have it's own pulse.
Kelly Breaks – In addition to playing bass in different bands, I have had a number of different small recording studios over the years. My previous recording studio was located in a warehouse in Surrey, but the building was sold and I had to move out. About the same time, this studio became available. So we jumped at the chance to take over this world-class facility. This place has such amazing acoustics, and we have many producers and engineers bringing their recording projects in for the sound. It's the million-dollar studio with a million dollar sound.
The recording industry I understand in changing rapidly due to technology. It is apparent in order to exist and succeed in today's marketplace you have to become very creative so to speak. What are some of the challenges you face in the music industry of today?
Kelly Breaks- Today it is all about the live show, video, YouTube and social media. The music business really has changed in the last decade. There is less interest in people buying CDs. It's more about having a great live show and building a fan base over time. Once a band has a good following, they can sell their CDs, DVDs, T-Shirts and other merchandise, and do very well. But they have to be able to pull it off live on stage, and not just in the recording studio. It seems that YouTube and similar services are now the go-to sources for people to discover bands. We have adapted our services to give the working musician some powerful tools to compete in the new era. We have the unique combination of an acoustically pristine studio and an elegant theatre, which is perfect for holding intimate concerts. We record these concerts and shoot video in High Definition for an amazing DVD and YouTube release. We are slowly and carefully building a "Live from Blue Frog" brand. We don't consider the ever-changing music industry a challenge, but rather an opportunity to expand, with new ideas.
Blue Frog Studio has very quickly established itself as a performance space by staging very unique intimate concerts for the residents of the Fraser Valley. How are you able to entice such artists as DAN HILL and ALFIE ZAPPACOSTA to perform in the comfortable confines of your recording studio?
Juanita - It started with Dan Hill coming in because of our reputation. He really likes performing for smaller, intimate audiences who he can interact with. Dan said he just loved playing at Blue Frog and couldn't wait to come back. The word quickly spread to other well-known artists who are now contacting us to do the same thing.
What artists can we expect to see in the future concert series?
Juanita - Blue Frog Studios, has some exciting concerts coming up. We keep them under wraps until about 6 weeks prior to an event. We have a relaxing day filled with smooth Jazz, chocolate and champagne, planned for Mother's day (May 8). Juno award winner Gabriel Mark Hasselbach and friends will be here for two shows. Next is Shari Ulrich on May 25th. She is amazing, and will be performing with her daughter , who has a reputation of her own, along with another talented musician. That will be GOOD! We are working, right now, on another very special treat...but can't tell you yet! People can join our mailing list, so that they can find out these special shows before they sell out (bluefrogstudios.ca)
So now let's talk a bit about the mural you are going to create to adorn the north wall of your business. Tell me how this all began?
Kelly – I was surprised at how many musicians coming out from Vancouver would get lost trying to find us. I said jokingly, "we should paint a Blue Frog on the wall as a landmark". That kind of started things, and when we casually mentioned this to Cyndie Richards from the BIA, the idea exploded…we all realized the potential of what a mural would do for the community.
Did you work closely with the artist Elizabeth Hollick in creating the image that will adorn the wall?
Juanita - Elizabeth is soooo great. She has so much talent flowing through her. It's like she is about to burst with excitement when it comes to talking about the art and artists in our community. We met with her and Cindy Richards of the BIA numerous times to discuss and talk about what our vision was and how it matches the city's vision. It was fun to see the things Elizabeth came up with. Out of 5 ideas we finally picked the one that we thought would enhance the community the best.
What is the time frame you are working with for the completion of the mural?
Kelly – We are hoping that it will be done in time for the May Long Weekend…what a great way to kick off summer in White Rock.
Are you hoping this mural, which will become a part of the existing murals in White Rock, inspires other business owners to follow your suit?
Kelly - White Rock has such potential, something like Cannon Beach, Oregon and other arts & culture focused places. The beach is the draw, but we see White Rock as a funky, art & music community, with tons of fun things happening. Great food, great music, and great art. It could become a quaint seaside town, with a theme, and a reason for all to come here to spend their hard earned entertainment dollars. We felt that if we were going to pipe up and say these things, we need to do something. The mural was our first idea, and we acted on it. I am sure we will have more, but one at a time.
I can understand you want to keep the final design a secret. I think that will add to the mystery as it starts to take shape, but can you give the readers a hint about what the mural is going to be of?
Juanita – Other than the obvious Frog in it, the mural will be a secret until it is finished. But just let everyone know, it will be fun, whimsical, and something everyone will enjoy!!
Take a trip inside Blue Frog Studios (CLICK HERE)
March 05, 2011
Ginny Harrison White Rock Travel

Today we sit down with GINNY HARRISON the current President of the White Rock Business
Improvement Association to talk a bit about the past, present and future of
the organization.
Ginny first tell me a bit about your history here in White Rock. How long
have you lived in White Rock?

Wow, I had to double check the calculaton...45 years.....my family moved
here in 1966.
Do you have any special memories of your childhood growing up in White Rock?

Lots. I remember Centenial Park being names in 1967...all the celebrations.
All the tiny, fragile pink clam shells strewn over the sandbars at the White
Rock beach. Havent seen any of those in years.
Swimming every summer in Ocean Park...sand dollars so populous, it hurt your
feet! We always made rafts out of the driftwood, and poled our way along. I
remember really cold, harsh winters, with tons of snow, I think it would
have been about 1968, or 69? One or two winters. I remember seeing the White
Rock Sun front page, showing a photo of the ocean frozen out to the end of
the pier, big chunks of ice. (You're going to think I'm nuts, or that I'm
talking about the 1800's, but I'm not that old!) And the time when there
were 2 sets of tracks all along the waterfront, when the train station was
actually in use.

How long have you had your travel business in White Rock?

I started working here in 1978, 33 years ago. My parents owned it; they'd
purchased it from local resident, Mark Gelfond.
The business opened in 1952.

Are there any particular locales that your clients frequent more than other
holiday destinations?

The majority of our clients are going to Mexico or Hawaii in the winter, and
Europe in the summer. Lots of cruisers.
Hottest trend this year: River Cruises.
You return this year as the President of the White Rock Business Improvement
Association. How long have you been working with the BIA and how did you
become involved?

I was asked if I wanted to be on the board, when it was just starting out.
Other people had done all the work of it being created. So that was about 6
years ago. Never my intent to make this a career choice.
As a business owner yourself you no doubt are concerned about the well being
of the retail base in White Rock. On a personal and a professional level
what do you think are the major things that need to be addressed to maintain
a healthy business community?

The big emphasis needs to be on promoting "support your local businesses".
I think it's a perspective, a mindshift. White Rock is full of small
businesses, retailers of all sorts, like me. Lots of service industries as
well. We rely on our local community to survive, and most companies I know
give a huge amount back to the Community. We're always approached to
support this cause, or that event, and we relish the opportunity to support
White Rock. Local business owners make up the memberships of all the
service clubs, Rotary is an example. We have a vested interest in seeing
White Rock thrive, and we really appreciate the support we get from our
clients. I'd love to see a closer working relationship with our major
employers in this town: the hospital, City Hall, Police and Fire, and the
schools! I'd love to design something that is a win/win for everyone, and
encourages those employees to really consider doing business in White Rock
FIRST.
What are some of your favourite local businesses/restaurants that you would
recommend to someone reading this article?

Critters for my pet supplies; Buy Low for groceries; Penguin Meats for the
protein! Wolf's Deli; Helen's Sugar and Spice.
Kids and I love Kappa Japanese Restaurant on George Street. I'm partial
to Five Doors Down, and Uli's. I'd be in Laura's Fashion Fabrics daily, if
I sewed. Deslauriers Chiropractic for my back; White Rock Wellness for my
health, and Perfections Hair Salon for hair.
Par parking on the waterfront has been a contentious issue in White Rock.
Have you heard of any plans by the city to expand pay parking to the uptown
shopping district of the city?

Sometimes I hear rumours, or see inferences. That would be a fairly
short-sighted move by the City, though. I can understand pay parking on the
beach, when we want turnover during busy times, and also, its an attraction,
like Stanley Park in Vancouver. Pay parking is a way for the City to pay
for the upkeep. But there's no beach uptown...and there are lots of shops
across 16th, and 24th, with free parking. Pay parking uptown would surely
drive away more businesses.

The City of White Rock is undertaking a business study, could you tell us
about this program what it will involve and when will we see the report?

It's a business needs assessment, and the BIA is partnering with the City in
getting the study done. The consulting company will be examining the uptown
core, and coming up with recommendations on redevelopment, types of
businesses, and whether its all financially viable for the new developments.
The White Rock BIA has called for applications for the position of Executive
Director. What are some of the key points and qualities you are looking for
in the new Executive Director? When do you hope to make the announcement of
who will be the hands on director for the coming year?

The BIA is very blessed in our current ED, Cyndie Richards. We want to be
absolutely sure she is the best.
We are looking for a very creative, energetic, self-motivated individual,
who has excellent communication and marketing skills, who can steer the BIA
into and through the next five years. We would hope to make the
announcement by the end of March.

How much ownus do you think rests with the White Rock BIA in stemming the
exit of businesses out of our city? Do you feel the City of White Rock has
a responsibility in prommoting White Rock as a retail destination, or does
the onus rest with you and the business comunity?

The White Rock BIA can't take much responsibility for business' financial
survival. That is up to the owners of the businesses. We can give them
opportunity to help market their business; we can give them exposure by
bringing crowds of people to street fairs and festivals in their
neighbourhoods; then the businesses need to make the most of that
opportunity.
I think the City can work with the BIA, and other organizations such as
Tourism White Rock, to help promote our City, and the businesses within.
After all, that helps everyone in White Rock, to have a healthy business
community. I've seen several reports, and on average, the estimate is that
commercial properties in White Rock pay approximately 3 times more tax than
residential. For the grand total, commercial property tax may make up only
10% of the City's budget....but can you imagine if there was no business
here....the impact that would have on the City's tax base. In my mind, I
envision no businesses along Johnston Rd...and all those commercial
buildings being replaced by residential...those buildings would have to be
triple the size of the commercial to make up the loss in taxes! I know in
reality that's not quite the case, but the visual helps me get it in
perspective.
A group of volounteers recently came forth with some branding initiatives to
describe White Rock. How do you as a long time resident describe White Rock
to people?

THE BIG SECRET.
What's with our community? We've tried to keep it quiet forever! No
signage on the highways; no presence in BC's tourism literature. Thank
goodness that's all changing!
February 05, 2011
The Green Source
Alberta's Wild Rose MARLINE URSULAK
Marline and her husband recently moved to the Semiahmoo Peninsula. Until very recently they owned and ran a heritage honky tonk saloon and hotel in Cochrane Alberta in the foothills of the Rockies called Rocky View Hotel . Located directly across the street from the famous locale of McKays Ice Cream. They are presently in the process of selling their personal property in the Cochrane area. In Marliene's words it is a real "yahoo kind of town" ha ha.
How did you end up choosing The Semiahmoo Peninsula for your new home?
I have family in Vancouver and on Vancouver Island. So we would come out to visit friends and family. We would tow our fifth wheel trailer and we always used to check in at the Peace Arch RV Park located near the King George Highway Highway 99 interchange. We ended up driving around the area whenever we were out visiting and we really liked the area, so it seemed like a natural place to settle when we decided we were going to sell and move out of Alberta. The energy here is really relaxing. When I saw this location I told my husband I think I would like to take my personal love for the natural and healthy things in life and put them all together in a location.
How would you describe your store?
I like the natural organic eco friendly products. I do organic 90% of the time. I had been using a brand of tea that I knew I could get. Then I got a few other items and it is all growing rather organically. I am not sure exactly what the finished product is going to look like . I have a roaster in Vancouver that is supplying fair trade coffee, I am just getting to know the neighbourhood. Everyday someone new walks through my door. I also provide good drinking water. I sell a very affordable machine that makes alkaline water. It is called the Jupiter. I really want to become a healthy products corner store. Sort of like "if you don't need it I have it" ha ha.
Your store seems to also carry a number of unique items.
I carry a special Russian stone which is good for people that are concerned about he negative effects of WI-FI on their personal health. I am also very excited about a skin cream that I have in stock that I know from personal experience that works very well. It is the closest thing to the fountain of youth you are going to find. I also carry on a limited basis a very healthy brand of pet food that is made locally.
Tell me a bit about the wide variety of teas you carry.
Well I have teas for just about anything that might ail you like digestion, colds or they just want a nice anti-oxidant tea. I have a wide variety of teas. I have the roibus tea that is caffeine free.
A lot of people have already discovered me here in a short period of time. I have a number of things planned for my big parking lot out front of the building, perhaps I will host a plant swap. I really would like Green Source to become a gathering place for the community. I am really happy with the amount of wonderful people I have met in the short time I have been open.
Talking to different people there is a possibility I might do a raw food cooking class, there are a number of people that have approached me about doing some natural healing sessions. There are so many things to consider for the future. I am open to hearing from anyone in the community that has a desire to sell their original material here in the store. I would like to bring a line of soap and little things like that. Stuff that would appeal to not only the locals but tourists as well. I am trying to reach to as many vendors as possible. I have already connected with a local photographer that has created a lovely set of original photo cards with winter scenes of White Rock that I have. She will also be doing Spring and Summer cards as well. Local unique things is what I would like to be known for.
Drop in and say hello to Marline and enjoy a cup of tea or coffee and one of the lovely home baked dessert items. Watch for the cute little homemade "Open" Angel sign out front that was made by one of Marline's neighbours as a welcome present.
Now that is community caring in action.
December 16, 2010
Illustrator Patricia Pailahueque
This week we sit down and learn a little bit about an illustrator who has made the long journey from her home in Santiago, Chile. Meet "Patricia Pailahueque."

First of all PATRICIA welcome to White Rock. Our community has earned quite a reputation as a haven for artists. Tell me a little bit about your art. WOuld it be fair to say your are an illustrator/artist?

I began studying at Duoc Catholic University of Chile, and when I graduated I started immediately with my illustration in the transport business magazine of Chile, after that, I've been linked in relation to art with my own creations,painting,drawing,and exposition,included an scenery for TV show,"Mad Love".
Your were raised in South America Santiago Chile to be exact. Is this where your interest in arts first began?
As a child I felt passion for the arts, especially what is draw a picture .. and it can express different feelings, creations and of course, different things that people want.

I understand you left Chile in pursuit of work and to develop your artistic talents. Where did your travels first take you when you left Chile?

Yes, that is, starting at age 23 to travel outside of Chile and thus learning about different types of culture, which has been influencing me slowly as I have become today, I love the colours and that stands out in my drawings and paintings.
In Mexico working with a great artist named Leon Alva, was an assistant in his work "The night dressed dauphine",("La Delfina vestida de Noche") today exposed at Hotel Le Meridien Cancun's hotel zone.
After that I worked on the project of a writer, making for a Maya character animation,his name is Claudio Obregón.
After your time in Mexico it was off to Spain. Why did you chose Spain and what artistic endeavours were you involved with in Spain.

In a way, I thought that Spain would be easier for me to achieve the target as illustrator so I was knew before, they appreciate the Art in Europe. Nevertheless I went there for my passion too is the Flamenco Dance, When I came to Madrid, I participated in a course of children's stories, which promoted the entity ILUSTRARTE,
I went to advice in APIM (association of painters and illustrators in Madrid), however it was not much I could to do, after that, I took a decision for to travel around there,in Barcelona,big place of art,everything is Gaudí ,the Park Guell,wonderful,the gothic place,this architecture is incredible..after that, I decided return to Mexico.
Is it true that you were back home in Chile earlier this year when the earthquake hit in February? Tell us a little bit about that experience, was there devastation near your home?

Yes, an earthquake measuring 9, something intense and never lived, we seemed to of paper inside the house, all things fall ... well ... a lot of people lost their homes too, and in my case, my family in southern Chile lost my grandfather's house because it was the epicenter, where the greatest devastation occurred, nearly 4 minutes of the earthquake and most of my country went to the ground ... still people there,can not completely rebuild their homes ... and we have a lot movements in this time yet.


How did you end up travelling to White Rock, British Columbia? What brought you here?

In 2004, started working in animation assistance plans in CHILEANIMACION, inadvertently, worked to Canada in 2 different animated series, What's up Andy, and Milo. From then on I never stopped thinking that one day travel to this beautiful country.However, after my thinking, in 2009, I was pregnant and the father of my daughter lives in White Rock area, so I already had many reasons for to come here, so I got my visa to work in this country and today I am here for all these reasons, along with my daughter Amie 2 years old.


You specialize in illustrations. Tell us more about the different applications your illustrations have been used for. Have you had your art/illustrations published in any magazines or newspapers?


In 2000, I started my practice in the magazine on Wheels transportation Guild, a magazine aimed at managers of it. In the year 2004/05, I started my period in the magazine Women of the newspaper La Tercera, along with it , made a scenery for a television station in Chile.
In 2006, I was invited to participate in the association of painters and sculptors of Chile (APIM) in an exhibition at Orange house, Art and Restaurant, days before leaving for Mexico, was pubic nationwide, which gave me proudly to be the youngest artist invited to participate with the great artists of my country.

Although you have been in White Rock less than a year. Tell us what your thoughts are of this little peace of heaven nestled up against Semiahmoo Bay.

I think it is a very beautiful and quiet, clean, which is mainly security, something very good for the quality of life of any human being, I always linked to the sea, I will always walk with my daughter, because I love jogging, enjoying the sun, or even the most simple .... watch the train pass. .
It is a source of inspiration for me to see the tranquility of white Rock.


What are some of the favourite things you like to do when you are not doing your art?

Travel, meet, dance flamenco, which is my passion too, and the music .. part of my life in every place that I go ...


Do you have any favourite artists whose work you enjoy?

My main attraction is the art of Gustav Klimt (Vienna 1862 - Vienna 1918) their attachment, women in each of their faces I recognize in him the details of womanhood, of subtlety, the colors that resonate with me, and the dedication and finesse that denote reached in each of his paintings artistic.
Egon Schiele, Picasso, Gaudí, Dalí, Fernando Ureña Rib, Dominican Artist, Leon Alva and Jaime Villegas, Mexico, etc.

How do you do your illustrations/art? Is it done free hand or does technology actually allow you to draw using your computer?
I've always drawn free hand, but with the advent of technology, I can draw on my Wacom table and paint on the same computer, I also mixing techniques with aquarella and photoshop, drawing and painting, mixing textures, collages, colors, my favorite, acrylics and paper. With this I can have my art and create, as necessary.
A special thank you to Patricia for telling us her story and sharing her artwork with the community.
If you are interested in contacting Patricia for more information and the cost of an original illustration please email her at'
patty.pailahueque@gmail.com
Or visit her blog/web site at;
http://pattypailahueque.blogspot.com
Heart's Desire White Rock
VALERIE CRUMP
White Rock is now home to a beautifully designed art and jewelry boutique. Heart's Desire is located in uptown White Rock on Johnston Road. The store and its contents for the most part are the creation of Abbotsford resident VALERIE CRUMP and her husband TIM UNRUH.
This week we had an opportunity to sit down with VALERIE to learn about her store, her artwork and the woman herself.
AS I LOOK AROUND YOUR SHOP I SEE IN ADDITION TO A WIDE SLECTION OF JEWELLRY, YOU HAVE A NUMBER OF BEAUTIFUL ART PIECES. FIRST LET'S TALK ABOUT THE ART WORK.
"All of the wall art in the store along with some of the jewelry pieces are my own original creations." Says VALERIE as she relaxes on the centre point of the store a beautiful chaise lounge
"IS HEART'S DESIRE YOUR FIRST JEWELLRY RETAIL OUTLET?"
No I had a shop in Metro Town and over the past 15 years I have run my own kiosk on a seasonal basis both in the Semiahmoo Mall as well as the Cottonwood Mall in Chilliwack.
WHAT MADE YOU CHOOSE WHITE ROCK AS A LOCATION FOR HEART'S DESIRE?
"I have developed a loyal clientele here and I love the area. I really enjoy the people and the energy by the ocean just feels right for the artist in me.
I know there is a concentration of artists in White Rock. I am hoping to be included in the Arts Walk in 2011."
WHAT IS THE INSPIRATION FOR YOUR JEWELLRY. IS THERE A CERTAIN STYLE THAT WOULD DESCRIBE YOUR CREATIONS?
Well I don't copy anyone. I am just not interested. I usually see a vision of my jewelry long before I make it. It often comes to me in a dream as well as in a dream state just as I wake up in the morning. When I see the vision I have to complete it. If I don't do it right away it will haunt me over and over until I follow the guidance of my design.
It also helped that my grandfather was a couture designer of women's one of a kind evening wear which he sold in Europe as well as New York.
TELL ME MORE ABOUT YOUR ART, IT LOOKS TEXTURED AND SHOWS GREAT DEPTH.
I have taken formal art training in Toronto where I grew up. I moved to British Columbia around 1980 and about 10 years ago I started to take more training under an art professional, ROBERT BARRETT from the Neighborhood Arts Studio located in Langley.
With my wall art I have been shown "other places" and I am always in the process of birthing what I see there, into life here. I call it a gift. It is something I have had my whole life. In my earlier years it scared me and I tried to avoid it, but now I allow myself to celebrate each creation
The art that you see here now, reveals itself "through" me. The drawings that come in in advance of each piece are the same sketches with the pencil as it touches the paper – over and over – almost as if they are talking to me until I let them speak for themselves.
A lot of my textures and the movement of the sculptured wall art is inspired from nature. As a child I was fascinated with flowers, leaves and seeds. My little grandmother Mary had a profound effect on my understanding of the natural elements and introduced me to the fairy kingdom. She was an incredible artist in her own right.
IN ADDITION TO YOUR JEWELLRY AND ARTWORK I ALSO SEE LADIES CLOTHING AND ACCESSORIES. TELL ME A BIT ABOUT THIS PORTION OF HEART'S DESIRE.
I carry handbags, scarves and unusual clothing. I also carry "INTENTION" products produced by another artist TIEN WEE who is a practitioner of Chi and Feng Shui. He creates quality sprays, candles and soaps with balanced aroma therapy harmony. I have studied the healing properties of herbs and flowers and these intentions became a natural as one includes them into their life for health, love prosperity, happiness and a quiet state of being.
ONE LAST QUESTION. HOW WOULD YOU DESCRIBE YOUR STORE TO SOMEONE?
My main aim is to provide a creative environment for people to enjoy themselves. Women love to express their emotions through the way that they dress. It is very important for them to feel confident and comfortable with how they are seen by each other and their world.
It is vital to come from your heart when purchasing for yourself or for anyone in your life. My staff and I will keep you on track and help you with those important decisions.
I AM NOT REALLY SURE WHAT MY ORIGINAL "intention" WAS FOR VISITING HEART'S DESIRE BUT I AM THANKFUL FOR WHATEVER POWER DREW ME INTO THIS BEAUTIFUL AND UNIQUE STORE.
IT JUST GOES TO SHOW YOU CAN'T JUDGE A STORE BY ITS COVER.
Heart's Desire
1351 Johnston Road
White Rock BC
Making A Point In Cloverdale - Meet MAGIC MARIO
Mario Ibara
Many people, myself included have chosen to travel the "alternative medicine" route when it comes to maintaining a healthy lifestyle. I prefer the term complementary more than alternative. Complementary to all forms of medical treatment including modern western medicine.

Today I am happy to introduce you to MARIO IBERRA. For a number of years I have been the benefactor of "Magic Mario's" medical treatment.


MARIO the sign out front of your practise in Cloverdale the sign indicates you practise acupuncture as well as TCM. Can you please explain what TCM is?
Well TCM is a term for Traditional Chinese Medicine that involves using Chinese diagnoses by checking pulse, tongue, and physical characteristics. By management using herbal medicine with either western or eastern herbs. TCM also uses acupuncture to help the meridians of the body.

Tell me a little bit about your medical background before arriving in Canada.
I am a licensed medical doctor in the Philippines specializing in orthopedic surgery, and complimentary medicine. I worked in Taiwan hospitals as a surgeon and got trained in traditional Chinese medicine and upgraded in Germany about complementary medicine, including acupuncture, ozone therapy, and ort ho-molecular medicine.

How and why did you take up the practice of acupuncture?
As a Western medical practitioner and a surgeon I don't believe easily in alternative medicine until such times, that most of my patients take complementary medicine that heals them quickly especially if you complement both of the western and eastern medicine. So I decided and got interested in complementary medicine and especially acupuncture

What are some of the more common ailments you assist your patients in dealing with?
Most of my patient's conditions have a bacterial and viral illness especially with the immune system depression like cancers, blood disorders and all the aches and pains in the body, etc.

A few years back a friend of mine visited your office for the first time for acupuncture treatment. Upon meeting him for the first time you urged him to see his medical doctor and have his prostrate checked. As he was not there for anything related to his prostrate what was it that caused you to direct him to see his medical doctor.
I directed this patient to a medical doctor because I would like to confirm the diagnoses that I'm thinking about his prostate due to the fact that I don't have any access of laboratory examination, and when I diagnosis a patient I always use my western and eastern training diagnosis for a better double setup diagnosis. For example, two minds are better than one, for a safety management for a patient.

BACKGROUNDER - The aforementioned gentleman took your advice and found out in short order he had a cancerous prostrate gland. Thankfully the quick action on his part made a routine operation an easy operation.

We hear people constantly talk about preventative medicine. Can you enlighten us what that term actually means?
Preventive medicine is to maintain and improve your health for all age groups, prevents and detects diseases, and risk reduction to maintain a good quality of life.

What is the range of ailments you see with your patients? Are there any particular ailments that you deal with more than others?

The range of ailments is from basic colds, fevers, coughs that can cover medical problems like organ diseases, blood disorders, behavioral problems, and pain management.

Do you think the Provincial and Federal government should expand the medical services plan to include "complementary" health care? If so, why?
Yes, because its very limited having ten visits in a year for individuals who uses complementary medicine is not enough, because complementary treatment is a slow process and needs more visits to monitor and improve the well-being of the person, and under MSP this is only good for people who are under $28,000 family income per year, this doesn't apply for families that have a greater income per year.

What advice do you have for our readers on maintaining a healthy lifestyle?
The advice that I can give is to have a physical check up every 6 months up to a year to a medical practitioner to monitor any irregularities in their body and you can discuss to your practitioner if you want to use complementary medicine.
Address:
17687 57 Avenue
Cloverdale
Phone 604-576-2449
PETER YOUNG "Live From White Rock"
PETER YOUNG could never have imagined from his first meeting with LARRY ANSCHELL that one day he would be negotiating a deal on ANSCHELL'S recording studio. YOUNG and ANSCHELL met back in the 80's when they both were enrolled in a fine arts recording school ICA in Vancouver. Upon graduation their paths took different courses. ANSCHELL began to make a name for himself first in the mobile recording industry and later a studio owner. YOUNG on the other hand traveled a different route that brought him to White Rock.
In 1987 following his graduation YOUNG was contacted by one of his instructors at the school that he obviously had made an impression on. "My instructor called me and said would you be interested in helping me engineer some future projects" says YOUNG as he relaxes behind the massive recording console in the old Turtle Recording Studios in White Rock. "I worked with him for about a year mainly concentrating on producing television and radio commercials out of a studio in downtown Vancouver. I got to know a lot of people in the industry in a very short period of time. I soon grew tired of the late nights and long hours associated with recording studio schedules."
From there YOUNG moved over to be the head technician at the famed Commodore Ballroom from 1998-2001. I ended up swapping gigs with the live sound engineer for the Vancouver band WALL STREET. That launched me on my career of an independent contractor providing sound support for a number of different facets of the recording industry."
As more and more corporate clients came knocking YOUNG decided instead of always renting sound gear he would check out his options. The road quickly led him to a joint venture with FM SYSTEMS out of Alberta. Soon YOUNG has his own live sound company based in Vancouver up until 2005 when his business interests led him in a different direction. Audio Images Production Canada would be YOUNG'S next venture and it continued on providing corporate conference recording and instant CD duplication. In 2006 YOUNG'S company was hired to provide the sound system for the DALI LAMA'S appearance in Vancouver. Part of the service his company provided was the ability to record and manufacture 8,000 CDS of the DALI LAMA'S lecture. All within 2 hours of the lecture being complete. The system YOUNG was using was able to produce 250 CDS every 2 minutes. Everything was working just fine until mid-way through the duplication a power surge caused the loss of half of the compact discs being created. "From that moment on I swore I would never try to do on site duplication again" says YOUNG.
Is this the future for the recording industry?
YOUNG also became patently aware of some other limitations to on site instant recording and sales. "You are faced with controlling your content as well as the quality and what content is actually going to be manufactured. There are a lot of variables that have to be taken into consideration." YOUNG thought there had to be a better way.
At the time one of North America's largest concert production companies LIVE NATION began to do a similar style of recording and selling music at concerts under the title of INSTANT LIVE. LIVE NATION actually tried to register and patent the system of recording and selling music at concerts, they were subsequently denied their patent in the United States. "In 2008 I was in Australia doing research for ALIVE DRIVE and I attended a ROB THOMAS concert. I stood in line for 50 minutes to get a recording of the concert I had just seen, and the concert I was actually sold was not the concert I had just seen. The industry made a shift then from compact discs to USB devices at the shows. Same problem though the USB devices were being created at the site of the concert."
YOUNG came back home to Canada and began to think the process through. He felt there was a market for concert goes to want to have a memento of the actual show they saw on any particular evening, but the quality was just not up to what YOUNG thought it should be.
YOUNG then decided what if as concert goers are leaving the venue following a performance they could buy a USB and it might contain a number of different sectors of the artist's career. Perhaps in the studio exclusive interviews, unavailable unreleased music, wallpaper for their computer, pictures and an endless variety of extra added value. Plus the real winner for ALIVE DRIVE is the next day or perhaps two days later after ALIVE DRIVE has had a chance to review the material with the artist and gain their approval, the show is put up on a secure site that the owner of the USB can access exclusively because they bought the USB. The concert they are going to get is the actual concert they heard the night before."
One of the first creations of ALIVE DRIVE is a co-production with Vancouver classic rock FM outlet ROCK 101 CFMI. YOUNG explains. "ROCK 101 has been recording performances of the shows they have presented since 2005. We have recorded the majority of these exclusive "win to get in" concerts so we were very familiar with the series. ROCK 101 will use some of this exclusive concert recording for their on air programming. The listeners enjoyed hearing the songs on the radio and it soon became apparent there quite possibly could be a commercial market for the concerts or a portion of the concert. So what we did is partner up with CFMI so when their listeners were leaving one of the concerts they were given a USB that would allow them exclusive access to not only the concert they just saw, but also an opportunity to listen to streaming versions of other songs recorded from the STUDIO 101 series. The only way they can get to the tracks is through having one of the USB units. ROCK 101 constantly update and refresh the site and that same USB will be the passport to the site for the owner of the USB device."
The software for ALIVE DRIVE is the exclusive property of YOUNG. The core code created for the clients will allow endless e commerce possibilities. Outside of the music industry ALIVE DRIVE is seriously exploring professional sports teams and a wide variety of other corporations that want to provide exclusive content to their customers or clients. Owners of the devices will also be able to access other artists or sports teams or movie companies or whatever once they have purchased the original USB device. If that consumer sees something else on the exclusive site they are on, they would be able to purchase access to other areas other than the original access site they paid for. The device simply becomes an authentication device. It is simply a key to a portal. Once you have the device the possibilities are endless.
The future looks bright for PETER YOUNG and ALIVE DRIVE. Brighter than a sunny day in White Rock. The new home of ALIVE DRIVE.
Visit the Alive Drive website (CLICK HERE)
Driving Miss Daisy
Daisy Walls
May 11, 2010

Tucked away just off the main drag in White Rock is a treasure chest called "Daisy's."
The namesake of the recycled thrift store is DAISY who without hesitation proudly informs you she is 91 years of age and has operated a store for 36 years on the White Rock waterfront.
While some may discount the thrift stores that dot the White Rock landscape eyesores, many enjoy the experience of poking around the various locales in search of treasures the never even knew they needed, until they saw it.
The Sausalito Bed & Breakfast building on Vidal Street that has housed "Daisy's" for the past 17 years is coming down to make way for a parking. The parking lot will be short term until BOB & JACQUIE YEARSLEY the owners of the property break ground on the construction of a new building on the present site.
The Modern Service Club for the Handicapped is the real name b of "Daisy's" but when Daisy moved into the present location the name was changed to her namesake. Daisy Wall is her full legal name. Daisy made her home for a number of years in White Rock but when her husband passed away a few years back she pooled her finances with her daughter and purchased a home in South Surrey. "I found when I went looking for a home to purchase I could no longer afford to live in White Rock so we moved up to South Surrey."
Regular shoppers at Daisy's will have noticed quite often Daisy has a support staff of young people helping her operate the shop. Daisy explains who makes up her staff "I work in association with the Whale House on Stayte Street that operates a program for their residents. It is more of a social program to get the young people back into the community when they are ready to work with the public. The government subsidizes their wages."
Over the years Daisy has had a number of famous people drop by her various locations on the waterfront. "When I had The Modern Service Club For The Handicapped it was originally located where Charlie Don't Surf is now. I was there for 9 years in that location. One day MICK JAGGER of The Rolling Stones stopped into the store."
Daisy has no plans for opening a new store but she leaves the door open for any possibility that might arise. " I am sad to be leaving this location. I am going to miss all the wonderful people I get to meet everyday. I couldn't possibly move everything so I am having a big sale to avoid having to move anything. For $1.00 I will sell you a big garbage bag and then when you fill up the bag it will only cost you $10.00."
Last year Daisy was involved in a car accident, which she quickly points out, was not her fault. "After the accident I decided that given the fact I am getting on in age maybe it was time to stop driving myself. My car was a write off and it was cheaper for me to take a cab. A lovely lady in the area picks me up and drives me to and from the store. She actually has started a business called "Driving Miss Daisy" and she offers the service to other members of the community as well."
Daisy prides herself in being a very positive person. Throughout the upheaval of closing the store Daisy has vowed not to let this latest change dampen her spirit and zest for life. She looks forward to hopefully seeing the Canucks go all the way this year. Her favourite Canucks are the Sedin twins. "I have pictures of my two great grandsons Jeremy & Josh up on the wall behind the cash desk here in the store. If everything goes as planned the boys will be in the NHL. Their father makes sure I get out as often as possible to see the boys play over in Langley where they live."
Daisy has had a chance to see first hand the changes that have occurred to the waterfront of White Rock and she definitely has some thoughts on some of those changes. "I don't like the BS with the parking down here, I don't like seeing all the businesses moving out and relocating in Surrey. White Rock is losing its identity. White Rock Council for a number of years haven't been following the rules in my mind."
During the interview last week with Daisy in her shop as people dropped in Daisy had a warm hello for everyone and punctuated the majority of the greetings with the person's name. Daisy and her little shop will be missed by a legion of long time customers who find themselves popping in, if for no other reason than just to say hello to Daisy and to see how she is doing.
Let me tell you. At 91 years of age Daisy is doing just fine. Her leaving will leave more than a hole in the ground.
To find out more information on the DRIVING MISS DAISY service please visit their web site (CLICK HERE)
15202 Pacific Avenue FIVE CORNERS District
White Rock
604-538-6600
Glen, Brodie & Laura Corrale
(missing in action/at school - 10 year old daughter Sophia)
April 29, 2010
Laura Corrale grew up in East Vancouver and learned the service industry in her family's bakery on Commercial Drive. It wasn't until she met her husband Glen a few years ago that she was introduced to White Rock. "I had never even been to White Rock before I met Glen. I remember the first time he brought me to White Rock I fell in love with it's beauty."
After moving to White Rock Laura made the commute into Vancouver on a daily basis. "My brother took over my parent's bakery FRITELLI'S, located at the corner of Commercial Drive and Second Avenue, right in the heart of Vancouver's Little Italy district. I managed the bakery for a number of years before I moved out to White Rock. The drive into Vancouver everyday was starting to get me down a bit. We had our son Brodie 7 months ago. I had always thought someday I would like to have my own place so Glen and I started to look around the area to see what was available."
The search took Laura and Glen far and wide in the White Rock/South Surrey area and then the tumblers of the universe fell into place. Laura explains how she ended up at White Rock's Five Corners district and as they say the rest is history. "One night I was on the internet checking out real estate web sites just to see if there was anything we had missed and I saw the ad for COFFEE WITH ATTITUDE. I knew of the coffee shop because twice a week I would bring my daughter Sophia across the street to 4 Cats Art Studio for her art lessons. I had never come across the street though because being a busy Mom I would drop Sophia off and go do some grocery shopping or race home and put in a load of laundry. So when we saw the ad Glen and I came down the next day and met Ruth the previous owner. I fell in love with the location right away. Once we negotiated the deal to purchase the business I asked Ruth if I could work with her for a month to get to know her regular customers. I am glad I did that it has worked out really well. In the month that I have been open I have had the opportunity to see how close knit the community is and how tight knit it is."
The new COFFEE WITH ATTITUDE has expanded the menu to include a wide variety of pastries baked fresh daily by Laura or delivered fresh from the family bakery on Commercial Drive. The lunch menu has now expanded to include salads, gourmet soups, panini sandwiches and fresh daily soups. Laura is creating a menu that she feels reflects a healthy west coast feel. In the future she also hopes to begin serving a few breakfast items like omelet and the likes.
By her own admission Laura is a workaholic yet she is learning to take the time to stop and enjoy the beauty of White Rock. "Everyday after work I put some good music on the car stereo and I drive from one end of White Rock to the other end along Marine Drive and look out over the ocean and I am constantly blown away at how beautiful it is here. I love the ocean. We also love to take family walks along the promenade."
COFFEE WITH ATTITUDE is presently open 6 days a week from 7 a.m. - 5 p.m. but Laura has more than coffee brewing. "I have spoken to the strata council of the condominiums that the shop is located in and I would like to institute later hours during the summer. I plan on expanding the seating outside with the blessing of the strata. If all this happens I will then expand my dessert menu so people out for a walk on a summer's night can stop in and enjoy a coffee, tea or cold drink and a pastry. I would also like to see if I can arrange for some live music on certain evenings. The other thing I hope to do is start opening on Sundays. I hope to be in the position to hire extra staff soon, but right now the juggling act of 6 days a week and all the responsibilities of raising a young family, well there just are not enough hours in the day to do everything I want to. I am a total people person doing what I love. This is me. I finally found me " says Laura as she jumps up to greet another new customer coming through the door of COFFEE WITH ATTITUDE.
Open daily Monday-Saturday 7 a.m. - 5 p.m.
Cynthia Stewart
The 4Cats Arts Studio is smack dab in the middle of my trap line. The route I walk from my home to uptown White Rock takes me right along the 4Cats building at 5 Corners. The bright coloured paintings that festoon the walls have brightened up more than one rainy day.
This week I finally found the time to drop in to see what was up with the 4 Cats Arts Studio. That is how I met Cynthia Stewart.
Owner of 4Cats CYNTHIA STEWART was born and raised in Victoria. Like so many young people there came a point in her life where Island Fever sent her across the Georgia Strait to Vancouver. Her journey to White Rock and the subsequent opening of 4Cats was less direct.
STEWART explains how her course was charted at a young age. "When I was young I was diagnosed with dyslexia. It wasn't that many years ago but the treatment was to take me out of all my art classes which I loved, and put me more in the sciences and math classes. The belief was this was preparing me for the work force. The thought was no one could make a living with art." The result of this draconian thinking was CYNTHIA spent a great deal of time after school pursuing her love of drawing and painting.
Upon graduating from high school in Victoria CYNTHIA enrolled in Vancouver's EMILY CARR UNIVERSITY OF ART & DESIGN. With a bachelor degree in hand from the college CYNTHIA was faced with the challenge of paying off her student loans. "I wanted something that was creative and I quickly was drawn to the film industry. I loved working in the film industry. I am one of 8 women out of 400 Lighting I.A.T.S.E union members in British Columbia. The work was long hours and very grueling work, but it was creative and I enjoyed it very much."
Fast forward I wonder how working in the film industry led her to the 4 Cats and subsequently White Rock. It all makes sense when you hear CYNTHIA'S story.
"It came to me from the universe. Working in the film industry there are a lot of long hours and strenuous work and to relieve the stress I was going to a reiki therapist. One day she said to me, I see you working with children, I said really. You are teaching the children art and the word Montessori keeps coming up. I thought O.K. Sometimes you just have to step outside the box. I went home and typed in Montessori schools to get some information. My husband came home and I stopped what I was doing to make us supper. My friend from upstairs came in and said I have something for you, he gave me a pamphlet. I put it on the counter and said I will check it later. He said it sounds like you. My husband picked up the pamphlet and went into the living room. A few minutes later he came back into the kitchen and told me what the pamphlet was all about. It is a Montessori Art Studio for children, called 4Cats Arts Studio I just about dropped the dishes, I was shocked. I grabbed the pamphlet and quickly looked at it and realized I had all the qualifications they were looking for. I just decided right there and then I had to follow my dream and this obvious path."
Well that answered the question of how CYNTHIA ended up opening the 4CATS ARTS STUDIO, but now the question I wanted to ask, how and why White Rock?
"My husband and I are both artists and we love to paint outside. We were living in Vancouver at the time. We decided we would go for a drive out this way. We had never been to White Rock. We fell in love instantly. Driving around White Rock we kept seeing places we thought would be perfect for painting. This is beautiful, look at the ocean. As we were driving down Johnston Road we saw this location with a For Lease sign. It was scary for us, in that in Vancouver there are a number of 4 Cats franchises and they are very well known so people already knew about what 4 Cats Arts Studios do. Out this way were faced with the proposition of being the first outlet and knew there would be a learning curve of informing the public.
The name 4 Cats Art Studio has an interesting story. Pablo Picasso and his buddies would meet at a local cafe to discuss their paintings in Barcelona Spain. Some of his famed sketches still adorn the walls. Back then Picasso and his friends were starving artists. CYNTHIA tells the story of someone who came in to her shop at 5 Corners who had recently been in Spain and actually visited the namesake of her business the visitor said he recently visited the restaurant and found out "The owner at the time used to think Picasso and 3 of his artists friends seemed like starving stray cats. The owner of the restaurant of the day said if you draw me some pictures on my white place mats I will give you some food. Who knows some of the young artists that frequent our 4 Cats here in White Rock may on day be world famous. Here at 4 Cats we believe in mentoring young artists. Like anything you need someone to teach you the basics. If you are a figure skater, someone had to teach you how to lace up your skates. That is what I like to we are doing here at 4 Cats."
4Cats Art Studio offers scheduled classes. Each month an artist is chosen. Students study 2 artists each semester. The children are taught the brush strokes and paint colour choice of the various artists being studied. There are Fall, Winter and Spring Sessions and Summer Camps. The summer camps vary slightly given the students are out of regular school so the scheduling is slightly different. Cynthia is proud to say the canvas they use is non-toxic and Canadian made. The resulting artwork of the students will last forever given it is painted on canvas.
Then there is the SPLATTER ROOM. If you have walked by 4Cats you will have seen one room that looks like a paint bomb exploded. "Our splatter room is used for exactly what the name indicates. A place where the children can splatter a big canvas with paint they have chosen. There are a number of different theme parties we book the room out for. If anyone would like more information on hosting a birthday party or any kind of party here in the splatter room they can find more information on our web site, or they can simply call us for more information" says STEWART.
After starting up her business and making the commute from Vancouver CYNTHIA and her husband now make their home in Ladner. "My young students used to ask me, Cynthia do you live on your roof?" The travel was getting a little tiresome, and the traffic was a bit of a problem. From Ladner to White Rock is a beautiful drive. I love to paint along the corridor between White Rock and Ladner.
CYNTHIA STEWART. We are happy your life journey led you to our door @ 5 Corners.
Visit 4Cats Arts Studio web site (CLICK HERE)
Marching To Our Different Drummer
RHYTHM WELLNESS - Billy Knutson


Billy Knutson owner of White Rock's Functional Fysical Fitness (see below) has been on a personal physical and mental quest for years.

A number of years back Knutson studied and practiced yoga as a part of his wellness and fitness regime. It was at a yoga retreat that Knutson turned an important page in his present day look at total wellness and fitness. "I was at a yoga retreat in central Oregon up in the mountains, it was simply breathtaking. One of the central buildings was the yoga sanctuary, an octagon shaped building. One night I was walking back to my cabin and I heard the sound of drumming from the yoga sanctuary. At that point in my life I tended to be a shy person, but the drums called me and I couldn't resist inviting myself into the building. There was 8 people drumming and I picked up a large frame drum and just joined in, which was out of character for me at that point in my life. It was an amazing experience for me, I am not sure how long it lasted, because as I have subsequently learned when you get into the drumming 'zone' you really lose all track of time. I was hooked! For the rest of my time there, I did more drumming than yoga. I was consumed by the drumming."

Upon returning home Billy had a new appreciation for the drumming and world music he'd collected and he dusted off what he'd thought was a djembe drum from the back of his closet. "After my experience at the yoga retreat I realized what it was not a djembe drum but a doumbek". Liking the sound of the djembe drum, he began looking for used drums for sale. He found a minister who traveled to Africa and would bring back some drums and sell them. "I went to look at the drums he had for sale, and couldn't make up my mind so I bought all four of them". "After all I justified to myself, I didn't want to drum alone, I wanted to drum with people and feel the original joy of the yoga retreat" says Knutson over a cup of green tea in his neighbourhood café Java Express in uptown White Rock.

Knutson immersed himself in the culture. He began reading books on drumming, taking drum lessons, enrolled in a course on drum circle facilitation. Within 2 weeks he'd amassed quite a collection of percussion instruments and began advertising and conducting drum circles out of his fitness studio which at the time was located in Ocean Park."

For the past four years Knutson has followed his rhythmic muse. He studies 3 different styles of hand drum lessons from different teachers, and on average Billy will drum 8 – 15 hours per week. "I developed RhythmWellness as the social aspect of health and wellness that blends perfectly into a total wellness company."

We are surrounded by music. Rhythm is everywhere and in everything living. It is the rhythm that draws us to music and makes us move. Knutson maintains we would be hard pressed to find anyone in the world that has not at some point been moved to tap their fingers or toes to some music. But in western civilization music has become primarily presentational, not participatory. It has not always been like this. Before electricity participatory music making was very prevalent and very good for community.

There is nothing more natural than rhythm. It lives in us and is good for us. When one is able to get past their external and internal conditioning and self-erected inhibitions listen and allow it, the music will flow in and out of them. That is what Knutson does with RhythmWellness, using drums and percussion instruments, facilitating in the moment, participatory community music making. Everyone can play, no experience necessary, only the desire to contribute, to be a part of the music, a part of the circle.

It is human nature when something touches us, the way that original chance meeting of the drummers at the yoga studio touched Billy, we want to pass along the joy we have found.

To that extent Knutson for some time now has been conducting Drum Circles here in White Rock. Sessions take place Thursdays @ 7:30 p.m. for the summer in the beautiful new Community Centre located in Miramar Village (behind the whaling wall).

To learn more about Rhythm Wellness and Billy Knutson, please visit his website.
Rhythm & Creativity are two of our most natural human endowments. _We are biologically hard-wired to respond to rhythms, tones, vibrations and melodies. Unhealthy rhythms are pandemic in modern society and cause adverse responses that interrupt our natural flow and undermine our efforts to create wellness

Consequences of unhealthy rhythms show up as high stress levels, compromised immune function, mental confusion, emotional disorders, unhealthy dietary habits, disrupted sleep patterns, poor concentration, procrastination and apathy.

Rhythm is everywhere and everything resonates with a unique rhythm. Healthy evolution of civilization and community has always depended upon our innate capacity to create and relate to rhythms and music.
BILLY KNUTSON - Functional Fysical Fitness Inc.
Wednesday May 27, 2009
Tucked away in a below street level location Functional Fysical Fitness might well be a shop you have passed a hundred times without paying it much attention.

Owner BILLY KNUTSON was born and raised in North Vancouver and moved to the Sunshine Coast for his teen years. "After I graduated from high school I returned to the North Shore to attend Capilano College without a specific plan. It was 1980 when gold was worth $1000 an ounce, a cousin called me from Dawson City inviting me and my brother to go up and try gold mining. So I went to Dawson City where I pursued gold mining for several years."

During his gold mining period KNUTSON was very active physically and involved in sports. The gold creeks of Dawson provided a comfortable living for a number of years, and then one-year things changed, getting a job that paid less with poorer working conditions, the allure of gold mining faded, says KNUTSON over green tea at the neighbourhood Java Express.

The year was 1986 and after a short period of soul searching the answer to his future endeavours became crystal clear to a young man at a fork in the road of life. Health & Fitness. "I came back to the mainland and enrolled in a certification course at the YMCA to become a personal trainer. From there I went on to work at Gold's Gym and other various gyms around Vancouver, I became involved in martial arts, body building, and cycling, health became my passion."

KNUTSON over the course of 5 years of full time personal training and instructing came to the conclusion, there was something inherently wrong with the traditional method of training. The predicted results were not occurring. I was also dismayed that many of the trainers I knew and saw working really trained humans like you'd train animals. Run – Fetch – Jump it really was becoming ridiculous to me."

"In 1996 I took a different personal training program offered by the National Strength and Conditioning Association, NSCA. I was exposed to so much more extensive, valuable information that set me on a different course for personal training. At that point I went back to the drawing board on how I would train people. This included taking a lifestyle coaching program also, as I realized that fitness was really a lifestyle. The new training regimen KNUTSON created took into the obvious but often overlooked the main difference between "animals and humans".

"I started to identify unique human endowments, primarily identifying the brain and nervous system and the resultant 'functions' that this wonderfully complex system provides, ie; self-awareness, consciousness, choice, and intelligence to name a few.
To study humans I realized I needed to understand more than just physiology, anatomy and kinesiology, I also needed to understand and some psychology, sociology, and even anthropology and how it could pertain to physical training, health and wellness."

At the end of his studies and practical application of his findings KNUTSON in 1998 was confident he had created an effective form of fitness training, and FUNCTIONAL FYSICAL FITNESS was born. BILLY has a very simple and unique way to describe how he formulates physical programs that are custom made for each individual. "From my studies I came to the conclusion, we all have the same basic "hardware", two arms, two legs, a brain, a heart etc. What makes us unique though is we all have our own unique "software", our life experience, in other words we all have a different operating system." So the key to Functional Fysical Fitness is applying this knowledge both intellectually and experientially while utilizing our unique human attributes.
Contact BILLY KNUTSON at FUNTIONAL FYSICAL FITNESS INC through their website www.fffit.com, or call for an appointment to drop in or for more info 604-535-5065

*Next Week – We learn about a completely different side of BILLY KNUTSON. In addition to his fitness company KNUTSON is very involved locally with "Rhythm Wellness." www.rhythmwellness.com
OCEAN PARK MERCHANTS ASSOCIATION
com_mu_ni_ty [kuh-myoo-ni-tee]
–noun
a social group of any size whose members reside in a specific locality, share government, and often have a common cultural and historical heritage.

The White Rock Sun was born out of a love for "community." Like so many people these days we find ourselves thinking about global problems yet it is right here in our community that we can affect the most change.

Daily I see examples of people wishing to connect with their community, in this case the White Rock & South Surrey footprint.
During my sales calls a couple of weeks back I popped over to Ocean Park. I had seen evidence there was a group of merchants operating together to strengthen their community.

Having lived for a number of years on the Ocean Park bluffs I was well aware of the area and the numerous gems the area affords.
In short order I was introduced to Sandra Smith the owner of Cotton ''n' Crayon Children's Wear & Toys. Sandra was kind enough to provide me a bit of background on and an overview of the Ocean Park Merchants Association. A loose amalgam of people living and working in the Ocean Park area that had come together to strengthen their community.

Last Thursday I accepted an offer to join the Ocean Park group for their monthly lunch at the Ocean Park community hall. Upon my arrival dutifully at the pre-arranged time I was pleasantly surprised to see a dozen or so business owners assembled and ready to get down to business.
The meeting lasted roughly an hour and there was no wasted time. Items were brought forward, discussed and dealt with in a no nonsense manner. Each person's views and concerns were dealt with and prioritized on a time line for immediate action or further discussion.
Recently the community of Ocean Park learned the City of Surrey was set to add some traffic calming changes to the Ocean Park area. As the community felt there had been little of nor conversation with the community, Surry City Hall was contacted. A rep for the city came to last month's meeting, heard the concerns from the community and agreed to study their plans further and work with the merchants and residents. Voila!

First on the schedule of events for Ocean Park is this Saturday. The OPCA presents a Garage/Parking Lot Sale. Bring you stuff treasures you found in your spring cleaning or simply drop by and browse the tables of other people's treasures. The community sale is on Saturday 9 – 2. For information on reserving a table please call 604-538-2460.

Stay tuned and keep reading THE SUN for all the community news from Ocean Park.
TRACYCAKES

For years McBride's Cafe was the epicenter for locals on the waterfront on Marine Drive. I have a feeling the latest in a long line of occupants of the space TRACYCAKES is here to stay.
Tracy Dueck sat down Thursday the day prior to her grand opening to provide insight into the history of Tracycakes and its future with White Rock. "Tracycakes reminds me of the movie Field of Dreams. I believe if you build it, they will come. At our other two locations in Fort Langley and Abbotsford when I see the lineup snaking out the front door I think of the scene from the movie when you see all those car lights coming across the rural landscape of Iowa. For some reason they are being drawn. I believe it is the same way, people are drawn to our restaurants."
As life as a stay at home mother was coming to its natural conclusion Tracy began to think about what she might like to do with her soon to be abundant spare time. "Someone said to me, why don't you open a restaurant. It really wasn't something I had given a lot of thought to but the more I did think about it, the more attractive the idea was. I did not have any culinary or business experience so I have relied heavily on input from my staff, friends and our customers. The growth has been very organic" says Dueck between quick conversations with suppliers as she readies the opening of her third location.
TRACYCAKES first opened in Fort Langley, and within 2 years the second location was opened in her hometown of Abbotsford. Why White Rock for the third locale? "Well like so many people in the Valley I am drawn to the beach of White Roc. I have been coming here for years. Last August my husband and I came to White Rock to run our dog at the off leash park at East Beach, and I saw all these people walking along eating ice cream cones. I said to myself why can't all those people be eating tracycakes? I first looked at the vacant location of Grapes just up the street from here and in the end it just didn't seem to work for what I was looking for. I walked away from that deal and was strolling down Marine Drive when I found this space for rent. I really did not see anyone else offering the type of dining experience we were offering. It only took a couple of months from finding this location to renovating it and preparing ourselves for the opening of our third location."
TRACYCAKES menu includes a selection of unique sandwiches including pannini sandwiches, beautiful salads including their signature salad a Waldorf salad built upon Tracy's grandmother's recipe, and hot entrees including chicken pot pie, chili, quiche, shepard's pie and their famous fresh daily soups.
Tracy is also very proud of a unique twist to their menu. "We offer High Tea daily. It comes with finger sandwiches, sausage rolls, fresh fruit, a selection of scones and our famous homemade devonshire cream. All offered up in a beautiful presentation on a three tiered serving tray. We also serve our tea properly in a traditional tea pot. We serve High Tea all day long, but most people prefer to have it at 3 p.m. If you call ahead we will be happy to prepare your table especially for you, so when you walk in it really is a beautiful experience."
From the moment they swung the doors wide open on Friday, mother nature co-operated and the deck at Tracycakes was one of the hottest spots along the waterfront. We dropped in for lunch on Sunday and met a couple of friends who had already had their lunch, and learned the borscht was thick enough to stand your fork up in it. Yummy. The Luckiest Girl In The World opted for the quiche and a cappucino, while I chose a lovely grilled pannini sandwich. Both menu items were prepared beautifully and the experience was heightened by personal attentive service from our waitress.
Tracy Dueck
When we received our bill a small business card informed us "Nothing happens unless.......first we dream."

He's Back!
.....and we couldn't be happier


There is nothing ROB AHLGREN owner of Beecher Street Cafe likes better than a good party. Great music, good food and wine and a gathering of friends does not a dull man make according to the Tao of Rob.

In the early 80's about the time most of us were thinking about buying a Commodore 64 AHLGREN was working for a computer company in Surrey.

One day/night ROB came down to White Rock with some friends. The city's bohemian sub-culture immediately attracted AHLGREN and he soon found himself couch surfing and literally camping out on the beach to be near the town he fell in love with.

Love also played a big part in the next phase of AHLGREN'S life. "My girlfriend at the time convinced me she could get me a job at the restaurant where she worked. I thought she was dreaming, I never cleaned up the plates at home, let alone in a restaurant. She persisted and the next thing I knew I was working at the original ULI'S on Marine Drive. It was funny because I was quite possibly the worst waiter, but my girlfriend and her friend covered for me." It wasn't all a bed of roses in those early days though as ROB explains, "ULI used to pull me aside and tell me he should fire me because I was such a bad waiter, but he told me Rob I should fire you, but I can't EVERYONE likes you" so I stayed on."

AHLGREN worked his way through a number of Marine Drive culinary castles including Charlie's before relocating down to Crescent Beach. "I got a job at the Crescent Beach Bistro. I would walk up and down Beecher Street on the way to and from work. One day I noticed Dimitri's Greek Restaurant had a For Lease sign in the window." Not exactly being flush with money in those days due to the aforementioned passions of his life. AHLGREN and his friend HERB AARTSEN who had a bit of money floating around decided to go into the restaurant business for themselves, so they signed the lease, gutted the old Greek restaurant and in 1993 swung wide the doors to The Beecher Street Cafe.

"We did a lot of the major renovations ourselves, partly out of necessity given our financial status at the time. Within 4 years though we took over the clothing store that was next door and in 1997 we expanded and doubled our capacity. Like every business there are ebbs and flows in the restaurant business, but I am very proud and happy with what we have developed here in Crescent Beach" says AHLGREN.
With everything on track and rolling right along, AHLGREN and his wife TARA decided perhaps in order to be able to buy a home and settle down a bit, they might have to look at the Interior. "One day I went on the Internet and started looking at properties in the Okanagan. In short order I found a beautiful log home on a hillside overlooking Kelowna and the lake. We cane up looked at it and made arrangements to purchase the home."

Originally AHLGREN had planned on leaving the restaurant in capable hands and commuting back to the Beecher Street Café a couple of times a month. That worked out fine for a few months, but then AHLGREN made another major move in his life. "Tara and I had seen an old heritage house that housed a restaurant a number of times when we were driving through Kelowna, it was called The Williams Inn. Though we hadn't planned on opening a restaurant when we moved to the Okanagan before long we had another restaurant, this one called The Yellow House."

Juggling two restaurants 350 miles apart has posed its challenges. "Tara and I have gone our separate ways personally but we still remain partners in the Yellow House restaurant. I decided recently it was time for me to put a little more time and effort back into Beecher Street. I have a number of changes planned that will take place over the next few months here at the restaurant. I am planning on continuing our Wednesday Night music series with perhaps a change or two, maybe a special concert or two. I also am going to institute a new food menu as well as a very unique wine list. By living in the Okanagan and getting to know a lot of the vintners I am able to buy cases of their limited wines. In that they do not produce enough to feed the liquor store system, the choice and unique wines will now be available at Beecher Street Cafe."
In order to offer patrons of Beecher Street a unique opportunity to sample these wines, AHLGREN will be offering "wine paddles." Each paddle will have a 2 oz sample of a red, a white and a port with a selection of cheeses.

The Beecher Street Cafe will also be hosting "special" evening the last Thursday of every month. April is locked down with a SPRING WINE DINNER and the final touches are being put on a special night of music in March at The Beecher Street Cafe.

Friends - ROB AHLGREN is back. You know what that means. Let The Party Begin.
Thursday FEBRUARY 26th
COMEDY NIGHT
Featuring
Billy Mitchell
with special guest
J.P. Mass
Join us for a great evening of dining and comedy. We are fortunate to have two of Canada's finest comedians performing at Beecher Street Café.
The evening includes a three course gourmet dinner and the entertainment for only $60 per person.

To reserve for either of these great evenings give us a call at

604-538-1964.
1763 King George Highway South Surrey
Dwayne & Sharon Jacobson

The Roadhouse Grille in South Surrey defies description. In a time when local businesses, in particular restaurants are ringing their hands in anguish, The Roadhouse is expanding.

The humble beginnings of The Roadhouse stretch back to 1997 when John & Linda Cody opened a funky little restaurant in the strip mall anchored by Mac's milk. John and Linda had both logged many years in the Vancouver music scene. John as a respected drummer and Linda as a talent agent. Thus the theme of the original Roadhouse boasted a musical theme in the decor.

The present owners Dwayne and Sharon Jacobson were enlisted when the Cody's decided to end their marital and business relationship.

When pressed if he had any restaurant background prior to becoming the somewhat reluctant owner of the Roadhouse, Dwayne does not hesitate for a moment in replying sternly "NO!" With a chuckle Dwayne begins to explain what The Roadhouse means to him, and indirectly what it means to the legions of customers who frequent the restaurant from early morning for breakfast to the evening for dinner 7 days a week. "When we first took over the restaurant one of the first things that changed was the "live music", as John and Linda were very musician friendly most of the performers were great, but they wanted to give a concert, and we were looking for basically background music, so that was our first change. Since moving into the new location we have re-introduced music but in a slightly different form. We have a piano player by the name of Dennis Enns who performs every Friday & saturday evening from 6-8 p.m. He plays all kinds of music and takes requests, it makes for a more relaxed fun environment. One of the other things we did, was we started to collect more of the old 50's style tables in the Roadhouse portion of the restaurant. Originally there was just one table and set of chairs, so we decided we liked the look and began to search out all the other sets of tables you now see" says Wayne as he proudly tours the restaurant.
While maintaining the original "diner" decor, the new Roadhouse offers a martini bar and casual fine dining.

The newly redesigned Roadhouse which is a few businesses from its original location boasts the feeling of 3 distinct restaurants. You have the original funky 50's diner/roadhouse main room, a beautiful martini sit up bar complete with a large flat screen TV that seems to run continuously on the sports channel, and adjoining the bar is a more casual upscale surrounding. Hard to believe but some people don't share my enthusiasm for the 50's kitsch.

Another major change in the revamped Roadhouse Grille was the menu explains Dwayne "Originally the menu leaned very heavily towards vegetarian with a couple of turkey and chicken dishes. Due to constant requests from the early customers we started with, we expanded the menu considerably."

Since taking over The Roadhouse the Jacobson's have seen steady growth of 25% annually on their investment. "We considered closing the original restaurant for renovations as the equipment and interior were in need of some major upgrades. We decided when the defunct pool hall (Cue Ball) became available, rather than be closed for 4 or 5 months renovating the old space, we would simply gut the pool hall make some changes and expand the restaurant" says Dwayne between saying hello to the satisfied customers and friends as they drift in and out of the restaurant.

So why is The Roadhouse Grille expanding in these tough economic times. Dwayne's response rolls off his tongue as if he almost tires of a question he has answered too often. "It is all about heart. Plain and simple you have to have heart for whatever you are doing. I think all our staff feels it and passes it along to our customers. Our baker and one of our servers have been with us since we bought the restaurant. We take pride in all our staff. Some of our staff have actually become minor partners in the business. Everything we serve is fresh. We pride ourselves in the care and attention we put forth to quality and good service. We want people to leave The Roadhouse satisfied." Sharon has her own take on why the restaurant is so popular. One word. "People." Yes Indeed I say. From the people that own it,to the people that cook the meals, the servers who bring it to your table, and of course the people that frequent The Roadhouse. It is a circle of people, a circle of life. What goes around comes around for all to partake, for all to enjoy.

The list of special cool features at The Roadhouse seems endless. A Treasure Chest playroom for the kids, plans for an outdoor patio to open in the spring, plus a bakery and cheese shop that will be located next door to The Roadhouse Grille.

Another story – for another day.
Roadhouse Grille
1763 King George Highway
Stayte Street (160th) @ King George Highway
604-538-3177
Dr. Bijana Grubac

A true neighbour is there for you in a time of need. Last weekend my wife Laurie and I suffered a loss to our extended family. Our beloved cat "Deeter" had stopped eating on Thursday, by early Saturday morning she took a turn for the worse.

Just to back up for a moment, both Laurie and I had not had a long history with cats. Laurie had only had one cat in her life and due to circumstances beyond her control she had to give it up to a friend. As I have always been allergic to cats, I had no real point of reference, this was my first cat. Every stage of being a cat owner was a new experience for me.

When Deeter's condition escalated early last Saturday morning, even though it was 3 o'clock in the morning we called the only veterinarian we had used in the area, The South Point Pet Hospital. Our one and only experience had been wonderful. The message on South Point's message machine informed us they were closed but if it was an emergency we should call an animal hospital in Fleetwood or Langley which were open 24 hours.

We rushed the cat in the early morning hours to Langley, they stabilized her but we took "Deeter" to South Point as soon as they opened at 9 a.m. Saturday.
Though we arrived with no appointment and the hospital was dealing with an emergency the staff at South point welcomed us and consoled us and our sick cat until Dr. Bijana Grubac was free to examine our cat. The care and compassion that was shown by Dr. Grubac made us feel confident we were doing everything we could for our kitty.

Sadly "Deeter's" condition worsened over the weekend. By Monday afternoon after an ultrasound Dr. Grubac delivered us the sad news, our cat was riddled with cancer and there wasn't much hope she would live with any quality of life. We made the painful decision it would be best for her to be put to sleep. Dr. Grubac walked us through the process and asked us how we would like to do it.

South Point has an actual "comfort room" for just such a heartbreaking event. Laurie and I were numb. Our emotions flowed to the surface, yet looking back on it, I am thankful we had such a compassionate and caring group of professionals there to assist us.

Yesterday in our mail, we received a beautiful hand written note from the Staff at South Point wishing us the best in our time of sadness.

Dr. Grubac and your staff, thank you. For "being there" for us in our time of need.
Visit the South Point Animal Hospital web site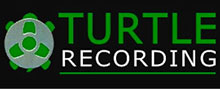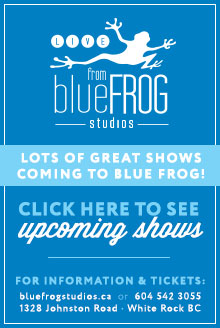 Buy Tickets