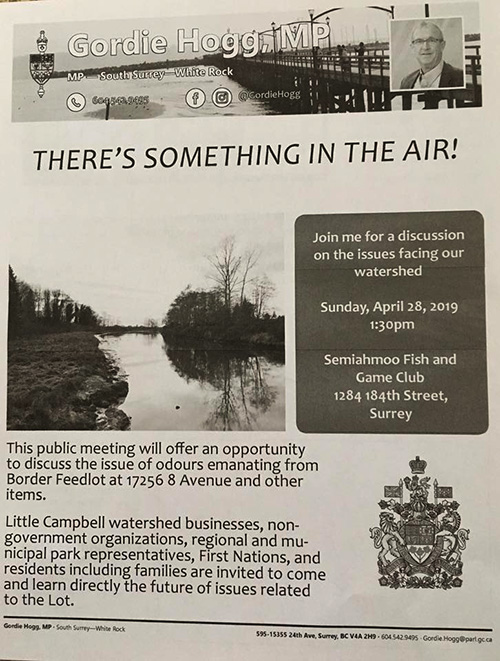 April 28th at 1:30 pm, please join us at Semiahmoo Fish and Game Club. Held by Gordie Hogg our MP to give the residents an opportunity to discuss issues like the smell (hydrogen sulphide) and proposed Hydro Vacuum Separation Facility at the Baird Feedlot at 8th ave and 172 st. 
This is very important to show up and voice your concerns and support the neighbourhood. As you know the mushroom manure smell effects most of South Surrey. See flyer below.
We need help putting up flyers in South Surrey. We also have a petition if you wish to sign it let us know. We can email it to. Petitions need to be picked by April 22nd. 
Hope you can come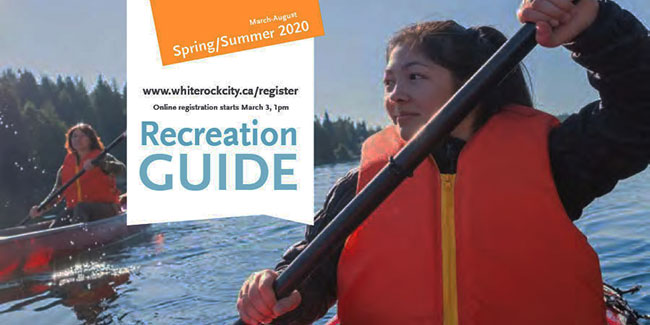 The Spring/ Summer 2019 Recreation Guide is now available - you won't believe all the things you can do! 
Whether you're interested in sports, arts, fitness, health and wellness, or personal development, there's something for you! 
Discover all the programs, Summer camps PLUS all the events sponsored by the City happening this Summer: http://ow.ly/QFNQ30o2eUl
Canadian Festival of Chili and BBQ Langley 2019
Location: Kwantlen Polytechnic University - 20901 Langley Bypass, Langley 
Admission: $5 donation 
Time: 10:00 a.m. - 5:00 p.m. 
Date: Saturday May 4th, 2019 - Sunday May 5th, 2019
IG Wealth Management Walk for Alzheimer'sr, taking place in Surrey. On May 5, 2019, the Alzheimer Society of B.C. invites the public to join us walk for Alzheimer's. We are looking to have our event published on your website. Below, I have provided the following details.

Event information:
Date: May 5, 2019
Time: Registration 9:30 a.m. / Walk 10:30 a.m. – 12:30 p.m.
Venue: Eaglequest Golf at Coyote Creek
Address: 7778 152 St, Surrey, BC V3S 3M4
Website: www.walkforalzheimers.ca
Contact: Sue Lahti and Bal Bains
Phone: 778-242-0751
Email: whiterockwalkchair@alzheimerbc.org

It is our 20th Anniversary year! Celebrate with us May 5 - Oct 27.
Opening Day will include special guests include  Gordon Hogg Gordie Hogg and Mayor and Council from City of White Rock and Board Members of the WRFMS . Join us for a fun packed event.
Mothers Day Party - Glades Sunday May 12, 2019
Celebrate mom with a visit to this stunning woodland garden.
Date & Time:
May 12, 2019 
10:00 AM - 4:00 PM
Explore the trails and discover heritage trees, reflection ponds and a variety of plants and shrubs. Purchase a beverage and a treat from Roaming Coffee to enjoy while listening to live jazz-popclectica music by Caviar & Lace.
Parking is very limited. Shuttle service will be available from Darts Hill Garden Park located at 1633 170th Street. Darts Hill Garden will be open 11am to 3pm.
Rain or shine. No pets (except service dogs) please. Trails are bark mulch with steep inclines. Very limited wheelchair or stroller access. Closed-toe shoes are recommended.
Tickets
Pre-registration
Advance tickets available for $5 per person. Pre-registration closes Friday, May 10, 2019
 
New this year, you can pre-register for one of two sessions:
10am to 1pm Barcode #4657711
1pm to 4pm Barcode #4657712
Call 604-501-5100 to register or register online.
Tickets at the gate
Tickets are $7 at the gate. Cash only. Children under 12 are free.
Canada's Oldest Continuous Cycle Race Turns 40
July 13 – 14, 2019
This historical cycling race is a grueling 130 km test of endurance and strength as cyclists tackle the steep seaside hills of the City of White Rock. Tour de White Rock is proud to partner with the Tour de Delta, New West Grand Prix, Global Relay Gastown Grand Prix, Giro di Burnaby, and Poco Grand Prix to form BC Superweek; British Columbia's premier week of bike racing, with over $140,000 in prize money to be won.
9:00am – Men's
9:05am – Women's
Clover Valley Beer Festival presented by The Property Twins
 August 10, 2019
Beer in the Valley – Yee Haw!
You won't want to miss #CVBF2019! Last year sold out so get your tickets early to the Clover Valley Beer Festival presented by The Property Twins on Saturday August 10, 2019 at the Bill Reid Amphitheatre. 40+ Breweries, 80+ Brews, Live Music, and a kick-ass time! Partial proceeds go towards Twins Cancer Fundraising. Together, they have raised over $3,000,000 to fight cancer,
Cheers to that!
Check out our recap video of 2018's killer event!