Coming Events
EARL MARRIOTT ANNUAL POW WOW CELEBRATION
March 31-April 2, 2017
Friday - GRAND ENTRY 7 p.m.
Saturday - GRAND ENTRY 1:30 & 7 p.m.
Sunday - GRAND ENTRY 1:30 p.m.
Free - Open to the public
EARL MARRIOTT SECONDARY 15751 - 16th Avenue Surrey
• March 28, 10:00am-2:00pm – White Rock Community Centre (15154 Russell Avenue)
• March 30, 4:00pm-8:00pm – White Rock Community Centre (15154 Russell Avenue)
• April 1, 9:00am-1:00pm – White Rock Community Centre (15154 Russell Avenue)
• April 1, 11:00am-3:00pm – Memorial Park/White Rock Museum Plaza (Weather Permitting)
(click here for more upcoming community events)
White Rock History Club, Monthly Meeting
DATE Monday, March 27th, 2017
TIME 7:00 pm – 9:00 pm

WHERE White Rock Public Library, upstairs Meeting Room, 15342 Buena Vista Avenue, White Rock.
TYPE OF EVENT Entertainment; Lecture and open discussion
AUDIENCE 19+
COST Admission is free

DESCRIPTION
"The Life and Times of Leonardo da Vinci" by Leonardo da Vinci", by Linda Quigley. Linda is a retired professor of art and art history. As well as a popular and accomplished public speaker, she is also an artist and an historian.
Paint Night @ Sawbucks
"Chantale from Shades of Passion Will
Teach You How to Paint and You'll Leave the Pub with Your Own Creative Masterpiece"
m
Last Tuesday of the Month
If you have ever wanted to learn to paint this is your chance. Chantale from Shades of Passion will teach you how to paint in the comfortable surroundings of the pub.
This is a fun and instructional evening of painting where everyone walks out with their own creative masterpiece.
The class is 2 hours long and all supplies are included.
There is no experience needed and of course beginners are welcome and encouraged to join us for a wonderful evening.

Date: Tuesday, March 28th (Space Available)
Date: Tuesday, April 25th (Space Available)
Time: 7:00 - 9:30 PM
Cost: $23
Space is limited to just 30 so register early by sending an email to shadesofpassionart@gmail.com. You can also reserve your spot at the pub. First come, first serve.
White Rock Surrey chapter of CARP presents Stress and the Dementia Connection with Karen Tyrell.
Thursday, March 30, 2017
7 - 9 pm (registration at 6:30 pm)
White Rock Community Centre, 15154 Russell Ave.
Cost: By donation
RSVP: Denice @ 604-538-5778 by March 28th
To The Ends Of The Earth​
​"To the Ends of the Earth" follows concerned citizens living at the frontiers of extreme oil and gas extraction, bearing witness to a global crossroads. They call for human ingenuity to rebuild society at the end of the fossil fuel era. The people we meet are uniquely positioned to watch this global crossroads unfold. "To the Ends of the Earth" brings forward the voices of those who not only denounce the rise of extreme energy, but also envision the new world that is taking shape in its stead: a future beyond the resource pyramid, a post-growth economy.
​
Date & Time: Friday ​​​​March 31wt, 201​7​​ at 7 PM​ - doors open 6:30 PM​
​
Location: First United Church, Buena Vista Ave @ Centre St, White Rock​​
​Admission by donation​​ (suggested​ minimum​ donation $5)​

WHITE ROCK SOUTH SURREY NEWCOMERS CLUB
We meet the first Tuesday of every month (September to May)
6:30 p.m. - Meet & Greet
7:00 p.m. - General Meeting
Tuesday, April 4, 2017
Mount Olive Lutheran Church
2350-148th Street, Surrey, BC
Cannabis Convention 2017
Hosted by Hempology 101 UBC


Wednesday, April 5 at 1 PM - 5 PM

The Nest at UBC
6133 University Blvd, Vancouver, British Columbia V6T1Z1

UBC Hempology 101 presents this years CAN CON
Speakers include Gabriele Jerousek from https://www.apothecarynaturals.ca/
Katrice Balmer from http://intuitiveinspiration.com/
and a surprise guest speaker TBA
Catering by Enroot https://enrootmeals.com/
Topics include:
Healing holistically via the endocannabinoid system
Guided meditations, holistic therapies, and intuitive development training
Cannabis, from the medical system's point of view: medicine, or myth?
Free
The Autism Support Network Society is hosting Blues and Bites Gala Fundraiser in South Surrey on April 8th, 2017.
We are raising funds in order to continue providing services, education and support to families affected by Autism Spectrum Disorder (ASD) in our community and throughout BC. ASD affects 1 in every 68 children born today. It is condition that has no cure and can cause mild-to-severe impairment to those affected. As a result, the financial burden for families coping with ASD is considerable.
About the Event Blues and Bites Gala Fundraiser:
Blues and Bites will be an evening of fine food, local wine and great Blues music. Featuring Chef Peter Bucher and his team of culinary apprentices, local and international cuisine will be paired with wine and served from "Top Chef Style" tasting stations.
Live entertainment will be provided by HarpDog Brown and the Travelin' Blues Show. Harpdog is the recipient of the Maple Blues Award for Harmonica Player of the Year for 3 consecutive years; Blues Artist of the Year Nominee for the Western Canadian Music Awards – also for two consecutive years; and recently crowned Blues Artist of the Year at the Fraser Valley Music Awards
About 250 attendees are expected and there will be a silent auction, mystery balloon prizes, our ever popular wine board and more during the evening.
Tickets $125 each for more information contact info@autismsupportbc.ca 604-817-1526
Saturday, April 8, 2017 – 6:30pm Semiahmoo Secondary, South Surrey
for more information contact info@autismsupportbc.ca or 604-817-1526
KENT STREET SENIOR SOCIETY
Plant & Bake Sale
Saturday April 23
9 a.m. - 12 p.m.
Kent Street Activity Centre 1475 Kent Street
White Rock
(corner of Russell & Kent street)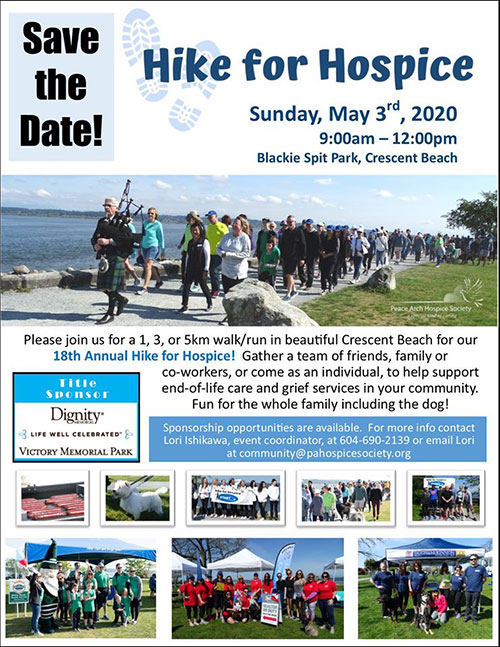 Sunday, May 7th, 2017 9:00am – 12:00pm
Please join us for the 1, 3, or 5km walk/run starting at Blackie Spit Park (3136 McBride Avenue) in Crescent Beach, South Surrey.
Register and pledge online at
www.whiterockhospice.org or call 604-531-7484