Local News
March 17, 2018
Surrey Light Rail Gets Green Light
The Mayors' Council and the Province of British Columbia have agreed on a plan to fund the regional share for Phase Two of the 10-Year Vision. This regional funding is another step forward to secure an historic investment in transit and transportation in Metro Vancouver.

Key elements of the plan for Phase Two include:
· Construction of Surrey-Newton-Guildford Light Rail
· Construction of Millennium Line Broadway Extension
· Significant upgrade of existing Expo-Millennium Lines to expand capacity to meet and improve the customer experience
· An 8% increase in bus service to address overcrowding, reduce wait times and bring bus services to communities with limited service
· Improvements to sidewalks, bikeways, multi-use pathways and roadways

This investment will ensure a sustainable regional share to help us continue to meet the demands of today and prepare for the future. In 2017 alone, there was a 6% increase in transit ridership. Demand for transit will only continue to grow as we add more than one million people to the region in the next 30 years.

It was imperative to the mayors and the Province that the funding model be fair for transit users, drivers, property owners and developers alike.

To deliver these projects, the Mayors' Council is proposing:
· $1.6 billion in fare revenues expected from higher ridership resulting from service expansion in Phase Two, TransLink resources and efficiencies.
· A 2% increase to all transit fares over two years beginning in 2020. This amounts to a five to 15 cent increase to adult and concession transit fares and 1 to 3 dollar increase to adult and concession monthly passes to pay for more bus improvements.
· 15 cents per hour increase for an average $5 per hour parking. This is an increase from 21% to 24% to the existing parking lot rate. Legislative amendments would be required to enable TransLink to make this change.
· $5.50 increase in property taxes per average household each year or about 46 cents a month, beginning in 2019.
· About $300 to $600/unit increase to the Development Cost Charge on new residential developments depending on type of dwelling. Legislative changes are required to enable the Mayors Council to levy the DCC.
· Revenue from a variety of transit-related commercial opportunities.

While securing regional funding is a critical step for Phase Two, moving forward in implementing this phase is subject to federal and provincial funding. Work continues between the province and Canada to finalize approvals, with more details on a senior government agreement expected in the near future.

TransLink will be out this spring to hear from the public on what they think of the plan. Visit 10yearvision.translink.ca for more details on how to join the discussion.
March 16, 2018
Public assistance needed to identify pedestrian in critical condition
UPDATE
female pedestrian who is in critical condition following a motor vehicle collision in South Surrey on March 14, 2018 has been identified.
Police have now been in contact with the woman's family.
Surrey RCMP would like to thank the media and the public for their assistance in this investigation.
Surrey RCMP is requesting the assistance of the public to identify a pedestrian who is currently in critical condition following a motor vehicle collision in South Surrey yesterday afternoon (see previous release).

The pedestrian is a Caucasian female, approximately 70 years old, with shoulder length grey-brown hair which was in a bun wrapped in cloth. She also has a distinctive mark above her right eye. At the time of the collision she was wearing blue jeans, a blue hoodie, purple and black shoes, and a red wrist-watch.

Surrey RCMP's Criminal Collision Investigation Team is investigating, however, has been unable to identify the victim. The assistance of the public and the media is greatly appreciated in this matter. Anyone who can help to identify this woman is asked to call the Surrey RCMP at 604-599-0502.
March 13, 2018
Semiahmoo First Nations Artist Roxanne Charles Celebrated
Surrey's International Women's Day Celebration
The Indigenous Entrepreneur award went to mixed media artist and Semiahmoo First Nation member Roxanne Charles.
A release notes Charles promotes art, language and culture and has more than a decade of experience in Indigenous art and social advocacy.
"Her art includes sculpture, painting, jewelry engraving and weaving," it adds. "She is recognized as a professional artist with a long exhibition history. Her work often explores a variety of themes such as spirituality, identity, hybridity, the environment, urbanization and various forms of structural violence. She is also a contemporary storyteller whose goal is to touch, move and inspire others through her work."
" It was such an honour to be a finalist with such amazing Indigenous women in business. I could not be there unfortunately because of prior commitments but I cannot think of two better women to accept my award on my behalf My Grandmother Slahakawut and My Daughter SlaSlahakawut "
Roxanne Charles
March 11, 2018
PowWow Rewind
This afternoon @ 1 p.m. the Semiahmoo First Nations and Earl Marriott Secondary proudly present the final day of the 23rd Annual PowWow. Admission is by donation. Allow enough time to stroll through the many vendors and artist tables that are part of the annual celebration.
White Rock councillor HELEN FATHERS proudly danced in the grand entry yesterday afternoon.
March 12, 2018
Like everyone else White Rock Council gets ready for Spring Break with back to back Monday council meetings.
Second Of Two In A Row
White Rock council meets again tomorrow the second Monday in row.
(watch last night's council meeting - click here)
Surrey Council
Surrey council will also convene in downtown Whalley tonight. Top of the list for Surrey council will be dealing with future marijuana dispensaries in British Columbia's second largest city.
(watch Surrey council's Monday meeting)
March 10, 2018
Victim Identified


Surrey: The Integrated Homicide Investigation Team has identified the victim of last night's fatal shooting in Surrey.
On March 9, 2018 at approximately 7 p.m., the Surrey RCMP received reports of shots fired in the 6700-block of 137A Street. When officers arrived, they found a man outside on the street with gunshot wounds. The victim was transported to hospital where he was pronounced dead. IHIT was called in.
IHIT is working closely with its partners from the Surrey RCMP, the Integrated Forensic Identification Services and the B.C. Coroner's Service to gather evidence.
A white sport utility vehicle (SUV) and a black sedan were seen leaving the area after the shooting. IHIT would like to speak with anyone that has information about these two vehicles.
To further the ongoing homicide investigation, IHIT is confirming that 23-year-old Pardip Brar of Delta was the victim of homicide. Mr. Brar was known to police and investigators believe his murder was targeted and linked to other gang violence in the Lower Mainland.
Corporal Frank Jang of IHIT says, "I urge those with information about Mr. Brar's murder to come forward and speak with IHIT."
Anyone with information is asked to call the IHIT information line at 1-877-551- IHIT (4448
Gas Guzzling
Residents of White Rock and South Surrey have been taking to the highways heading south for gasoline.
A quick comparative;
According to GasBuddy.com, the lowest gas price in Bellingham today is $2.71USD/gallon. Let's call the average $2.80USD to be fair.
That amounts to $3.63 in Canadian currency per gallon, or 96 cents per litre. That's 54 Canadian cents per litre less than what gas costs in Vancouver.
Electoral Reform: Myths and Misinformation Prop Up the Status Quo
Scare tactics shouldn't block change to a better democracy.
March 07, 2018
Tour De White Rock Registration - Now Open
BC Superweek is pleased to announce that online registration is officially open for this year's series, which includes the Tour de Delta, New West Grand Prix, Global Relay Gastown Grand Prix, Giro di Burnaby presented by Appia Development, PoCo Grand Prix presented by Dominion Lending Centres, and Tour de White Rock.
"BC Superweek continues to grow as one of North America's most recognized professional road race series and the interest from teams and riders to register as soon as possible has also increased. As such, we decided to open registration earlier this year than ever before," said Series Director Mark Ernsting.
Riders attending BC Superweek can request host housing. All requests are managed on a first come, first served basis and assigned to homes based on community availability. Host housing requests are not guaranteed, and housing arrangements are not assigned until late-June.
Online registration is available through the BC Superweek website, with early registration discounts in effect until Tuesday, June 5th.
BC Superweek is Canada's biggest professional road cycling series and features more than $140,000 in prize money with nine races over ten days.
BC Superweek runs from July 6 – 15 and is made up of the Tour de Delta (July 6 – 8), New West Grand Prix (July 10), Global Relay Gastown Grand Prix (July 11), Giro di Burnaby presented by Appia Development (July 12), PoCo Grand Prix presented by Dominion Lending Centres (July 13), and Tour de White Rock (July 14 – 15).​
Make A Beeline To The B-Line
Faster, more frequent bus service is coming to 12 Metro Vancouver communities as TransLink prepares for the roll-out of four new B-Line bus routes by the end of 2019. These improvements are part of delivering on the Mayors' 10-Year Vision, and build upon region-wide transit expansion launched last year.

The four new B-Line routes include:
Fraser Highway (Surrey Central to Langley Centre)
Main-Marine (Dundarave to Phibbs Exchange)
41st Avenue (Joyce-Collingwood Station to UBC)
Lougheed Highway (Coquitlam Central Station to Haney Place)

These limited-stop, high frequency B-Line routes will provide, at minimum:
· 10-minute-or-better frequency during peak periods
· 15-minute-or-better frequency during off peak, and
· Operate at least 18 hours each day.

We will soon be asking customers and residents in the areas near these future B-Lines for their input on things such as stop locations, local route adjustments and possible changes to street infrastructure to improve speed and reliability.

B-Line bus service offers faster travel time, direct routing and connections to key regional destinations in areas that need it most. It's a cost-effective way to reduce congestion and overcrowding on transit.

Fifty-eight articulated buses are being added to the fleet to support this critical component of the 10-Year Vision.

Right now, TransLink is working closely with municipal governments and community groups. The public will be invited to have their say on the new B-Lines and proposed service changes by taking our survey beginning April 3, 2018.
What did you do with your banana peel today?
Surrey Mayor Linda Hepner

" The Surrey Biofuel Facility will convert curbside organic waste into renewable biofuel that will be used to fuel the City's fleet of waste collection and service vehicles. Under this closed loop system, waste collection trucks will literally be collecting their fuel source at curbside.
The Surrey Biofuel Facility is the first closed loop fully-integrated organic waste management system in North America - definitely something for Surrey residents to be proud of! Next time you toss your banana peel in the organics bin, you will be contributing to the creation of fuel for our fleet. "
Linda Hepner
The $68 million flagship Public-Private Partnership (P3) project is the first closed-loop fully integrated organic waste management system in North America. The facility will convert curbside organic waste into renewable energy. This energy will power the City's natural gas waste collection vehicles and service fleets, all while reducing CO2 emissions in Surrey by 49,000 tonnes a year. Under this closed loop system, waste collection trucks will literally be collecting their fuel source at curbside.
March 06, 2018
March Is Distracted Driving Month
Surrey and White Rock RCMP will be stepping up roadside observation points to identify distracted drivers. As of March 01, 2018 if you receive a second notice of an offense your fine is $1,996.00 and points. The first offence remains with a $368.0 fine 0, along with 4 points on your driver's license.
Have Your Say
The Insurance Corporation of British Columbia / ICBC is now requesting the public's opinion on how to best handle ICBC claims as we move into the future. Will it make a difference? Will they listen to what we say?
We won't know if we don't try.
(click here to fill out the online form or to get email info)
March 05, 2018
Johnston Road Beautification - Cost $9.34
Pedestrians making there way along Johnston Road this weekend,( the site of the massive tree removal which angered a large number of residents) surely had to chuckle when they saw what one individual took it upon themselves to create.
The perpetrator of the guerrilla beautification plan posted a sign saying "A trip to the Dollar Store and an expenditure of $9.34 is all it took."
March 02, 2018
Hats Off To Surrey - Newly Created Mayor's Award
The City of Surrey Mayor's Award for Fostering Civic Responsibility recognizes those who work with Surrey youth in this important area. The Award recognizes an agency, school or program that has made a significant and positive impact to the community and our youth, up to and including 19 years of age.
"The Mayor's Annual Award for Fostering Civic Responsibility recognizes those that play an integral role in creating a City built on the values of respect, cooperation and citizenship," said Mayor Linda Hepner. "By recognizing and supporting those who have positively engaged our youth, we are ensuring that community and civic responsibility are core values to be encouraged and celebrated in Surrey."
Nominations are being accepted until April 20, 2018. The winning program or group will receive a $10,000 monetary award for the initiative or program in order to support program development and/or sustainability. The Mayor's Award is part of the City of Surrey's Public Safety Strategy and nomination forms, award information and eligibility can be found here.
March 01, 2018
Is Proposed Hazelmere Valley Subdivision In Trouble?
The future of the proposed 145 house subdivision south of the Hazelmere Valley golf course on 0 avenue near 184th street will rest with Metro Vancouver's board of directors.
The controversial housing project has had its detractors as well as supporters. One group who fully supported the development was the Semiahmoo First Nations. SFN chief HARLEY CHAPPELL has stated he is in full support of the development. " We the Semiahmoo band have watched massive housing expansion occur in South Surrey and White Rock over the past decade. This is the first time a developer has actually sat down with our officials to discuss and ask for our opinion."
No date has been set, but Metro Vancouver's board has indicated it will hold a public hearing on the issue before making a final decision.
Beach Beer Boys
White Rock Beach Beer owners - Peter Adams & Bill Haddow
We are happy and proud to announce that the answer to the oft asked question of "when will you be brewing next door?" is: Today.
This has been a lot longer coming than we could ever have imagined, but the day finally arrived, and the first batch has now been brewed on our 'new' system.
A big step for our little business today - like us, we're sure a number of you wondered if this day would ever come.
But now that it has, we never again have to answer "soon" to that question about on-site brewing.
And that feels and sounds pretty darn good to us :)
Cheers, everyone!
March 01, 2018
The City of Surrey Wants Your Feedback!
It's time to choose. Help us determine long-term flood management options for Mud Bay and Crescent Beach shoreline..
As the climate changes, coastal areas everywhere can expect more frequent and severe flooding from storm surges and sea level rise.
To help prepare Surrey for a changing climate and help our coastal communities become more resilient, the City of Surrey is developing a Coastal Flood Adaptation Strategy (CFAS) for Surrey's coastal floodplain area.
(click here for reports and and further information)
February 28, 2018
Statement from White Rock - Regarding Tree Removal on Johnston Road
Trees will be replaced. The Johnston Road Street scape Revitalization project has been designed to maximize tree health, growth, and size by replanting trees in Soil Cells.
January 29, 2018
MP Gordie Hogg Sworn In
l-r MP Hogg and Paul Lacerte
Yesterday was our newly elected MP GORDIE HOGG'S first official day in the House of Commons in Ottawa. Friday afternoon HOGG was involved in a very special ceremony in the Parliament buildings.
PAUL LACERTE pictured above draped a ceremonial blanket over the shoulders of MP HOGG and extended best wishes and congratulations from himself, the Algonquin people and a special greeting from Semiahmoo First Nation leader HARLEY CHAPPELL on behalf of the Semiahmoo First Nation.
Backgrounder
Paul Lacerte is the Provincial Executive Director of the BC Association of Aboriginal Friendship Centres, a position he has held for the past 15 years.
The BCAAFC represents the largest Aboriginal service infrastructure in British Columbia and is engaged in social and community development for aboriginal peoples.
He also serves as the CEO for the BC Centre of Excellence for Young Indigenous Leaders and has been instrumental in the establishment of an international Indigenous Youth Alliance. Lacerte currently sits as one of the Canadian representatives at the United Nations Permanent Forum for Indigenous Peoples in New York. He is a practitioner of traditional Aboriginal culture and ceremony and is a member of the Carrier First Nation in northern BC.
Overnight Slide Closes Rail Line
(file photo)
Amtrak says service between Bellingham and Vancouver has been suspended until Wednesday afternoon because of a mudslide on the track. A landslide early Monday morning between White Rock and Crescent Beach has halted passenger rail service between Bellingham and Vancouver.
Gus Melonas, spokesman for BNSF Railway, said the slide occurred about 5 a.m. The slide has been cleared, but no passenger trains will be allowed for 48 hours.
The tracks are scheduled to reopen at 12:45 p.m. tomorrow (Wednesday).
Charter buses are being provided in place of Amtrak trains between those stations.
Amtrak says service from Bellingham south to Seattle and other points is unaffected.
The rail line is open as of this morning (Tuesday) for shipment of goods. Only passenger rail service is interrupted.
January 27, 2018
Memorial Park Update
Memorial Park & Pier Washroom Upgrade
NOTICE OF WORK
(NEW) PROMENADE TEMPORARILY CLOSED | JAN 29 – 30, 2018
A portion of the Promenade will be closed to the public from Monday, January 29th to Tuesday, January 30th. The affected areas include Promenade walkway fronting Memorial Park and the rail crossing
On site archaeologist inspects findings - CHRISTY FOX photo
This past Monday work crews at the site of Memorial Park made two discoveries which will impact how the project proceeds. There were three sewer pipes and a number of electrical cables that the city did not show on any of their maps. The excavation crew also dame across a collection of shells and bones. The bones were later identified as that of a cow. Given the evidence found on the site it now more than likely proves it was a home site of some kind in the past. This will cause a new permit to be issued from the Province of British Columbia. In addition to the existing archaeological permits there will now have to be a removal permit to extract what has been found and what may be found in the future.
There is no time frame on how long that permit will take to be issued. JOANNE CHARLES council member of the Semiahmoo First Nations yesterday said work will continue under the watchful eye of their representative as well as the archaeological company the city has hired.
January 28, 2018
Not Good News For Us
Paula Williams

THE OUTCOME OF OUR LITIGATION:
A decision has been made on our federal court challenge over the Vancouver Fraser Port Authority's permitting of the proposed US thermal coal port at Fraser Surrey Docks. It is disappointing to have to tell you that the court has rejected our challenge of this project approval. You can find a link to the court decision here: http://communitiesandcoal.com/…/uploads/2018/01/2213_001.pdf

I am, however, proud of the work our lawyers at Ecojustice have endured over the last 4 years. They, along with the lawyers from the cities of New Westminster and Surrey have done an outstanding job and we all knew the uphill battle that was before us. Currently, our lawyers are exploring the options open to us, including the possibility of an appeal. The court has also awarded costs against us and we are in the process of determining the extent of those costs.
January 27, 2018
IHIT Called To Grandview Corners/South Surrey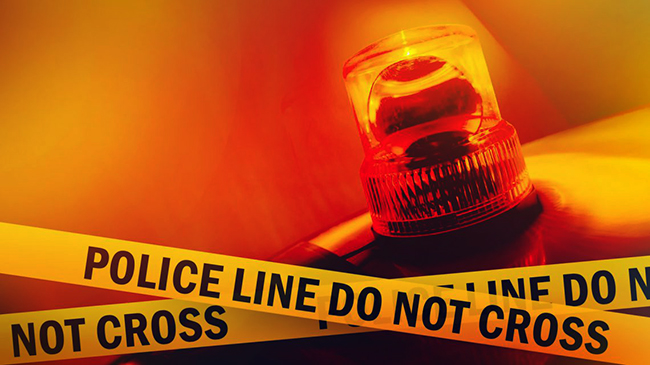 Yesterday afternoon just before 2:45 PM, the Surrey RCMP was called to the 17400 block of 28B Avenue for a report of a house fire. Upon police attendance, two victims were found deceased and the deaths are now believed to be suspicious. Upon police attendance, two victims were found deceased and the deaths are now believed to be suspicious.

The area surrounding the scene will be cordoned off for a significant amount of time. The Integrated Homicide Investigation Team (IHIT) has been called and will be working in partnership with the Surrey RCMP.

Police are currently in the evidence gathering phase, no further information will be provided at this time. Further details and media availability will be handled by the IHIT Media Relations Officer.

Anyone with information regarding this investigation can call the IHIT Information Line at 1-877-551-IHIT (4448) or by email at ihitinfo@rcmp-grc.gc.ca.
January 26, 2018
Full Speed Ahead With Surrey LRT
Surrey Mayor LINDA HEPNER
" Yesterday the Mayors' Council unanimously reaffirmed that we are forging ahead with TransLink's FULL 10-yr Vision for Metro Vancouver Transit and Transportation, which includes 27kms of Surrey LRT and the Pattullo Bridge Replacement.
And we will meet our regional funding commitment, period.
I look forward to the signing of the Fed-Prov bilateral agreement to confirm the promised contributions from senior levels of govt so that projects can progress on schedule. "
January 25, 2018
Baldwin To Step Down
White Rock mayor WAYNE BALDWIN announced via The Vancouver Sun yesterday he will not seek another term as mayor.
January 26, 2018
I Saw The Light
Just as the residents of White Rock and visitors were getting used to the beautiful lights erected in the trees along the full length of the city's promenade on the beach, the weekend storm hit.
The high winds ripped many of the connections out causing patches of darkness along the waterfront. A city rep has said the lights will be returned to their previous glory. Currently work crews are repairing and cleaning up other damage done by the storm. They'll be back!
Dig It
On Monday of this week work crews rolled on to Russell Avenue East of Johnston Road (152) in uptown White Rock. The size of the work crew and their parking access needs came as a surprise to everyone including city hall.
The workers were drilling wells to assess the soil condition in the area of the vacant parking lot next to the White Rock Playhouse. Many years ago the parking lot was home to the old REBEL gas station. IMPERIAL OIL is the owner of the property.
Work was completed yesterday much to relief of business owners along Russell avenue.
Surrey's population grew by an average of 9,927 residents from 2011 to 2016, with a total growth during that period of 49,636, Census data reveals.
During the same time period, Vancouver's population grew by 27,984.
(click here to read the full census report)
No Tsunami Warning Locally
Blaine and Point Roberts across the border in Washington state have had tsunami warning systems in place for a few years. The Semiahmoo First Nations installed their own system late last year. While testing the system there was some concern from local residents who were not aware of the activities of the Semiahmoo band.
When contacted by The White Rock Sun, band councillor JOANNE CHARLES explained they had not activated their loudspeaker warnings as there was no tsunami alert put in place for region 4, the outlined green area on the map below.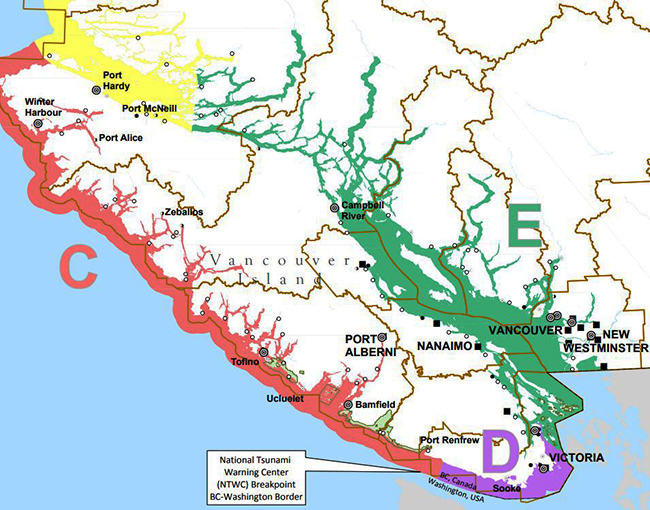 Emergency Management BC has the province separated into five Tsunami Notification Zones:
Zone A covers the North coast and Haida Gwaii
Zone B covers the central coast and Northeast Vancouver Island coast, including Kitimat, Bella Coola and Port Hardy
Zone C covers the outer West coast of Vancouver Island from Cape Scott to Port Renfrew
Zone D covers the Juan de Fuca Strait from Jordan River to Greater Victoria, including the Saanich Peninsula
Zone E covers the Strait of Georgia, including the Gulf Islands, Greater Vancouver and Johnstone Strait
(bookmark the Provincial Emergency Preparedness website)
Concern about coal dust from passing trains prompts B.C. petition
A resident of Salmon Arm, BC is the driving force behind a movement to make CN rail do more to mitigate the escaping coal dust from coal trains running through the city.
White Rock/South Surrey and Delta residents have been complaining for years pertaining to coal dust escapement from BNSF trains heading for Roberts Bank and the Surrey docks. BNSF originally stated they would install sprayers (see above) at the U.S. border in Blaine to limit coal dust escaping from their trains running along the Semiahmoo Peninsula, but quietly made the decision to suspend that expenditure.
\(read the full Salmon Arm story)
January 22, 2018
Stormy Weather
Shelagh Bouttell photos
Visitors to the White Rock waterfront yesterday were treated to Mother Nature at her full force. Unfortunately the high winds overnight Saturday left the promenade littered with debris causing the city to close the walkway.
Large logs actually were thrown up onto the promenade causing concerns for public safety.
They Saw The Light!
CK photo
The city of White Rock received such positive response from the beautiful holiday season lights on the city's promenade, the lights will remain.
Great news for people who enjoy walking along the beach at night. The city a few years back removed the original lights in the trees when residents on Marine Drive complained about light pollution. Following the move East Beach was plunged into total darkness. The street girths East of the pier have provided light for walkers on the Eastern portion of the city's popular promenade.
January 19, 2018
Surrey RCMP Looking For Suspect following South Surrey Attack
Surrey RCMP is asking for the public's assistance in identifying a suspect after a reported sexual assault last week in the south Surrey area.
A week ago on Friday January 12 at approximately 10:20 pm, officers were dispatched to the 15300 block of 21st Avenue. A woman reported that she had been attacked and groped by a male. The victim screamed and pushed the attacker away and then he fled the area on foot. Patrol officers located and detained a man in the area with a similar description shortly after the incident. The subsequent investigation resulted in the release of that person with no charges.
The suspect was described by the victim as 5'7" to 5'8" tall, wearing a grey hoody and a grey looking back pack.
Surrey RCMP Special Victims Unit officers are leading this investigation and are appealing to the public for any information that may lead to the suspect being identified.
Thankfully the victim was not physically harmed, says Corporal Scotty Schumann. Investigators are hoping someone may have spotted a similar looking person in this area and come forward with that information. Any detail, no matter how small or insignificant it may seem, could be what solves a crime.
Anyone with more information is asked to contact the Surrey RCMP at 604-599-0502, and quote file #2018-5683.
January 18, 2018
Knock Knock. Who's There?
Surrey RCMP is advising the public to consider checking the credentials of persons claiming to be police officers who are not wearing a full uniform.
On December 2nd and 19th, 2017, Surrey RCMP was called after a man claiming to be a police officer allegedly stole from his victims. In both cases a South Asian male entered the victim's home with consent as the victim believed he was a police officer. When the opportunity presented itself, the suspect stole cash and credit cards from the victim and then fled.
The suspect is described in both instances as a South Asian male, 20–40 years old, 6'0" tall, clean shaven, and wearing all black clothing. A police artist has produced a composite sketch of the suspect using details from the victims (see attached). Police are not able to say at this point if the suspects from the two incidents are one in the same.
"It is perfectly acceptable to ask someone identifying themselves as a police officer for their credentials, like a badge and photo ID card," says Corporal Scotty Schumann. "If you're not satisfied with the information provided, you can contact the police of jurisdiction to confirm the officer's attendance. Dispatchers will be able to tell you if an officer is at your door."
Anyone with more information is asked to contact the Surrey RCMP at 604-599-0502 and quote file #2017-172145/180525.
January 17, 2018
Bridging The Gap
!52nd Overpass
King George Bailey Bridge
The Ministry of Transportation and Infrastructure has determined a schedule for repairing the 152nd St. underpass at Highway 99 and replacing the Bailey Bridge on King George Boulevard in Surrey.
In the coming weeks, crews are expected to begin repairs at the 152nd St. underpass. Work will involve removing and replacing the damaged girders, and demolishing and reconstructing the deck over the damaged area. New girders are currently being fabricated and will arrive on site in February, and repair work is anticipated to finish in April.
The ministry thanks motorists for their continued patience while these extensive repairs are completed. Every attempt is being made to manage traffic volumes and to minimize disruption to travelers. Please watch for construction workers, traffic controllers, signs and changing traffic patterns, and get the latest traffic advisories by visiting www.DriveBC.ca and by following @DriveBC on Twitter.
To keep traffic flowing and minimize delays, the Bailey Bridge replacement project on King George Boulevard in south Surrey will begin once the 152nd St. underpass has been repaired, and all lanes on Highway 99 and 152 St. have re-opened. A new steel structure will replace the one-lane northbound bridge and will eliminate the need for a vehicle-weight restriction. Work is tentatively scheduled to occur May through June, and the adjacent two-lane structure on King George Boulevard will remain open to traffic during construction.
January 12, 2018
New White Rock City Planner?
Meet MAX TREST
MAX TREST a young White Rock boy has the LEGO bug like so many other young boys these days. During his break from school over the holidays MAX decided it might be an idea to create a scale model of his city by the sea.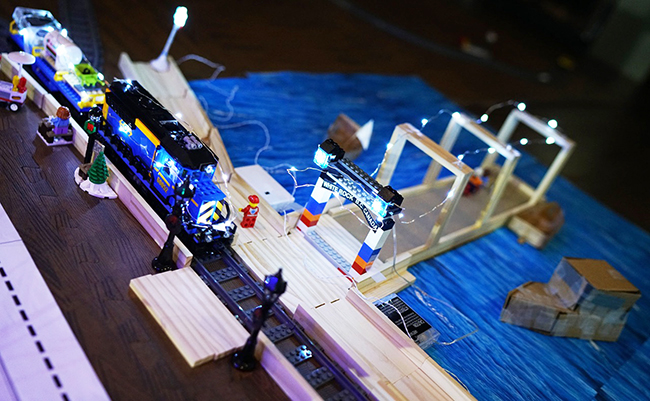 Scale Model Of The White Rock Pier & Boardwalk

The entire layout covers an area of 12' X 7' and includes models of the White Rock Pier and Boardwalk, boats made out of cardboard, our house, a Vancouver train station (thanks Matti for helping build the station!), and an elevated Skytrain track. The small details are amazing!

The Pier is lit up with working LED lights and there is a working lit up Lego passenger train and freight train that run by the Pier. The larger cardboard boat has a top that can open and the smaller rowboat features small cardboard paddles. Printed ocean scenes were used to simulate the water.

The model house in the layout is located close to the Pier and is nearly an exact open concept replica of our townhouse. The flooring type and color of the floors on each level is identical. Max used Lego to build scale models of our sectional sofa, fireplace with TV above, kitchen island, dining table, center console, and so much more. Many of the details, including the location of where the Christmas tree is located, is an exact replica of where these items were located in our house during the Holidays.
Job well done MAX, like everyone else that has seen your creation, WE LOVE IT!
House Of Dreams
l-r Vera LeFranc, Wes Everaars, Linda Hepner, Selina Robinson, Mike Starchuk, Rachna Singh and Bruce Ralston at City of Surrey.
Yesterday Minister Selina Robinson and Surrey Mayor LINDA HEPNER announced, with partners BC Housing, Fraser Health, the Lookout Housing & Health Society and the Surrey Homelessness and housing Task Force, the Surrey Rapid Response Housing Plan.
This two phase, comprehensive plan will allow us to address the spectrum of housing options for our most vulnerable residents.
Read more about this significant step forward in aiding the homeless in the City of Surrey: http://bit.ly/2mxfIVh
Clear The Tracks

People in the Lower Mainland will soon experience reduced traffic delays thanks to six new motorist advisory signs that will be installed at key road and railway crossings in Langley, Surrey and the Township of Langley, as part of the Railway Crossing Information System project.
The signs will complement the railway overpasses constructed in the Langley and Surrey area along the Roberts Bank rail corridor that were built to improve shipments and traffic flow, while enhancing trade with the Asia-Pacific region. Community consultation has shown strong support for the signs, as their purpose is to improve community livability and help manage increased traffic along the corridor, which has as many as 22 train crossings per day.
"Our government is continuously working to build stronger, more efficient transportation corridors to international markets," said the Honourable Marc Garneau, Minister of Transport. "With this contribution of $300,000 to the intelligent transportation system, we are providing drivers with the information they need to choose the most efficient route, while making the trade corridor more reliable."
Intelligent by design, the advisory signs will operate through a central control system and will provide drivers with real-time train crossing information — indicating if the crossing is open or closed — so drivers can make informed decisions about their travel routes. The signs will specify the train's location and travel direction, enabling drivers to use alternate crossing options at adjacent railway overpasses in order to avoid traffic delays.
In addition to reducing traffic congestion and minimizing greenhouse gas emissions due to decreased vehicle idling times, the signs will also increase travel efficiency and mobility for emergency vehicles.
"The Railway Crossing Information System is a critical piece of the Roberts Bank Rail Corridor program that will help drivers make informed choices when planning their route to minimize delays by rerouting to one of the eight new overpass crossings," said Kevin Desmond, CEO of TransLink. "This is another example of business and government coming together to improve travel on major road arterials.
The Railway Crossing Information System project is jointly funded by the Government of B.C., Transport Canada and Vancouver Fraser Port Authority, each providing $300,000, in addition to $2.9 million from TransLink. The total project cost is $3.8 million, which includes development of the central control system and a recently issued civil-works contract valued at $1.7 million, awarded to Crown Contracting Limited from Surrey. The project is expected to be complete and in operation by December 2018.
January 11, 2018
Missed Opportunity
TRANSLINK has announced the discontinuation of the double decker bus service to South Surrey/White Rock on the 351 route.
The trial program service now sees the bus move over to Langley and Delta in the coming months. TRANSLINK cannot say if the double decker bus service will ever return to our area.
Did you get a ride? We're kicking ourselves over here at THE SUN.
We're standing up for you
South Surrey resident DARRELL JONES

Dear valued Save-On-Foods customers,
I'm writing to you because we're deeply concerned about what's happened with the bread price-fixing issue that was going on in Canada by certain competitors and suppliers. It is important for you to know that we at Save-On-Foods had no knowledge of, nor were we involved in, this illegal activity.
One of our competitors who has admitted guilt is providing a $25 shopping incentive to their customers. We know that you, as our valued More Rewards customer, could have been impacted with higher bread prices. So we're making it easy for you to receive our own $25 offer, through our More Rewards program. We in turn, will seek compensation from the bread suppliers involved, in due course. You can use this $25 in our stores, and at the same time, you will be signed up for even more great offers and information. And in keeping with our commitment to supporting those less fortunate, we'll be giving you the option to re-direct this $25 to your local food bank.
You have a right to choose how you spend your grocery shopping dollars. On behalf of our 18,000 local team members, we thank you for choosing us.
Darrell
Darrell Jones
President
Save-On-Foods
(click here to register for your $25.00 gift certificate)
*If you subscribe for your $25.00 certificate here is an idea.
Give that certificate/card to the local food bank. They can make $25.00 go a lot further than you or I. The food bank needs our help year round, not just at Christmas.
January 10, 2018
Dig It!
After months of delay the City of White Rock's contractors have moved into Memorial Park on the waterfront.
Concerns expressed by the Semiahmoo First Nations regarding possible archaeological items might be in this area the city suspended work until the proper Provincial permits were in place. It is hoped work will be completed before the arrival of the busy summer tourist season.
When finished the park will be expanded North on to the existing parking spaces on Marine Drive. Due to the new design there will be a loss of two dozen parking spots along Marine Drive and in the parking lot to the East of the museum. The new park will also contain a new washroom facility, which will be welcomed by locals and visitors alike.
School is Back - Slow Down
Now that school is back in session, remember White Rock & Surrey school zones are in effect 7:30 am to 5 pm on school days.
Please watch your speed. In particular along 16th avenue & 136 near Ray Shepherd elementary.
January 09, 2018
UPDATE January 10, 2018
Constable ELIZABETH CUCHERAN did not personally appear at Surrey Provincial court yesterday. Instead CUCHERAN was represented by her lawyer who indicated to the court CUHERAN will plead not guilty and has elected to be tried by a judge and jury.
The next scheduled court dates are in November and December 2018.
First Court Appearance Today
South Surrey RCMP Constable ELIZABETH CUCHERAN will make her first court appearance today in Surrey Provincial court.
CUCHERAN has been charged with one count of assault and one count of aggravated assault in the death of South Surrey resident HUDSON BROOKS.
BROOKS was shot and killed during an early morning encounter July 18, 2015 with numerous RCMP officers outside of the South Surrey RCMP detachment.
CUCHERAN has been placed on administrative leave pending the outcome of the trial. It is expected today's court appearance will be brief with CUCHERAN and her lawyer on hand to enter a plea of guilty or not guilty.
Fifty Three Years Ago This Week
The Hope Slide came roaring down over the Trans Canada Highway killing four people.
January 07, 2018
Pub With No Beer
CUSTOMER NOTICE

​​​​​​​We will be closed from Saturday, January 6th to Monday, January 15th due to a Liquor Board Infraction for overcrowding,
We are currently in the process of increasing our seating capacity to 210 from 140 people.
We will reopen again on Tuesday, January 16th 2018.
January 03, 2018
First New Years Baby
B.C.'s New Year's baby was supposed to be a Christmas baby. But instead, the firstborn baby girl of Surrey couple, mother Manpreet Kaur Nijjar and father Hardip Singh Shergill, was seven days late.
Due on Dec. 24, the little girl, who is as yet unnamed, was delivered via Caesarian section at just nine seconds after midnight at Surrey Memorial Hospital, weighing 8 pounds, 7 ounces.

The family are doing well and are thrilled to welcome their first child with such an auspicious birth date. Congratulations to the happy family!
Ooooh What's That Smell?
A foul odor blanketed the city of White Rock and areas of South Surrey most of yesterday. Then the rumours started. It was a broken sewage plant at Marine Drive. Centennial Arena had been evacuated. FORTIS was investigating a gas leak in the city. ON and on and on. When in fact the smell emulated from the composting facility in South Surrey that had been in the news over the past month.
Finally Fire Chief PHIL LEMIRE issued the following statement regarding the origin of the foul smell. The smell is believed to be from the Border Feed Lot compost facility.
We are quite confident that the odour is coming from a composting facility located by 172nd St and 8th Ave in South Surrey.
This is similar to a situation a couple of weeks ago and the odour seems to occur in pockets across parts of White Rock and South Surrey.

Regards,

Phil Lemire, CFO
FIRE CHIEF
WHITE ROCK FIRE RESCUE
UPDATE - January 05, 2018
Metro Vancouver's Regulations & Enforcement team has received an increasing number of odour complaints attributed to Border Feed Lot in Surrey.
Border Feed Lot receives agricultural waste, including animal and mushroom manure, as well as other types of non-municipal solid waste to produce topsoil and compost products. Metro Vancouver's regulatory policy is to treat farmers, within Metro Vancouver, similar to the manner in which the Ministry of Environment treats farmers outside of Metro Vancouver.
Metro Vancouver has informed the City that their Regulations & Enforcement staff have been in regular contact with the operator, are monitoring the situation and are considering next steps.
Metro Vancouver asks that concerned residents should continue to inform them of odour concerns as they will continue to consider whether regulatory actions may be required.
If you have specific concerns about air quality in your area, please call Metro Vancouver's Air Quality Complaints and Inquiries line at 604-436-6777.
January 02, 2018
"The Drive-Was Alive"
White Rock's holiday season deserted waterfront underwent a major transformation yesterday.
Thousands of brave souls made their way to the sandy shores of Semiahmoo Bay for the annual Polar Bear Swim.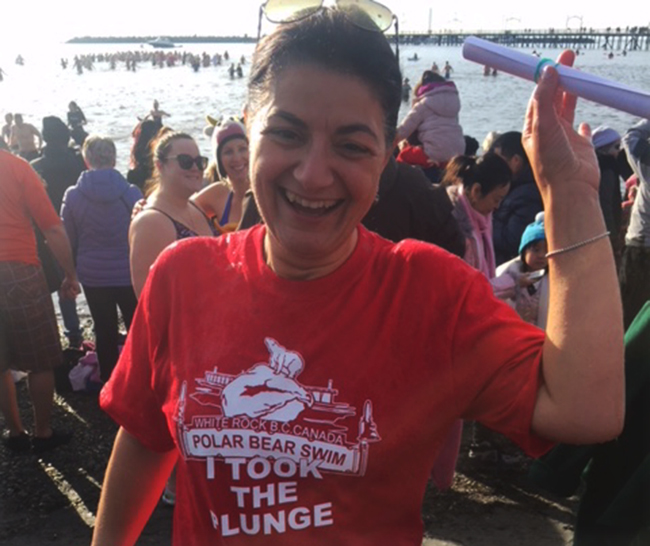 A t-shirt, a certificate and a chilly walk home seemed like a wonderful idea to many.
This year's swim was the 48th annual swim. Just two more years and our little swim will turn 50. Hmmmm. That might be a good year to take the plunge.
CK photo
No amount of signs and or warnings about staying off of the tracks seemed to matter to this family who thought it would be a good idea to teach their young child the joy of track walking. Will it ever end?
May 20, 2016
RCMP Investigating Arsons
There has been no official word on the cause of the blaze that destroyed the two condo complexes at 5 Corners Sunday.
What we do know is there were no less than four fires set throughout the city of White Rock and close proximity Sunday morning.
#1.
A children's playground constructed from wood and plastic and located on the Cypress street road end @ Victoria avenue was set ablaze in the early hours Sunday morning, No injuries. Fire quickly extinguished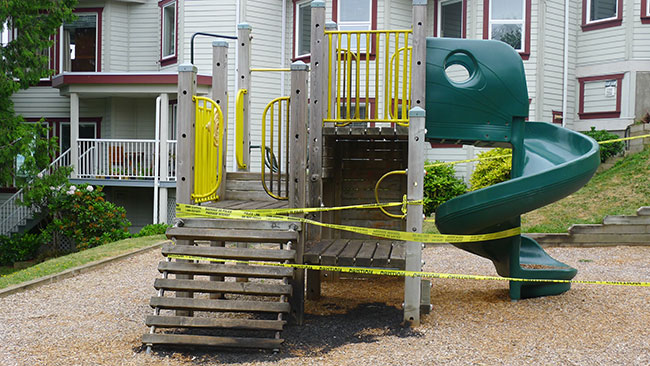 #2
Major condominium fire on Royal and Pacific Avenue. Time 4:30 a.m.
#3
Sandpiper Liquor store is broken into @ 5:10 a.m. Owner confirmed the CCTV cameras captures clear pictures of two suspects robbing the liquor out of the window.
#4.
10:30 a.m. a fire is started in an alleyway off of Pacific avenue near Stayte road. Fire quickly extinguished no major damage. No injuries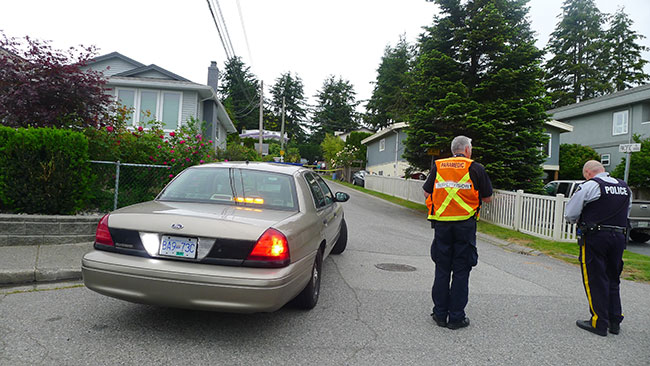 #5
12 noon residents of the Semiahmoo First Nations witnessed an individual attempting to start a building on fire behind the band's office. The Surrey RCMP responded to the 911 call and took the suspect into custody.
The suspect taken into custody Sunday appeared in Surrey Provincial court Tuesday morning where he was charged with arson damaging property.
The accused is 18 year old JAMES DYER of Surrey was released on his own recognizance.
The White Rock & Surrey RCMP continue their very active investigation today.
May 19, 2016
Mayor Caught Between White Rock & A Hard Place
That's the headline you will see when you pick up your copy of THE PROVINCE today.
White Rock mayor WAYNE BALDWIN and former White Rock resident and council candidate DENNIS LYPKA go head to head on the pro's and con's of White Rock rejoining Surrey.
(click here to read the story and to watch the video)
May 17, 2016
Eye In The Sky
White Rock resident and traffic reporter for WX1130 DARREN "Danger" GRIEVE sent along this picture taken yesterday afternoon. The fire started at the rear of the condo project under construction pictured in the top left hand corner of photo.
No official announcement has been made yet on whether or not it will be possible to rebuild or if the whole structure will have to come down.
May 15, 2016
Five Corners Fire
Smoke could be seen for miles as the fire ripped through the condo structures. This shot was taken by a reader from the Inn @ Semiahmoo in Blaine.
The fire broke out early this morning around 5 a.m. in a wooden three storey condo under construction on Royal Avenue in the 15200 block. The fire quickly jumped to the condo located at 5 Corners. The fire at one point threatened the Star of the Sea hall located next to the condo. Firefighters fought the fire from the roof of the Star of the Sea in order to prevent the fire from spreading. Surrey and White Rock fire crews fought the stubborn blaze for hours before eventually bringing it under control at 8 a.m.
There have been no reports of any injuries.
The cause of the fire is unknown as the investigation is in the very early stage.
Photo courtesy Diana Arnold
Origin of fire in under construction condo on Royal Avenue
Photo courtesy Bill Brooks