Canada's FIRST Internet Newspaper

The Traveler & his friend - CK photo
"Where You Can Vacation - And Be Home The Same Day"
Night Owl
I heard it through the grapevine, SOUL PURPOSE celebrates the music of Motown this weekend in Crescent Beach.
(click here for all you musical needs)
We Have A Winner!!!
He did it!
Local blues rocker JASON BUIE picked up the Maple Blues Award for the "Best New Artist" last night in Toronto.
The annual top blues awards show last night in Toronto also saw COLIN JAMES pick up awards for blues guitarist and blues album of the year.
Local News
January 17, 2018
FINALLY!
!52nd Overpass
King George Bailey Bridge
The Ministry of Transportation and Infrastructure has determined a schedule for repairing the 152nd St. underpass at Highway 99 and replacing the Bailey Bridge on King George Boulevard in Surrey.
In the coming weeks, crews are expected to begin repairs at the 152nd St. underpass. Work will involve removing and replacing the damaged girders, and demolishing and reconstructing the deck over the damaged area. New girders are currently being fabricated and will arrive on site in February, and repair work is anticipated to finish in April.
The ministry thanks motorists for their continued patience while these extensive repairs are completed. Every attempt is being made to manage traffic volumes and to minimize disruption to travelers. Please watch for construction workers, traffic controllers, signs and changing traffic patterns, and get the latest traffic advisories by visiting www.DriveBC.ca and by following @DriveBC on Twitter.
To keep traffic flowing and minimize delays, the Bailey Bridge replacement project on King George Boulevard in south Surrey will begin once the 152nd St. underpass has been repaired, and all lanes on Highway 99 and 152 St. have re-opened. A new steel structure will replace the one-lane northbound bridge and will eliminate the need for a vehicle-weight restriction. Work is tentatively scheduled to occur May through June, and the adjacent two-lane structure on King George Boulevard will remain open to traffic during construction.
January 12, 2018
New White Rock City Planner?
Meet MAX TREST
MAX TREST a young White Rock boy has the LEGO bug like so many other young boys these days. During his break from school over the holidays MAX decided it might be an idea to create a scale model of his city by the sea.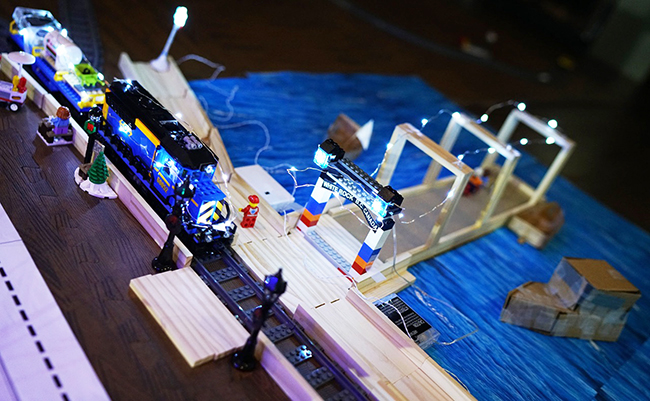 Scale Model Of The White Rock Pier & Boardwalk

The entire layout covers an area of 12' X 7' and includes models of the White Rock Pier and Boardwalk, boats made out of cardboard, our house, a Vancouver train station (thanks Matti for helping build the station!), and an elevated Skytrain track. The small details are amazing!

The Pier is lit up with working LED lights and there is a working lit up Lego passenger train and freight train that run by the Pier. The larger cardboard boat has a top that can open and the smaller rowboat features small cardboard paddles. Printed ocean scenes were used to simulate the water.

The model house in the layout is located close to the Pier and is nearly an exact open concept replica of our townhouse. The flooring type and color of the floors on each level is identical. Max used Lego to build scale models of our sectional sofa, fireplace with TV above, kitchen island, dining table, center console, and so much more. Many of the details, including the location of where the Christmas tree is located, is an exact replica of where these items were located in our house during the Holidays.
Job well done MAX, like everyone else that has seen your creation, WE LOVE IT!
House Of Dreams
l-r Vera LeFranc, Wes Everaars, Linda Hepner, Selina Robinson, Mike Starchuk, Rachna Singh and Bruce Ralston at City of Surrey.
Yesterday Minister Selina Robinson and Surrey Mayor LINDA HEPNER announced, with partners BC Housing, Fraser Health, the Lookout Housing & Health Society and the Surrey Homelessness and housing Task Force, the Surrey Rapid Response Housing Plan.
This two phase, comprehensive plan will allow us to address the spectrum of housing options for our most vulnerable residents.
Read more about this significant step forward in aiding the homeless in the City of Surrey: http://bit.ly/2mxfIVh
Clear The Tracks

People in the Lower Mainland will soon experience reduced traffic delays thanks to six new motorist advisory signs that will be installed at key road and railway crossings in Langley, Surrey and the Township of Langley, as part of the Railway Crossing Information System project.
The signs will complement the railway overpasses constructed in the Langley and Surrey area along the Roberts Bank rail corridor that were built to improve shipments and traffic flow, while enhancing trade with the Asia-Pacific region. Community consultation has shown strong support for the signs, as their purpose is to improve community livability and help manage increased traffic along the corridor, which has as many as 22 train crossings per day.
"Our government is continuously working to build stronger, more efficient transportation corridors to international markets," said the Honourable Marc Garneau, Minister of Transport. "With this contribution of $300,000 to the intelligent transportation system, we are providing drivers with the information they need to choose the most efficient route, while making the trade corridor more reliable."
Intelligent by design, the advisory signs will operate through a central control system and will provide drivers with real-time train crossing information — indicating if the crossing is open or closed — so drivers can make informed decisions about their travel routes. The signs will specify the train's location and travel direction, enabling drivers to use alternate crossing options at adjacent railway overpasses in order to avoid traffic delays.
In addition to reducing traffic congestion and minimizing greenhouse gas emissions due to decreased vehicle idling times, the signs will also increase travel efficiency and mobility for emergency vehicles.
"The Railway Crossing Information System is a critical piece of the Roberts Bank Rail Corridor program that will help drivers make informed choices when planning their route to minimize delays by rerouting to one of the eight new overpass crossings," said Kevin Desmond, CEO of TransLink. "This is another example of business and government coming together to improve travel on major road arterials.
The Railway Crossing Information System project is jointly funded by the Government of B.C., Transport Canada and Vancouver Fraser Port Authority, each providing $300,000, in addition to $2.9 million from TransLink. The total project cost is $3.8 million, which includes development of the central control system and a recently issued civil-works contract valued at $1.7 million, awarded to Crown Contracting Limited from Surrey. The project is expected to be complete and in operation by December 2018.
January 11, 2018
Missed Opportunity
TRANSLINK has announced the discontinuation of the double decker bus service to South Surrey/White Rock on the 351 route.
The trial program service now sees the bus move over to Langley and Delta in the coming months. TRANSLINK cannot say if the double decker bus service will ever return to our area.
Did you get a ride? We're kicking ourselves over here at THE SUN.
We're standing up for you
South Surrey resident DARRELL JONES

Dear valued Save-On-Foods customers,
I'm writing to you because we're deeply concerned about what's happened with the bread price-fixing issue that was going on in Canada by certain competitors and suppliers. It is important for you to know that we at Save-On-Foods had no knowledge of, nor were we involved in, this illegal activity.
One of our competitors who has admitted guilt is providing a $25 shopping incentive to their customers. We know that you, as our valued More Rewards customer, could have been impacted with higher bread prices. So we're making it easy for you to receive our own $25 offer, through our More Rewards program. We in turn, will seek compensation from the bread suppliers involved, in due course. You can use this $25 in our stores, and at the same time, you will be signed up for even more great offers and information. And in keeping with our commitment to supporting those less fortunate, we'll be giving you the option to re-direct this $25 to your local food bank.
You have a right to choose how you spend your grocery shopping dollars. On behalf of our 18,000 local team members, we thank you for choosing us.
Darrell
Darrell Jones
President
Save-On-Foods
(click here to register for your $25.00 gift certificate)
*If you subscribe for your $25.00 certificate here is an idea.
Give that certificate/card to the local food bank. They can make $25.00 go a lot further than you or I. The food bank needs our help year round, not just at Christmas.
January 10, 2018
Dig It!
After months of delay the City of White Rock's contractors have moved into Memorial Park on the waterfront.
Concerns expressed by the Semiahmoo First Nations regarding possible archaeological items might be in this area the city suspended work until the proper Provincial permits were in place. It is hoped work will be completed before the arrival of the busy summer tourist season.
When finished the park will be expanded North on to the existing parking spaces on Marine Drive. Due to the new design there will be a loss of two dozen parking spots along Marine Drive and in the parking lot to the East of the museum. The new park will also contain a new washroom facility, which will be welcomed by locals and visitors alike.
School is Back - Slow Down
Now that school is back in session, remember White Rock & Surrey school zones are in effect 7:30 am to 5 pm on school days.
Please watch your speed. In particular along 16th avenue & 136 near Ray Shepherd elementary.
TNT The Naked Truth
A few weeks back the city of White Rock was covered with a terrible smell that was described as smelling like sewer, rotten eggs, a gas leak and more.
Upon investigation White Rock fire chief PHIL LEMIRE identified the source of the smell. The stockyard/composting plant at the corner of 8th avenue and 172nd street was identified as the culprit of the putrid smell.
Today DON PITCAIRN drops a bombshell regarding something even more horrifying than the odour that is emulating from the business.
Video of the Day
Camping On The Desk

If you love being outdoors you might have spent some time camping on your deck but have you ever been camping on your desk? "Gone Fishing" is a wonderful stop-motion animation from Guldies that I found entertaining to watch. I love the scenes of splitting the wood for the campfire and admire the size of the fish he caught. The entire video was filmed on a desktop using a Canon EOS 600D.

Coming Events
(click here to check out what else is on around town)
Joke Of The Day
A football coach walked into the locker room before a big game, looked over to his star player and said, "I'm not supposed to let you play since you failed math, but we really need you in there. So, what I have to do is ask you a math question, and if you get it right, you can play."
The player agreed, so the coach looked into his eyes intently and asked, "Okay, now concentrate hard and tell me the answer to this... What is two plus two?"
The player thought for a moment and then answered, "Four?"
"Did you say four?" the coach exclaimed, excited that he had given the right answer.
Suddenly, all the other players on the team began screaming, "Come on coach, give him another chance!"
Thought For The Day
It's Only News If You Read It Today