Autumn @ Grandview Corners - photo courtesy Al Urquart
"where you can vacation and be home the same day"
TNT The Naked Truth
Chantal MacLean and Cody Kehler
"Poor Engineering & Bad Government Kills People" DON PITCAIRN
Local News
October 20, 2014
Surrey Homicide
Yellow tape has gone up around a home in the area of 126 street and 110 Avenue in North Surrey. Surrey RCMP were called early this morning to a disturbance at the resident. Upon their arrival they discovered the body of a deceased male.
IHIT has been called in to handle the investigation.
Tonight - Council Notes
- 7:00 p.m. - Public Hearing regarding proposed Zoning Amendment Bylaw No. 2064 for 1230 Best Street
Public Meeting regarding Development Variance Permit No. 367 for 15615 Moffat Lane
Public Meeting regarding Development Permit No. 371 for 1328 Johnston Road
- Regular Council meeting to begin following Public Hearing and Public Meetings
Tonight council will receive reports on;
- Johnston Road Beautification Project
- Centre Street Road Allowance Upgrades
- A special report on the proposed rail relocation
Going forward, the city of White Rock must develop two capital cost estimates:
1. an exact duplication of existing rail line at a new location, and
2. the cost to construct a rail line that would perform to similar standards at a new location. (This line must be constructed using present day design and construction
standards.) The cost of any additional infrastructure demands requested by the railway will be borne by the railway. The city will report findings to the technical
committee.
To prepare cost estimates, the City of White Rock will need to determine the meaning of "functional equivalence" or "betterment."

Surrey City Council meets for the second to last time this evening.
(complete schedule)
TURN IT OFF!!!


Today the new law kicks in that will see distracted rivers hit with 3 points on their drivers licenses and a $167.00 fine if they are caught driving while distracted texting, talking on the cellphone, tuning in some music. The graveyard is full of drivers who thought they could operate a vehicle while operating a cellphone.
Local RCMP detachments will be out in full force to implement the new law while sending a message to distracted drivers. This is serious.
The annual BC Country Music Awards were handed out at the Hard Rock Casino in Port Coquitlam last evening. Congratulations to local promoter and artist manager ROB WARWICK on the win for his band ME AND MAE in the Ray McAuley Horizon Award category.
October 19, 2014
The Return Of Jason
When White Rock born and raised JASON GARRISON received a 6 year contract with the Canucks in 2012 his dream of playing for his home team came true. That dream came to a screeching halt this past summer when the Canucks asked him to waive his no trade contract. GARRISON at first balked but then relented and agreed to a trade.
Saturday night GARRISON and his new team skated on to the ice at Rogers Arena and left the Canucks stinging as the LIGHTNING emerged45-2 winners.
GARRISON'S parents still call White Rock home.
Local Realtor's High Life Crashes
Krista Boseley
Local resident KRISTA BOSELEY worked as a realtor for Colonial Pacific Re-Max Realty in South Surrey until last year. BOSELEY was also an aspiring model and Playboy hopeful.
Today she is behind bars in Los Angeles. The 30 years old BOSELEY and her companion 61 year old GILLES LAPOINTE were busted on Thursday after they flew into Orange County airport just outside of Los Angeles. The local police were alerted to their activity. A subsequent search of the private plane they were travelling in, and their personal luggage a massive amount of illegal drugs were discovered.
Diwali Done
The White Rock waterfront hosted its first annual Diwali Festival yesterday. The weather gods smiled down and a large crowd of "promenaders" stopped to take in the activities at the food trucks while watching the entertainment on stage.
photo courtesy Tom Saunders
The day long festival came to a thunderous conclusion as fireworks lit up the night over the Salish Sea.
October 17, 2014
Surrey Board of Trade - Report Card On Surrey Not Good
Safety - D+
Arts & Culture - C
Environment - C
Economy and Work - C
Getting Around D+
Friday outgoing Surrey Mayor DIANNE WATTS was joined by the head of the Surrey RC MP BILL FORDY at the Surrey Board of Trade's breakfast meeting to speak to business owners on issues relating to crime in the city. The Surrey Board of Trade has brought business, government and the RCMP together in a collaborative, respectful way to focus on crime reduction solutions.
October 15, 2014
Restaurant Row Roulette
Uptown White Rock is now the new location for ANNA'S Ukrainian diner. ANNA this week moved her Hillside Plaza location across Johnston road into the old location of Sugar & Spice.
A few doors north from ANNA'S new location a sign has gone up in the window of the location which was the home of White Rock Garden Chinese restaurant for years. CAFE 8 will soon open offering diner/coffee shop menu items, It will be great to have a restaurant uptown that cracks eggs.
The Local Elections Are Now Official!
The official nominations for White Rock and Surrey council are now a matter of record. The nomination period closed at 4 p.m. Friday.
Read White Rock's full list of candidates for Mayor and Council (click here)
Read Surrey's full list of candidates for Mayor and Council (click here)
October 06, 2014
Important Dates For Upcoming Civic Elections White Rock/Surrey
Yesterday the nomination period closed and the final list of the candidates in the upcoming Surrey and White Rock civic elections on November 15 will be revealed.
Coming Events
Community Shuttle Bus Rally
Silent No More
Bus service is the essence and spirit of community … with a sense of belonging and the ability to fulfill personal responsibilities … be it business, schools, medical or social interaction … is paramount to social well-being.
Today our unique community of White Rock and South Surrey has been eroded by an already existing inadequate bus service.
As we enter major Christmas shopping and family gathering, AND winter weather approaching bus shelters are of a necessity.
An immediate action to stagger the departure times
Re: Translink Buses C50, C51, C52, C53,
PLEASE JOIN US AT THE WHITE ROCK LIBRARY
OCTOBER 22ND , 7 – 8:30 PM
15342 Buena Vista Ave, White Rock
Sunday Funnies
What if the ROLLING STONES came trick or treating at your home this year?
Check out this week's collection of cyber junk. We stopped by Neptoon Records and picked up some classic rock n' roll posters from Vancouver's past.
Recipe Of The Week
Pumpkin chili just in time for something to do with that left over Jack O Lantern in a couple of weeks
Sports
Tampa Bay Lightning 4 Canucks 2. The Canucks head for their first extended road trip of the year with stops in Dallas, S. Louis and Colorado. Next home game is Sunday when Washington comes to town.


BACK TO BACK LOSSES! It happens folks
Yesterday the Seahawks dropped their second consecutive game and third in their past five, falling to the St. Luis Rams 28-26. At 3-3, the Seahawks have a worse record than the Buffalo Bills, the same mark as the Cleveland Browns and Houston Texans and are stuck in a lowly third place in the NFC West.
Being 3-3 is hardly cause for alarm, particularly with games against Carolina, Oakland and the New York Giants coming in the next three weeks. It gets tougher after that though, with five games against NFC West opponents and trips to Philadelphia and Kansas City remaining.
The Lions travel to Winnipeg on Saturday. Next home game is Calgary on November 7.

In 3 of the first 6 games in the 2014 campaign, the Eagles have gone to overtime to decide the outcome of the game. Yesterday the Eagles took the extra frame to defeat Coquitlam 4-3.
The two teams meet again at the South Surrey arena on Friday @ 7 p.m. Lots of tickets available at the door prior to game time.
Still In The Playoff Hunt

Yesterday the Whitecaps FC, who are now undefeated in four matches, put in another strong defensive performance and goalkeeper David Ousted made some key saves en route to Vancouver's third straight clean sheet. It was also Ousted's league-leading 12th clean sheet of the season. 
The result moves Vancouver back into sole possession of the fifth and final playoff position in the Western Conference, one point up on Portland Timbers.
Whitecaps FC will look to secure their playoff berth next Saturday in their regular season finale against Colorado. Kickoff is set for 7 p.m. PT at BC Place. The match will also be "Fan Appreciation Night" and Jay DeMerit's retirement ceremony will be held prior to kickoff.
Joke Of The Day
Butcher Shop
A lady goes into the butcher shop and as she is walking around the store, she spies a beef tongue in the butcher's counter. The lady asks, "What in the world is that?"
"Beef tongue," replies the butcher!
The lady gives a little involuntary shudder, "No way would I put anything in my mouth that came out of an animal's mouth!"
The butcher nods sympathetically while peeking into the woman's shopping cart, "I see you're buying a dozen eggs!"
In case you missed RICK MERCER'S rant last week, you need to watch this. Thou Shalt Not Steal!
Thought For The Day
Tomorrow In The Sun
Night Owl
JW JONES trio wowed the audience at Blue Frog Saturday night. Their concert wrapped up a great blues weekend which also featured JIM BYRNES on Friday.
This Saturday THE COOLER KINGS take the stage at Canada's Premier Performance/Recording facility. Up at the Elks Hall PAT CHESSELL headlines an Irish Night of music.
It's Only News If You Read It Today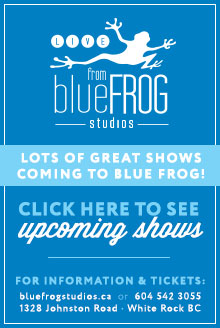 Buy Tickets