Canada's FIRST Internet Newspaper
"Where You Can Vacation & Be Home The Same Day"
Night Owl
Saturday Night
(click here to find out where the action is this weekend)
Friday Night
Local News
November 13, 2019
White Rock Takes A New Direction
CAO Dan Bottrill
White Rock City Council wishes to advise that it has decided to embark on a new direction for the management of its organization.
With the assistance of the Chief Administrative Officer, Dan Bottrill, the City will undergo a transition period over the next several months, which will see the hiring of a new CAO.
Accordingly, as of March 31, 2020, Dan will be completing his service to our community and moving on in his career to undertake other endeavours.
Surrey Langley SkyTrain Engagement
Public engagement has started. Until Nov. 17, provide feedback through our online survey and/or attend one of our open houses.
Complete a Survey
This survey seeks your feedback on:
the proposed placement of the SkyTrain guideway along Fraser Highway

access to SkyTrain and integration with other modes of transportation

the Environmental Screening Review (ESR)

rapid transit on 104 Avenue and King George Boulevard
If you are interested in reading a summary of the draft Terms of Reference for the Environmental Screening Review (ESR) before you complete the survey, visit the Document Library.
(click here to take the survey - have your say)
Fresh Roasted Coffee
Fresh roasted Guatemalan Coffee be ready for pick-up on friday.
Also roasting up a very tasty Costa-Rican coffee this week
Call me if you need some beans...al @ 604-780-4659
AL NEMETH formerly Tee Pee drive thru King George highway.
November 12, 2019
101st Anniversary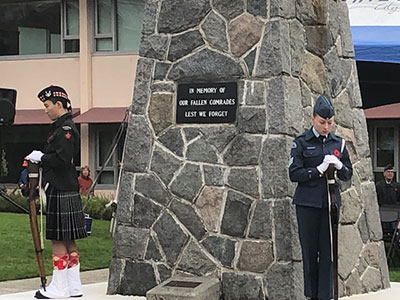 The crowd in attendance for the White Rock city hall Remembrance Day ceremony was huge. Local politicians on hand were MP Kerry Lynne Findlay, MLA Tracy Redies and White Rock council.
The solemn ceremony marked 100 years since the guns fell silent to mark the end of World War II.
I was honoured to be asked to lay a wreath on behalf of the Peace Arch Hospice Society. As well fellow board of director Barb Howes and I laid a wreath at the cenotaph from Sunnyside Villas supportive housing.
November 08, 2019
State of the City
White Rock mayor DARRYL WALKER hosted his State of the City Address last evening at the White Rock Community Centre. The free event drew together a number of residents interested in hearing the Mayor's speech on the accomplishments of the current council over the past year.
Mayor Walker covered a wide range of topics as he not only highlighted the first year of the current council, but also itemized items the mayor and current council will be working on over the remainder of their 4 year term.
The meeting last night broke with tradition where the mayor used to only appear at a paid annual event hosted by the local Chamber of Commerce.
Don't Let The Sun Go Down On Me
The past few weeks have afforded residents of the Semiahmoo Peninsula stunning sunsets. Now that the sun has moved across the horizon and is no longer setting out over Mud Bay, the Semiahmoo Bay has been bathed in stunning red sunsets.
The two photos above were taken from the point of view in Blaine, WA.
Warm Community Feeling
What a nite Delivering a bbq, tool set , new tank and some Food gift cards to our WhiteRock Paramedics/ambulance drivers. After hearing On Common Ground that they were in search of a second hand bbq to feed the crew , Seagods, Ryan Johnston, Mandy W, Todd Adams,  Steve Marsden, Louise Taylor, Carol Brooks, Helen Perry and Leta Gold all came together to contribute. 
Camille and Woodrow Johnson came along to see "real Superheros and Patty Walters and crew treated the kids to a full tour.  
And with that they broke out the hot dogs
Great job everyone. Thank you Paramedics
Christy Fox
November 07, 2019
Hells Angel Shooters Get New Trial Date
The two men who have been charged with the death of a Hells Angels member which occurred in a brazen daylight shooting have had their trial put over until December 05 in Surrey Provincial court.
The two Edmonton residents CALVIN POWERY-HOOKER and NATHAN DE JOHNG made a brief court appearance via video link this week.
The pair were arrested shorty after Hells Angels SUMINDER GREWAL was shot dead mid morning on August 02 as he sat in line at the Starbuck's drive thru @ South Point shopping centre in South Surrey.
November 06, 2019
STATEMENT FROM MAYOR DOUG MCCALLUM
One year ago, today, the latest edition of Surrey City Council was sworn in. All eight City Councillors taking the Oath of Office on November 5, 2018 were brand new to municipal government. With fresh perspectives and renewed energy, City Council immediately got to work as soon as the new Council was affirmed. That evening, two motions were unanimously passed to expand SkyTrain in Surrey and to begin work on the creation of a city police department.

Politicians are often criticized for not keeping their promises and deservedly so. When I was running for office, my promises and commitments were transparent and clear. As the elected Mayor of Surrey, it is my duty to deliver on what I pledged to do and not break my word to the voters.

In the first year of a four-year mandate, Surrey City Council has approved the following items:

- Expand Rapid Transit in Surrey with SkyTrain. The Surrey-Langley SkyTrain line will be the first major rapid transit investment in Surrey since 1994.
- Establish a Surrey Police Department, which was given the green light by the Solicitor General in August.
- Cleaned up the backlog in the Planning Department. In 2017, the delay peaked at 25 weeks to get a single-family permit issued. It has been reduced to 15 weeks and by the end of the year, the wait will be no more than 10 weeks.
- Implemented Smart Development to ensure essential services and infrastructure are part of the planning of new communities. An example is the phased-in approach for a housing project in Clayton. The housing will be constructed in stages in order for it to align with the opening of two new elementary schools.
- Increase flexibility of housing options in Surrey by increasing the number of purpose-built rental developments. There are more than 1700 new rental units slated to be added to the city's rental stock.
- Approved two supportive housing projects that will create 100 units of modular housing built in Guildford and in Whalley.
- Construction commencing this month on the Transitional Housing project in Green Timbers.
- Expanded Surrey's biodiversity conversation through parkland acquisition. In the past 12 months, the purchase of more than 300 acres of land has been approved by Council for the express purpose of increasing Surrey's inventory of parks and green spaces.
- Approved a 75% discount for seniors 70 years and older for recreation passes and drop-in admissions. Since being introduced at the start of 2019, there has been an 18% increase in senior's recreation centre memberships and an estimated 50,000 additional visits made by seniors to our recreational facilities and programs this year.
- Implemented two-hour free parking around Surrey Memorial Hospital and at City Hall.
- No development in the Agricultural Land Reserve.
- Hold property tax increase to the Consumer Price Index (Oct. 2018) of 2.9%.
- Instituted a BarWatch type program and Surrey Anti-Gang Family Empowerment Program 
- The SAFE program was launched for youth at risk of being recruited into gangs. This initiative has been designed to prevent gang recruitment with the focus on diverting our youth from gang involvement.- Task forces in place and work well underway on Truck Parking, Community Engagement and the creation of an Ethics Commissioner.

Doug McCallum
Mayor
City of Surrey
TNT The Naked Truth 
Don Pitcairn
I have no idea how old it is, what type of dinosaur laid it, or how it happened to be deposited into Surrey soil. I also do not know the value off this egg, not do I really care. What I do know is that it was free to me and I have no intention of ever selling it as it's the most interesting thing I've ever found. The egg now occupies a prominent position on one of our shelving units that contains collectibles, blown glass and indigenous baskets. I always get a laugh when people visiting our home look at this shelf and ask, "What's that rock doing there?" When I tell them to grab it and take a look (It's a fossilized rock, you can't break it) they almost always respond with "Hey, is this a dinosaur egg?"
Thought for the Day
Video of the Day
Coming to Blue Frog November 22. First show is sold out, second show now on sale.
Fingers crossed Tom will have copies of his new book in tow.
Community Calendar  
Line & Dine
Linedancing in on the next two wks Nov 14 and Nov 21st. #8 legion on Johnson. 
630 dinner meet-up. Great food. Great prices
730 line-dance lessons $10. beginners 
Cash only. Parking in church lot across the street if lot full.
Soft sole shoes only
Everyone welcome .  
Please leave a message for Christy on her Facebook (click here). 
See you Thursday dancers
Christy Fox
(click here for details on other community events)
Tomorrow In THE SUN
History Lesson
It's Only News If You Read It Today