Canada's FIRST Internet Newspaper

"Where You Can Vacation - And Be Home The Same Day"
Weekend Update

Lots of fun in Crescent Beach Saturday.
(find out what else is on this weekend around the Semiahmoo Peninsula, and beyond)
Expect long border delays and extra traffic coming up from the states this weekend, it is their Memorial Day long weekend.
Local News
May 25, 2018
Kayaker Safe
Christy Fox photo
Early yesterday evening a kayaker was out past the City of White Rock's pier when his craft overturned and his attempts to right it failed. As a result, the kayak began to take on water and the individual who was without a life jacket, started to swim towards shore but was becoming exhausted. Thankfully, his yells for help were heard on shore and White Rock Fire Rescue was notified. The arriving crew located the individual and two firefighters put on personal flotation devices and entered the water. They swam out approximately 500 yards to the individual and pulled him onto shore. Other than extremely tired, the individual was examined by a B.C. Ambulance crew and released.
White Rock Council - Monday Agenda
4:30 p.m. IN CAMEARA
5:45 Land Use - (click here for agenda)
DEVELOPMENT VARIANCE PERMIT NO. 418 for
PEACE ARCH HOSPITAL 15521 RUSSELL AVENUE (DVP 18-004)
Regular Counil Meeting 7 p.m. - (read the agenda)
Oops


TransLink to pause Morgan Freeman SkyTrain announcements over sexual harassment allegations
Earlier this week TRANSLINK sent out a press release stating MORGAN FREEMAN had been hired to voice the public announcements on their transit system.
Yesterday in a hastily created press release TRANSLINK made this announcement.
"In light of information we've learned through news stories this morning of serious allegations against actor Morgan Freeman, TransLink has decided to pause his voice announcements as part of a VISA ad campaign on the transit system. We will be in touch with VISA to discuss further," TransLink said, in a statement early Thursday.
May 24, 2018
Surrey hatching plan to buy out 400 Crescent Beach homes as sea levels rise
As climate change progresses, Crescent Beach 'would turn into a wetland,' engineer says.
(listen to the CBC report with Project Manager for the city of Surrey - Matt Osler)
Portion of Promenade Closed
Due to the construction of Memorial Park, the City of White Rock needs to close a section of the promenade for a few weeks. We apologize for this inconvenience.
We have created a temporary access route to the Pier from Marine Drive. Please refer to the attached photo. During this closure period of the promenade, please follow the diversion created for your safety.
Again, we apologize for any inconvenience and appreciate your cooperation and patience as we work to complete Memorial Park.
US judge scraps Oakland, California, ban on coal shipments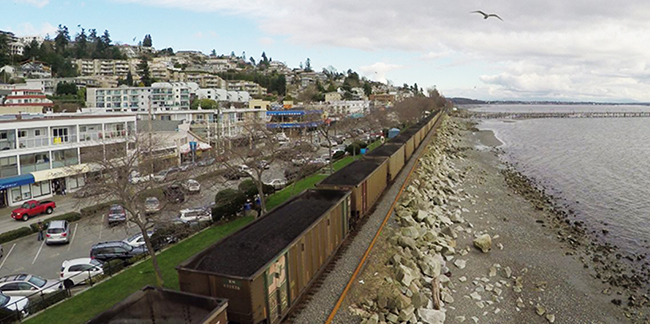 Our neighbours directly to the south, Washington and Oregon for years have banned the export of thermal coal from their ports due to health concerns.
The resulting shipments of dirty coal through White Rock and South Surrey to the Deltaport and the Surrey docks has been controversial to say the least.
San Fransisco is now prepared to allow thermal coal shipments out of their port. The move has upset many residents.
The Kent Street Seniors Centre was the scene of an accident on Tuesday where an elderly driver mistook the accelerator for the brake pedal. The car was damaged when it hopped the curb and hit a couple of cedar trees that stopped it from going over a high retaining wall directly behind them. The lady driver was shaken but unhurt and might now want to consider taking transit in the future..
May 22, 2018
White Rock ELKS CLUB present Champions League Final On The Big Screen
Champions League 2018 final: Liverpool vs. Real Madrid
The winner-take-all battle between Real Madrid and Liverpool for supremacy between the continent's two best teams will conclude an annual tournament that began in June when the qualifying stages kicked off.
Two teams have advanced to the final and will look to end their seasons by hoisting the European Champions' Club cup as their stars begin to prepare to represent their countries in the 2018 World Cup in Russia.
Saturday morning 11:30 a.m.
1469 George Street
White Rock
EVERYONE WELCOME
May 20, 2018
GRANDIEW CORNERS Cyclist Struck Motor Vehicle Collision


Surrey RCMP is currently on scene at a cyclist struck motor vehicle collision in the South Surrey area.

On May 19th at approximately 2:33 pm Surrey RCMP responded to a cyclist struck collision at the intersection of 154 Street and 32 Avenue. .
Initial indications are that there may be serious injuries involved in this collision.

Traffic in the area will be affected for an undetermined time as officers continue their investigation. The east bound lanes of 32 Avenue will be closed between 152 Street and 154 Street. Traffic will also be closed at the intersection of 28th Avenue and 156 Street for all traffic wishing to take Croydon Drive. The public is requested to avoid the area until further notice.
If they wish to remain anonymous, contact Crime Stoppers at 1-800-222-TIPS or www.solvecrime.ca.
Anyone with more information is asked to contact the Surrey RCMP at 604-599-0502.

White Rock Railway Crossing Upgraded Continue
Next year once the upgrades are completed on the six level crossings along the White Rock waterfront, all crossings will have:
- Flashing lights
- Warning bells
- Wooden barrier arms
The city is hopeful they will be able to have the bells lowered in decibels as none of the crossings will be for cars and the thought is walkers will be able to hear the bells much easier. If not the complaint letters from Marine Drive residents will be pouring into city hall.
May 18, 2018
Democracy Direct Announce First Candidate
Democracy Direct the ad hoc group of disgruntled residents of White Rock and South Surrey announced Wednesday evening DARRYL WALKER is their choice for a run up to the mayor's chair in the upcoming October 20 civic election.
Darryl Walker was elected president of the B.C. Government and Service Employees' Union in 2008, and was re-elected to that position in June 2011. The BCGEU represents over 65,000 women and men in more than 450 bargaining units in B.C.'s public service, broader public sector and the private sector. Walker was the BCGEU president until 2014.
Walker has worked as a health care worker and activity worker at the Forensic Psychiatric Institute and Riverview Hospital since 1973, where he was responsible for coordinating group programs and providing support for people with mental illness in a secure setting.
A BCGEU activist since 1982, Walker became a job steward and took an active role in the Operation Solidarity campaign to oppose the Social Credit government's program of severe cuts to public services.
Democracy Direct is expected to announce their full slate of 6 candidates for White Rock council in the coming weeks.
Yell It Like It Is
A dogs breakfast of topics this week.
Where to start? Roads? Free shuttle? Election mode?
STRONG TOWNS PRINCIPLES
As advocates for a strong America, we know the following to be true:
Strong cities, towns and neighborhoods cannot happen without strong citizens (people who care).
Local government is a platform for strong citizens to collaboratively build a prosperous place.
Financial solvency is a prerequisite for long term prosperity.
Land is the base resource from which community prosperity is built and sustained. It must not be squandered.
A transportation system is a means of creating prosperity in a community, not an end unto itself.
Job creation and economic growth are the results of a healthy local economy, not substitutes for one.
If YOU want a Strong Town, YOU have to help build it.
Night Owl


All that jazz tonight Live @ Blue Frog
(click here for this week's entertainment guide)
TNT The Naked Truth
Don Pitcairn
If you make frequent shopping trips to America, you may be a victim of a little known tax grab.
Well, little known until now!
Video of the Day
We all have one song where we sing the wrong lyrics, with confidence!
Chesney's Chestnut
Thought For The Day
Community Events
Tonight

(click here for more upcoming events)
(click here to check today's tide table)
The White Rock Eagle Cam is Back
Thank you to the Hancock Wildlife Group for posting the link to the eagle cam they have installed in the trees overlooking Mud Bay near Ocean Park.
Tomorrow In THE SUN
Recipe(s) of the Week
Sirachi Tacos
It's Only News If You Read It Today