Canada's FIRST Internet Newspaper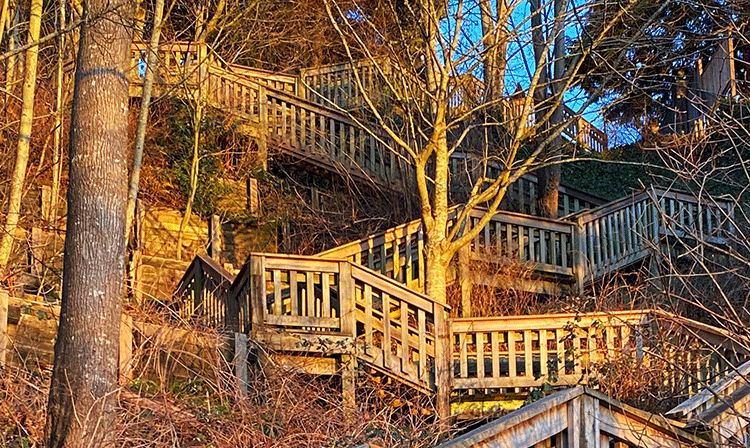 Where You Can Vacation and Be Home The Same Day
Local News
January 25, 2022
White Rock Council Rewind
White Rock council last evening convened for the first session of working on the operating budget for the city's finances in the upcoming year.
This was the first look for council at the staff prepared operating budget for the coming year. Council will reconvene next Monday to put the final details on the next step which will include avenues for the public to have input.
Following the Finance and Audit Committee meeting council then moved into the Regular council meeting.
Highlights:
- Council received a report on the recent changes and future plans for Peace Arch Hospital.
-The city of White Rock approved working in conjunction with Surrey to finance and operate a "warming centre" in the event the temperature on the Semiahmoo Peninsula drops below zero degrees again this year.
Belated Birthday Wishes
MABEL pictured with niece Semiahmoo band councillor JOANNE CHARLES
MABEL CHARLES the elder matriarch of the Semiahmoo First Nations gathered with friends and family to celebrate her 94th birthday on the weekend.
The wisdom and history MABEL possesses often provides guidance for members of the Semiahmoo band.
Here's to many more happy returns MABEL CHARLES
January 24, 2022
Take A Minute
We need your help to protect the environment in Surrey. The Little Campbell River Watershed is at risk. McCallum and his Safe Surrey Coalition are a lame-duck government that only has months left, but they're proposing a massive industrial development in South Surrey - that they were against in the 2018 campaign. They flip-flopped without adequate public consultation.
There still needs to be approved by Metro Vancouver on Jan 28th. You can help by clicking the link and sending the email
"No one who can read, ever looks at a book, even unopened on a shelf, like one who cannot."
Families throughout the province are encouraged to recognize this year's Family Literacy Week by reading books, playing games, attending online and outdoor events, and connecting with loved ones virtually.
"Many people in B.C. struggle with literacy, and as part of our ongoing effort to build awareness about the importance of developing literacy skills, our government has proclaimed Family Literacy Week from Jan. 23-30 this year," said Josie Osborne, Minister of Municipal Affairs. "This week is an opportunity for families to come together, connect to the joy of literacy and celebrate the benefits of reading with others in their community."
Pop into the White Rock Library for a Storywalk! Storywalks are a great way to get moving while reading a story. Follow the arrows around the library to read the story and receive a free book.
Place:  White Rock Library, 15342 Buena Vista Ave, White Rock BC V4B 1Y6
Date:   ongoing through January 31st
Contact: 604-541-2201 or www.fvrl.bc.ca
Family Literacy Day: Read with Kids
How do you get kids excited about reading? Join Fraser Valley Regional Library and READ Surrey/White Rock Society for this interactive, family-friendly session for parents and caregivers. Learn tips and tricks to encourage your young or reluctant readers. Register at: www.fvrl.bc.ca > events
Place:  online via zoom
Date:   January 27, 2022
Time: 1:00pm
Decoda Literacy Solutions has free Family Literacy Week activity sheets to download for families and community programs. To learn more about Family Literacy Week 2022 go to decoda.ca.
READ Surrey/White Rock Society, supports family literacy all year with information, resources, and referrals. Contact readswrs@gmail.com or 778.242.7323 or readsurreywhiterock.com.
-30-
For more information:
Shanti Ang, Literacy Outreach Coordinator
READ Surrey/White Rock Society
778.242.7323  readswrs@gmail.com
January 22, 2022
January 21, 2022
Chalk One Up For The Good Gals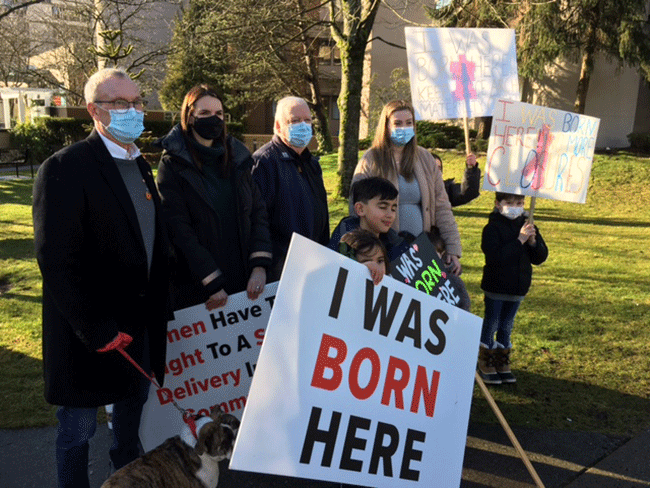 No one knows if the dozens of protesters that turned up out front of the Peace Arch Hospital yesterday was the deciding factor, but at the end of the day Fraser Health it would appear has reversed its decision to temporarily close the Pediatric section of our hospital.
Expectant mothers were facing the very real possibility of having to travel to Surrey or Langley to deliver babies for the foreseeable future.
Stay tuned for more information as it becomes available in the coming days.
January 18, 2022
Not Good News For Businesses
B.C. businesses, including restaurants, bars, gyms, event venues, and places of worship will have to put up with COVID-19 restrictions a while longer, after the province announced it is extending current rules.
In her order issued Monday, B.C. Provincial Health Officer Dr. Bonnie Henry said due to the ongoing threat posed by COVID-19 and the burden currently faced by the health-care system, she is extending restrictions which were set to expire at midnight.
The order does not have an expiration date, meaning the restrictions will remain in place until announced otherwise.
January 17, 2022
COVID Map
The map above gives you an idea of where the highest density of COVID cases are on the lower mainland. Sadly Surrey leads the way with the highest concentration in the city being in Newton. ON the bright side White Rock/South Surrey is in good shape. Be careful. Don't let your mask or guard down.
This map illustrates the number of active COVID-19 cases in Greater Vancouver from Jan. 2 to 8, 2022. (BC Centre for Disease Control image)
January 16, 2022
The latest census puts the population of Surrey just 78,589 behind Vancouver's population. The South Surrey district for the past couple of years has been identified as the fastest growing district in all of Canada. One only has to look at the Grandivew Corners and 16th avenue/168th street areas to see evidence of how fast we are growing.
CBC TV & Radio in response to such a growth is once again promoting the fact in the coming months they will once again set up a satellite office South of the Fraser in Surrey to better cover Valley happenings.
The study arrived at the conclusion as of last year the average growth in the Lower Mainland was 7.4%. White Rock? 4.6% growth despite the spare of high-rises that have been constructed.
TNT The Naked Truth
Don Pitcairn
This week is going to be a newsworthy time for the citizens of Surrey and you should mark January 25 and 28 on your calendars as being a historic day in the city whose official slogan went from "Progress Through Diversity" to "The City of Parks" and now "The Future Lives Here."  
Yell It Like It Is
"Should They Stay....or Should They Go?
Surrey council (above) and White Rock council (below) turned the page on their calendars at the end of December, and realized this is an election year.
Thirteen of the 16 elected are ending their first term. Will they return?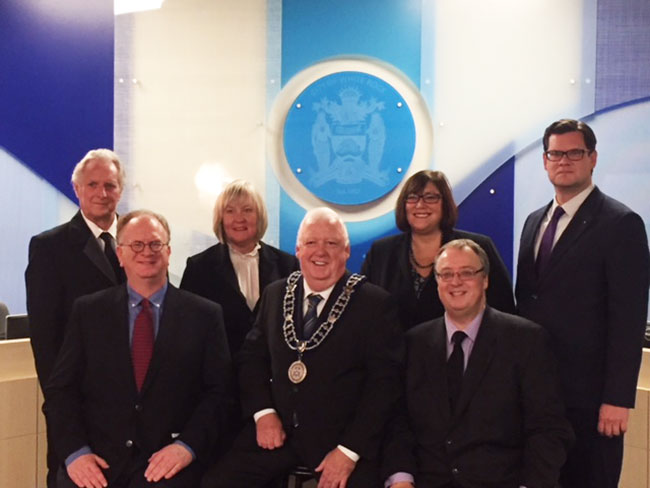 Video of the Day
Hug it out.
If you love animals then you already know that nothing is better than receiving a hug from an animal.
I think a hug from a big bear or a big cat would be awesome to receive.
Chesney's Chestnut
I'M ASKING FOR A FRIEND...............
A good friend of mine has two tickets for the 2022 Super Bowl, 50 yard line box seats. He paid $2,500 each but he didn't realize last year when he bought them, it was going to be on the same day as his wedding. If you are interested, he is looking for someone to take his place...
It's at St. Joseph's Church, at 3pm. The bride's name is Nicole, she's 5'4", about 115 lbs, good cook too. She'll be the one in the white dress.
Thought for the Day
Mainland Whiskey 3425 - 189th street / Campbell Heights - South Surrey
It's "Name That Tune" at Mainland Whisky!
With your host... Donny M Whisky!
Doors open at 4pm
Name that Tune starts at 6pm
Because Drinks, Mainland Pulled Pork Sandwiches and Prizes.
Winners take home a Mainland Whisky Giftcard!
Call 604-372-4424 for reservations. Or DM us. Walk-ins are also welcome.

Will be at Gracepoint Church selling Eggs 10am-12pm starting Saturday January 29 , Feb.19, March12, April 2, May 14, June 4, July 16 and so on, message me to reserve your eggs. $6 doz/$13 flat
Tomorrow In THE SUN
History Lesson
A couple cool photos of our waterfront taken in 1940.
See how East Beach and West Beach looked 80 years ago
It's Only News If You Read It Today