Canada's FIRST Internet Newspaper

Photo courtesy Helen Fathers - Blackie Spit
Where You Can Vacation And Be Home The Same Day
Night Owl
Thursday - DANIEL WESLEY
Friday/Saturday - KAL DAVID/LAURI BONO
Sunday - Terri-Lynn Williams Davidson SURREY FUSION FESTIVAL
check, check, check
(click here for details and showtimes)
Local News
July 17, 2018
Finally!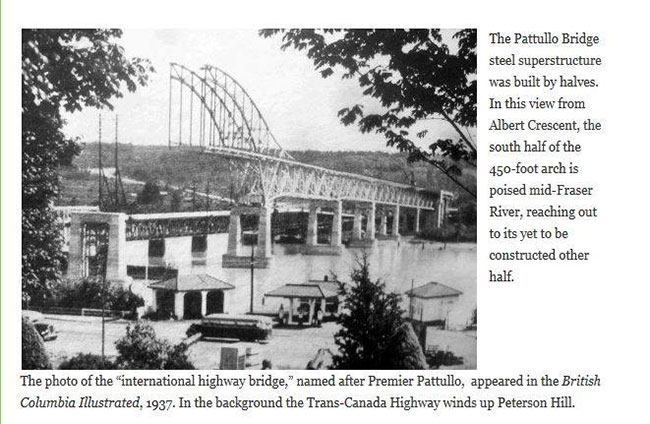 The replacement of the Pattullo Bridge, which will make moving across the Fraser River safer for all bridge users, is one step closer to completion.
A request for qualifications (RFQ) has been released to identify a contractor to design, build and finance a new Pattullo Bridge.
The new four-lane crossing will provide improvements for everyone using the bridge, including people who are driving, cycling or walking, as well as communities on either side of the bridge in New Westminster and Surrey.
Opened in 1937, the Pattullo Bridge is one of the oldest bridges in Metro Vancouver. The bridge was designed for a 50-year life, which has been exceeded by 30 years.
The new bridge will have modern, wider lanes, separated by a centre median barrier, and dedicated walking and cycling lanes, separated from traffic by a barrier on both sides of the structure.
As part of a competitive procurement process, the RFQ is an invitation for bidders to submit their qualifications. The RFQ will close in September 2018. The Ministry of Transportation and Infrastructure will select up to three respondent teams to participate in the next phase of the competitive selection process, which is the request for proposal stage.
Construction is anticipated to begin in 2019. The new bridge is expected to be open to traffic in 2023. Once the new bridge is open, the existing Pattullo Bridge will be removed.
Looking For Loopholes?
Surrey mayor LINDA HEPNER and the Surrey First electoral party have raised the ire of city hall watchers.
This Thursday Surrey First will execute what they believe is a way around limiting corporate sponsorship of electoral groups in the upcoming civic election.
Holy Smoke - Fresh Roasted Coffee
For everyone that used to love coffee from the Holy Smoke Teepee on King George Highway. July batch is now ready.
Still roasting up fresh Organic coffee.......... This week I'm roasting my light & luscious Costa Rican, a med. mellow Mexican from Oaxaca and my dark & delicious Guatemalan......order by calling me at 604-780-4659 or aljnemeth@gmail.com .
July 16, 2018
The 39th Annual Tour De White Rock - Is In The History Books
MEN'S RACE
On a scorching hot summer Sunday in White Rock, Brendan Rhim made it look easy in winning the Tour de White Rock presented by Landmark Premiere Properties Westminster Savings Road Race to wrap up the BC Superweek cycling series. Make no mistake, it wasn't easy, but the 22-year-old broke away with about 50 kilometres remaining in the 130 kilometre race to cross the finish line alone in three hours, 28 minutes and 35 seconds.
"This is a pretty hard course, I've never done it before, so I was a little unsure I could stay away. Especially the short laps on the finishing circuit, I knew they were going to be hard with the short little hill. I measured my effort, everybody in the group looked pretty tired when I went up the road, soI was just calculating and it was good," said the Norwich, Vermont native riding for the Holowesko | Citadel Cycling Team.
Second place went to German rider Christopher Hatz, who made an impression on the BC Superweek field after breaking away early during Wednesday's Global Relay Gastown Grand Prix and staying away for a big part of the race. On Sunday, he couldn't catch Rhim, but put some distance between himself and the chase group.
Knauer won the Tour de White Rock omnium from 2012 to 14 and used his previous race experience in White Rock to gauge whether Rhim would stay on the break or not. "From my experience the last seven times I've done this course, I was pretty sure he could do it. Usually in a group there, it's not always pulling through and some guys are sitting on, making it a bad rhythm - fast, slow - and that gave him an advantage. He was able to just go at a steady pace and keep it going to stay away."
WOMEN'S RACE
She may be from Vermillion, Alberta, but based on her success over the years, Alison Jackson may as well call the Tour de White Rock Road Race a hometown race. The 29-year-old riding for TIBCO – Silicon Valley Bank attacked with about 400 metres to go in the grueling 80 kilometre circuit and sprinted to take the win.
It's the fourth time in the last five years she's finished top-5 at the race, but the first time she's won it. "My fitness is usually really good, and so when we get to the end it's really hard. I'm willing to suffer in the heat and the climbs," said the 2015 Canadian National Criterium Champion. "A lot of times people think, 'Oh, she's a sprinter and that's about it' but you can't drop me on these climbs. I love a really hard race and White Rock has always been that for me."
In second was Rally Cycling's Gillian Ellsay of Courtenay, BC, just ahead of Victoria, BC's Megan Rathwell riding for the Rise Racing team out of Toronto. Rathwell is a part-time rider who actually won this race back in 2014.
"I kind of saw Alison going up the left, it was kind of chaotic, so I just followed her and figured it was a good wheel," laughed Rathwell, who's a full-time civil engineer. "And it worked out!"
Jackson's win caps off a memorable week for her TIBCO – Silicon Valley Bank team, which finished with a rider atop the podium seven times over nine races at BC Superweek. For the Tour de White Rock, it was down to Jackson and Nicolle Bruderer.
Despite being a former national champion and racing for an American team, Jackson is quick to remember the role that the Tour de White Rock and BC Superweek played in her development and is happy to pay it forward by pushing the young riders in the field.
"I think it's such a good series of races for locals to get a chance to race with the pros and I'm particularly really excited about someone like Elizabeth Gin, a junior rider hanging in there and making it today with the second group, that's a great ride for a young girl. You can only have that experience when you have a great race series like this, so I think it's really good for local racing and developing Canadian athletes."
July 15, 2018
Johnston Road Traffic Update
Starting today (July 16) the intersection of Johnston Road and North Bluff Road will be controlled by flag persons for three weeks, from July 16 to August 3 during the hours of 5:00am to 7:00pm Monday-Friday. The interruption at the intersection is for excavation, pipe and manhole installation, and backfill.
July 11, 2018
Put That In Your Pipe
...bagpipe that is
Every Friday this summer, join a member of the Crescent Beach Pipe Band on the White Rock Pier at sunset as they will be piping as the sun sets.
Fridays at Dusk (8:30 – 9:30)
History Lesson
It was called the "Minnie Ha Ha Tea Room." Minnehaha is a fictional Native American woman documented in Henry Wadsworth Longfellow's 1855 epic poem The Song of Hiawatha. As you can see in the picture below, the Minnie Ha Ha Tea Room was located across the street from the train station, at the west end of it. (That's the Central Hotel on the right)
Video of the Day
Chesney's Chestnut
A man went to his doctor to go over his blood work results. As soon as he entered the doctor's office, the doctor said to him, "I just looked at your results. You are lucky that you come to see me early enough..."
The man became very nervous and asked, "What's wrong with my blood work?"
"Oh nothing! Just that I'll be leaving my office early today," replied the doctor.
Thought For The Day
Community Events
(click here for more upcoming events)
(click here to check today's tide table
Tomorrow In THE SUN
Off The Record
l-r Stevie Ray Vaughan/CFOX's Liz McKinney/Yours truly
Having worked in the muisc industry for a number of years, friends and acxquantances ofter say "You should write a book."
Probably the closest I will come to that is the reprinting a recent article done on my by industry leader JIM JOHNSTON / JJ's 365
Publisher
David Chesney
It's Only News If You Read It Today