Where You Can Vacation & Be Home The Same Day
Weekend Update
White Rock's Irish Month comes to a joyous musical conclusion Saturday night at the Elks Club in uptown White Rock
Health
Tired of counting calories? There is really no need to. Your body has its own built in calorie counter:
Your hunger pangs.
Real Estate Roundup
Just when you thought our real estate market couldn't get any hotter.
Local News
March 27, 2015
Running and Gunning in Newton
Last evening just after 8:30 Surrey R.C.M.P. receive a number of 911 calls reporting gun shots being heard in the area of 88th Ave, and 124th St. in the Newton area. As police were in route additional calls were receive reporting two vehicles driving erratically in the area of 88th Ave., and 124A St., Surrey, B.C. One vehicle was described as a White Ford Escape and the other vehicle was described, as a Dark Coloured S.U.V. Surrey R.C.M.P. members attended to the scene, and made patrols for the vehicles. Shortly after, two males attended to the hospital in a white Ford Escape. Both were suffering non-life threatening gun shot wounds. The two males in their mid twenties are residents of Surrey, and are known to police. Neither male is forth coming with information. This appears to be a targeted incident.

Surrey R.C.M.P. are seeking the public's assistance, and are asking anyone that may have witnessed the incident, or observed the vehicles driving away from the scene are asked to call the Surrey R.C.M.P. at 604-599-0502 or to call Crime Stoppers.
Good News
When the recent newspaper property swaps between GLACIER MEDIA (Surrey Now) and BLACK PRESS (Peace Arch News) the distinct possiblity the Surrey Now would disappear has been put to bed.
THE NOW will only publish once a week, on Thursday.
We are proud to announce some exciting new changes.
Firstly, the Now would like to welcome our new group publisher Dwayne Weidendorf.
Dwayne was formerly the publisher of the Langley Times, a position he has held since November, 2006. Prior to that, he was publisher of four Ontario community newspapers.
We would also like to take this opportunity to thank former publisher Gary Hollick for his many years of service to both the Now and the community of Surrey.
March 23, 2015
This Stinks!!
Over 100 disgruntled condo owners were out front of White Rock city hall yesterday at high noon. Speaker after speaker urged White Rock council to reconsider simply backing out of garbage pick the garbage from multi family residencies. It was stated and confirmed later by city hall over half the population of White Rock are condo owners/dwellers and they feel betrayed by council's decision.
Council during their Finance Audit Committee meeting later in the day heard over and over from residents. The city will host an Open House with information on the issue on April 1 at the White Rock Community Centre. Stay tuned.
Watch the video from yesterday's rally (click here)
White Rock Council Vote On Canada's Longest Pier - Changes
In what many found to be stunning reaction to a motion by Councillor Chesney at last night's council meeting to have city staff confirm White Rock is home to Canada's Longest Wooden Pier was voted down 4-3. Voting against the motion were Councillors SINCLAIR/LAWRENCE/MEYER who were joined by MAYOR BALDWIN. In support CHESNEY/KNIGHT/FATHERS.
Councillor Chesney's original motion of simply Canada's longest pier was shot down by city staff earlier this month. Councilor Chesney felt the rejig and more specifically stating wooden pier to alleviate confusion with roadways and dikes would aid staff in the confirmation.
This reads like an episode of "Northern Exposure". Call it the longest pier in the Canada if you want, put up a sign, and if it's ever dis proven, put up another sign out on King George: "Welcome to White Rock - Home of the WORLD'S Biggest Liars".
Bill Allman/Vancouver
White Rock Christian Academy students were robbed at gunpoint while doing volunteer work in Guatemala.
Thirty-six grade 11 students left Vancouver and arrived in the capital of Guatemala City last week for a trip that is a combination of missionary and community service work.
Two days into their trip, eight students were playing a pick-up soccer game with some local kids when several armed thieves stormed the field. The robbers stripped them of their shoes, money belts, cameras, and cell phones.
The board of White Rock Christian Academy said in a statement:
"There was indeed an incident in Guatemala. We are happy to report that nobody was hurt and everyone is safe. White Rock Christian Academy's focus right now is bringing the team of Grade 11s home."
Read the full story and watch the supporting GLOBAL TV video (click here)
March 22, 2015
Happy Birthday
A pair of dining establishments at 5 Corners in White Rock are celebrating birthdays this week.
LAURA'S COFFEE CORNER turns 5!
Laura Cornale
Laura is just a baby compared to the 5 Corners Diner across Johnston Road, which celebrates 65 years of serving up the best breakfasts in White Rock.
We salute Cathy/Barb and Sylvie on keeping the tradition alive.
TRANSIT POLICE ASKING FOR HELP IN IDENTIFYING DECEASED MAN
The Metro Vancouver Transit Police are asking for the public's help in identifying a man, deceased as the result of an incident yesterday, Saturday, March 21, 2015, at the Scott Road SkyTrain Station in Surrey.
The man is described as possibly South Asian, approximately 30 to 40 years of age, slender build, short brown hair, wearing a blue/gray jacket, blue jeans and black/silver Nike running shoes and with a unique tattoo on his upper back. He was last seen alive at 7:24 am, March 21, 2015, on the platform of the station.
Transit Police and the BC Coroner's Service are investigating.
Anyone with any information concerning the identity of this man is asked to call Transit Police at 604- 515-8300 or text to 87 77 77.
March 20, 2015
Have Your Say
Special Committee on Local Elections Expense Limits to advise you that, as part of its consultation process on limits on campaign spending by candidates and third party advertisers during local elections, the Committee will be visiting the community of Surrey on Monday, March 30, 2015.
The public is invited to participate in the public consultation process by making a written submission to the Committee, including by responding to an online survey.
Night Owl
This weekend Canada's top blues harp player HARPDOG BROWN is on stage at White Rock's Hemingway's on the beach.
7-10 p.m.
Good Idea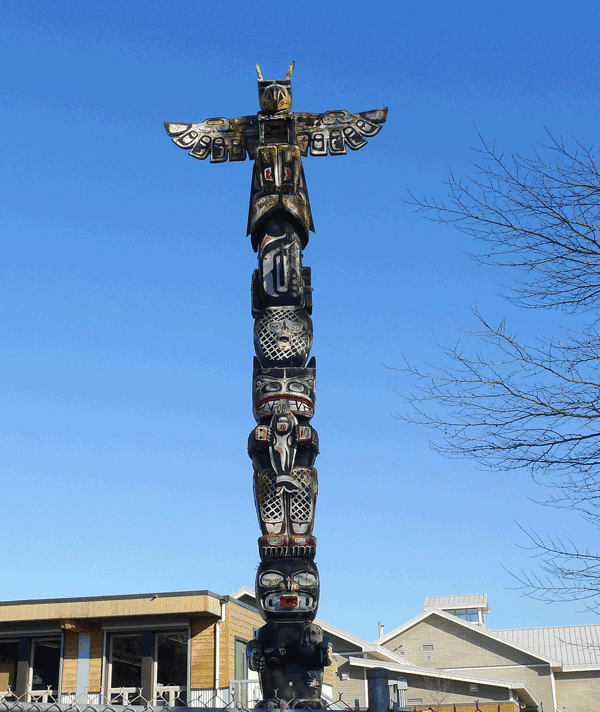 This picture really does not clearly illustrate the poor state the totem pole in the yard of White Rock elementary has deteriorated to.
The interesting part of this good idea is when the new school was built in the late 90's Surrey School District actually went to the trouble and expense of erecting a new stand for the totem pole on the other side of the school at the main entrance.
Would it not be be a good idea to have an expert on totem poles, ROBERT DAVIDSON springs to mind, perhaps he could inspect the pole and ascertain if the pole can be saved. The weathered pole if it can be saved could become a school project to sand it down, and then we could contact the original carver who apparently lives on Vancouver Island and we could have him paint, or oversee the repainting of this beautiful piece of public art.
UPDATE - From Mr. History TOM SAUNDERS
The pole was raised in April 1998 by Port Hardy resident and First Nations carver JOHN WALKUS GREEN.
GREEN also carved totems for Ray Shepherd (1650 - 136 Street) and Dogwood (10752-157 Street) elementary schools.
Read JOHN WALKUS GREEN'S dedication speech from 1968 (click here)
A brief little one minute profile on JOHN WALKUS GREEN (click here)
TNT The Naked Truth
DON PITCAIRN headed down to City Hall in White Rock to see what was happening around town.
That is when a little birdie whispered in his ear, and it wasn't a seagull.
ONLY IN WHITE ROCK you say?
Now & Then
Now
The West Beach promenade between the pier and the museum as it looks today.
Then
Photo courtesy Terry Ross
Recently this picture was posted on the "I Grew Up In White Rock" FACEBOOK page. The general feeling from old timers is the picture is probably taken in the mid to lade 60's. Note the White Rock Tourism kiosk was at one time just a roofed gazebo that was not closed in. Also notice the museum was moved back towards the road about 20 feet in the 80's.
Now you know.
Coming Events

Sports
It Has Been 100 Years Since Vancouver Won The Stanley Cup
Read the wonderful look back in THE TYEE (click here)
BC SUPERWEEK Registration Now Open
Featuring 9 races over 10 days, BC Superweek has fast become one of the most prestigious pro-cycling events in North America with a total prize purse of more than $120,000! Featuring 5 separate events as part of the series, BC Superweek consists of the Tour de Delta, UBC Grand Prix, Global Relay Gastown Grand Prix, Giro di Burnaby, and Tour de White Rock.

 It would have been really easy for the Colorado Avalanche to let up against the Vancouver Canucks on Thursday.
Colorado lost the night before against the Edmonton Oilers to fall 10 points behind the Winnipeg Jets in the race for the second wild card into the Stanley Cup Playoffs from the Western Conference. Instead of folding, the Avalanche played what coach Patrick Roy called their best opening 40 minutes of the season and dealt the Canucks' playoff hopes a blow with a 4-1 win at Rogers Arena.
Final home game of the regular season is Saturday when Dallas is here for a Hockey Night In Canada tilt.
The Canucks finish the regular season are on the road in St. Louis (Monday) and Nashville (Tuesday).


SOLD OUT The 'Caps return to BC Place tomorrow for a much-anticipated Cascadia derby with rival Portland Timbers.
This weekend's match is the first of three consecutive home games at BC Place for Whitecaps FC. Tickets are already selling fast for the club's following home match on Saturday, April 4 against LA Galaxy. Fans are encouraged to act now to see the 'Caps take on the defending MLS Cup champions in their only encounter in Vancouver this year. Columbus is here Wednesday April 8.
After back-to-back road wins, the 'Caps return to BC Place tomorrow (Saturday) for a much-anticipated Cascadia derby with rival Portland Timbers. Game time 5 p.m.
Joke Of The Day
Last Irish Joke For 2015
One night, Mrs McMillen answers the door to see her husbands best friend, Paddy, standing on the doorstep.
"Hello Paddy, but where is my husband? He went with you to the beer factory"
Paddy shook his head. "Ah Mrs McMillen, there was a terrible accident at the beer factory, your husband fell into a vat of Guinness stout and drowned"
Mrs McMillen starts crying. "Oh don't tell me that, did he at least go quickly?"
Paddy shakes his head. "Not really - he got out 3 times to pee!"
Video Of The Day





Thought For The Day
Tomorrow In THE SUN
Recipe Of The Week
Vegetable Pancakes anyone?
It's Only News If You Read It Today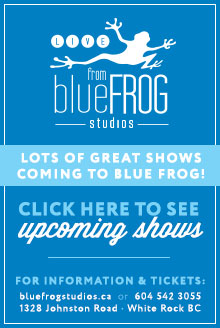 Buy Tickets