Fast Eddie The Bluesman on duty - on the pier
Where You Can Vacation & Be Home The Same Day

Today - Cloudy with 30 percent chance of showers.
Tomorrow - Cloudy with 30 percent chance of showers.
Saturday - Cloudy with 40 percent chance of showers.

Yell It Like It Is
White Rock we have been going steady for years. I still love you.
LOCAL NEWS
May 25, 2016
Condominium fire determined to be suspicious, police seeking witnesses.
Bill Brooks photo
On May 15th, 2016, shortly after 5 a.m., White Rock RCMP responded with White Rock Fire Department to a report of a fire in the 15200 block of Royal Avenue. Upon attendance, first responders found the building at the site fully engulfed in flames. The building was under construction at the time and not occupied. The site under construction was completely destroyed and the fire heavily damaged the building directly to the north which was occupied by over 100 residents and several local businesses.
Members of the White Rock Fire Department and the White Rock RCMP have been investigating the incident and have determined that the fire was deliberately set.
"This fire and the resulting displacement of the building's residents has understandably shaken our community. The fact that it is now believed this fire was intentionally set will likely cause further distress to those residents, " says Cst. Chantal Sears, Media Relations Officer, White Rock RCMP.
Anyone with information, or who may have seen anything suspicious in the early morning hours of May 15th, 2016, is asked to contact the White Rock RCMP at 778-593-3600. Information can also be provided anonymously by calling Crime Stoppers at 1-800-222-8477 (TIPS) or through their website at Solvecrime.ca.
First Look At Proposed Gateway To White Rock Development
A small group of residents were on hand last evening at the White Rock Community Centre for their first look at the proposed highrise for Johnston & North Bluff area of White Rock.
PARC Living's representatives and city planning staff mixed and mingled with those in attendance answering questions.
PARC has built a similar style seniors residences in North and West Vancouver, Burnaby and Vancouver. The proposed 23 storey tower will be located south of the Royal Bank on the East side of Johnston Road.
Bus Riders Unite!!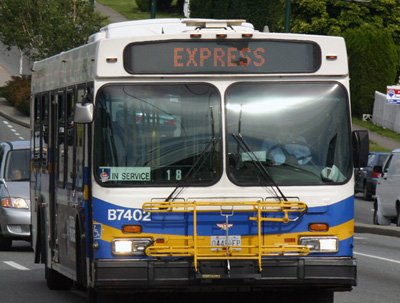 TRANSLINK has launched a Transit Fare Review that will be in effect until June 30th to help re-imagine the transit fare system. This two-year process aims to improve the system that determines what people pay for public transit.

This is the first comprehensive review of transit fare policy in Metro Vancouver in over 30 years ­– the three-zone fare structure was originally adopted in 1984.

The Transit Fare Review includes four phases over the next 18 to 24 months. Feedback gathered during each phase, along with supporting technical analysis, will be used to develop and evaluate different fare system options. There will be a summary of the input shared and how it was used at the end of each phase. Final recommendations for changes to the current fare system will be shared at the end of the process.
."

The first phase includes an online survey, stakeholder forums, in-person events, and market research.

More information on the Transit Fare Review and how to get involved are available at www.translink.ca/farereview.
White Rock Jeweler - Worlds Collide
Kelsi Sheren, the creator of Brass & Unity has had a very interesting journey on her way to creating Brass & Unity.
Fresh out of college she joined the Military, had a 4 year stint in the Canadian Forces including a tour in Afghanistan during the summer of 2009. After serving on the front lines, Kelsi was diagnosed with severe PTSD and was forced to return home
Kelsi wanted a way to give back to Veterans less fortunate than.
Brass & Unity aims to tell a part of her story. . Each piece is a reminder to be strong, follow your dreams, and never give up!
Visit Brass & Unity's website (click here)
Surrey RCMP and partners participate in high risk driving campaigns
While National Road Safety Week may have just ended, the Surrey RCMP continues to focus on traffic safety with a series of education and enforcement campaigns this week aimed at high risk driving behaviour.

Starting tomorrow Wednesday, May 25th, Surrey RCMP along with its partners White Rock RCMP, Fraser Valley Integrated Road Safety Unit (IRSU), CN Rail Police, ICBC, and Surrey Crime Prevention Society, will launch "Project Swoop" at multiple locations throughout Surrey and White Rock.
The Project Swoop campaign will involve a number of officers, auxiliaries, and volunteers strategically placed near high crash locations to drive home the message that speeding and high risk driving behaviours are dangerous and increase your risk of crashing.

In addition, on Thursday, May 26th the Surrey RCMP will partner with ICBC and the Surrey School District for another "Think of Me" campaign to remind both parents and drivers about school zone safety and the hazards of distracted driving.
May 24, 2016
God Is Watching Over Us - So Is JAS
JAS SINGH and his crew of dedicated volounteers down at God's Little Acre "The World's Largest Community Garden" had some fun as they were getting the 2016 planting season underway.
Find out who Bob is and what the story is behind raisins.
May 21, 2016
Tired Of Transit?
Surrey Mayor LINDA HEPNER in her State of the City Address yesterday in addition to the news of a major film studios coming to Surrey (see story below), HEPNER also announce a number of helicopter companies are vying for a contract to set up 4 or 5 locations throughout Surrey to meed the demand of high tech and high rollers who wish to be into Vancouver much quicker.
May 20, 2016
RCMP Investigating Arsons
There has been no official word on the cause of the blaze that destroyed the two condo complexes at 5 Corners Sunday.
What we do know is there were no less than four fires set throughout the city of White Rock and close proximity Sunday morning.
#1.
A children's playground constructed from wood and plastic and located on the Cypress street road end @ Victoria avenue was set ablaze in the early hours Sunday morning, No injuries. Fire quickly extinguished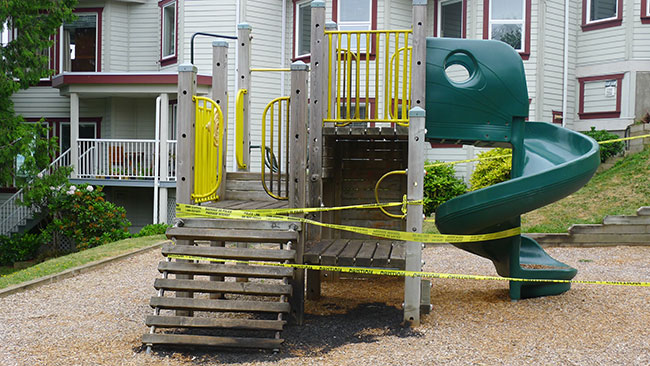 #2
Major condominium fire on Royal and Pacific Avenue. Time 4:30 a.m.
#3
Sandpiper Liquor store is broken into @ 5:10 a.m. Owner confirmed the CCTV cameras captures clear pictures of two suspects robbing the liquor out of the window.
#4.
10:30 a.m. a fire is started in an alleyway off of Pacific avenue near Stayte road. Fire quickly extinguished no major damage. No injuries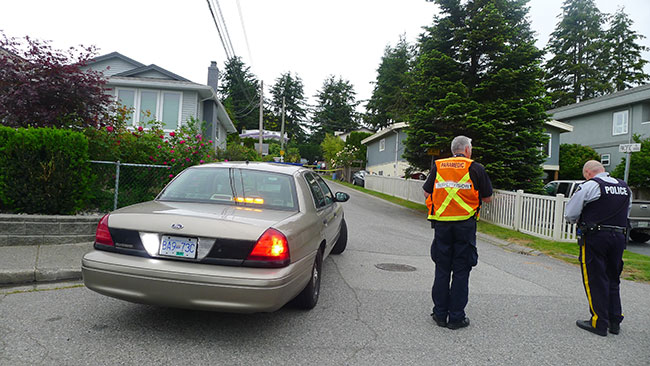 #5
12 noon residents of the Semiahmoo First Nations witnessed an individual attempting to start a building on fire behind the band's office. The Surrey RCMP responded to the 911 call and took the suspect into custody.
The suspect taken into custody Sunday appeared in Surrey Provincial court Tuesday morning where he was charged with arson damaging property.
The accused is 18 year old JAMES DYER of Surrey was released on his own recognizance.
The White Rock & Surrey RCMP continue their very active investigation today.
Surrey's "White Elephant" Printing Plant Ends Up In The Movies
When the owners of the printing plant for the Vancouver Sun & The Province shut down the newly built state of the art printing plant in Surrey in January 2015, its future looked bleak.
This week Hollywood came calling and said "You Ought To Be In Pictures." Surrey expects the California based Skydance Media will add over $100 million dollars to the economy of Surrey. The new film studio once re-fitted and in operation will employ up to 400 workers at any given time.
The building is located in the Kennedy Heights district of Surrey on 88th avenue just off of 120th street Scott Road.
TNT The Naked Truth

The late great country singer MERLE HAGGARD used to sing "I Take A Lot Of Pride In What I Am."
That may have been the song THE PITCAIRNS were singing this weekend at the Cloverdale Rodeo, when their Surrey Shirts booth was threatened with expulsion.
Night Owl
This Weekend - The Return of ART BERGMAN
ART BERGMAN is what legends are made of. A pioneer of the punk rock scene in Vancouver in the 70's. His start came locally with his first band THE SHMORGS.
SHMORG MANOR as a matter of fact was an iconic home for rock n' roll East of White Rock near 192nd Street on 24th Avenue.
Blue Frog Studios could only get a Sunday evening due to ART'S limited and infrequent touring schedule.
The Tragically Hip / Man Machine Poem Tour
Sunday, July 24 / Rogers Arena, Vancouver
All Ages / Reserved Seating
Doors 6:00PM / Show 7:00PM
AMEX Presale: May 31st at 10AM – June 2nd at 10PM
*No Password Needed*
Facebook Presale: Thurs, June 2 from 10am – 10pm
Password: CROWD
On Sale: Fri, June 3 at 10AM
Get Tickets: http://bit.ly/1TWIpSn
Tickets (incl. GST) $56.00, $86.00, $116.00, $166.00 + s/c
Coming Events

(click here for more upcoming community events)
Joke Of The Day
Dieting Rules
If you eat something and no one sees you eat it, it has no calories.
If you drink a diet soda with a candy bar, the calories in the candy bar are canceled out by the diet soda.
Food used for medicinal purposes NEVER counts, such as hot chocolate, brandy, toast and Sara Lee Cheesecake.
If you fatten up everyone else around you, then you look thinner.
Cookie pieces contain no calories — the process of breaking causes calorie leakage.
Things licked off knives and spoons have no calories if you are in the process of preparing something. Examples are peanut butter on a knife making a sandwich and ice cream on a spoon making a sundae.
Foods that have the same color have the same number of calories. Examples are: spinach and pistachio ice cream; mushrooms and white chocolate. NOTE: Chocolate is a universal color and may be substituted for any other food color.
Anything consumed while standing over the kitchen sink, has no calories.
Video Of The Day
Thought For The Day
Tomorrow In THE SUN
Weekend Update
Find out what's on this weekend around The Semiahmoo Peninsula
Check today's tide tables ( click here )
It's Only News If You Read It Today