Where You Can Vacation & Be Home The Same Day
Weekend Update
Exclusively in THE SUN. Here is the schedule for tomorrow's blues by the bay, day.
JASON BUIE hosts the afternoon of great blues music in Semiahmoo Park.
Solo/Duo
11:15 - The Blues Baron
11:45 - Murray Porter
12:15 - Lonnie Glass
12:45 - Shaun Verrault
1:15 - Jesse Roper
1:45 - Nash Mcinnes

Bands
2:15 - Hells Gate Blues Band
2:45 - Mckinley Wolf
3:15 - Jimmy Zee
3:45 - Jim Black
4:15 - Gary Preston
4:45 - Harpdog Brown
5:15 - Arsen Shomakov
5:45 - 6:00 WINNERS ANNOUNCED
APPROX 6:15 Jimmy D. Lane (Headliner)
Recipe Of The Week
Well we can't have a fire these days, so let's pop these babies in the oven.
Local News
July 25, 2015
Pack A Lunch
White Rock council's long day Monday begins at 9 a.m. The first item on the schedule will be to hear the self proclaimed Pope of Pot ROBIN DOUGLAS explain why his Church of the Holy Smoke should be allowed to continue to operate on the city's West Beach are on Marine Drive.
Surrey Expands Tanker Service For Remote Locations
There are some rural and agricultural areas of Surrey that are not currently serviced with fire hydrants. To support fire fighting operations in these areas of the city, the Surrey Fire Service maintains a fleet of 5 Water Tanker Trucks. This Water Tanker fleet is capable of providing a constant water supply to a fire scene in these areas not serviced by fire hydrants.
Each new Water Tanker Unit comes equipped with:
· 2000 imperial gallon water tank
· 1500 GPM Darley Fire Pump
· Darley Purifire 500 gallons per hour Water Purification System (advanced filtration/chemical free)
· 5 person capacity enclosed cab
July 24, 2015
White Rock resident DEBBIE LAWRANCE'S 1300 name petition to reign in highrise development and contain it to the city's town centre, drew the attention of THE PROVINCE newspaper today..
Cease & Desist - Local Promoter Feels Lawyer's Wrath
Rockit Boy Rob Warwick shows how big lawsuit could have been
ROCKIT BOY'S two shows locally with the "BLUES BROTHERS TOO" tribute to the Blues Brothers, recently caught the attention of lawyers for DAN AKROYD and the estate of JOHN BELUSHI.
The law firm representing AKROYD & BELUSHI said, do the shows and we will SUE YOU TOO.
As a result ROCKIT BOY had to pull the plug on two upcoming shows in Langley and New Westminster. Watch for a reschedule with a new name, in the New Year.
July 23, 2015
I Take A Lot Of Pride in What I Am
White Rock City Council has expressed unanimous support of Pride Week celebrations in the Lower Mainland and plan to raise the Pride Flag at a ceremony at City Hall.
The flag-raising ceremony on Monday, July 27 at 11:00am. The flag pole is located by the cenotaph on the City Hall grounds at Fir and Buena Vista Street. Mayor and Council will be on hand to celebrate the occasion.
The White Rock BIA has Pride rainbow stickers available for BIA members who wish to place a sticker on their store-front windows. If you wish to obtain a rainbow sticker to demonstrate your inclusiveness, please contact the BIA office at (604) 536-4958 or via email at info@whiterockbia.com
False Alarm - Stand Down
Uptown White Rock's MIRAMAR towers condo development was quickly surrounded late yesterday afternoon in the dinner hour. Police responded to a 911 call of possible gunfire in the building. Upon arrival it was quickly ascertained the sound everyone heard could be attributed to a glass patio portion that appears to have buckled and exploded due to the recent heat.
July 22, 2015
Tower of Power
The White Rock Advisory Development Panel were joined by an overflow crowd of concerned residents yesterday afternoon. The Panel heard the views of two development firms who are proposing no less than 4 high rise towers on the corner of Thrift Avenue and Oxford street. Two towers 21 and 24 storeys in height on the EPCOR property and two 12 storey towers on the north side of Thrift Avenue @ Oxford street. Generally all the proposals met with the approval of the 9 member panel. Small changes in wheelchair accessibility and some form and design changes were recommended by the panel. Some members of the panel also expressed concerns about the increased traffic flow at an already busy intersection. The designs now go back to the White Rock planning department before going through the next steps of proposed rezoning, open houses and finally council approval.
Proposed FORGE tower
One of the proposed towers on Thrift Avenue will be constructed by FORGE properties who built the ROYCE development next door to their proposed tower site. The FORGE tower will have 36 units in their 12 storey design. The other tower next door on Thrift at the corner of Oxford will be 12 storeys with just 17 units. Each of the top 6 floors will have one suite, with the bottom 6 floors only having 2 suites.
July 21, 2015
Identity of Fatal Police Shooting Released
Graffiti on window of S.Surrey RCMP station
The BC Coroners Service has confirmed the identity of a man who died following an interaction with police in Surrey on July 18, 2015.
The man is Hudson Daryl Willis Brooks, aged 20, a resident of Surrey.
Mr. Brooks was shot during an encounter with Surrey RCMP which occurred about 2:20 a.m. on July 18, in the 1800-block of 152 Avenue in Surrey. Mr. Brooks was deceased at the scene.
The BC Coroners Service and the Independent Investigations Office (IIO) continue to investigate this death.
Early yesterday morning the South Surrey RCMP detachment where the fatal encounter occurred, was covered off with graffiti. Crews were quickly brought in to remove the offensive postings.
KID KILLERS - JUSTICE FOR HUDSON
(scroll down for information on Sunday's shooting in South Surrey)
New water restrictions in effect
Metro Vancouver will escalate its water restrictions today meaning there will no longer be any lawn watering permitted in the region. Abbotsford and Chilliwack are already at Stage 3 restrictions.
No residential or non-residential lawn sprinkling.
No new residential or commercial permits issued or renewed. All forms of watering using treated drinking water are prohibited. New lawns, cemetery lawns, ornamental lawns belonging to municipal buildings, and grassed boulevards will not be exempt.
Watering of flowers and vegetable gardens, decorative planters, trees and shrubs are allowed but only if done by hand using a spring-loaded shut-off nozzle, or using containers or drip irrigation. Use of sprinklers or soaker hoses is prohibited.
Watering of commercial flowers and vegetable gardens is still allowed.
No refilling of pools, spas or garden ponds.
Public water parks and pools will be operated by user-activated switches.
No public or commercial water fountains and features.
Private and commercial outdoor surface washing is permitted only for health and safety purposes or to prepare a surface for painting or similar treatment. Washing for aesthetic purposes is prohibited.
Commercial pressure washing is permitted only for health and safety purposes or to prepare a surface for painting or similar treatment. Washing for aesthetic purposes is prohibited. Private pressure washing prohibited in Stage 3.
No washing of vehicles and boats, except for safety reasons, (windows, lights, licenses) and only then if using a spring-loaded shutoff nozzle. This includes residential, commercial, institutional and government vehicles.
Golf courses may water greens and tee areas minimally; fairways may not be watered.
Artificial turf and outdoor tracks may be hosed down for health and safety reasons only.
Minimal watering of school yards and sports fields to maintain areas in use able condition.
White Rock - Business As Usual
STAGE 1 RESTRICTIONS
RESIDENTIAL
Lawn sprinkling is allowed only between 4 a.m. to 9 a.m.

Even-numbered addresses, may sprinkle only on Mondays, Wednesdays and Saturdays. Odd-numbered addresses may sprinkle only on Tuesdays, Thursdays and Sundays.

These sprinkling regulations apply only to lawns; hand watering of gardens, shrubs, trees and flower beds is allowed

When washing a boat or motor vehicle other than at commercial car wash, water hoses must be equipped with an automatic shut-off device
Multi-family dwellings are considered even or odd depending on the overall building number and not the unit number.
NON-RESIDENTIAL
Even numbered premises may water on Monday and Wednesday between 1 a.m. and 6 a.m.

Odd numbered premises may water on Tuesday and Thursday between 1 a.m. and 6 a.m.

All non-residential addresses can also water on Friday between 4 a.m. and 9 a.m.

These sprinkling regulations apply only to lawns, and not to hand watering of gardens, shrubs, trees and flower beds
July 18, 2015
RCMP South Surrey Fatal Shooting
The Independent Investigation Office of British Columbia (IIO BC) has been called in to investigate a fatal police involved shooting in Surrey.
At approximately 2:30 a.m. on Saturday July 18, 2015, Surrey RCMP responded to reports of a male screaming along just outside of the Surrey RCMP District 5 South Surrey office located in the 1800 block of 152nd Street.
Police officers, who were in the District 5 office at the time, rushed outside and located the male. A physical struggle ensued and the male was shot by an officer. The individual has died. One of the police officers involved was injured as a result of the confrontation and was transported to hospital for treatment. The police officer sustained a non-life threatening gunshot wound, the circumstances of which are under investigation. No other police officers or members of the public were injured during this incident.
"The Surrey RCMP are working with the IIO BC with respect to the fatal police involved shooting. Additional resources have been called in to assist, the scene has been secured and we anticipate that public access to the South Surrey office will be restricted in order to support the on-going investigation", says Supt. Dave Attfield, Surrey RCMP Operations Officer. "Our officer has received medical treatment and is expected to be released from hospital later today".
Local residents report the man who was shot was heard screaming in the Bakerview Park on 18th avenue that someone was trying to kill him, before he headed west on 18th to the police sub-station.
It will be up to the B.C. Coroners Services to identify the deceased.
It was the fourth officer-involved shooting this month – and the third that resulted in death.
Night Owl
Tonight - Free Concert on the Beach
Now & Then
The B/W picture I took in June 1972 just when we moved here to our house at the top of Oxford at Oxenham. I was only 10 years old when I took this picture and found it recently in a photo album. The colour picture I took yesterday morning - July 22, 2015. See the difference after 43 years!
Brent Rawson
Coming Events
Tomorrow and every Sunday in Crescent Beach

Joke Of The Day
Women and Cats
I've never understood why women love cats. Cats are independent, they don't listen, they don't come in when you call, they like to stay out all night, and when they're home they like to be left alone and sleep.
In other words, every quality that women hate in a man, they love in a cat.

Video Of The Day
Bond. James Bond is coming back.
Thought For The Day
Planning on heading to the beach at White Rock or Crescent Beach today?
Check the tides.
It's Only News If You Read It Today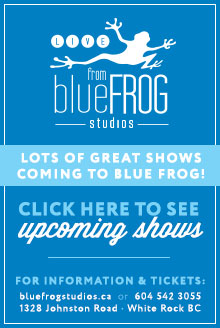 Buy Tickets