Where You Can Vacation & Be Home The Same Day
TNT The Naked Truth
Week in week out DON PITCAIRN is well known for "shooting from the lip."
This past weekend "Pitbull" loaded up his rifles and headed for the Rattlesnake Rifle Range in Kennewick near the Tri-Cities.
When the dust cleared the other shooters wished he had stayed home.
Local News
May 27, 2015
Suspected car racing results in serious motor vehicle incident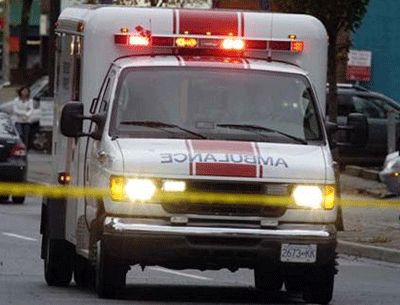 On May 26th at approximately 11:40pm a serious crash between a tractor trailer and a small car occurred at 16th Avenue and 176th Street in Surrey. Witnesses saw what they believed were two cars racing each other westbound on 16th Avenue. As the lights for north and southbound traffic on 176th Street turned green, a tractor trailer entered the intersection. The driver of the tractor trailer saw the cars approaching and stopped. The first car, believed to be a brown Toyota Camry, narrowly missed the large truck and continued on westbound. The second car, a grey Honda Accord, struck the tractor trailer broadside, wedging itself underneath the trailer. Police, BC Ambulance Service and Surrey Fire Services were dispatched. Emergency crews extricated the 4 occupants of the trapped car using the Jaws of Life.

"Aggressive driving is unacceptable conduct on our roads," say Cpl. Scotty Schumann. "The Surrey RCMP is dedicated to improving road safety driving through focused enforcement and zero tolerance of high risk driving. Our goal is to see everyone get home safely."

Surrey RCMP Criminal Collision Investigation Team (CCIT) has taken over conduct of the investigation and is receiving assistance from the Integrated Collision Analysis and Reconstruction (ICARS) Unit. The occupants of the car, believed to be in their late teens, all incurred non-life threatening injuries and are being treated at local area hospital. Investigators are looking at whether the driver of the Honda was impaired by drugs or alcohol prior to the crash. The driver of the tractor trailer remained on scene and is assisting investigators.

If you witnessed this incident and have more information please contact the Surrey RCMP at 604-599-0502 or Crime Stoppers, if they wish to remain anonymous, at 1-800-222-TIPS or www.solvecrime.ca.
The Coal Hard Facts
Fraser Surrey Docks changed its mind and now wants to build a full-on coal port on the Fraser River, which would make it the prime west coast destination for U.S. thermal coal bound for Asian power plants. If it goes forward, this means 80 giant coal tankers per year on one of the world's most important salmon rivers.
After getting two of the five permits the project needs to proceed - despite widespread opposition - Fraser Surrey Docks decided it would rather just load up ships itself, smack-dab in front of New Westminster's most dense neighbourhoods and downhill from family homes in Surrey and Delta.
Saturday May 30, 2015 at 11am
Tin Soldier at New Westminster Quay 788 Quayside Dr New Westminster
May 26, 2015
Council Coles Notes
- MONICA CONTOIS and a delegation called "Friends Of The Hump" appeared before council requesting the city of White Rock do a better job in informing residents on future work being done on The Hump between east & west beach. CONTOIS informed council she had collected hundreds of signatures on a petition decrying the clear cut of half of the hump. CONTOIS'S concern is what will happen to the other half of The Hump as clearing continues. Following the meeting CONTOIS was disappointed outside of a firm commitment the eagle roosting tree would not be cut down, little other information or assurances were forthcoming from council.
- The city of White Rock has overhauled its building permits which have not been adjusted for three years. It as stated the new rates will bring White Rock in line with neighbouring communities rates.
- A new tourism initiative will be created in White Rock. A panel of community organization representatives has been struck to create a new template for White Rock Tourism. The report will come back to council in October for approval.
- A request was made to hire a marketing/media company to assist in the publicity for this years TOUR DE WHITE ROCK. The request was sent back to staff for further information.
May 25, 2015
Newton Shootin'
Surrey RCMP responded to a shots fired call last evening at approximately 8 p.m. Upon arrive to the 13400 block of 70 avenue police located evidence consistent with shots being fired. It is not believed any injuries resulted from the random shootings.
This investigation is in its early stages and officers are still trying to determine if this incident is linked to any of the previous shootings that have occurred in Surrey and Delta.
RELATED ANNOUNCEMENT
Sergeant Parmvir (Parm) Prihar
Surrey RCMP's Newton District Office welcomes new Commander

Surrey RCMP would like to acknowledge Sergeant Parmvir (Parm) Prihar as the new District Commander for the detachment's Newton District Office, located at 7235 137th Street.

Sergeant Prihar brings 21 years of policing experience to Newton, with an extensive background in both patrol and serious crime.
White Rock Farmers Market 2015 Season Begins
A cross section of White Rock council, members of the Board of Directors of the Farmers Market, MLA Gordon Hogg and former mayor Catherine Ferguson all joined in to kick off this year's White Rock Farmers Market.
The ceremonial ribbon was cut by Nancy & Bruce Ketchum the founders of the market 15 years ago.
Floating On Air - Big Win For White Rock Float
Congratulations!
The White Rock Sea Festival Float and it's organizing committee won Director's Choice and Overall Best Float at the Hyack Festival this weekend in New Westminster. The White Rock Sea Festival float made its debut last year at our Sea Festival.
The Royal City's annual festival was in danger of being cancelled when the organizing committee of the event had their request to city council for $200,000.00 funding cut back to $15,000.00. New West council cut back the funding of the Hyack Festival in order to register their disapproval dismissal of the former executive director DOUGLAS SMITH.
SMITH is now the executive director of the White Rock Business Improvement Association.
May 24, 2015
Council Meetings

The City of White Rock is developing an Urban Forest Management Plan. An urban forest includes all of a community's trees, shrubs, herbaceous low-growing perennial vegetation and soil and is found on both public and private lands including parks and boulevards. The plan will provide direction for the future maintenance of the urban forest, including targets for canopy cover growth, locations and species for new tree planting, tree health and maintenance, tree protection, and budgeting.
May 23, 2015
Breach @ The Beach
City of White Rock notification of possible privacy breach
This is a formal notification of a possible breach of privacy that occurred March 7, 2015 at the City of White Rock. It was discovered on March 8, 2015 that four hard drives were removed from the White Rock Community Centre. It is highly improbable that any data can be recovered due to:
May 22, 2015
Yosef Gopaul pleads guilty
Gopaul has pleaded guilty to manslaughter in the beating death of Julie Paskall outside the Newton Arena in 2013. Gopaul apparently did not intent to kill Paskall, but needed money.
Police said they identified him as a suspect early on and had DNA evidence linking him to the crime scene. Gopaul received a 12 year jail term for his actions.
However, he was not arrested until five months later because investigators wanted to conduct an undercover "crime boss" operation to obtain a confession.
The Night Owl
Western Canadian up and coming blues guitarist JESSE ROPER headlines the next White Rock Blues Society show.
Rounding out the double bill is blues master JASON BUIE.
Coming Events

Joke Of The Day
A lady was picking through the frozen turkeys at the grocery store, but couldn't find one big enough for her family.
She asked the stock boy, "Do these turkeys get any bigger?"
The stock boy answered, "No ma'am, they're dead."
Video Of The Day
With a son like this, a Mom could forget PLENTY OF FISH.


White Rock Eagle Cam - LIVE
Two baby eaglets have been born in the White Rock nest. Perched high in a giant Douglas fir tree overlooking Boundary Bay the eagle nest gently sways in the cool ocean breeze.
Here is your opportunity to observe nature up close and personal. Check out the Hancock Wildlife eagle cam.
It's Only News If You Read It Today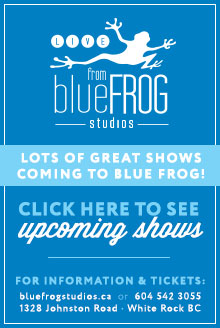 Buy Tickets