East Beach Bear photo courtesy Margaret Garrison
Where You Can Vacation & Be Home The Same Day
Night Owl
Queen of Delta blues - ELLIE JOHNSON
The ELLIE JOHNSON BLUES BAND hits the stage at the Crescent Beach Legion April 11
...with very special guests
Local News
March 31, 2015
Poor Showing
White Rock was well represented at yesterday's Special Committee on Local Elections Expense Limits meeting at Surrey city hall. Former city councillor and candidate in the November 2014 election MARGARET WOODS joined White Rock councillors FATHERS & CHESNEY. The three local representatives were joined by KERRY MORRIS (candidate for mayor in North Vancouver city) in urging the committee to impose spending limits on future civic elections.
BRUCE HAYNE an elected councillor in Surrey on the Surrey First ticket, made an impassioned plea to leave the present system in tact.
The committee now moves on to Vancouver.
The public and candidates in the recent civic election in November 2014 are able to submit their views by providing a written submission, sending a video or audio file of my completing an online survey. Deadline is April 17, 2015.
Level With Me - What's Going On?
Work crews were on site yesterday along the West end of the promenade on West Beach on White Rock's waterfront. The crews are preparing the track line for the installation of two level crossings the city of White Rock has been ordered to in stall by Transport Canada. The work and new mesh fencing along the promenade will be finished in time for the busy tourist season.
photo courtesy John B. Vye
March 30, 2015
We Remember
41 years ago, a young constable was working his last shift before taking time off to get married. His family was flying into British Columbia for what was supposed to be a joyful celebration.
Constable Roger Pierlet, 23 years old, never got to greet his family at the airport. He was shot in the chest after stopping two men who were driving a vehicle erratically on 176 Street near highway 10. He died almost immediately.
The two suspects, John Harvey Miller, then 28, and Vincent Cockriell, 18, were caught after a chase that led police to 264 Street and Highway 1, where the vehicle ran off the road. They were sentenced to death, and then to life imprisonment after the death penalty was eliminated.
Today, and always we remember the sacrifice of Constable Roger Pierlet. Gone but not forgotten.
Cst Roger Emile Pierlet, Regimental # 29984
RCMP Honor Roll 147
Died March 29, 1974 Age: 23
Woman dies in scooter accident
A woman riding a four-wheeled scooter died last evening after a collision with a van at 96th Ave. and King George in Surrey. There have been no names released. Further details will be released by the RCMP later today.
March 29, 2015
I Can See For Miles
Survey crews were out along West Beach at the end of the week. The city of White Rock under orders from Transport Canada are creating two level crossings on West Beach. The order is a result of the death of a jogger hit by a train on East Beach in 2013.
The cost of the two level crossings which will not be equipped with lights and bells is due for completion before the busy summer season. The cost for the two crossings is $500,000.00
Once the two level crossings are completed the city will then install wire mesh on the promenade rail to mirror what was done on East Beach.
March 28, 2015
Special Meeting Of White Rock Council
Councillors Fathers & Chesney
Excerpted from the British Columbia Community Charter
Calling of special council meetings
126 (1) The mayor may call a special council meeting in his or her discretion.
(2) Two or more council members may, in writing, request that the mayor call a special council meeting.
(3) Two or more council members may themselves call a special council meeting if,
(a) within 24 hours after receiving a request under subsection (2), no arrangements are made under subsection (1) for a special council meeting to be held within the next 7 days, or
(b) both the mayor and the person designated under section 130 [designation of member to act in place of mayor] are absent or otherwise unable to act.
(4) If a special council meeting is called under subsection (3), the council members calling the meeting or the corporate officer must sign the notice under section 127 [notice of council meetings] in place of the mayor.
White Rock city councillors HELEN FATHERS and DAVID CHESNEY sensing a need to move on the garbage topic in White Rock, sooner rather than later have requested MAYOR BALDWIN to call a special council meeting. The mayor must now schedule the meeting within 7 days.
MAYOR BADLWIN has set the Special Council Meeting date and time - Tuesday April 7 @ 1 P.M. in council chambers.
Lead Poisoning In Surrey Food Court
Yesterday at 5 p.m. Surrey R.C.M.P. received a call from a male advising that there was a male, who was in the Food Court, at the Surrey City Centre Mall. that had apparently been shot. Members of the Surrey R.C.M.P. General Duty and Surrey Detachment General Investigation Unit, attended to the Surrey City Centre Mall, and located the male, who was suffering from two gun shots. The male was visibly bleeding from the wounds. The male was initially uncooperative with police, but eventually agreed to be taken to hospital and was transported in serious condition.

The male, a Surrey Resident in his twenties, that has had a number of Police contacts in the past, has not been forth coming with information as to where the shooting occurred. He has indicated that it occurred in another community, but has been evasive. Witnesses have indicated that male, took the Skytrain to Surrey, getting off at the Surrey Central Station, and then came into the mall a short time before he was located by police.

Surrey R.C.M.P. are seeking the public's assistance in identifying where the male may have been shot, or may have seen him travelling on the Skytrain to Surrey., are asked to call the Surrey R.C.M.P. at 604-599-0502 or to call Crime Stoppers.
Come Fly With Me
South Surrey / White Rock Conservative MP Russ Hiebert is going out of office with a bang, to say the least.
Once again it has been reported HIEBERT has blown away all other elected challengers when it comes to racking up expensive trips abroad. HIEBERT and his wife ANDREA billed the Canadian taxpayers for trips to Taipei, Paris and Turkey last year. The bill for their fact finding missions was $26,078.06.
HIEBERT announced last year he was leaving politics, which cleared the way for former Surrey mayor DIANNE WATTS to take up the Conservative nomination in the upcoming Federal election.
March 27, 2015
Surrey RCMP Call Press Conference To Announce Major Drug Bust
Surrey RCMP called a press conference this morning e at their headquarters in the Green Timbers district of Surrey. Pictured above is a portion of the weapons, drugs and money seized during the big drug take down that saw 13 people charged with a wide variety of drug and weapons offenses.
Charged with 36 counts of trafficking and seven firearm-related offences are Sophon Sek of Surrey, Mona Khodabandehloo of Burnaby and Glen Hudson of Surrey.
Among those also charged are:
Andres Naranj of Surrey, Yaeil Jang of Port Coquitlam, Sonny Nguyen of Surrey, Lester Ray of Burnaby, Francis Le of Surrey, Dylan Herman of Delta, Harjoot Garg of Surrey and Daniel Cluett of Surrey.
RCMP say Jay, Jang, Nguyen, Garg and Naranjo are currently at large. Warrants have been issued for their arrest.
Hell NO Doug Won't Go
Former Surrey Mayor DOUG McCALLUM and one time head of Translink issued a statement this morning that he will be voting NO in the Mayors Council Translink referendum. MCCALLUM in his statement said he believes there are other revenue sources, TRANSLINK should re-do the whole governance structure and become better organized.
TNT The Naked Truth
Normally DON PITCAIRN reserves his "Movers & Shakers" editorial for year's end.
Good Idea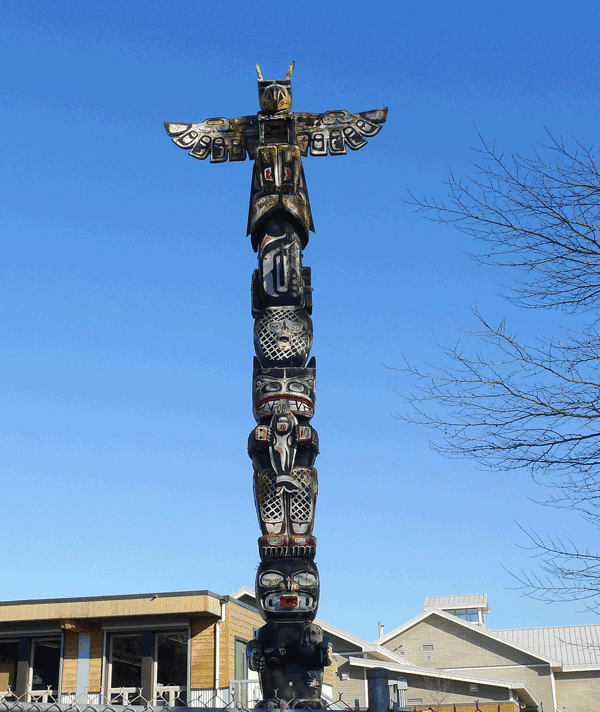 This picture really does not clearly illustrate the poor state the totem pole in the yard of White Rock elementary has deteriorated to.
The interesting part of this good idea is when the new school was built in the late 90's Surrey School District actually went to the trouble and expense of erecting a new stand for the totem pole on the other side of the school at the main entrance.
Would it not be be a good idea to have an expert on totem poles, ROBERT DAVIDSON springs to mind, perhaps he could inspect the pole and ascertain if the pole can be saved. The weathered pole if it can be saved could become a school project to sand it down, and then we could contact the original carver who apparently lives on Vancouver Island and we could have him paint, or oversee the repainting of this beautiful piece of public art.
UPDATE - From Mr. History TOM SAUNDERS
The pole was raised in April 1998 by Port Hardy resident and First Nations carver JOHN WALKUS GREEN.
GREEN also carved totems for Ray Shepherd (1650 - 136 Street) and Dogwood (10752-157 Street) elementary schools.
Read JOHN WALKUS GREEN'S dedication speech from 1968 (click here)
A brief little one minute profile on JOHN WALKUS GREEN (click here)
Now & Then
Now
The West Beach promenade between the pier and the museum as it looks today.
Then
Photo courtesy Terry Ross
Recently this picture was posted on the "I Grew Up In White Rock" FACEBOOK page. The general feeling from old timers is the picture is probably taken in the mid to lade 60's. Note the White Rock Tourism kiosk was at one time just a roofed gazebo that was not closed in. Also notice the museum was moved back towards the road about 20 feet in the 80's.
Now you know.
Coming Events
Sports
Regular Season Coming To A Close

The Vancouver Canucks are doing all they can to keep pace in the race to the Stanley Cup Playoffs.
Playing the St. Louis Blues seems to bring out the best in the Canucks.
RADIM VRBATA  had a goal and an assist and EDDIE LACK defeated the Blues for the fifth time in as many tries in a 4-1 victory at Scottrade Center on Tuesday.
Vancouver (44-27-5) remained two points ahead of the Calgary Flames, who defeated the Dallas Stars 5-3 on Monday, for second place in the Pacific Division. The Canucks lead the Los Angeles Kings, who lost 4-1 at the Chicago Blackhawks on Monday, by five points.
Next up Nashville tonight. The Canucks return home on Thursday for a game with Chicago and then the new fan favourites Winnipeg Jets are here Saturday.


These 'Caps sure have a flair for the dramatic this season.
Robert Earnshaw scored a 90th-minute winner in his Vancouver Whitecaps FC (3W-1L-0D) debut to lead the Blue and White to a 2-1 victory over Portland Timbers (0W-1L-3D) Saturday night at BC Place.
After Nicolas Mezquida scored his first of the season in the 15th minute, Portland's Fanendo Adi brought the game level late in the second half. But as they've now done in each of the past three matches, Whitecaps FC once again scored a late-winning goal.
Saturday's match was the first of three consecutive home games at BC Place for Whitecaps FC. Tickets are already selling fast for the club's following home match on Saturday, April 4 against LA Galaxy. Fans are encouraged to act now to see the 'Caps take on the defending MLS Cup champions in their only encounter in Vancouver this year. Columbus is here Wednesday April 8.
Joke Of The Day
Little Nancy was in the garden filling in a hole when her neighbor peered over the fence. Interested in what the cheeky-faced youngster was doing, he politely asked, "What are you up to there, Nancy?"
"My goldfish died," replied Nancy tearfully, without looking up, "and I've just buried him."
The neighbor was concerned, "That's an awfully big hole for a goldfish isn't it?"
Nancy patted down the last heap of earth then replied, "That's because he's inside your stupid cat!"
Video Of The Day


Thought For The Day
Tomorrow In THE SUN
The Goddard Report came calling last week to get a feeling for how the YES/NO Mayor's Council referendum was sitting with us in White Rock.
Off The Record
A press conference yesterday in Los Angeles brought together some of the biggest music money earners.
Have we seen the end or the beginning of the music industry.
It's Only News If You Read It Today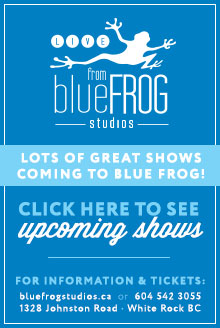 Buy Tickets