where you can vacation - and be home the same day
Night Owl
Tonight marks the final week of competition in the White Rock Sun's DIAMOND IN THE ROCK. The fourth annual youth talent search this evening will feature the music of Hailey Clark, Cassidy Poulton and Dani Scott.
Holly Arntzen and Kevin Wright join us at the judges table. This week's special musical guest will be RICK DELGARNO of The Blue Voodoo. The music starts at 7 p.m. Come early and get a good seat, this is going to be a great night of celebrating the youth of the Semiahmoo Peninsula.
Tickets for the final night of competition will see all the weekly contestants battle it out on stage at Blue Frog Studios. Tickets are going quickly for what promises to be a great afternoon of music. Support out local youth (click here for tickets)
Local News
April 23, 2014
8:45 p.m.
Earthquake shakes southern BC
Environment Canada says a 6.7 magnitude earthquake south of Port Hardy has rocked a large part of southern BC. No threat of tsunami. Aftershocks expected.
The City of Surrey is calling for submissions for the 2014 City Awards Program – a family of awards introduced in 2011 to celebrate excellence in urban design and sustainable community development, beautification and heritage. Submissions for 2014 will be accepted beginning April 22nd through to June 23, 2014.
Life's A Beach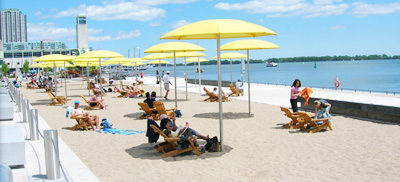 New Westminster has big plans to brighten up their river walk promenade along the Fraser River. The city has plans to create a white sand beach complete with permanent sun umbrellas, picnic tables and other amenities. The Royal City already has already installed artificial beach volleyball courts.
April 22, 2014
Done Like A Dinner
By mid-morning Monday White Rock's world famous WYLAND WHALE WALL was back to normal. Members of the "I Grew Up In South Surrey/Cloverdale/White Rock" FACEBOOK group blew gaskets when our photo went viral. COLLIERS REALTY moved into action as quick as they could once it was brought to their attention.
I hope everyone that got a taste of what a group working together can accomplish, hangs in there and works together to preserve and help OUR White Rock prosper.
Thank you everyone, for reading and writing - THE WHITE ROCK SUN.
Breakfast Television's Jody Vance wrote:
"Your heads up here (the power of social media) sent shockwaves through the Breakfast Television offices yesterday….by the time we dispatched a camera it was down. Apparently many are/were miffed about the disregard for great art. FTR: the green slime is a bit of soap and water, don't let any politico say it's a $6 million dollar restoration that will require the road to be closed for a year! (can you tell I live in Point Grey?)"
Signs You Grew Up In Surrey in the 90's
Rebecca Bollwitt boards a bus to nowhere
MISS 604 (Rebecca Bollwitt) who actually grew up in the Whalley area, has put together in her blog this a collection of dead giveaways you were raised in Surrey in the 90's
Improving South Surrey
As Surrey evolves into British Columbia's next metropolitan centre, the City is implementing the most comprehensive capital projects plan in Surrey's history to ensure that our neighbourhoods remain vibrant and we continue to thrive as an economic generator for the region.
South Surrey will become home to new recreation opportunities, residential and business development, community safety initiatives, and beautification projects.
The future lives here in our city, and we will continue to improve the quality of life for people living and working in Surrey.
They Won't Go Quietly - Just Like The Coal Trains They Oppose
Despite the Provincial Government approving a massive expansion on the deep sea coal port on Texada Island, and Port Metro publicly stating they will not make their findings on the environment or health impact study until after they make public whether or not they will approve coal exports out of the Surrey docks.
The Communities and Coal coalition takes to the airwaves with a round of radio commercials
April 21, 2014
Dirty Deeds Done Dirt Cheap
Malcolm & Angus Young (centre)
The owners of Charlie Don't Surf may be in luck. It is rather doubtful they will get the original guitar back which was signed by the YOUNG brothers. The guitar hung proudly in the local diner until last week when a thief broke in in the early morning hours and grabbed it. The band (minus Malcolm Young due to illness) returns to Vancouver next month to record with local producer MIKE FRASER.
Watch the recent GLOBAL TV feature on the theft of the guitar (click here)
April 17, 2014
FIRST To Leave?
SURREY FIRST councillor BARINDER RASODE
BARINDER RASODE in an email to her fellow SURREY FIRST councillors last week, stated she has every intention of running as an independent candidate in the upcoming November civic election.
In the email RASODE identified three areas of concern with her fellow SURREY FIRST councillors.
1. The approach taken toward public safety and fighting crime.
2. Spending at City Hall.
3. Community consultation.
Will other SURREY FIRST councillors follow RASODE'S move? Will DIANNE WATTS live up to her statement that the maximum term a civic official should serve is three terms? Stay tuned.
April 16, 2014
First Look
White Rock's world famous pier turns 100 this year. In addition to a giant "party on the pier" in the summer, the city's various shopping districts on May 1 will be festooned with beautiful street banners honouring the special date.
The White Rock Sun's crack investigative team has discovered a little know fact about our pier. The city of White Rock can now lay claim to having the longest pier in Canada. If it was not for Oceanside, California we would be able to wear the crown of the longest pier in North America.
Biggest in Canada suits us just fine!
April 15, 2014

White Rock Sun EXCLUSIVE
For years all levels of government in Canada and the United States have vehemently denied the release of chemical sprays over the heads of residents in many cities across North America.
The Lower Mainland is one of those selected areas. Despite numerous requests over the years from The White Rock Sun, officials simply dismissed the inquiries as based on nothing more than conspiracy lunacy.
Thankfully former Premier BILL VANDERZALM knows what buttons to push and how to maneuver through the political maze.
TNT The Naked Truth
Even if it is a holiday Monday and no one is at City Hall (either one of them) DON PITCAIRN would like to leave a message for our local Mayors and Council.
Now & Then
He/she is back! Thanks to the Semiahmoo First Nations Band, the old metal four seater horse ride from Semiahmoo Park has been preserved.
For years the horse stood near the front of the park by the washrooms, next to a spinning metal wheel. The original horse was mounted on what looked like coil springs out of a big rig. The horse rocked back and forth and it usually took a few kids to get it in motion. One of the drawbacks of riding the horse was you had to be on the lookout for "big kids" who would run up and grab the front and back and really start to rock the horse back and fort reaching dizzying heights. Looking back it may have been the inspiration for the mechanical bulls popularized in the 80's. No one really seems to know when the horse appeared and when it disappeared. We're just glad it is back. And back is in front of the Semiahmoo Band office on the reserve. Take a walk over the bridge at the foot of Stayte Street go up the hill and take a ride.
(photo courtesy Tom Saunders bon vivant and part time historian)
Coming Events
This Saturday come join the fun at the new Surrey City Hall

Sports
Elgin Secondary Grad - Leaves Competitors in the Dust
Luc Bruchet
(wilson wong photo)
Luc Bruchet has earned top honours in the Association of Independent Institutions Conference this week as Spear Chief-Morris Meet. Bruchet has been named the Male Athlete of the Week for the week of April 14-20.

Bruchet, the defending NAIA 1,500 meters champion, posted the top time in the event so far this year in the NAIA on April 18 at the Mt. SAC Relays in Walnut, Calif. The senior from White Rock, B.C. posted a time of 3 minutes, 42.02 seconds in the men's invitational race section of the 1,500 meters and earned a seventh-place finish. With the performance, Bruchet became the fastest Canadian outdoors in the metric mile so far in 2014.
UBC is hosting the Achilles Cup dual meet against Simon Fraser University on April 26 at the Rashpal Dhillon Track and Field Oval at UBC. Admission is free.

Second-half goals from Darren Mattocks and Kekuta Manneh helped Vancouver Whitecaps FC (2W-2L-3D) secure a hard-fought 2-2 draw with LA Galaxy (2W-1L-2D) Saturday afternoon at BC Place.
A fourth straight sold-out crowd at BC Place was treated to a thrilling second half in a spirited rematch between the Western Conference rivals. Led by a goal and assist from Mattocks, the Budweiser Man of the Match, and a spectacular Manneh strike in the 86th minute, the 'Caps came back from two separate one-goal deficits to claim a share of the spoils.
Post-match interviews with Whitecaps FC head coach Carl Robinson and strikers Kekuta Manneh, Darren Mattocks, and Kenny Miller
mlssoccer.box.com/s/1e6lyuroykjdy0nk8mxb
The 'Caps are in for another tough test next weekend when they visit an always tough Real Salt Lake side on Saturday, April 26 at Rio Tinto Stadium. Then, the Blue and White return to BC Place for the club's 40th anniversary match on May 3 against San Jose Earthquakes.
Joke Of The Day
Women Talk Twice As Much As Men
A husband looking through the paper came upon a study that said women use more words than men. It read, "Men use about 15,000 words per day, but women use 30,000."
Excited to prove to his wife that he had been right all along when he accused her of talking too much, he showed her the study results.
The wife thought for a while, then finally she said to her husband, "It's because we have to repeat everything we say."
The husband said "What?"
A composer was looking out his window one morning and saw a flock of birds sitting on the telephone wires outside his home. He took a picture and then proceeded to create a piece of music based on how they were sitting on the wires. Very cool.
Thought For The Day
Tomorrow In THE SUN
Yell It Like It Is
Power can be intoxicating. A group of local residents and former residents of the Semiahmoo Peninsula reached the tipping point over the weekend when a FOR LEASE sign appeared on our world famous Wyland Whale Wall.
The reaction was swift and sure, and it felt sooooooooooo good.

It's Only News If You Read It Today