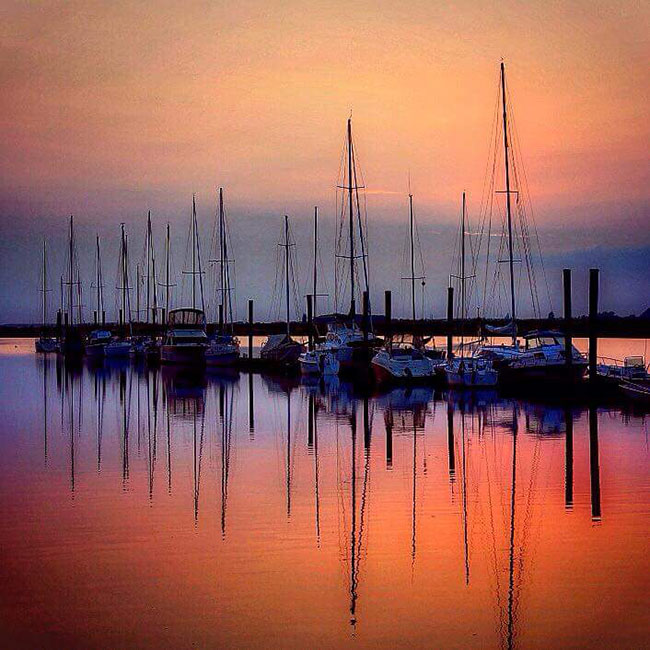 Brent Irving photo - Elgin marina
Where You Can Vacation & Be Home The Same Day
Weekend Update
White Rock's third annual DIWALI Festival on the waterfront, great music at Blue Frog and the Pink Palace plus one of the last outdoor White Rock Farmer's Markets.
(click here to cheek out the weekend's activities)
Meet The Merchants
l-r Laura Cornale & Ken Soo
J&H Grocery owned and operated by the (Terry) SOO FAMILY was more than a general store.
Over the past 30+ years the store has been a lifesaver for that quart of milk you needed for the morning, that pound of butter for a recipe mid-stream or a bouquet of posies for a loved one.
The Soo family will close the store this weekend.
Fear not. In their place a not so old shop owner makes her return.
Local News
September 29, 2016
Newton School Bank Account Drained?

ÉCOLE WOODWARD HILL 6082-142 Street
Parents and students alike are reeling today following the disclosure the PAC bank account for the school was drained by someone. The RCMP were called in yesterday when it was discovered there were irregularities in the bank statements. The RCMP have made no comment or released any names they are investigating.
The money which may reach up to $30,000.00 missing was raised over the past two years by the parents and children through bake sales, car washes, bottle drives and a variety of other activities to help cover off the shortfall the school receives in funding for operations from the Surrey school board.

Community Conversation Spreads To Langley
Date: October 5, 2016
Time: 6:00pm - 8:00pm
Location: Nicomekl Elementary School Gym, 20050 53 Avenue, Langley
The City of Langley invites you to attend our annual neighbourhood meetings. Come and meet your City Council representatives and receive the most up-to-date information about current and future City projects. At the meetings you will have the opportunity to learn about City programs and services, give your input on new and current initiatives including the City's rebranding efforts, and gain understanding on how the City is improving the livability of your community.
All residents are welcome and encouraged to attend the meeting in their area. Find out which meeting you should attend. No RSVP required.
September 27, 2016
The annual meeting of the UBCM (Union of British Columbia Municipalities is on all this week in Victoria. Mayors and councillors from across British Columbia are gathering to share ideas and to discuss the challenges of civic governments.
The Premier has been in the habit of closing the final day of the convention by addressing the respective civic officials. This year Premier Christy Clark will break with tradition and address the convention Wednesday afternoon.
If you care to hear the Premier's message it will be streamed live (click here Wednesday @ 2:15 p.m.)
September 26, 2016
Two persons found with gunshot injuries in South Surrey
Surrey RCMP were called to a home in the 4200 block of 152 Street after learning of an adult male and female suffering from gunshot injuries. The male and female are associated to the residence in which they were located. Both victims were transported by land ambulance to a regional trauma hospital to be treated for their apparent non life-threatening injuries. This event appears to have been a targeted event.
Surrey RCMP have the area secured for the investigation. Surrey Serious Crime investigators are on scene. Lower Mainland Forensic Identification Section is on scene gathering evidence to advance the investigation.
Anyone with more information is asked to contact the Surrey RCMP at 604-599-0502 or Crime Stoppers, if they wish to remain anonymous, at 1-800-222-TIPS or www.solvecrime.ca.
Released by:
Surrey RCMP Watch Commander
NOTE: Media interviews will be available during regular business hours by calling the Surrey RCMP Media Unit.
September 24, 2016
Too Close For Comfort
Washington state police continue their manhunt today for a man who walked into MACY'S in the Cascade Mall last evening (located between Bellingham and Seattle) and opened fire with a high power rile killing 4 women and 1 man. The suspect is considered armed and dangerous.
The lone gunman according to witnesses walked in to the busy store at 7 p.m. and opened fire with a high powered rifle before leaving on foot. The police have not released any information on the motivation for the random attack.
The mall is a popular destination for cross border shoppers from British Columbia.
Image of shooter released by Washington police.

Update on Washington State mall shooting
Person of interest has been arrested following mall shooting in Burlington, Washington last night. Five people were killed.
Night Owl
Tri-Continental
Over the past 6 years Blue Frog studio has presented a dizzying array of Local, Canadian and International talent. The fine tradition continues this weekend with the spotlight squarely on three of Canada's top pickers and singers.
Tri-Continental is a collaborative evolution that fuses the talents of three wonderful guitar-players, singers and songwriters. There are no musical boundaries present in this one-of-a-kind blues/folk/world music mélange.
Bill Bourne, Lester Quitzau and Madagascar Slim present a truly unique and critically acclaimed sound that is a great success in terms of soulfulness and presence, intensity and atmosphere.
(check out all of this week's great music)
Now & Then
NOW - September 2016

Editor:
As a citizen of upper White Rock, I am very concerned about the proposed towers between Martin and Foster streets.
Has city council even thought about the people who live and work in this area? Have they asked our opinion, or are they ruled by big developers?
Buildings 26, 26 and 25 storeys high means about 1,000 more people and as many cars. Cars have to be parked, driven to and from the buildings and it is already very difficult to find parking in this area. I understand there will be underground parking, but they have friends and family and also often two cars per family.
I understand that this many people will bring in taxes, but to what cost? More accidents, more congestion, more police needed and not to mention more staff and vehicles for the fire department.
Do we even have enough water for these planned towers?
And what about children? Are children going to live in these buildings, or are they not welcome to upper White Rock? Where will children play and ride their bikes? Where are the parks and greenbelts in this area? Centennial Park is the only one, but not exactly close.
I guess we have to depend on the 'City of Parks' next door to find trees and green spaces. Even us older people like that more than the sea of skyscrapers and parking lots that our 'City by the Sea' is planning for us.
Common sense would be to build buildings that fit in with what's already around that lot. We have four-, eight- and 10-storey buildings around there.
Make something nice of that lot, not mega buildings that will dwarf everything around us, even block out the sun. We are not downtown Vancouver or Burnaby's Metrotown.
Please do not allow those enormous highrises in our beautiful little city.
G. Lindgren, White Rock
THEN - 1972
T.N.T.
The Naked Truth
Musical MLA chairs
Who's running in the upcoming Provincial election? And where they are running?
DON PITCAIRN has some of the answers and a little inside info.
Coming Events

(click here for more upcoming community events)
Joke Of The Day
When Mary was pregnant, her five year old, Billy, was utterly amazed and a little bit disbelieving that his sister was growing in his mom's tummy. So one day when the baby was especially active, she asked Billy to place his tiny hands on her tummy to feel the baby kick.
But when he did, the baby was suddenly still. "Oh, Billy, she must have decided to take a nap," shrugged his mother.
"A nap?" Billy marveled. "You mean there's a bed in there too?"
Video Of The Day
The Washboard Union & Meghan Patrick – Seven Bridges Road
The Washboard Union who have had a huge year got word this week they are up for the following awards in the BC Country Music Awards which will be handed out October 23.
Group of the Year, Fan Choice, Roots Canadian Award, Single of the Year, and Songwriters of the Year.
Thought For The Day
Tomorrow In The Sun
Recipe(s) of the Week
Slow cooker chicken in milk.
It's Only News If You Read It Today