Photo courtesy Tall Tom Saunders
Where You Can Vacation & Be Home The Same Day

Today - Sunny. High 21 except 29 inland. UV index 6 or high.
Tonight Clear. Windy near the Strait of Georgia. Low 11.
Saturday - Sunny. High 21 except 25 inland.

Sun, 8 May A mix of sun and cloud. High 17.
Weekend Update
If you are looking for somewhere to go or something to do with Mom on Sunday, we have the inside track on what's on.
LOCAL NEWS
May 06, 2016
Mid-Day Accident
An elderly male was seriously injured mid afternoon yesterday at the intersection of Russell avenue and Johnston Road. The scooter and its driver were attempting to cross the street in the cross walk when a car turning off of Russell to head north on Johnston Road collided with the scooter injuring the driver.
The elderly gentlemen had serious enough injuries he was immediately transported to the Royal Columbian Hospital.
Our local SAVE ON food store in Semiahmoo Shopping centre has stepped up to help those suffering in Fort McMurray.
For every dollar you donate, JIM PATTISON will double your contribution. . Simply put, you give $10,00 and JIMMY donates $20.00. According to the clerk that told me about it, all the money collected will go straight to Fort McMurray in the form of cash so they can put it to use where it is needed most. The Red Cross and other organizations are providing blankets, food and medical help. At this conjuncture of the tragedy they need cash.
Do You Have What It Takes?
The White Rock Fire Rescue Department seeks a number of Auxiliary Firefighters to supplement the services of full-time firefighters.
Learn more - click here
Mr. Fleetwood - Citizen Of The Year
Surrey City Council named Rick Hart this year's Good Citizen of the Year at the City's annual volunteer services celebration. The event was established by the City of Surrey to honour an exceptional individual that has demonstrated commitment and dedication toward making Surrey a better place to live.
"As an active community advocate and leader for the past 25 years, Rick Hart is a most deserving winner of this year's Good Citizen of the Year Award," said Mayor Linda Hepner. "While Rick is known affectionately as Mr. Fleetwood for all the work he has done for that community, his contributions extend to our city as a whole. Rick's selfless dedication has made our City a better place to live and work for all."
Rick's dedication to Surrey is visible in the many community projects he has spearheaded in the Fleetwood area of Surrey.
Just In Time For Mother's Day
Additional off-street parking will be available at this year's Mother's Day celebration at The Glades park, located at 561 172 Street in Surrey.
With plans to expand the popular display garden, the City of Surrey has acquired a five-acre parcel of land directly south of the main entrance. While visitors are encouraged to carpool, the new space will allow for temporary overflow parking for the annual event taking place on Sunday, May 8 from 10am to 4pm. On-street parking will also be available.
Mother's Day at The Glades will feature live music and cash-sale gourmet teas, coffee, hot chocolate and snacks. Festivities will also include a plant sale (cash only) showcasing many species found in the 7.5 acre garden, which contains more than 1600 mature rhododendrons, azaleas, companion plants, exotic shrubs and heritage trees.
City staff will be on site to discuss the new acquisition and hear visitors' ideas on the evolution of the park and how it can be transformed in the years ahead. The public can also email their thoughts and comments to ParksRecCulture@surrey.ca.
Advance tickets ($5 per person) are on sale now. To purchase, call 604-501-5100 or visit www.surrey.ca/register (registration code#4476457) by May 5. Tickets are $7 at the gate (cash only). Children under 12 are free.
May 04, 2016
Drug Lab Busted
Residents of the 800 block Parker Street (Just off Marine Drive//East Beach) were surprised to see such a high police presence outside their homes at dinner last evening. The police acting on a tip descended on a home on Parker and took a 46 year old man and a 31 year old woman into custody.
Inside the residence police found everything to indicate a meth drug lab had been operating in the home. No charges or names have been released yet.
Let's Ride!
BC Superweek is pleased to announce that online registration is officially open for this year's series, which includes the Tour de Delta, Global Relay Gastown Grand Prix, Giro di Burnaby p/b Appia Development, PoCo Grand Prix p/b Dominion Lending Centres, and Tour de White Rock p/b Steve Nash Fitness World. Men's races are for Pro 1/2 riders and women's races are open to Pro 1/2/3 categories.
BC Superweek is Canada's biggest professional cycling series and features more than $125,000 in prize money available during eight races over ten days. BC Superweek runs from July 8 - 17, and is made up of the Tour de Delta (July 8, 9, 10), Global Relay Gastown Grand Prix (July 13), Giro di Burnaby p/b Appia Development (July 14), PoCo Grand Prix p/b Dominion Lending Centres (July 15), and Tour de White Rock p/b Steve Nash Fitness World (July 16, 17). For more information, visit www.bcsuperweek.ca.
Do We Have A Consensus?
This week, the first mandatory long-form census in a decade will be sent out to Canadians, marking a tradition of data collection dating back more than three centuries.
This year, three out of every four households will receive a short, compulsory questionnaire, while one in four will have to fill out a longer form of about 50 questions.
In 2006, when Canadians were first allowed to respond online, fewer than 20 per cent of people used the Internet to fill out their census. That number jumped to 54 per cent in 2011.
Yesterday the first day of actually being able to fill out the form on line, saw such a response the website crashed for an hour!
Realtor Rapist
Surrey RCMP are asking the public's assistance in identifying the man who attacked and sexually assaulted a female realtor in North Surrey on Saturday afternoon.
The suspect is described as an East Indian male in his late 20's to mid 40's, 5'5 to 5'8 tall, with brown eyes and a dark brown well-groomed beard. He was wearing dark coloured pants and a light coloured shirt, a white turban, and he spoke with an accent.
Anyone with more information is asked to contact the Surrey RCMP at 604-599-0502 or Crime Stoppers, if they wish to remain anonymous, at 1-800-222-TIPS or go to www.solvecrime.ca.
May 03, 2016
BNSF Confirms Dates for Spraying along the Promenade and Waterfront
REVISED SCHEDULE
BNSF Railway is planning on spraying the White Rock rail line on the waterfront next Thursday weather permitting. BNSF will be putting up notices today along the promenade to alert anyone with any health and breathing concerns to avoid the promenade for a few days.
This year BNSF is planning on using more environmentally friendly pesticides this year. No exact information on what will be sprayed along the tracks to kill vegetation has been made public.
May 02. 2016
Sign From Above
(actual photo of JAS SINGH'S tractor/tiller handiwork)
JAS SINGH the creator of God's Little Acre the Surrey farm that feeds those in our community that are hungry and unable to purchase fresh vegetables always likes to have fun with promoting the farm.
Last year GOD'S LITTLE ACRE gave away 100,000 pounds of vegetables to local residents.
I will give the first five people a free veggie Spring box when they are ready in about a month or so.....and I will also allow 1000 lbs of free veggies to the charity of your choice if....You can guess what I will be writing when I complete the phrase in the picture above.......Yes I am doing this with the tractor and the final result will be announced on Saturday....I will be completing the phrase at 10 AM on Friday if it doesn't rain too much......good luck!!!!!!!! So if you have a plane...helicopter, drone, balloon, rocket, Space shuttle, come buzz me on Friday at that time...from 10 am to 11am
Jas Singh
The farm in part is subsidized by donations as well as events like this weekend's continuing soil and plant sale.
God's Little Acre is located on 40th avenue between 152 and 168th street. Just east of Mary's Garden.\
Best To Avoid The Patullo
......until October
From May 2 to Sept. 30, the Patullo bridge will remain open with one lane in each direction.
Truck access will be maintained
Cyclists and pedestrians will have access to the bridge at all times.
The bridge will be closed to all traffic two nights a week and one weekend a month. Read our Closure Schedule for details about upcoming closures.
The Pattullo Bridge is one of the busiest crossings in the Lower Mainland and we expect increased congestion and delays in the area during construction. Drivers should expect traffic delays on feeder routes to the Pattullo Bridge at all times.
Night Owl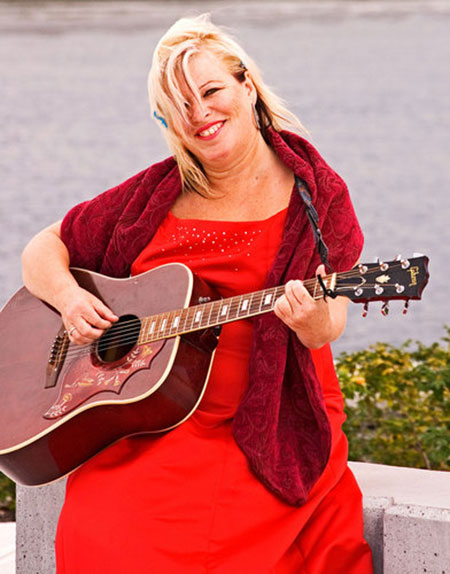 JUST BELIEVE - Saturday @ The Elks Hall White Rock
Delaney Rose with a super art/music combination with Sussanne V Hoiberg painting. There will be so much to enjoy!!!
Tonnie toss, a childrens colouring setup, silent auction, authors with special books for sale, and so much more. It's all about you and to Just Believe!!!
(click here for all your entertainment news)
Yell It Like It Is

Sunday is Mothers Day. What I would give to have one more Mother's Day with my Mom.
TNT The Naked Truth
This week DON PITCAIRN found out about "Swinging In Semiahmoo"
Health
Have faith in food . Our foods contain thousands of properties we have yet to discover. Yet many people choose pills over food because they believe food today does not contain the nutrient value of many years ago.
Not so.
Coming Events
Tomorrow Morning - Please Join In The Conversation

(click here for more upcoming community events)
Joke Of The Day
A man and his wife were getting a divorce at a local court. But the custody of their child posed a problem.
The mother jumped to her feet and protested to the judge that since she had brought the child into this world, she should retain custody of them.
The man also wanted custody of his children. The judge asked for his side of the story too.
After a long moment of silence, the man rose from his chair and replied, "Judge, when I put a dollar in a vending machine and a Pepsi comes out, does the Pepsi belong to me or to the machine?"
Video Of The Day
In case you didn't make it out to the Abbotsford Tulip Festival this year.
Thought For The Day
Tomorrow In THE SUN
Recipe of the Week
Vegetarian Sloppy Joes
Check today's tide tables ( click here )
It's Only News If You Read It Today