Where You Can Vacation & Be Home The Same Day
TNT
The Naked Truth
The Lower Mainland has never seen anything like this before
Local News
July 06, 2015
You Weren't Imagining It - It Was That Hot!
"The Surrey Fire Service has experienced a large volume of calls related to smoke in Surrey as a result of the wild fires burning north of Pemberton and elsewhere in the province. The Surrey Fire Department have also experienced a marked increase in grass fires, bark mulch fires and fires in boulevards and along roadways, as a result of the hot dry weather and the careless
disposal of smoking material." As a result police and fire officials have responded to 60 of those types of calls Sunday in just one 12 hour last 12 hour period compared to 1 call of
this nature in the same time period one year ago.
Here is a picture of the Lower Mainalnd and Vancouver Island yesterday issued from NASA . Due to the heavy smoke and high density of particles in the smoke officials warned the elderly, young children and those with asthma or any kind of breathing problems to stay inside.
The Public War For Surrey's Drug Trade Continues To Rage Out Of Control
Saturday night and mid afternoon on Sunday the RCMP responded to two different incidents reported involving a gun. Both incidents occurred in the Newton area. The most recent was a call of "shots fired."
Yesterday at approximately 01:45 PM, Surrey RCMP responded to a report of a shots heard in the 12300 block of 71 A Avenue.
Upon arrival, officers located a male victim suffering from minor cuts from glass fragments when another vehicle fired gunshots at his vehicle. The male was treated and released at the scene by ambulance for minor glass cuts.
Meanwhile.....
Did you see this report on how some Surrey RCMP officers were spending their time last week. Shameful (click here)
July 05, 2015
MP Russ Hiebert's Swan Song Legacy
Russ Hiebert with the Clerk of the Senate just outside the Governor General's office

South Surrey/White Rock MP RUSS HIEBERT'S private members bill, C-377, requiring public disclosure of union finances, passed 3rd Reading in the Senate and has been given Royal Assent by the Governor-General this past Tuesday.
"C-377 ushers in an era of transparency and accountability for Canadians unions. It allows union members and the general public to evaluate the effectiveness of unions: institutions which spend over $5 billion annually," said Mr. Hiebert. "Most G-7 nations have had public disclosure for decades.
Now, Canada leads the world with a law that will require union spending to be posted on the internet."
Russ noted that while he was the very first MP selected to introduce a bill for private members business at the beginning of this parliament, in 2011, C-377 is literally the last legislation to be passed.
While C-377 is now law, it does not come into force and effect until the end of 2015. This 6 month time frame allows the Canada Revenue Agency to develop regulations, online forms and instructions, and website, before unions begin reporting their financial next year.
Read more about Bill C-377 by visiting RussHiebert.ca
July 04, 2015
Does This Mean War?
Not really.
White Rock will be invaded on July 10 by over two dozen brightly coloured first nations war canoes. The touring group of canoes left Aggasiz on Thursday and are now making their way down the Fraser River.
The canoes will arrive on Friday July 10 off the end of the pier and come ashore. A full day of activities are planned for Semiahmoo Park Park on Saturday July 11.
Better Safe Than Sorry
Make sure you are able to vote in the upcoming Federal election in the Fall or whatever date Prime Minister Harper may choose. Presently the fixed election date is October 19, 2015.
It will only take a minute to confirm or register @ http://www.elections.ca follow the web site prompts.
More Metro Vancouver water restrictions
Metro Vancouver says due to ongoing unseasonably hot and dry conditions, Stage 2 water restrictions are being brought in across the region for the first time since 2003. Effective today, homes with even numbered addresses can sprinkle their lawns Mondays from 4 a.m. to 9 a.m. and odd numbered addresses from 4 a.m. to 9 a.m. Thursdays.
July 03, 2015
Rocky Mountain Bike Ride Ends in White Rock
Jason Fudge and brothers John, Chris & Tom Young,
You may have noticed the gentlemen pictured above, forsaking the bicycle ban of no riding on Canada's Longest Pier.
This group of Calgary gentlemen decided they would set out on their bicycles for a trip through the Rockies. Their journey finished in White Rock on Canada Day.
The bike tour was a nine-day trek, covering over 1100 kilometers. They riders started the tour from Olympic Park, just outside Calgary, and the final destination was the White Rock pier. The ride raised awareness and money for autism research.
Surrey RCMP is piloting a new community outreach campaign
........ called "Coffee with a Cop".

Inspector Ghalib Bhayani

Modelled after similar initiatives across North America, this campaign is a way for officers and community members to come together in an informal and neutral space to discuss community issues, build relationships, and yes, drink coffee. The event is free and open to all area residents and business owners. The first event starts in Newton with subsequent stops in Cloverdale and South Surrey.

Join Inspector Ghalib Bhayani and your local District Commander for coffee and conversation at the following locations (no registration required):
South Surrey
July 31st - 9:00am-10:00am
Moka House
40 - 16041 24th Avenue, Surrey
I Boomer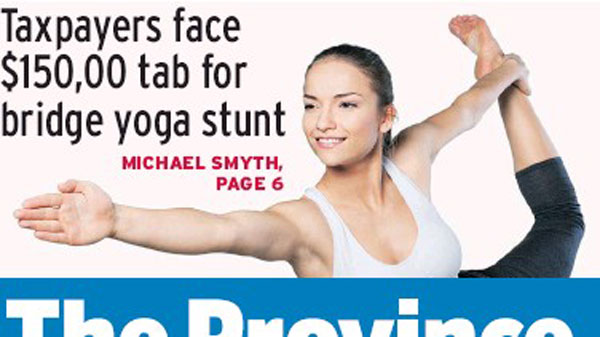 I BOOMER - P.D. Taylor claims the heat got to him this week. Finding very small consolation in the shade, P.D. got to reflecting back on Premier Christy Clark's yoga party.
Off The Record
Do you have a "your song."
Well you can well imagine how many RAY RAMSAY our "Lad in Ladner" has after toiling in the music industry during the heydays of rock n' roll.
Coming Events
Tour de White Rock
Now a two day event
July 17th & 18th, 2015
The Tour de White Rock is one of the longest bicycle races in North America. It consists of the Criterium Friday evening in the heart of White Rock around White Rock elementary. Saturday historic Road Race ill challenge riders as they jockey for position along the roadways on the hillside of White Rock. The Tour De White Rock is one of the most challenging road races in the Pacific North West.
Joke Of The Day
A Surrey man was forced to take a day off from work to appear for a minor traffic summons. He grew increasingly restless as he waited hour after endless hour for his case to be heard.
When his name was called late in the afternoon, he stood before the judge, only to hear that court would be adjourned for the rest of the afternoon and he would have to return the next day.
"What for?!?!?" he snapped at the judge.
His honor, equally irked by a tedious day and sharp query, roared out loud: "Twenty dollars contempt of court! That's why!"
Then, noticing the man checking his wallet, the judge relented:
"That's all right. You don't have to pay now."
The young man replied, "I know. But I'm just seeing if I have enough for two more words."

Video Of The Day
Transfer those old VHS videos to your computer, It is so easy.



Thought For The Day
Tomorrow In THE SUN
Night Owl
GOOD FOR GRAPES kicked off the Concerts at the Pier in fine style Saturday Night
Find out what's happening this week.
Tomorrow in THE NIGHT OWL.
The Fraser Valley's longest running entertainment guide.
We're #1!
Planning on heading to the beach at White Rock or Crescent Beach today?
Check the tides.
It's Only News If You Read It Today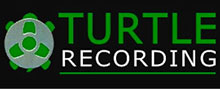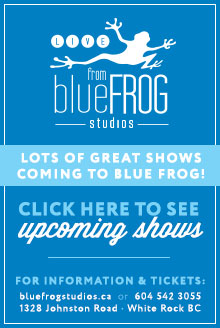 Buy Tickets