Where You Can Vacation & Be Home The Same Day
Weekend Update
Tonight
THE Christmas Show of the Year
This Afternoon
Sawbucks Pub is well know for hosting the BIGGEST and the BADDEST Grey Cup Party on the Semiahmoo Peninsula. The place will be packed adding to the atmosphere of the game. We'll be serving up your favorite drinks and the best pub menu anywhere. There will be prizes festivities and tons of fun to be had by all. I would recommend arriving early to get a great set for you and all your friends.
The game begins at 3:00 PM, however be sure to arrive early to get a good seat.
Off The Record
Our resident honky tonk hero hailing out of Hamilton Ontario, Scotty Campbell returns. Scotty has come up with a unique way to help the Syrian refugees when they arrive.
Local News
November 29, 2015
Second Of Two In A Row
Police and emergency crews were called to the intersection of 136th street & 28th venue in the lunch hour yesterday. a large delivery truck with the right of way broad sided a passenger vehicle who pulled out in front of the large truck.
A woman walking her dog near the intersection at the time was struck and knocked to the ground s the car left the road. Neighbours report the lady suffered a broken leg. She along with one of the occupants of the car were taken to the hospital for treatment.
Area residents have been asking for a four way stop as the intersection has seen a number of accidents, one as recent as last week.
(photos and story courtesy Pat Glover)
November 27, 2015
Early Morning South Surrey Fire Kills One
At 7:30 am this morning, Surrey RCMP was called to the 800 block of 160th Street after a motor home had been fully engulfed in fire. Surrey Fire Department extinguished the fire and found one person inside the motor home deceased. Neighbors had called 911 after seeing smoke and were unable to gain entry to the unit.
The identity of the person found inside has not yet been confirmed. Surrey RCMP General Investigation Unit, Surrey Fire Department Fire Investigator, and the Coroner are all attending the scene to conduct an investigation. At this point foul play is not suspected.
UPDATE NOVEMBER 29, 2015
A fire in a recreational vehicle resulted in tragedy the morning of November 27th in the City of Surrey. Surrey Fire Service received a 911 call for a fire in a recreational vehicle at 7:23am. Crews arrived to find the RV fully charged with smoke. While suppressing the fire Surrey Fire crews found a lone occupant inside the vehicle. The occupant was immediately removed from the vehicle and resuscitation efforts were started. Unfortunately the efforts were not successful and the occupant succumbed to injuries.

Surrey Fire Investigators discovered that there was no working smoke alarm inside the unit. Following the fire, Surrey Fire crews canvassed the RV Park to ensure all other units in the RV park were protected by a working smoke alarm. Fire Crews were granted access to 16 of the 46 units in the RV park, of which they discovered only 8 units had working smoke alarms; 2 units had smoke alarms that required battery replacement, and 6 units which they installed a new working smoke alarm as there were none present. The remaining units will be revisited by Fire crews over the next few days to ensure contact is made with all occupants and working smoke alarms are present or installed for free where necessary.

Assistant Chief Steve Robinson says, "Research shows that occupants have a 74% greater chance of escaping a fire with a working smoke alarm". Residents are asked to check their smoke alarms to ensure they are working and less than 10 years old.

Surrey Residents can call 604-543-6780 to have a Fire Safety inspection of their home. The Surrey Fire Service will also install a free smoke alarm for Surrey residents that are not protected with a functioning smoke alarm.

White Rock Harbour Board receives three-year recertification in Clean Marine BC
Georgia Strait Alliance has presented the White Rock Harbour Board with its three-year recertification in the Clean Marine BC program.
The White Rock Harbour Board holds a three-anchor rating, having achieved its original voluntary eco-certification in 2011.
The program, which has regional counterparts in Ontario and Quebec, uses an independent audit to confirm commitment to environmental best practices by marinas, harbour authorities, boat yards and yacht clubs that improve the management and operation of their facilities in order to reduce negative impacts on our waters, including reducing or eliminating contaminants from entering our waters.
Specific measures include:
- Eliminating the release of contaminants to the water column, both directly and indirectly;
- Minimizing the release of pollutants to the atmosphere;
- Avoiding contamination of the ground;
- Adopting waste reduction, reuse and recycling strategies;
- Optimizing energy and water conservation;
- Promoting good environmental practices to all moorage members and contractors;
- Abiding by and, where possible, exceeding the requirements of all relevant legislation.
- Commitment to continual improvement of their facility.
"The White Rock Harbour Board is a valuable partner in our program as the breadth of its facilities means that greener procedures have a positive impact on the marine environment," says Christianne Wilhelmson, Executive Director of Georgia Strait Alliance.
November 25, 2015
TIMBER!!!!!
Work will continue this week to clear "The Hump" area along Marine Drive in White Rock. The city of White Rock with the blessing of Transport Canada and BNSF railway are removing all but one tree from the waterfront property. Workers on the hillside claim when they complete their job one lone tree that will remain. Locals have now begun to refer to as "The Eagle Tree" given the tree has been used for years as a perch for eagles eyeing possible food sources along the beach.
White Rock maintains come trees will remain but the others are being removed for safety concerns and to improve views along the Marine Drive corridor.
White Rock RCMP Looking for Owner of Stolen Property


White Rock, BC: Police are looking for the public's assistance in locating the owner(s) of a portable DVD player and a men's watch. Both items are suspected of being stolen and were found to be in possession of a man arrested by police for allegedly breaking into vehicles.

On November 19, 2015 shortly after 01:56 am police attended an apartment complex in the 1500 block of Best Street after a resident heard a noise near the lobby. Upon attendance, police found that the community mailboxes were damaged and vehicles parked in the underground parkade had been broken into. While conducting their investigation, police observed a male walking off the property and located evidence police suspected were related to the theft of mail and theft from vehicles.

The 43-year-old Surrey man was released on a promise to appear and charges against him are pending.

Since the man's arrest, police have pursued a number of investigative avenues to locate the owner(s) of a portable DVD player and a men's watch but have so far been unsuccessful. The items are described as:

Portable Panasonic DVD Player with a "Barbie Princess" DVD inside
"Vitesse" men's watch

Police are asking anyone who may be missing those items to contact them at (778)593-3600. A detailed description of the watch will be asked.
Damn I Forgot My Ski Mask
Langley RCMP is seeking the public's assistance to identify a person of interest in a recent bank robbery. The robbery took place on November 21st shortly after 1:30 p.m. at the Bank of Montreal in the Willowbrook area.

The male suspect entered the branch and approached a wicket where he produced a note indicating he was robbing the bank. He then revealed he had a handgun and the teller provided him with a sum of money.

The suspect left on foot, no vehicle was seen and no direction of travel was provided. Unfortunately, the foot traffic in the area was substantial so a track for the police dog was unlikely.

The suspect is described as Caucasian, approximately 35 years of age, 5'10" – 5'11" tall, 200 lbs., partial black beard, wearing a baseball cap, blue jeans, a black puffy winter coat and runners.
November 24, 2015
New Washington State study published this week shows impacts of coal and diesel trains on air quality.
Diesel-powered coal trains and freight trains pass through the Columbia River National Gorge Scenic Area on a regular basis. New research data shows negative impacts on air quality that present health risks.
White Rock Water Flushing until Dec 15, 2015
The water main flushing program improves water quality in the City's water mains. Water service will continue during the water main flushing.
While water may have slight staining, it is safe to use. We recommend you run your cold water tap for approximately 10 minutes or until water runs clear. Please check your water supply before doing laundry to avoid possible staining. Thank you for your cooperation.
All water pipes can accumulate mineral and sediment deposits over time. While these deposits are not harmful to customers, the substances can cause aesthetic water quality issues. The City runs water through pipes at high speeds to clean mineral and sediment deposits.
November 23, 2015
White Rock council met Monday evening. First up was Land Use Meeting followed by the regular meeting of council.
Elegant Twin Towers Move To Next Stage - Public Hearing
The controversial two high rise towers (21 & 24 storeys ) received approval Monday evening to move forward with the next stage in their proposed development. Councillors SINCLAIR/KNIGHT/LAWRENCE and MEYER voted in support of the project to go to a public hearing.
The public hearing has been scheduled on December 7 at the White Rock Community Centre at 7:00 p.m. for proposed Bylaws No. 2123 and 2056 (1444 & 1454 Oxford Street and 1487 Everall Street).
City completes Phase 2 of the Official Community Plan, Imagine White Rock 2045
Monday evening Council endorsed the Official Community Plan Vision & Goal Statements. This endorsement concludes 'Phase 2: Defining the Big Picture' of the Official Community Plan (OCP).
The Vision and Goal Statements define the results that the Plan seeks to achieve over a
30-year planning horizon. In 'Phase 3: Building the Plan', specific policies, actions, and design guidelines will be developed to implement the Vision and Goal Statements and related sub-topics.
A corresponding corporate report is available on the City website that details the process of Phase 2, descriptions of each OCP Working Group meeting, clarification on the changes of the population projection, and concurrent City projects that tie into this process.
The City thanks all community members who participated in the first two phases. Building on the input of Phase 1 and Phase 2, Phase 3 of the process will offer even more opportunities to continue the conversation in 2016.
Since launching the Official Community Plan Process in May 2015, several thousand comments and survey responses from the community have fed into the key items the City faces in the future. Special efforts have been made to encourage responses by renters, homeowners, local business owners, and various cultural groups.
An OCP is a broad policy document that sets the vision, goals and overarching policies that guide the City. Council, staff and citizens use the OCP to help make decisions regarding the City's growth, transportation, housing, services and infrastructure under the umbrella of sustainability, accessibility and community identity. The City also introduced specific goal statements for the Town Centre and Waterfront areas. The City's current OCP was adopted in 2006.
The Imagine White Rock website is a comprehensive online information source offering a summary of input to date, corporate reports, FAQs, event information, as well as a timeline of the process. www.whiterockcity.ca/imaginewhiterock
November 20, 2015
The city of White Rock has posted the preliminary water agreement between the city and EPCOR.
The release of the document came as a result of a resident filing an FOI (Freedom of Information) request with the BC Water Comptroller's office.
Good Idea
It's not really surprising that Tourism Chilliwack's video went viral.
It offers stunning aerial views of Chilliwack, as well as heart-pumping scenes of river rafting, hiking,  biking, and more.
The video has managed to take on a life of its own, earning thousands of shares after the official launch at their recent Christmas breakfast, said Vanessa Oddy, Destination Marketing Manager with Tourism Chilliwack.
"We've had a phenomenal response, which is excellent for the community," she said. "It's changing the perception of Chilliwack."
The video artfully produced by Inmist Media House for Tourism Chilliwack will be used to target the tourist market from greater Vancouver and Washington State.
As the city of White Rock wrestles with a new tourism initiative, would it not make sense to tell the world about "Our City By The Sea?"
Recipe of the Week
A Happy Thanksgiving phone call to a friend in Los Angeles got us this wonderful Brussel Sprouts recipe. Take it for a test run before Christmas dinner.
Coming Events

Joke Of The Day
A tree cutter working on "the hump" in White Rock walked into a hardware store and asked for a chain saw that will cut 6 trees in one hour. The salesman recommends the top of the line model. The worker is suitably impressed, and buys it.
The next day he brings it back and says, "This chainsaw is defective. It would only cut down one tree and it took all the gosh-darned day!"
The salesman takes the chain saw, starts it up to see what's wrong, and the tree cutter asks, "What's that noise?
Video Of The Day
Imagine car pooling with ROD STEWART.


Thought For The Day
Tomorrow In THE SUN
Don Pitcairn's Naked Truth
It's Only News If You Read It Today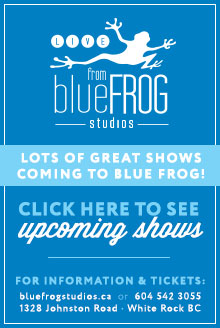 Buy Tickets