Where You Can Vacation & Be Home The Same Day
Night Owl

Halloween falls on the weekend this year.
We have the details on two giant Halloween costume parties on the Peninsula.
Local News
October 06, 2015
Council Coles Notes
White Rock council were back "in chamber" last evening.
Some of the topics council dealt with;
- TRANSLLINK reps were on hand to explain changes coming to the South Surrey/White Rock region
- MAYOR BALDWIN responded to a petition calling for his resignation following a statement he made regarding the legality of the city of White rock having to adhere to the Metro Vancouver regional growth strategy. BALDWIN fought back saying he had done nothing wrong and had no intention of resigning.
- MR. HUANG of Urban Systems explained proposed increases Development Cost Charges. The information is located on the city's website and goes a long ways to explaining the confusing process cities charge developers to raise funds for infrastructure improvements.
- Council received a report from ERIC STEPURA Director of Recreation and Culture brought council up to date on fund raising efforts the White Rock museum is undertaking.
Meet TOM MULCAIR In Surrey This Morning
This Morning (October 6) 8:00am - 9:00am
Bear Creek Pavilion
13750 - 88th Avenue
Surrey, British Columbia V3W 3L1
Meet Tom Mulcair and the local NDP team at a town hall in Surrey.
Self Serve Liquor Store Patron
Do you recognize this person?
The Surrey RCMP is requesting the public's assistance in identifying a suspect in multiple thefts in a number of liquor stores in Surrey.
Since June 26, four different liquor stores have been targeted at least 23 times, allegedly by the same suspect, and captured on CCTV (see photo above). The thefts occurred in Fleetwood and South Surrey.
The suspect is described as a Caucasian male in his late 20's or early 30's, approximately 6 feet tall and 170 pounds. The suspect has been seen wearing a grey Puma hat and dark blue zip up hoodie in multiple incidents.
"Retail theft can cost merchants thousands of dollars annually," says Corporal Scotty Schumann. "The net result is often higher costs passed to the consumer. Not only do the businesses directly affected benefit when a prolific thief is caught, but so do consumers."
Anyone with more information is asked to contact the Surrey RCMP at 604-599-0502 or Crime Stoppers, if they wish to remain anonymous, at 1-800-222-TIPS or www.solvecrime.ca. Please quote file #2015-140916
New Year Swim
Commuters along 24th avenue in South Surrey have been watching closely as the new aquatic centre nears completion. The pool is now full of water as workers put the finishing touches on this spectacular new community amenity.
Surrey presently has scheduled the official opening in January. No specific date has been announced.
October 05, 2015
Operation Hang Up
The sides of the roadways in Surrey and White Rock recently were dotted with NO CELLPHONE SIGNS (above). The Surrey and White Rock RCMP detachments as part of a province-wide campaign focussed its enforcement efforts on distracted driving this month. To highlight this enforcement campaign, the RCMP instituted "Operation Hang Up". Police and volunteers were out in conjunction with the signs educating drivers as well as enforcing the laws."

A driver caught holding an electronic device can be fined $167 and receive 3 points against their driver's licence. If you cause an accident due to distracted driving the penalties can be more severe.

As part of their duties, Surrey RCMP Traffic Services uses a high power spotting scope during enforcement. This scope helps them see drivers holding an electronic device long before drivers see the police. No cellphone stickers were also handed out to many drivers to place on their vehicles to remind other drivers of the hazard of driving and talking on your cellphone.


One Zone Travel - New Fares Today
TRANSLINK today changes the payment system on public transit in the Lower Mainland. If you travel only by bus your new fare is $2.75 for as long as you stay on that bus. The 90 minute time limit on bus passes remains in effect, so you are able to transfer buses as long as you can do so in that 90 minute time frame from the time you purchased your ticket.
If you have to board SKYTRAIN/CANADA LINE/SEA BUS you will have to pay an additional $2.75 per zone travelled on any of the aforementioned modes of transit travel. If for instance you travel from Surrey to downtown Vancouver.
Commuters from White Rock/South Surrey to Vancouver using bus and CANADA LINE and or SKYTRAIN will see no change in their fare. $2.75 for the bus and $2.75 for your CANADA LINE portion of the trip.
October 04, 2015
Hovercraft To The Rescue
The Canadian Coast Guard hovercraft Moyvat was in scene in Crescent Beach at 4:30 pm Sat. near the 101 Steps metal staircase. It arrived to transport a senior woman who tripped and fell down a steep path leading from the BNSF tracks to the beach.
Surrey firemen on scene reported this lady, believed to be 75-80 years old, sustained serious facial contusions and a possible broken hip. She was transported to Blackie Spit and loaded onto an ambulance that whisked her to Peace Arch hospital for treatment for her injuries.
Walking on the railway corridor is dangerous for reasons not limited to the passing trains.
Please - STAY OFF THE TRACKS!
2nd Annual Diwali Festival
The Second annual White Rock Diwali Festival drew record crowds to the White Rock waterfront Saturday. By day's end the area next to the waterfront museum was packed as the throng enjoyed the multicultural performances. The evening finished off with a beautiful fireworks display off the symbolic white rock.

l-r Gordon Hogg/Hospice Executive Director Beth Kish/Hospice director Diana Davidson/Theresa Robson - Community Fund Development Coordinator.
MLA GORDON HOGG once again did a great job as master of ceremonies making special announcements and ensuring the stage performances ran smoothly. HOGG is pictured above with White Rock/South Surrey Hospice members cutting one of the many ceremonial cakes donated by SAVE ON foods. The Hospice was the designated charity for the proceeds of the day long event.
Local Liberal candidate JUDY HIGGINBOTHAM was joined by former Liberal MP HERB DHALIWAL as the strolled through the crowds engaging residents in conversation on her platform for the upcoming federal election this month.
October 03, 2015
"Our position is we love Gibsons for the peaceful serenity, quality of life and small town character," resident Suzanne Senger told CBC. "And that's about to be sold off to a big city developer who wants high rise condos like in White Rock."
The town of Gibsons on the Sunshine Coast has been clearly divided by a condo/hotel/marina development, proposed for its waterfront. The project has clearly divided the community.
Interesting how the topic has been likened to White Rock and our current development challenges.
Watch the video.
The City of Gibsons has produced a video on the positive impact such a development will have on the community.
October 02, 2015
White Rock Council Woes Continue
The media has picked up on the recent public flap between MAYOR BALDWIN and former councillor MARGARET WOODS. The story goes province wide.
October 1, 2015
The Haunting
Well it's October and that means Halloween is just around the corner. Our thoughts turn to things that go bump in the night, ghosts and goblins.. A list of the Top Haunted places in British Columbia has been compiled and our very own Washington Avenue Grill on the White Rock waterfront made the cut.
Road Closure Last Night In Rush Hour
- after serious collision at 24 Avenue in the 14900 block
Surrey RCMP spent hours late yesterday on the scene of a collision between a vehicle and two pedestrians. Details are limited. Witnesses to the incident are reporting a Surrey city worker was working on painting the centre line on the roadway when he was struck by a passing vehicle.
24th Avenue was closed in both directions between 148th Street and 150th Street. Buses and all traffic were re-routed. One victim had substantial injuries and was being transported by Air Ambulance. The second victim was taken to Peace Arch Hospital.
September 30, 2015
With the upcoming election there is a new website that will send a letter to all the candidates in your riding regarding mandatory labeling. It also includes a question to them on the right to access Natural Health products in Canada.
The is the Canadian Health Food Association at VOTENATURAL.CA you type in your postal code and then it sends a letter to your candidates. I urge you to take 2 minutes to visit the site. It will help bring attention to GMOs in your riding.
SCHEDULED ALL CANDIDATES MEETINGS/ South Surrey - White Rock
When: Tues., Oct. 6th (at 7:00 pm)
Where: Grace Point Church (3487 King George Hwy)
Org: Peninsula Homeless to Housing Task Force
Topics: Homelessness and Housing
When: Wed., Oct. 7th (at 7:30 pm)
Where: First United Church White Rock (15385 Semiahmoo Ave)
Org: Communities and Coal + D. McFarland & C. McMullen
Topics: Rail Safety, Relocation, Coal Transport & FSD Project
When: Tues., Oct. 13th (at 7:00 pm)
Where: Southridge School (2656 160th St)
Org: South Surrey - White Rock Chamber of Commerce / F.V. Real Estate Board
Topics: to be announced
When: Wed., Oct. 14th (at 7:30 pm)
Where: Colebrook United Church Hall (5441-125A St.)
Org: West Panorama Ridge Ratepayers Association
Topics: Panorama Ridge current issues, e.g. trains, community security
When: Sat., Oct. 17th (at noon)
Where: White Rock Community Centre (15154 Russell Ave.)
Org: Canadian Federation of University Women White Rock/Surrey Club
Topics: Topics of interest to women, e.g.: education, health care, affordable daycare & housing
The candidates for the South Surrey/White Rock riding all have now established a web presence.
(click on each name for website/Facebook links)
TNT

"Politics Make Strange Bedfellows" Don Pitcairn
Good Idea
Since the 50's there has been speculation that the Semiahmoo First Nations Band would one day build a marina on their land. The picture above is of the Point Roberts Marina just across the Salish Sea in Point Roberts, Washington. Most everyone who lives in White Rock knows someone who moors their boat in Blaine, Point Roberts or Captains Cove on the Fraser River by the Deas Tunnel.
Condos? Casino? Marina? We know something will happen one day on that beautiful land in South Surrey.
Coming Events
State of the City
Mayor Wayne Baldwin
Wednesday 5:00 PM - 7:30 PM Registration: 5:00 - 6:00 pm $40.00 charge
Mix and Mingle Reception: 6:00 - 7:30 pm
Where: White Rock Community Centre - 15154 Russell Ave.
Joke Of The Day
"Your wife is gonna hit the roof when you get home tonight," said the barfly to his drinking buddy.
"Yeah," said his buddy. "She's a lousy shot!"
Video Of The Day


Today's history lesson. Veterans please take note. It may have happened a couple of years ago, but worth revisiting as we are less than two weeks away from choosing our leader for the next 4 years.
Thought For The Day
Tomorrow In THE SUN
Health

EVE LEES our resident health expert takes a shot at explaining gluten and why they are saying all those nasty things about it.
It's Only News If You Read It Today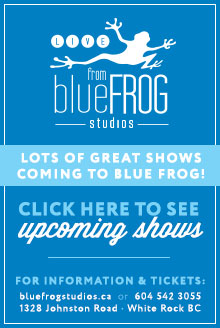 Buy Tickets